Abstract
Background: Internal drainage with transhepatically or endoscopically placed endoprostheses has been used for many years as a temporary or definitive treatment for biliary tract obstruction. As a late complication, stent migration may occur. Methods: We reviewed our records to identify patients who were operated on for a migrated endoprosthesis that was causing complications. In all, five such patients were identified. Results: One patient had a large bowel perforation. Bowel penetration led to an interenteric fistula in one patient and to a biliocolic fistula formation in another. Small bowel distension was found in two patients. Surgical treatment consisted of local excision in three patients, segmental resection in one patient, and a bypass operation in the patient with biliocolic fistula. Postoperatively, four patients recovered without problems, but one patient died during a complicated postoperative course. Conclusion: If a stent becomes stuck in the gastrointestinal tract and is not accessible for endoscopic removal, early operative revision is mandatory to prevent further complications.
This is a preview of subscription content, log in to check access.
Access options
Buy single article
Instant access to the full article PDF.
US$ 39.95
Price includes VAT for USA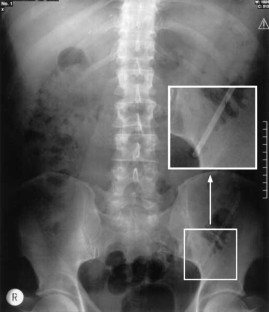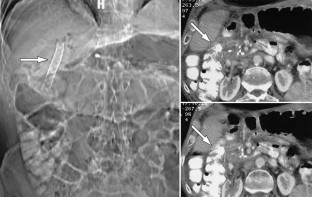 References
1

H Ahlström LE Lörelius G Jacobson (1986) ArticleTitleInoperable biliary obstruction treated with percutaneously placed endoprosthesis. Acta Chir Scand 152 301–303 Occurrence Handle2426890

2

A Basile A Macri S Lamberto S Caloggero A Versaci C Famulari (2003) ArticleTitleDuodenoscrotal fistula secondary to retroperitoneal migration of an endoscopically placed plastic biliary stent. Gastrointest Endosc 57 136–137

3

SM Bawa A Mathew H Krishnan E Minford D Talbot DF Mirza MG Thick P Gibbs D Manas (1998) ArticleTitleBiliary reconstruction with or without an internal biliary stent in orthotopic liver transplantation: a prospective randomised study. Transpl Int 11 S245–247 Occurrence Handle10.1007/s001470050470 Occurrence Handle9664988

4

WC Culp TC McCowas RP Lieberman TC Goertzen RF LeVeen TG Heffron (1996) ArticleTitleBiliary strictures in liver transplant recipients: treatment with metal stents. Radiology 199 339–346 Occurrence Handle1:STN:280:BymB3c3ns1I%3D Occurrence Handle8668775

5

PHP Davids AK Groen EAJ Rauws GNJ Tytgat K Huibregtse (1992) ArticleTitleRandomised trial of self expanding metal stents versus polyethylene stents for malignant biliary obstruction. Lancet 340 1488–1492 Occurrence Handle1:STN:280:ByyC3cfptFY%3D Occurrence Handle1281903

6

GD De Palma C Cantanzano (1999) ArticleTitleSenting or surgery for treatment of irretrievable common bile duct calculi in elderly patients? Am J Surg 178 390–393 Occurrence Handle1:STN:280:DC%2BD3c%2FnslOrsw%3D%3D

7

M Distefano G Bonnano A Russo (2001) ArticleTitleBiliocutaneous fistula following biliary stent migration. Endoscopy 33 97 Occurrence Handle10.1055/s-2001-17404 Occurrence Handle1:STN:280:DC%2BD3M3jt1Crug%3D%3D Occurrence Handle11204999

8

RG Figueiras MO Echart AG Figueiras GP Gonzalez (2001) ArticleTitleColocutaneous fistula relating to the migration of a biliary stent. Eur J Gastroenterol Hepatol 13 1251–1253 Occurrence Handle10.1097/00042737-200110000-00021 Occurrence Handle1:STN:280:DC%2BD3MnmsVamug%3D%3D Occurrence Handle11711785

9

E Fiori G Mazzoni G Galati SE Lutzu A De Cesare M Bononi A Bolognese A Tocchi (2002) ArticleTitleUnusual breakage of a plastic biliary endoprosthesis causing an enterocutaneous fistula. Surg Endosc 16 870 Occurrence Handle10.1007/s004640042021 Occurrence Handle1:STN:280:DC%2BD383lvVagug%3D%3D

10

DA Howell SF Nezhad RM Dy (1999) ArticleTitleEndoscopically placed Gianturco endoprostheses in the treatment of malignant and benign biliary obstruction. Gastrointest Endosc Clin North Am 9 479–490 Occurrence Handle1:STN:280:DyaK1MzhvFSnsA%3D%3D

11

MB Jendresen LB Svendsen (2001) ArticleTitleProximal displacement of biliary stent with distal perforation and impaction in the pancreas. Endoscopy 33 195 Occurrence Handle10.1055/s-2001-12808 Occurrence Handle1:STN:280:DC%2BD3M7ntF2itQ%3D%3D Occurrence Handle11272227

12

JF Johanson MJ Schmalz JE Geenen (1992) ArticleTitleIncidence and risk factors for biliary and pancreatic stent migration. Gastrointest Endosc 38 341–346 Occurrence Handle1:STN:280:By2B1MbitVc%3D Occurrence Handle1607087

13

U Klein F Weiss O Wittkugel (2001) ArticleTitle[Migration of a biliary Tannenbaum stent with perforation of sigmoid diverticulum.] RoFo Fortschr Geb Rontgenstr Neuen Bildgeb Verfahr 173 1057 Occurrence Handle10.1055/s-2001-18306 Occurrence Handle1:STN:280:DC%2BD3Mnlt1OrsQ%3D%3D Occurrence Handle11704920

14

JM Levey (2002) ArticleTitleIntestinal perforation in a parastomal hernia by a migrated plastic biliary stent. Surg Endosc 16 1636–1637 Occurrence Handle10.1007/s00464-002-4506-9 Occurrence Handle1:STN:280:DC%2BD38notlGhtQ%3D%3D

15

L Liebich-Bartholain U Kleinau H Elsbernd R Büchsel (2001) ArticleTitleBiliary pneumonitis after proximal stent migration. Gastrointest Endosc 2001 382–384 Occurrence Handle10.1067/mge.2001.113646

16

EJ Loveday (1997) ArticleTitleA migrating biliary wallstent: an unusual complication. Clin Radiol 52 246 Occurrence Handle1:STN:280:ByiB38nivFA%3D

17

C Margulies ES Siqueira WB Silverman XS Lin JA Martin M Rabinovitz A Slivka (1999) ArticleTitleThe effect of endoscopic sphincterotomy on acute and chronic complications of biliary endoprostheses. Gastrointest Endosc 49 716–719 Occurrence Handle1:STN:280:DyaK1M3ns1Gisg%3D%3D Occurrence Handle10343215

18

JW Marsman HP Hoedemaker (1996) ArticleTitleNecrotizing fasciitis: fatal complication of migrated biliary stent. Australas Radiol 40 80–83 Occurrence Handle1:STN:280:BymH3sngtFU%3D Occurrence Handle8838897

19

BM Mistry MA Memon R Silverman FR Burton CR Vanna H Solomon PJ Garvin (2001) ArticleTitleSmall bowel perforation from a migrated biliary stent. Surg Endosc 15 1043 Occurrence Handle1:STN:280:DC%2BD3MrlvVCmuw%3D%3D

20

R Mofidi K Ahmed A Mofidi WP Joyce Z Khan (2000) ArticleTitlePerforation of the ileum: an unusual complication of distal biliary stent migration. Endoscopy 32 S67 Occurrence Handle1:STN:280:DC%2BD3M7ptlKiuw%3D%3D Occurrence Handle11085487

21

T Nakamura R Hirai M Kitagawa Y Takehira M Yamada K Tamekoshi Y Kobayashi H Nakamura M Kanamori (2002) ArticleTitleTreatment of common bile duct obstruction by pancreatic cancer using various stents: single centre experience. Cardiovasc Intervent Radiol 25 373–380 Occurrence Handle10.1007/s00270-002-0426-2 Occurrence Handle12016522

22

AK Pathak LJ de Souza (2001) ArticleTitleDuodenocolic fistula: an unusual sequela of stent migration. Endoscopy 33 731 Occurrence Handle10.1055/s-2001-16220 Occurrence Handle1:STN:280:DC%2BD3MvktlCgug%3D%3D Occurrence Handle11490393

23

TA Ruffolo GA Lehman S Sherman R Aycock A Hayes (1992) ArticleTitleBiliary stent migration with colonic diverticular impaction. Gastrointest Endosc 38 81–83 Occurrence Handle1:STN:280:By2A3cjjslU%3D Occurrence Handle1612389

24

V Selivanov GF Sheldon JP Cello RA Crass (1984) ArticleTitleManagement of foreign body ingestion. Ann Surg 199 187–191 Occurrence Handle1:STN:280:BiuC38jgsFI%3D Occurrence Handle6696536

25

PR Tarnasky PB Cotton J Baillie MS Branch J Affronti P Jowell S Guarisco RE England JWC Leung (1995) ArticleTitleProximal migration of biliary stents: attempted endoscopic retrieval in forty-one patients. Gastrointest Endosc 42 513–519 Occurrence Handle1:STN:280:BymB3srot1M%3D Occurrence Handle8674920

26

A Wilhelm C Langer G Zoeller R Nustede H Becker (2003) ArticleTitleComplex colovesicular fistula: a severe complication caused by biliary stent migration. Gastrointest Endosc 51 124–126
About this article
Cite this article
Diller, R., Senninger, N., Kautz, G. et al. Stent migration necessitating surgical intervention. Surg Endosc 17, 1803–1807 (2003). https://doi.org/10.1007/s00464-002-9163-5
Received:

Accepted:

Published:

Issue Date:
Keywords
Endoprosthesis

Stent

Migration

Dislocation

Biliary obstruction

Bowel perforation