Abstract
Aims: Compared to aviation, where virtual reality (VR) training has been standardized and simulators have proven their benefits, the objectives, needs, and means of VR training in minimally invasive surgery (MIS) still have to be established. The aim of the study presented is to introduce Rasmussen's model of human behavior as a practical framework for the definition of the training objectives, needs, and means in MIS. Methods: Rasmussen distinguishes three levels of human behavior: skill-, rule-, and knowledge-based behaviour. The training needs of a laparoscopic novice can be determined by identifying the specific skill-, rule-, and knowledge-based behavior that is required for performing safe laparoscopy. Future objectives of VR laparoscopy trainers should address all three levels of behavior. Results: Although most commercially available simulators for laparoscopy aim at training skill-based behavior, especially the training of knowledge-based behavior during complications in surgery will improve safety levels. However, the cost and complexity of a training means increases when the training objectives proceed from the training of skill-based behavior to the training of complex knowledge-based behavior. Conclusion: In aviation, human behavior models have been used successfully to integrate the training of skill-, rule-, and knowledge-based behavior in a full flight simulator. Understanding surgeon behavior is one of the first steps towards a future full-scale laparoscopy simulator.
This is a preview of subscription content, log in to check access.
Access options
Buy single article
Instant access to the full article PDF.
US$ 39.95
Price includes VAT for USA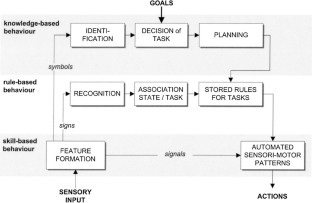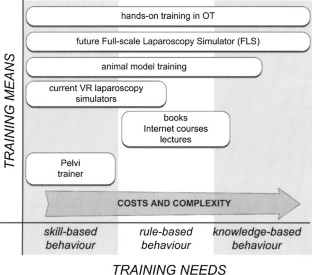 References
1

P Breedveld M Wentink (2001) ArticleTitleEye-hand coordination in laparoscopy: an overview of experiments and supporting aids. Min Invas Ther Allied Technol 10 155–162 Occurrence Handle10.1080/136457001753192277

2

A Cuschieri NK Francis BJ Crosby M Phil GB Hanna (2001) ArticleTitleWhat do master surgeons think of surgical competence and revalidation? Am J Surg 182 110–116 Occurrence Handle10.1016/S0002-9610(01)00667-5 Occurrence Handle1:STN:280:DC%2BD3Mrisl2jug%3D%3D Occurrence Handle11574079

3

AM Derossis J Bothwell HH Sigman GM Fried (1998) ArticleTitleThe effect of practice on performance in a laparoscopic simulator. Surg Endosc 12 1117–1120 Occurrence Handle10.1007/s004649900796 Occurrence Handle9716763

4

AM Derossis GM Fried M Abrahamowicz HH Sigman JS Barkun JL Meakins (1998) ArticleTitleDevelopment of a model for training and evaluation of laparoscopic skills. Am J Surg 175 482–487 Occurrence Handle10.1016/S0002-9610(98)00080-4 Occurrence Handle1:STN:280:DyaK1czgslOjuw%3D%3D Occurrence Handle9645777

5

Federal Aviation Administration (last updated June 2002): http://www.faa.gov/nsp/sim_ac.htm

6

NK Francis GB Hanna AB Cresswell FJ Carter A Cuschieri (2001) ArticleTitleThe performance of master surgeons on standard aptitude testing. Am J Surg 182 30–33 Occurrence Handle1:STN:280:DC%2BD3MvovFOnsw%3D%3D Occurrence Handle11532411

7

AG Gallagher K Richie N McClure J McGuigan (2001) ArticleTitleObjective psychomotor skills assessment of experienced, junior and novice laparoscopists with virtual reality. World J Surg 25 1478–1483 Occurrence Handle1:STN:280:DC%2BD38%2FjtlSmuw%3D%3D Occurrence Handle11760752

8

TP Grantcharov J Rosenberg E Pahle P Funch-Jensen (2001) ArticleTitleVirtual reality computer simulation; an objective method for the evaluation of laparoscopic surgical skills. Surg Endosc 15 242–244 Occurrence Handle10.1007/s004640090008 Occurrence Handle1:STN:280:DC%2BD38%2FgvFyjsw%3D%3D Occurrence Handle11344422

9

EC Hamilton DJ Scott JB Fleming RV Rege R Laycock PC Bergen ST Tesfay DB Jones (2002) ArticleTitleComparison of video trainer and virtual reality training systems on acquisition of laparoscopic skills. Surg Endosc 16 406–411 Occurrence Handle10.1007/s00464-001-8149-z Occurrence Handle1:STN:280:DC%2BD387psFSisQ%3D%3D Occurrence Handle11928017

10

JG Holden JM Flach Y Donchin (1999) ArticleTitlePerceptual-motor coordination in an endoscopic surgery simulation. Surg Endosc 13 127–132 Occurrence Handle10.1007/s004649900920 Occurrence Handle1:STN:280:DyaK1M7hslCktA%3D%3D Occurrence Handle9918612

11

RJAW Hosman HG Stassen (1999) ArticleTitlePilot's perception in the control of aircraft motions. Control Eng Pract 7 1421–1428 Occurrence Handle10.1016/S0967-0661(99)00111-2 Occurrence Handle1:STN:280:DC%2BD3MnmtFGjsw%3D%3D Occurrence Handle11542920

12

A Park RW Schwartz DB Witzke JS Roth M Mastrangelo DW Birch CD Jennings EY Lee J Hoskins (2001) ArticleTitleA pilot study of new approaches to teaching anatomy and pathology; the laparoscopic view for medical students. Surg Endosc 15 245–250 Occurrence Handle10.1007/s004640000310 Occurrence Handle1:STN:280:DC%2BD38%2FgvFyjsA%3D%3D Occurrence Handle11344423

13

J Rasmussen (1983) ArticleTitleSkills, rules, and knowledge; signals, signs and symbols, and other distinctions in human performance models. IEEE Trans Sys Man Cybernetics 13 257–266

14

RM Satava (1993) ArticleTitleVirtual reality surgical simulator: the first steps. Surg Endosc 7 203–205 Occurrence Handle1:STN:280:ByyB2snjvVY%3D Occurrence Handle8503081

15

RM Satava (2001) ArticleTitleAccomplishments and challenges of surgical simulation; dawning of the next-generation surgical education. Surg Endosc 15 232–241 Occurrence Handle10.1007/s004640000369 Occurrence Handle1:STN:280:DC%2BD38%2FgvFyjsg%3D%3D Occurrence Handle11344421

16

InstitutionalAuthorNameSociety of American Gastrointestinal Endoscopic Surgeons (SAGES) (1998) ArticleTitleIntegrating advanced laparoscopy into surgical residency training. Surg Endosc 12 374–376

17

HG Stassen J Dankelman CA Grimbergen (1999) ArticleTitleOpen versus minimally invasive surgery: a man–machine system approach. T I Meas Control 21 151–162

18

G Szekely CH Brechbuehler J Dual R Enzler J Hug R Hutter N Ironmonger M Kauer V Meier P Niederer A Rhomberg P Schmid G Schweitzer M Thaler V Vuskovic G Troster U Haller M Bajka (2000) ArticleTitleVirtual reality-based simulation of endoscopic surgery. Presence 9 310–333

19

F Tendick M Downes T Goktekin MC Cavusoglu D Feygin XL Wu R Eyal M Hegarty LW Way (2000) ArticleTitleA virtual environment testbed for training laparoscopic surgical skills. Presence 9 236–255 Occurrence Handle10.1162/105474600566772
About this article
Cite this article
Wentink, M., Stassen, L., Alwayn, I. et al. Rasmussen's model of human behavior in laparoscopy training . Surg Endosc 17, 1241–1246 (2003). https://doi.org/10.1007/s00464-002-9140-z
Received:

Accepted:

Published:

Issue Date:
Keywords
Training

Human behavior

Virtual reality

Simulator