Abstract
Background: To evaluate early results in total pharyngolaryngoesophagectomy (PLE) by minimally invasive approaches for patients suffered from pharyngoesophageal tumor. Methods: Between April 1998 and September 2001, 12 consecutive patients underwent either total laparoscopic (n = 9) or hand-assisted laparoscopic (n = 3) gastric mobilization plus transhiatal esophageal resection in total PLE. The operative data and postoperative outcomes were evaluated. Results: Total PLE by minimally invasive approach was successfully performed in 11 patients, and 1 patient required conversion due to uncontrolled bleeding. The median total operative time was 8.5 h (range, 5–11 h) and the abdominal laparoscopic stage usually took less than 4 h. The median time for extubation was 2 days (range, 1–4 days) and the median ICU stay was 2 days (range, 1–20 days). There was no 30-day mortality, and major complications occurred in 5 patients (42%). Conclusion: Minimally invasive PLE is a feasible and safe alternative to conventional open surgery for patients with pharyngoesophageal carcinoma.
This is a preview of subscription content, log in to check access.
Access options
Buy single article
Instant access to the full article PDF.
US$ 39.95
Price includes VAT for USA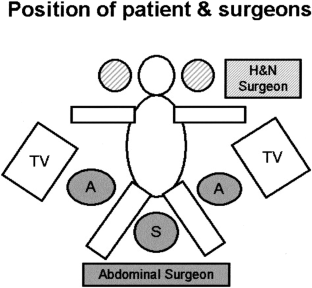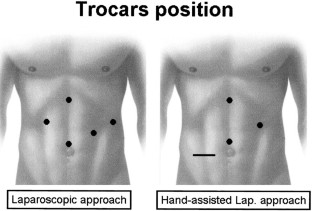 References
1

DJ Azurin LS Go ML Lirkland (1997) ArticleTitlePalliative gastric transposition following pharyngolaryngoesophagectomy. Am Surg 63 410–413 Occurrence Handle1:STN:280:ByiB2svgvVQ%3D Occurrence Handle9128228

2

R Bumm R Hoelscher H Fessner M Tachibana JR Siewet (1993) ArticleTitleEndodissection of thoracic esophagus. Technique and clinical results in transhiatal esophagectomy. Ann Surg 218 97–104 Occurrence Handle1:STN:280:ByyA3Mbjt1M%3D Occurrence Handle8328835

3

AL DePaula K Hashiba EA Ferreira RA DePaula E Greece (1955) ArticleTitleLaparoscopic transhiatal esophagectomy with esophagogastroplasty. Surg Laparosc Endosc 5 1–5

4

M Fok SW Cheng J Wong (1991) ArticleTitlePyloroplasty versus no drainage in gastric replacement of the esophagus. Am J Surg 162 447–452 Occurrence Handle10.1016/0002-9610(91)90258-F Occurrence Handle1:STN:280:By2D2Mbnt1M%3D Occurrence Handle1951907

5

CD Gerhart (1998) ArticleTitleHand-assisted laparoscopic transhiatal esophagectomy using dexterity pneumo sleeve. J Soc Laparoendosc Surg 2 295–298 Occurrence Handle1:STN:280:DyaK1M%2FpsVSguw%3D%3D

6

M Goldberg J Freeman PJ Gullane GA Patterson TR Todd D McShane (1989) ArticleTitleTranshiatal esophagectomy with gastric interposition for pharyngolaryngeal malignant disease. J Thorac Cardiovasc Surg 97 327–333 Occurrence Handle1:STN:280:BiaC2c3lsVM%3D Occurrence Handle2918731

7

D Goldfaden MB Orringer HD Appelman R Kalish (1986) ArticleTitleAdenocarcinoma of distal esophagus and gastric cardia: comparison of results of transhiatal esophagectomy and thoracoabdominal esophagectomy. J Thorac Cardivasc Surg 91 242–247 Occurrence Handle1:STN:280:BimC3MnoslI%3D

8

K Katariya JC Harvey E Pina EJ Beattie (1994) ArticleTitleComplication of transhiatal esophagectomy. J Surg Oncol 57 157–163 Occurrence Handle1:STN:280:ByqD2MjhsV0%3D Occurrence Handle7967604

9

SY Law M Fok KM Chu J Wong (1997) ArticleTitleThoracoscopic esophagectomy for esophageal cancer. Surgery 122 8–14

10

SY Law M Fok WI Wei LK Lan PH Tung KM Chu J Wong (2000) ArticleTitleThoracoscopic esophageal mobilization for pharyngolaryngoesophagectomy. Ann Thorac Surg 70 418–422 Occurrence Handle10.1016/S0003-4975(00)01402-8 Occurrence Handle1:STN:280:DC%2BD3cvmtFyhsA%3D%3D Occurrence Handle10969655

11

DJ Ludwig RC Thirlby DE Low (2001) ArticleTitleA prospective evaluation of dietary status and symptoms after near-total esophagectomy without gastric emptying procedure. Am J Surg 181 454–458 Occurrence Handle10.1016/S0002-9610(01)00600-6 Occurrence Handle1:STN:280:DC%2BD3Mzpslahsg%3D%3D Occurrence Handle11448442

12

AS Martins (2000) ArticleTitleMulticentricity in pharyngoesophageal tumors: argument for total pharyngolaryngoesophagectomy and gastric transposition. Head Neck 22 156–163 Occurrence Handle10.1002/(SICI)1097-0347(200003)22:2<156::AID-HED7>3.3.CO;2-P Occurrence Handle1:STN:280:DC%2BD3c7ksFygug%3D%3D Occurrence Handle10679903

13

DW Moores R Ilves JD Cooper TR Todd FG Pearson (1983) ArticleTitleOne stage reconstruction for pharyngolaryngectomy. Esophagectomy and pharyngectomy without thoracotomy. J Thorac Cardiovasc Surg 85 330–336 Occurrence Handle1:STN:280:BiyC2c%2FgtFw%3D Occurrence Handle6827841

14

P Montgomery PD Willson G Mochloulis NS Tolley RD Rosin (1996) ArticleTitleLaparoscopically assisted total laryngopharyngoesphagectomy with gastric transposition. J Laryngol Otol 110 1072–1074 Occurrence Handle1:STN:280:ByiC3c%2Fjt1E%3D Occurrence Handle8944886

15

NT Nguyen DM Follette BM Wolfe PD Schneider P Roberts JE Goodnight (2000) ArticleTitleComparison of minimally invasive esophagectomy with transthoracic and transhiatal esophagectomy. Arch Surg 135 920–925 Occurrence Handle10.1001/archsurg.135.8.920 Occurrence Handle1:STN:280:DC%2BD3cvhs12rsg%3D%3D Occurrence Handle10922253

16

MB Orringer B Marshall MC Stirling (1993) ArticleTitleTranshiatal esophagectomy for benign and malignant disease. J Thorac Cardiovasc Surg 105 256–277

17

InstitutionalAuthorNameSouthern Surgeons' Club Study Group (1999) ArticleTitleHandoscopic surgery: a prospective multi-center trial of a minimal invasive technique for complex abdominal surgery. Arch Surg 134 477–485

18

Tierney JP, Kusminsky RE, Tiley EH, Boland JD (1994) Laparoscopic radical nephrectomy with intraabdominal manipulation. Min Inv Ther 3:303

19

JD Urschel (1995) ArticleTitleEsophagogastrostomy anastomotic leaks complicating esophagectomy: a review. Am J Surgy 169 634–664 Occurrence Handle10.1016/S0002-9610(99)80238-4 Occurrence Handle1:STN:280:ByqB1cbls1I%3D

20

LS Wang MH Huang BS Huang KY Chien (1992) ArticleTitleGastric substitution for resectable carcinoma of the esophagus; an analysis of 368 cases. Ann Thorac Surg 53 289–294 Occurrence Handle1:STN:280:By2C3Mjnslc%3D Occurrence Handle1731671
About this article
Cite this article
Wong, S., Chan, A., Lee, D. et al. Minimal invasive approach of gastric and esophageal mobilization in total pharyngolaryngoesophagectomy . Surg Endosc 17, 798–802 (2003). https://doi.org/10.1007/s00464-002-9117-y
Received:

Accepted:

Published:

Issue Date:
Keywords
Esophagectomy

Laparoscopy

Pharyngolaryngoesophagectomy