Abstract
Background: Appendectomy in the course of acute appendicitis is one of the most frequently performed surgical procedure in general surgery. The aim of this study was to compare the results of laparoscopic and conventional treatments for acute appendicitis in a prospective, randomized, unicenter study. Methods: The study involved 200 patients treated for acute appendicitis in the Department of General and Vascular Surgery at Ceynowa Hospital in Wejherowo, Poland. Results: The mean operative time for open surgery was 36.99 min. For laparoscopic method the operation was longer, requiring 47.75 min. Suction drainage was applied in 23 patients treated conventionally and 50 patients treated laparoscopically (p < 0.05). The requirement for analgesia, measured by the number of metamizole ampules, was significantly higher in the conventional group. Pain on postoperative days 2 and 7 measured using a visual analog scale, was significantly more severe for the patients treated conventionally. The hospital stay in both groups did not differ significantly: 5.03 days for the conventional group and 4.71 days for the laparoscopic group. The time until return to work and social activities in the laparoscopic group (15.85 days) and was significantly shorter than in the conventional group (19.65 days). Seven complications occurred in the conventional group (6.7%) and nine (9.4%) in the laparoscopic group. The difference was not statistically significant. No deaths occurred. Conclusions: On the basis of the conducted study, it may be assumed that laparoscopic appendectomy is a safe procedure, and that postoperative morbidity is comparable with that for a conventional operation. There was less postoperative pain and shorter recovery time after laparoscopic surgery than after the open procedure.
This is a preview of subscription content, log in to check access.
Access options
Buy single article
Instant access to the full article PDF.
US$ 39.95
Price includes VAT for USA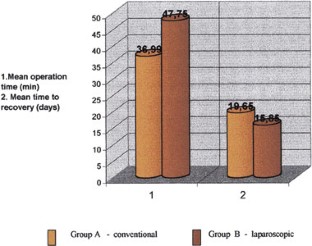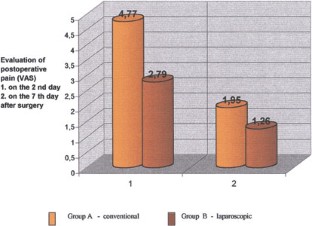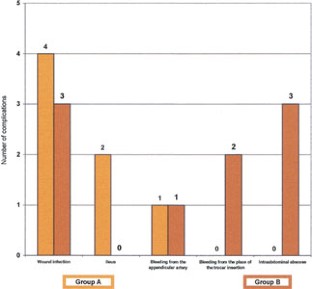 References
1

WA Albano CM Zieliński CH Organ (1975) ArticleTitleIs appendicitis in the aged really different? Geriatics 30 81 Occurrence Handle1:STN:280:CSqD2srpvVc%3D

2

S Barkhausen C Wullstein E Gross (1998) ArticleTitleLaparoscopic versus conventional appendectomy: a comparison with reference to early postoperative complications. Zentralbl Chir 123 858–862 Occurrence Handle1:STN:280:DyaK1cvhvFWhtA%3D%3D Occurrence Handle9746989

3

C Chao CT Tsai WC Wu (1995) ArticleTitleComplete two-handed laparoscopic appendectomy: report of 100 cases. J Formos Med Assoc 94 679–682 Occurrence Handle1:STN:280:BymC3cfgs1A%3D Occurrence Handle8527975

4

RS Chung DY Rowland P Li J Diaz (1999) ArticleTitleA meta-analysis of randomized controlled trials of laparoscopic versus conventional appendectomy. Am J Surg 177 250 Occurrence Handle10.1016/S0002-9610(99)00017-3 Occurrence Handle1:STN:280:DyaK1M3jsFaksw%3D%3D Occurrence Handle10219865

5

R Clarkson H Waldner M Siebeck L Schweiberer (1993) ArticleTitleDoes laparoscopic appendectomy have advantages? Laparoscopic appendectomy in comparison with conventional appendectomy: an observational study during introduction of laparoscopy. Zentralbl Chir 118 733–740 Occurrence Handle1:STN:280:ByuC1MnptFQ%3D Occurrence Handle8147146

6

MR Cox JL McCall J Toouli RTA Padbury TG Wilson DA Wattchow M Langcake (1996) ArticleTitleProspective randomized comparison of open versus laparoscopic appendectomy in men. World J Surg 20 263–266 Occurrence Handle10.1007/s002689900041 Occurrence Handle1:STN:280:BymA38rmt1U%3D Occurrence Handle8661828

7

RL De Wilde (1991) ArticleTitleGoodbye to late bowel obstruction after appendicectomy. Lancet 338 1012 Occurrence Handle1:STN:280:By2D3MnptFw%3D

8

RC Frazee JW Roberts RE Symmonds SK Snyder JC Hendricks RW Smith MD Custer JB Harrison (1994) ArticleTitleA prospective randomized trial comparing open versus laparoscopic appendectomy. Ann Surg 219 725–728 Occurrence Handle1:STN:280:ByuB28zjtVA%3D Occurrence Handle8203983

9

I Gastinger A Koch F Marusch U Schmidt F Kockerling H Lippert (2002) ArticleTitleDie Bedeutung prospektiver multizentrischer Beobachtungsstudien für den Erkenntnisgewinn in der Chirurgie. Chirurg 73 161–164

10

R Golub F Siddiqui D Pohl (1998) ArticleTitleLaparoscopic versus open appendectomy: a meta-analysis. J Am Coll Surg 186 545–553 Occurrence Handle1:STN:280:DyaK1c3ktlSmsQ%3D%3D Occurrence Handle9583695

11

M Heinzelmann HP Simmen AS Cummins F Largiader (1995) ArticleTitleIs laparoscopic appendectomy the new gold standard? Arch Surg 130 782–785 Occurrence Handle1:STN:280:ByqA3snjtVA%3D Occurrence Handle7611871

12

KP Henle S Beller J Rechner A Zerz G Szinicz A Klingler (1996) ArticleTitleLaparoscopic versus conventional appendectomy: a prospective randomized study. Chirurg 67 526–530 Occurrence Handle1:STN:280:BymB28bhvVw%3D Occurrence Handle8777883

13

A Klinger KP Henle S Beller J Rechner A Zerz GL Wetscher G Szinicz (1998) ArticleTitleLaparoscopic appendectomy does not change the incidence of postoperative infections complications. Am J Surg 175 232 Occurrence Handle10.1016/S0002-9610(97)00286-9 Occurrence Handle9560127

14

M łącki A Gorczyńska (1980) ArticleTitleAnaliza zgonów z powodu ostrego zapalenia wyrostka robaczkowego w materiale I Kliniki Chirurgii Ogólnej Instytutu Chirurgii AMG w latach 1970–1978. Pol Przeg Chir 9 765

15

GS Lityński (1998) ArticleTitleKurt Semm and the fight against skepticism: endoscopic hemostasis, laparoscopic appendectomy and Semm's impact on 4th "laparoscopic revolution." J Soc Laparoends Surg 2 309

16

M Michalik M Ortowski M Milewczyk M Lubocki R Budziński Z Świątczak M Bochentin J Naczk H Hramitko (1998) ArticleTitlePorównanie 80 appendektomii wykonanych metodą laparoskopową lub klasyczną. Pol Przeg Chir 70 893–897

17

M Milewczyk M Michalik R Budziński (1998) ArticleTitleLaparoscopic versus open appendectomy: a prospective randomized unicenter study (abstract). Surg Endosc 12 572

18

L Minne D Varner A Burnell E Ratzer J Clark W Haun (1997) ArticleTitleLaparoscopic versus open appendectomy: prospective randomized study of outcomes. Arch Surg 132 708–711 Occurrence Handle1:STN:280:ByiA2svktVA%3D Occurrence Handle9230853

19

AC Moberg AJ Montgomery (1997) ArticleTitleAppendicitis: laparoscopic versus conventional operation: a study and review of the literature. Surg Laparosc Endosc 7 459–463 Occurrence Handle10.1097/00019509-199712000-00005 Occurrence Handle1:STN:280:DyaK1c%2FpvFCltg%3D%3D Occurrence Handle9438626

20

D Mutter M Vix A Bui S Evrard V Tassetti JF Breton J Marescaux (1996) ArticleTitleLaparoscopy not recommended for routine appendectomy in men: results of a prospective randomized study. Surgery 120 71–74 Occurrence Handle1:STN:280:BymA3cbktFQ%3D Occurrence Handle8693426

21

M Nazzal MA Ali F Turfah A Kaidi A Saba M Pleatman Y Silva (1997) ArticleTitleLaparoscopic appendectomy: a viable alternative approach. J Laparoendosc Adv Surg Tech A 7 1–6 Occurrence Handle1:STN:280:DyaK1c7gsF2htQ%3D%3D Occurrence Handle9453859

22

AG Pedersen OB Petersen P Wara N Qvist SA Laurberg (1996) ArticleTitleLaparoscopy in suspected acute appendicitis: experiences with the first 233 laparoscopies at a university hospital department. Ugeskr Laeger 158 2377–2380 Occurrence Handle1:STN:280:BymB2MjgsV0%3D Occurrence Handle8685990

23

E Prado H Garcia-Alcala A Dominguez-Cocco JM Justo-Janeiro (1997) ArticleTitleComparative study of laparoscopic appendectomy vs open appendectomy. Rev Gastroenterol Mex 62 254–259 Occurrence Handle1:STN:280:DyaK1c7ovVOgtA%3D%3D Occurrence Handle9528295

24

O Reiertsen S Larsen E Trondsen B Edwin AE Faerden AR Rosseland (1997) ArticleTitleRandomized controlled trial with sequential design of laparoscopic versus conventional appendicectomy. Br J Surg 84 842–847 Occurrence Handle1:STN:280:ByiA3s3psVc%3D Occurrence Handle9189105

25

R Rosso JM Rothenbuhler P Linder (1993) ArticleTitleLaparoscopic versus conventional appendectomy: a comparison. Helv Chir Acta 59 567–569 Occurrence Handle1:STN:280:ByyB3s7otlQ%3D Occurrence Handle8473171

26

S Sauerland R Lefering U Holthausen EA Neugebauer (1998) ArticleTitleLaparoscopic vs conventional appendectomy: a meta-analysis of randomised controlled trials. Langenbecks Arch Surg 383 289–295 Occurrence Handle9776459

27

AH Sayed Hassen RJ Cade (1996) ArticleTitleA prospective trial of open versus laparoscopic appendicectomy. Aust N Z J Surg 66 178–180 Occurrence Handle1:STN:280:BymB3cjnvFU%3D Occurrence Handle8639139

28

K Semm (1983) ArticleTitleEndoscopic appendectomy. Endoscopy 15 59 Occurrence Handle1:STN:280:BiyB3cbks1Y%3D Occurrence Handle6221925

29

E Tang AE Ortega GJ Anthone RW Beart Jr (1996) ArticleTitleIntraabdominal abscesses following laparoscopic and open appendectomies. Surg Endosc 10 327–328 Occurrence Handle10.1007/s004649910052 Occurrence Handle1:STN:280:BymB2s7mtlI%3D Occurrence Handle8779069
Acknowledgements
The authors thank Professor Zbigniew Śledziński for his valuable assistance in the preparation of this article.
About this article
Cite this article
Milewczyk, M., Michalik, M. & Ciesielski, M. A prospective, randomized, unicenter study comparing laparoscopic and open treatments of acute appendicitis . Surg Endosc 17, 1023–1028 (2003). https://doi.org/10.1007/s00464-002-9112-3
Received:

Accepted:

Published:

Issue Date:
Keywords
Laparoscopic appendectomy

Open procedure

Acute appendicitis