Abstract
Patients with spontaneous pneumothorax require immediate insertion of a chest drain to evacuate the intrathoracic air. During video-assisted bullectomy, we made use of an existing chest drain hole to insert a thoracoscope or an endoscopic linear stapler. Video-assisted bullectomy was performed through three ports—two 2-mm ports and the existing chest drain hole. Therefore, no new skin incisions were required for the insertion of the 2-mm ports. A chest drain was again inserted via the existing chest drain hole after bullectomy. This procedure was used on 8 of 10 patients with spontaneous pneumothorax. There were no postoperative complications or recurrences. Thoracoscopic bullectomy using needlescopic instruments is technically feasible, safe, and effective. Currently, the procedure is indicated only for simple cases and not for the lysis of adhesions.
This is a preview of subscription content, log in to check access.
Access options
Buy single article
Instant access to the full article PDF.
US$ 39.95
Price includes VAT for USA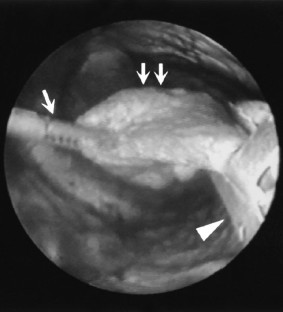 References
1

WK Cheah P Goh M Gagner J So (1998) ArticleTitleNeedlescopic retrograde cholecystectomy. Surg Laparosc Endosc 8 237–238 Occurrence Handle1:STN:280:DyaK1czhtFertA%3D%3D Occurrence Handle9649052

2

M Gagner A Garcia-Ruiz (1998) ArticleTitleTechnical aspects of minimally invasive abdominal surgery performed with needlescopic instruments. Surg Laparosc Endosc 8 171–179 Occurrence Handle10.1097/00019509-199806000-00002 Occurrence Handle1:STN:280:DyaK1czhtFeksA%3D%3D Occurrence Handle9649038

3

IS Gill JJ Soble GT Sung HN Winfield EL Bravo AC Novick (1998) ArticleTitleNeedlescopic adrenalectomy—the initial series: comparison with conventional laparoscopic adrenalectomy. Urology 52 180–867 Occurrence Handle10.1016/S0090-4295(98)00185-X Occurrence Handle1:STN:280:DyaK1czmtFantg%3D%3D Occurrence Handle9697779

4

SW Sung YT Kirn JH Kim (2001) ArticleTitleUltra-thin needle thoracoscopic surgery for hyperhidrosis with excellent cosmetic effects. Eur J Cardiothorac Surg 17 691–696

5

N Tagaya J Kita H Kogure K Kubota (2001) ArticleTitleLaparoscopic intragastric resection of gastric leiomyoma using needlescopic instruments. Surg Endosc 15 414 Occurrence Handle1:STN:280:DC%2BD38%2Fht1yhug%3D%3D Occurrence Handle11409411

6

N Tagaya K Kubota (2002) ArticleTitleExperience with endoscopic axillary lymphadenectomy using needlescopic instruments in patients with breast cancer. Surg Endosc 16 307–309 Occurrence Handle10.1007/s00464-001-8139-1 Occurrence Handle1:STN:280:DC%2BD383jtVWqtQ%3D%3D Occurrence Handle11967684

7

AP Yim HP Liu TW Lee S Wan AA Arifi (2001) ArticleTitle"Needlescopic" video-assisted thoracic surgery for palmar hyperhidrosis. Eur J Cardiothorac Surg 17 697–701
About this article
Cite this article
Tagaya, N., Kasama, K., Suzuki, N. et al. Video-assisted bullectomy using needlescopic instruments for spontaneous pneumothorax . Surg Endosc 17, 1486–1487 (2003). https://doi.org/10.1007/s00464-002-8728-7
Received:

Accepted:

Published:

Issue Date:
Keywords
Bullectomy

Spontaneous pneumothorax

Needlescopic instruments

Video-assisted thoracic surgery