Abstract
Background: Laparoscopy is useful to treat surgical diseases, yet tying sutures in the cavity is a challenge. A knot to secure tissue approximation, which would be hand-made, secure, simple, easy, quick, reliable, and extracorporeal without extra mechanical devices, was developed and named the Gea knot. Methods: A comparative study of the Gea knot, the Roeder knot, and the classical surgical knot, as the gold standard, using polypropylene, silk, catgut, polyglycolic acid, and Polyglactin 910, all of them of 1-0 caliber, was performed in pigs. Measurements were time to perform, slippage, and breaking point which was measured with a manual digital tensiometer. Results: The Gea knot was significantly faster statistically to perform than the Roeder knot and more resistant against rupture and slippage. The slippage rate was significantly lower statistically in the Gea knot than in the Roeder knot when Polyglactin 910 and polypropylene were used. Conclusion: The Gea knot is a good alternative for laparoscopic procedures.
This is a preview of subscription content, log in to check access.
Access options
Buy single article
Instant access to the full article PDF.
US$ 39.95
Price includes VAT for USA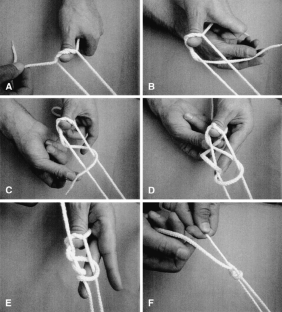 References
1

E Croce S Olmi (2000) ArticleTitleIntracorporeal knot-tying and suturing techniques in laparoscopic surgery: technical details. JSLS 4 17–22 Occurrence Handle1:STN:280:DC%2BD3c3jtlCktQ%3D%3D Occurrence Handle10772523

2

JF De Beer K Van Rooyen AP Boezaart (1998) ArticleTitleNicky's knot: a new slip knot for arthroscopic surgery. Arthroscopy 14 109–110 Occurrence Handle1:STN:280:DyaK1c7kslejsg%3D%3D Occurrence Handle9486346

3

BJ Dunkin Y Li JM Marks JL Ponsky (1997) ArticleTitleThe "Yenni" knot: a simpler method of intracorporeal laparoscopic knot tying. J Am Coll Surg 185 492–493 Occurrence Handle10.1016/S1072-7515(97)00077-X Occurrence Handle1:STN:280:DyaK1c%2FhvFWgsg%3D%3D Occurrence Handle9358098

4

DD Gaur (1998) ArticleTitleLaparoscopic suturing and knot tying: the Indian rope crick. J Endourol 12 61–66 Occurrence Handle1:STN:280:DyaK1c7ovFKguw%3D%3D Occurrence Handle9531154

5

DL Hay RL Levine JA Von Fraunhofer (1990) ArticleTitleChromic gut pelviscopic loop ligature. Effect of the number of pulls on the tensile strength. J Reprod Med 5 260–262

6

H Inoue Y Kumagai K Ami T Nishikage H Baba T Yoshida T Iwai (2000) ArticleTitleA simple technique of using novel thread-holding and knot-pushing forceps for extracorporeal knot-tying. Surg Today 30 27–31

7

DB Jones JS Wu NJ Soper (1997) Laparoscopic Surgery, Principles and Procedures. Quality Medical Publishing St. Louis 50–65

8

SS Kadirkamanathan JC Shelton CC Hepworth JG Laufer CP Swain (1996) ArticleTitleA comparison of the strength of knots tied by hand and at laparoscopy. J Am Coll Surg 182 46–54 Occurrence Handle1:STN:280:BymC3srgvFE%3D Occurrence Handle8542089

9

JE Meilahn (1992) ArticleTitleThe need for improving laparoscopic suturing and knot-tying. J Laparoendosc Surg. 2 267 Occurrence Handle1:STN:280:ByyD2czls1I%3D Occurrence Handle1421547

10

LK Nathanson PK Nathanson AL Cushieri (1991) ArticleTitleSafety of vessel ligation in laparoscopic surgery. Endoscopy 23 206–209 Occurrence Handle1:STN:280:By2D3cjls1A%3D Occurrence Handle1833179

11

Pare A (1510–1590 A.D.) (1951) The apologies and treatise of Ambroise Pare containing the voyager made into divers places with many of his writings upon surgery. Edited by Keynes G, (ed). Galcion Educational Books, London

12

JL Pennings T Kenyon L Swanstrom (1995) ArticleTitleThe knit stitch. An improved method of laparoscopic knot tying. Surg Endosc 9 537–540 Occurrence Handle1:STN:280:ByqH3cnot1E%3D Occurrence Handle7676381

13

JJ Pietrafitta (1992) ArticleTitleA technique of laparoscopic knot tying. J Laparoendosc Surg 2 273–275 Occurrence Handle1:STN:280:ByyD2czls1w%3D Occurrence Handle1421549

14

H Roeder (1918) ArticleTitleDie Technik der Mandelgesundungsbestrebungen. Artzl Rundschau Munchen 57 169–171

15

JD Sedlack VM Williams J DeSimone D Page BC Ghosh (1996) ArticleTitleLaparoscopic knot security. Surg Laparosc Endosc 6 144–146 Occurrence Handle10.1097/00019509-199604000-00011 Occurrence Handle1:STN:280:BymB28bhtVY%3D Occurrence Handle8680638

16

K Semm (1987) Operative Manual for Endoscopic Abdominal Surgery. Year Book Medical Publishers, Chicago

17

LA Sharpe (1994) ArticleTitleA new device and method for extracorporeal knot tying in laparoscopic surgery. J Gynecol Surg 10 27–31

18

CP Swain SS Kadirkamanathan F Gong KC Lal RS Ratani GJ Brown TN Mills (1994) ArticleTitleKnot tying at flexible endoscopy. Gastrointest Endosc 40 722–729 Occurrence Handle1:STN:280:ByqC28zot10%3D Occurrence Handle7859971

19

A Szold (1997) ArticleTitleA novel technique for simple laparoscopic extracorporeal knot tying. J Am Coll Surg 184 523–524 Occurrence Handle1:STN:280:ByiB1M%2FktF0%3D Occurrence Handle9145076

20

Tarn, WW (1948) Alexander the Great, vol II: Sources and Studies. Cambridge, p 262

21

H Tera C Aberg (1976) ArticleTitleTensile strength of twelve types of knot employed in surgery, using different suture materials. Acta Chir Scand 142 1–7 Occurrence Handle1:STN:280:CSmC1c%2FovFQ%3D Occurrence Handle1266536

22

CA Zimmer JG Thacker DM Powell KT Bellian DG Decker GT Rodeheaver RF Edlich (1997) ArticleTitleInfluence of knot configuration and tying technique on the mechanical performance of sutures. J Emerg Med 9 107–113
Acknowledgments
We thank Pilar Mata for statistical analysis and Ana Flisser for discussing the manuscript.
About this article
Cite this article
Moreno, M., Magos, F., Arcovedo, R. et al. Comparison of the performance of the Gea extracorporeal knot with the Roeder extracorporeal knot and the classical knot . Surg Endosc 18, 157–160 (2004). https://doi.org/10.1007/s00464-002-8640-1
Received:

Accepted:

Published:

Issue Date:
Keywords
Gea knot

Slippage

Extracorporeal suture

Tissue approximation