Abstract
The purpose of this study was to identify factors associated with the severity of dysphagia after lateral medullary infarction (LMI). Patients with dysphagia after lateral medullary infarction who were admitted to a rehabilitation unit were included and divided into two groups (non-severe vs. severe). Severe dysphagia was defined as the condition showing decreased bilateral pharyngeal constriction without esophageal passage in a videofluoroscopic swallowing study that initially required enteral tube feeding. Their clinical data (age, sex, lesion side, duration of the illness, penetration-aspiration scale, functional oral intake scale, Modified Barthel index, National Institutes of Health Stroke Scale, and anatomical lesion on diffusion-weighted MRI) were compared to find differences between the two groups. Twelve patients had absence of esophageal passage among a total of 30 patients with dysphagia after LMI. Only anatomical lesion location and extent were significantly different between the two groups. The severe group showed posterolateral involvement in the upper and lower parts of the medulla. Otherwise, there were no significant differences between the two groups. The location and extent of involvement in the medulla were the most important factors associated with the severity of dysphagia after LMI.
This is a preview of subscription content, log in to check access.
Access options
Buy single article
Instant access to the full article PDF.
US$ 39.95
Price includes VAT for USA
Subscribe to journal
Immediate online access to all issues from 2019. Subscription will auto renew annually.
US$ 99
This is the net price. Taxes to be calculated in checkout.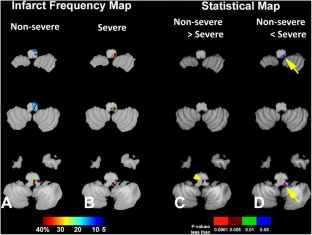 References
1.

Vuilleumier P, Bogousslavsky J, Regli F. Infarction of the lower brainstem. Clinical, aetiological and MRI-topographical correlations. Brain. 1995;118(Pt 4):1013–25.

2.

Nowak DA, Topka HR. The clinical variability of Wallenberg's syndrome. The anatomical correlate of ipsilateral axial lateropulsion. J Neurol. 2006;253:507–11.

3.

Norrving B, Cronqvist S. Lateral medullary infarction: prognosis in an unselected series. Neurology. 1991;41:244–8.

4.

Sacco RL, Freddo L, Bello JA, Odel JG, Onesti ST, Mohr JP. Wallenberg's lateral medullary syndrome. Clinical-magnetic resonance imaging correlations. Arch Neurol. 1993;50:609–14.

5.

Kim JS, Lee JH, Suh DC, Lee MC. Spectrum of lateral medullary syndrome. Correlation between clinical findings and magnetic resonance imaging in 33 subjects. Stroke. 1994;25:1405–10.

6.

Ertekin C, Aydogdu I, Tarlaci S, Turman AB, Kiylioglu N. Mechanisms of dysphagia in suprabulbar palsy with lacunar infarct. Stroke. 2000;31:1370–6.

7.

Kim H, Chung CS, Lee KH, Robbins J. Aspiration subsequent to a pure medullary infarction: lesion sites, clinical variables, and outcome. Arch Neurol. 2000;57:478–83.

8.

Aydogdu I, Ertekin C, Tarlaci S, Turman B, Kiylioglu N, Secil Y. Dysphagia in lateral medullary infarction (Wallenberg's syndrome): an acute disconnection syndrome in premotor neurons related to swallowing activity? Stroke. 2001;32:2081–7.

9.

Logemann JA, Kahrilas PJ, Kobara M, Vakil NB. The benefit of head rotation on pharyngoesophageal dysphagia. Arch Phys Med Rehabil. 1989;70:767–71.

10.

Kim H, Lee HJ, Park JW. Clinical course and outcome in patients with severe dysphagia after lateral medullary syndrome. Ther Adv Neurol Disord. 2018;11:1756286418759864.

11.

Park JW, Kim Y, Oh JC, Lee HJ. Effortful swallowing training combined with electrical stimulation in post-stroke dysphagia: a randomized controlled study. Dysphagia. 2012;27:521–7.

12.

Crary MA, Mann GD, Groher ME. Initial psychometric assessment of a functional oral intake scale for dysphagia in stroke patients. Arch Phys Med Rehabil. 2005;86:1516–20.

13.

Rosenbek JC, Robbins JA, Roecker EB, Coyle JL, Wood JL. A penetration-aspiration scale. Dysphagia. 1996;11:93–8.

14.

Kim DE, Park JH, Schellingerhout D, Ryu WS, Lee SK, Jang MU, Jeong SW, Na JY, Park JE, Lee EJ, Cho KH, Kim JT, Kim BJ, Han MK, Lee J, Cha JK, Kim DH, Lee SJ, Ko Y, Lee BC, Yu KH, Oh MS, Hong KS, Cho YJ, Park JM, Kang K, Park TH, Lee KB, Park KJ, Choi HK, Bae HJ. Mapping the supratentorial cerebral arterial territories using 1160 large artery infarcts. JAMA Neurol. 2018;76:72.

15.

Ryu JS, Park DH, Kang JY. Application and interpretation of high-resolution manometry for pharyngeal dysphagia. J Neurogastroenterol Motil. 2015;21:283–7.

16.

Jean A, Dallaporta M. Principles of deglutition: a multidisciplinary text for swallowing and its disorders. New York: Springer; 2013.

17.

Jean A. Brainstem organization of the swallowing network. Brain Behav Evol. 1984;25:109–16.

18.

Dodds WJ. Physiology of swallowing. Dysphagia. 1989;3:171–8.

19.

Kim JS. Pure lateral medullary infarction: clinical-radiological correlation of 130 acute, consecutive patients. Brain. 2003;126:1864–72.

20.

Oshima F, Yokozeki M, Hamanaka M, Imai K, Makino M, Kimura M, Fujimoto Y, Fujiu-Kurachi M. Prediction of dysphagia severity: an investigation of the dysphagia patterns in patients with lateral medullary infarction. Intern Med. 2013;52:1325–31.

21.

Kim DE, Park KJ, Schellingerhout D, Jeong SW, Ji MG, Choi WJ, Tak YO, Kwan GH, Koh EA, Noh SM, Jang HY, Kim TY, Jeong JW, Lee JS, Choi HK. A new image-based stroke registry containing quantitative magnetic resonance imaging data. Cerebrovasc Dis. 2011;32:567–76.

22.

Hamdy S, Rothwell JC, Brooks DJ, Bailey D, Aziz Q, Thompson DG. Identification of the cerebral loci processing human swallowing with H2(15)O PET activation. J Neurophysiol. 1999;81:1917–26.

23.

Martin RE, MacIntosh BJ, Smith RC, Barr AM, Stevens TK, Gati JS, Menon RS. Cerebral areas processing swallowing and tongue movement are overlapping but distinct: a functional magnetic resonance imaging study. J Neurophysiol. 2004;92:2428–43.

24.

Soros P, Inamoto Y, Martin RE. Functional brain imaging of swallowing: an activation likelihood estimation meta-analysis. Hum Brain Mapp. 2009;30:2426–39.

25.

Komisaruk BR, Mosier KM, Liu WC, Criminale C, Zaborszky L, Whipple B, Kalnin A. Functional localization of brainstem and cervical spinal cord nuclei in humans with fMRI. AJNR Am J Neuroradiol. 2002;23:609–17.
Funding
No funding was received for this study.
Ethics declarations
Conflict of interest
The authors declare that they have no competing interest.
Ethical Approval
This study was approved by our Institutional Review Board. An informed consent was obtained from each patient.
Additional information
Publisher's Note
Springer Nature remains neutral with regard to jurisdictional claims in published maps and institutional affiliations.
About this article
Cite this article
Cho, Y., Ryu, W., Lee, H. et al. Which Factors Affect the Severity of Dysphagia in Lateral Medullary Infarction?. Dysphagia (2019). https://doi.org/10.1007/s00455-019-10043-8
Received:

Revised:

Accepted:

Published:
Keywords
Lateral medullary syndrome

Deglutition

Prognosis

Magnetic resonance imaging

Deglutition disorders