Abstract
The goal of this study was to further characterize respiratory patterns in total laryngectomees with attention to respiratory-swallow pattern as it relates to presence/absence of tracheoesophageal puncture (TEP) and bolus consistency. It was hypothesized that participants with TEP would exhibit respiratory-swallow patterns that were significantly different than those without TEP and that bolus consistency (thin or solid) would modulate respiratory-swallow pattern. Data were collected from 12 adults (8 male), aged 46–67 years (mean 57) status post total laryngectomy (1–30 years; average 6 years). Those actively receiving chemoradiation, with history of esophageal cancer, with neurologic disease, with history of lung cancer, with known or suspected recurrence of head and neck cancer (HNC), or with severe cognitive deficits were excluded. Laryngectomy participants were asked to swallow three sips of water and three bites of graham cracker. Submental surface EMG activity was used to detect swallows and a custom stoma mask in line with a pneumotachograph measured airflow during the swallows. Non-parametric Mann–Whitney test for differences was used to detect significance for our dependent variables, TEP or bolus consistency and independent variables, respiratory-swallow pattern. Laryngectomee's showed preference for swallow during inspiration which is inconsistent with the expiratory pattern preference found in healthy adults with intact larynges by McFarland et al. (Respir Physiol Neurobiol 234:89–96, 2016) but consistent with the pattern preference for inspiration (or non-dominant respiratory-swallow phase pattern) found in the HNC population at-large by Brodsky et al. (J Appl Physiol 112(10):1698–1705, 2012). No significant difference was found in swallow pattern with regards to presence/absence of TEP or bolus consistency.
This is a preview of subscription content, log in to check access.
We're sorry, something doesn't seem to be working properly.
Please try refreshing the page. If that doesn't work, please contact support so we can address the problem.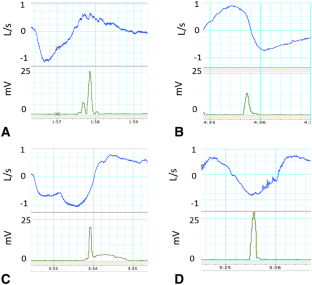 References
1.

Humbert IA, Lokhande A, Christopherson H, German R, Stone A. Adaptation of swallowing hyo-laryngeal kinematics is distinct in oral vs. pharyngeal sensory processing. J Appl Physiol. 2012;112(10):1698–705.

2.

Gould FD, Ohlemacher J, Lammers AR, Gross A, Ballester A, German RZ. Central nervous system integration of sensorimotor signals in oral and pharyngeal strucutres:oropharyngeal kinematics response to recurrent laryngeal nerve lesion. J Appl Physiol. 2016;120(5):495–502.

3.

Leslie P, Drinnan MJ, Ford GA, Wilson JA. Swallow respiration patterns in dysphagia patients following acute stroke. Dysphagia. 2002;17(3):202–7.

4.

Martino R, Foley N, Bhogal S, Diamant N, Speechley M, Teasell R. Dysphagia after stroke: incidence, diagnosis, and pulmonary complications. Stroke. 2005;36(12):2756–63.

5.

Akbar U, Dham B, He Y, Hack N, Wu S, Troche M, Tighe P, Nelson E, Friedman JH, Okun MS. Incidence and mortality trends of aspiration pneumonia in Parkinson's disease in the United States, 1979–2010. Parkinsonism Relat Disord. 2015;21(9):1082–6.

6.

Troche MS, Sapienza CM, Rosenbek JC. Effects of bolus consistency on timing and safety of swallow in patients with Parkinson's disease. Dysphagia. 2008;23:26–32.

7.

Ruoppolo G, Schettino I, Frasca V, Giacomelli E, Prosperini L, Cambieri C, Roma R, Greco A, Mancini P, DeVinventiis M, Silani V, Inghilleri M. Dysphagia in amyotrophic lateral sclerosis:prevalence and clinical findings. Acta Neurol Scand. 2013;128(6):397–401.

8.

Humbert IA, Sunday KL, Karagiorgos E, Vose AK, Gould F, Greene L, Tolar A, Rivet A. Swallowing kinematic differences across frozen, mixed, ultrathin liquid boluses in healthy adults: age, sex and normal variability. J Speech Lang Hear Res. 2018;61:1544–59.

9.

Shaker R, Li Q, Ren J, Townsend WF, Dodds WJ, Martin BJ. Coordination of deglutition and phases of respiration: effect of aging, tachypnea, bolus volume, and chronic obstructive pulmonary disease. Am J Physiol. 1992;263:750–5.

10.

Shaker R, Ren J, Zamir Z, Sarna A, Liu J, Sui Z. Effect of aging, position and temperature on the threshold volume triggering pharyngeal swallows. Gastroenterology. 1994;107:396–402.

11.

Kelly BN, Huckabee ML, Jones RD, Frampton CM. The early impact of feeding on infant breathing-swallowing coordination. Respir Physiol Neurobiol. 2007;156(2):147–53.

12.

Martin BJ, Logeman JA, Shaker R, Dodds WJ. Coordination between respiration and swallowing: respiratory phase relationships and temporal integration. J Appl Physiol. 1994;76(2):714–23.

13.

Paydarfar D, Gilbert RJ, Poppel CS, Nassab PF. Respiratory phase resetting and airflow changed induced by swallowing in humans. J Physiol. 1995;483(Pt 1):273–88.

14.

Wilson SL, Thach BT, Brouillette RT, Abu-Osba YK. Coordination of breathing and swallowing in human infants. J Appl Physiol. 1981;50:851.

15.

Smith J, Wolkove N, Colacone A, Kreisman H. Coordination of eating, drinking and breathing in adults. Chest. 1989;96:578–82.

16.

Martin-Harris B, Brodsky MB, Price CC, Michel Y, Walters B. Temporal coordination of pharyngeal and laryngeal dynamics with breathing during swallowing: single liquid swallows. J Appl Physiol. 2003;94(5):1735.

17.

Mittal RK, Goyal RK. Sphincter mechanisms at the lower end of the esophagus: part 1 oral cavity, pharynx and esophagus. GI Motil Online. 2006. https://doi.org/10.1038/gimo14.

18.

Perlman AL, He X, Barkmeier J, Van Leer E. Bolus location associated with videofluorscopic and respirodeglutometric events. JSLHR. 2005;48:21–3.

19.

O'Rourke A, Morgan LB, Coss-Adame E, Wienberger P, Postma G. The effect of voluntary pharyngeal swallowing maneuvers on esophageal swallowing physiology. Dysphagia. 2014;29(2):262–8.

20.

D'Angelo OM, Diaz-Gil D, Nunn D, Simons JC, Gianatasio C, Mueller N, Meyer MG, Pierce E, Rosow C, Eikermann M. Anesthesia and increased hypercarbic drive impair the coordination between breathing and swallowing. Anesthesiology. 2014;121(6):1175–83.

21.

Yamada T, Matsuo K, Izawa M, Yamada S, Masuda Y, Ogasawara T. Effects of age and viscosity on food transport and breathing-swallowing coordination during eating of two-phase foods in nursing home residents. Geriat Geontol Int. 2017;17(11):2171–7.

22.

Butler SG, Stuart A, Pressman H, Poage G, Roche WJ. Preliminary investigation of swallowing apnea duration and swallow/respiratory phase relationships in individuals with cerebral vascular accident. Dysphagia. 2007;22(3):215–24.

23.

Gross RD, Atwood CW Jr, Ross SB, Eichhorn KA, Olszewski JW, Doyle PJ. The coordination of breathing and swallowing in Parkinson's disease. Dysphagia. 2008;22:136–45.

24.

Aydogdu I, Tanriverdi Z, Ertekin C. Dysfunction of bulbar central pattern generator in ALS patients with dysphagia during sequential deglutition. Clin Neurophysiol. 2011;122(6):1219–28.

25.

Rempel G, Moussavi Z. The effect of viscosity on the breath-swallow pattern of young people with cerebral palsy. Dysphagia. 2005;20(2):108–12.

26.

Pitts T, Rose MJ, Poliacek I, Condrey J, Davenport PW, Bolser DC. Effect of laparotomy on the swallow-breathing relationship in the cat. Lung. 2015;193(1):129–33.

27.

Beecher HK. The measured effect of laparotomy on the respiration. J Clini Invest. 1933;12(4):639–50.

28.

Brodsky MB, McFarland DH, Dozier TS, Blair J, Ayers C, Michel Y, Gillespie MB, Day TA, Martin-Harris B. Respiratory-swallow phase patterns and their relationship to swallowing impairment in patients treated for oropharyngeal cancer. Head Neck. 2010;32(4):481–9.

29.

Selley WG, Flack FC, Ellis RE, Brooks WA. Respiratory patterns associated with swallowing: part 2: neurologically impaired dysphagic patients. Age Ageing. 1989;18(3):173–6.

30.

Martin-Harris B, McFarland DH, Hill EG, Strange CB, Focht KL, Wan Z, Blair J, McGrattan K. Respiratory-swallow training in patients with head and neck cancer. Arch Phys Med Rehabil. 2015;96(5):885–93.

31.

Charbonneau I, Lund JP, McFarland DH. Persistence of respiratory-swallowing coordination after laryngectomy. J Speech Lang Hear Res. 2005;48(1):34–44.

32.

Costa MM, Lemme EM. Coordination of respiration and swallowing: functional pattern and relevance of vocal folds closure. Arq Gastroenterol. 2010;47(1):42–8.

33.

Rogus-Pulia NM, Pierce M, Mittal BB, Zecker SG, Logemann J. Bolus effects on patient awareness of swallowing difficulty and swallow physiology after chemoradiation for head and neck cancer. Head Neck. 2015;37(8):1122–9.

34.

Preiksaitis HG, Mayrand S, Robins K, Diamant NE. Coordination of respiration and swallowing: effect of bolus volume in normal adults. Am J Physiol. 1992;263:624–30.

35.

Adnerhill I, Ekberg O, Groher ME. Determining the normal bolus size for thin liquids. Dysphagia. 1989;4(1):1–3.

36.

Medicis SW, Hiiemae KM. Natural bite size for common foods. J Dent Res. 1998;77:1513.

37.

Dozier TS, Brodsky MB, Michel Y, Walters BC Jr, Martin-Harris B. Coordination of swallowing and respiration in normal sequential cup swallows. Laryngoscope. 2006;116(8):1489–93.

38.

Lippert D, Hoffman MR, Britt CJ, Jones CA, Hernandez J, Ciucci MR, McCullough TM. Preliminary evaluation of functional swallow after total laryngectomy using high-resolution manometry. Ann Otol Rhinol Laryngol. 2016;125(7):541–9.

39.

Brodal A. Neurological anatomy. 3rd ed. New York: Oxford University Press; 1981. p. 508–32.
Funding
This study was funded by NIH SPARC (Grant No. OT2OD023854).
Ethics declarations
Conflict of interest
All the authors declare that they have no conflicts of interest.
Ethical Approval
All procedures performed in studies involving human participants were in accordance with the ethical standards of the University of Florida Institutional Review Board and with the 1964 Helsinki declaration and its later amendments or comparable ethical standards. Approval for this study was received from the University of Florida Institutional Review Board for research involving human subjects.
Informed Consent
Informed consent was obtained from all individual participants included in the study.
Additional information
Publisher's Note
Springer Nature remains neutral with regard to jurisdictional claims in published maps and institutional affiliations.
About this article
Cite this article
Fullerton, A., Mou, Y., Silver, N. et al. Respiratory-Swallow Pattern Following Total Laryngectomy. Dysphagia (2019). https://doi.org/10.1007/s00455-019-10031-y
Received:

Revised:

Accepted:

Published:
Keywords
Laryngectomy

Respiratory-swallow pattern

Swallow-breathing coordination

Deglutition

Deglutition disorders