Abstract
Amyloidosis in the upper aerodigestive tract is a very rare disease with mainly case reports documented so far. In the pathogenesis, amyloid protein fibers are deposited in organs and tissue. In the upper aerodigestive tract, mostly localized amyloidosis occurs with unspecific symptoms, e.g., dysphagia. We conducted a retrospective multicenter study with two study centers in Germany (tertiary referral hospitals), the University Hospital of Bonn and the University Hospital of Goettingen. For a period of the last 7 years, data were analyzed and patients were recruited consecutively. 14 cases were included to the study. The most common manifestation was in the larynx (n = 11); in one case each localized amyloidosis was found in the tongue, trachea and in the pharynx. Since the majority of our cases (n = 13; 92.6%) presented with unspecific symptoms, biopsy results confirmed the diagnosis of localized amyloidosis. Resection of the lesion was only performed in patients reporting of symptoms, in asymptomatic patients only a non-invasive biopsy was done. In two patients (14.2%), in addition to the focal lesion a systemic amyloidosis was found. Amyloidosis in the upper aerodigestive tract is a rare disease. Nonetheless, every otorhinolaryngologist should be aware of this disease. When detected it is a straight forward to treat illness. The appearance of a systemic amyloidosis needs to be ruled out; thus, there is a chance to develop a multiple myeloma. Given the slow progressive character of amyloidosis, a long-term follow-up up to 10 years is inevitable.
This is a preview of subscription content, log in to check access.
Access options
Buy single article
Instant access to the full article PDF.
US$ 39.95
Price includes VAT for USA
Subscribe to journal
Immediate online access to all issues from 2019. Subscription will auto renew annually.
US$ 99
This is the net price. Taxes to be calculated in checkout.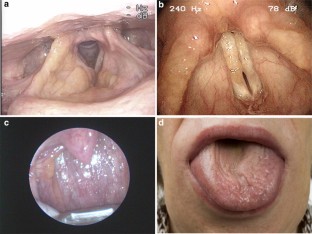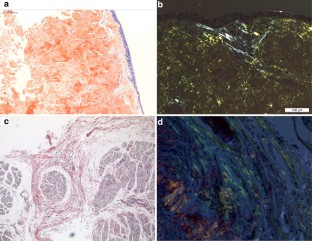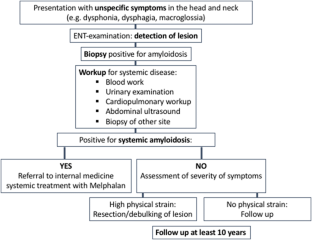 Abbreviations
AL:

Amyloid light chain

CO2 :

Carbon dioxide

CT:

Computed tomography

ECG:

Echocardiography

F:

Female

KTP:

Potassium titanyl phosphate

M:

Male

MLS:

Microlaryngoscopy

MRI:

Magnetic resonance imaging

NI:

No information

RBC:

Red blood count

SAA:

Serum amyloid A protein

SAP:

Serum amyloid P protein

TTR:

Transthyretin

UKB:

University Hospital of Bonn

UMG:

University Hospital of Goettingen

WBC:

White blood count
References
1.

Sipe JD, Benson MD, Buxbaum JN, Ikeda S, Merlini G, Saraiva MJ, et al. Nomenclature. Amyloid fibril proteins and clinical classification of the amyloidosis. J Protein Fold Disord. 2014;21(4):221–4.

2.

Passerotti GH, Caniello M, Hachiya A, Santoro PP, Imamura R, Tsuji DH. Multiple-sited amyloidosis in the upper aerodigestive tract: case report and literature review. Braz J Otorhinolaryngol. 2008;74(3):462–6.

3.

Pietruzewska W, Wągrowska-Danilewicz M, Klatka J. Amyloidosis in the head and neck: a clinicopathological study of cases with long-term follow-up. Arch Med Sci. 2012;10(4):846–52.

4.

Schade G, Jaehne M, Hess M. Stimmverbessernde laserchirurgische Therapie einer Larynxamyloidose. HNO. 2004;52:740–3.

5.

Kyle RA, Bayrd ED. Amyloidosis: review of 236 cases. Medicine. 1975;54(4):271–99.

6.

Alaani A, Warfield AT, Pracy JP. Management of laryngeal amyloidosis. J Laryngol Otol. 2004;118(4):279–83.

7.

Pepys MB, Herbert J, Hutchinson WL, Tennent GA, Lachmann HJ, Gallimore JR, et al. Targeted pharmacological depletion of serum amyloid P component for treatment of human amyloidosis. Nature. 2002;417:254–9.

8.

Thompson LD, Derringer GA, Wenig BM. Amyloidosis of the larynx: a clinicopathologic study of 11 cases. Mod Pathol. 2000;13(5):528–35.

9.

Aisen PS, Gauthier S, Ferris SH, Saumier D, Haine D, Garceau D, et al. Tramiprosate in mild-to-moderate Alzheimer's disease—a randomized, double-blind, placebo-controlled, multi-centre study (the Alpha phase Study). Arch Med Sci. 2011;7(1):102–11.

10.

Lebowitz RA, Morris L. Plasma cell dyscrasias and amyloidosis. Orolaryngol Clin N Am. 2003;36(4):747–64.

11.

Gertz MA. Immunoglobulin light chain amyloidosis: 2013 update on diagnosis, prognosis, and treatment. Am J Hematol. 2013;88(5):416–25.

12.

Nienhuis HL, Bijzet J, Hazenberg BP. The prevalence and management of systemic amyloidosis in western countries. Kidney Dis. 2016;2(1):10–9.

13.

Rudy SF, Jeffery CC, Damrose EJ. Clinical characteristics of laryngeal versus nonlaryngeal amyloidosis. Laryngoscope. 2018;128(3):670–4.

14.

Pribitkin E, Friedman O, O'Hara B, Cunnane MF, Levi D, Rosen M, et al. Amyloidosis of the upper aerodigestive tract. Laryngoscope. 2003;113(12):2095–101.

15.

Heinritz H, Kraus T, Iro H. Lokalisierte amyloidose im Kopf-Hals-Bereich. Eine retrospective studie. HNO. 1994;42:744–9.

16.

Nandapalan V, Jones TM, Morar P, Clark AH, Jones AS. Localized amyloidosis of the parotid gland: a case report and review of the localized amyloidosis of the head and neck. Head Neck. 1998;20(1):73–8.

17.

Pang KP, Chee LW, Busmanis I. Amyloidoma of the nose in a pediatric patient: a case report. Am J Otolaryngol. 2004;22(2):138–41.

18.

Schick B, Brors D, Arps H. Taschenfaltentumor beidseits: Lokalisierte Amyloidose des Larynx. HNO. 2000;48:152–3.

19.

Patel A, Pambuccian S, Maisel R. Nasopharyngeal amyloidsosis. Am J Otolaryngol. 2002;23:308–11.

20.

Chadwick MA, Buckland JR, Mason P, Randall CJ, Theaker J. A rare case of dysphagia: hypopharyngeal amyloidosis masquerading as a post-cricoid tumour. J Laryngol Otol. 2002;116:54–6.

21.

Simpson GT 2nd, Strong MS, Skinner M, Cohen AS. Localized amyloidosis of the head and neck and upper aerodigestive and lower respiratory tracts. Ann Otol Rhinol Laryngol. 1984;93:374–9.

22.

Mazzantini D, Pazzagli M, Cagno MC, Menconi G, Palla A. Long-term survival in primary amyloidosis of the laryngotracheobronchial tract by treating complications only. Monaldi Arch Chest Dis. 2002;55:114–6.

23.

Kerner MM, Wang MB, Angier G, Calcaterra TC, Ward PH. Amyloidosis of the head and neck. A clinicopathologic study of the UCLA experience, 1955–1991. Arch Otolarnygol Head Neck Surg. 1995;121(7):778–82.

24.

Fahrner KS, Black CC, Gosselin BJ. Localized amyloidosis of the tongue: a review. Am J Otolaryngol. 2004;25(3):186–9.

25.

Phillips NM, Matthews E, Altmann C, Agnew J, Burns H. Laryngeal amyloidosis: diagnosis, pathophysiology and management. J Laryngol Otol. 2017;131:S41–7.

26.

Lewis JE, Olsen KD, Kurtin PJ, Kyle RA. Laryngeal amyloidosis: a clinicopathologic and immunohistochemical review. Otolaryngol Head Neck Surg. 1992;106:372–7.

27.

Stevenson R, Witteles R, Damrose E, Arai S, Lafayette RA, Schrier S, Afghahi A, Liedtke M. More than a frog in the throat: a case series and review of localized laryngeal amyloidosis. Arch Otolaryngol Neck Surg. 2012;138:509–11.

28.

Penner CR, Muller S. Head and neck amyloidosis: a clinico-pathologic study of 15 cases. Oral Oncol. 2006;42(4):421–9.

29.

Bartels H, Dikkers FG, van der Wal JE, Lokhorst HM, Hazenberg BP. Laryngeal amyloidosis: localized versus systemic disease and update on diagnosis and therapy. Ann Otol Rhinol Laryngol. 2004;113(1):741–8.

30.

Motta G, Salzano F, Motta S, Staibano S. CO2 laser treatment of laryngeal amyloidosis. J Laryngol Otol. 2003;117:647–50.

31.

Wierzbicka M, Budzynski D, Piwowarczyk K, Bartochowska A, Marszałek A, Szyfter W. How to deal with laryngeal amyloidosis? Experience based on 16 cases. Amyloid. 2012;19(4):177–81.

32.

Favia G, Lacaita MG, Laforgia PD. Oromaxillary amyloidosis. Classification, etiopathogenesis and clinical immunopathological and histochemical study. Minerva Stomatol. 1984;33(2):223–30.

33.

Elad S, Czerninski R, Fischman S, Keshet N, Drucker S, Davidovich T, Goldschmidt N. Exceptional oral manifestations of amyloid light chain protein (AL) systemic amyloidosis. Amyloid. 2010;17:27–31.

34.

Madani MH, Harwick RD, Chen SY, Mille AS. Amyloidosis of the oral cavity: report of five cases. Compedium. 1991;12:336–42.

35.

van der Waal RI, van de Scheur MR, Starink TM, van der Waal I. Amyloidosis of the tongue as paraneoplastic marker of plasma cell dyscrasia. Oral Surg Oral Surg Oral Med Oral Pathol Oral Radiol Endodontol. 2002;94:444–7.

36.

Stoopler ES, Sollecito TP, Chen SY. Amyloid deposition in the oral cavity: a retrospective study and review of the literature. Oral Surg Oral Med Oral Pathol. 2003;95:674–80.

37.

Angiero F, Seramondi R, Magistro S, Crippa R, Benedicenti S, Rizzardi C, Cattoretti G. Amyloid deposition in the tongue: clinical and histopathological profile. Anticancer Res. 2010;30(7):3009–14.

38.

Gouvea AF, Ribeiro AC, Leon JE, Carlos R, de Almeida OP, Lopes MA. Head and neck amyloidosis: clinicopathological features and immunohistochemical analysis of 14 cases. Oral Pathol Med. 2012;41:178–85.

39.

O'Reilly A, D'Souza A, Lust J, Price D. Localized tongue amyloidosis: a single institutional case series. Otolaryngol Head Neck Surg. 2013;149:240–4.

40.

Matsuo FS, Barbosa de Paulo LF, Servato JP, de Faria PR, Cardoso SV, Loyola AM. Involvement of oral tissues by AL amyloidosis: a literature review and report of eight new cases. Clin Oral Investig. 2016;20(8):1913–20.

41.

Sakagiannis G, Giotakis E, Thompson LDR. Localized nasopharyngeal amyloidosis: a clinicopathologic series of 7 cases with a literature review. Head Neck Pathol. 2017. https://doi.org/10.1007/s12105-017-0880-4.

42.

Gean-Marton AD, Kirsch CF, Vezina LG, Weber AL. Focal amyloidosis of the head and neck: evaluation with CT and MR imaging. Radiology. 1991;181:521–5.

43.

Hegarty JL, Rao VM. Amyloidoma of the nasopharynx: CT and MR findings. AJNR. 1993;114:215–8.

44.

Panda NK, Sharma SC, Mann SB, Radotra BD. Localized amyloidosis of the nasopharynx. ENT J. 1994;75:335–6.

45.

Dominguez S, Wienberg P, Claros P, Claros A, Vila J. Primary localized nasopharyngeal amyloidosis. A case report. Int J Pediatr Otorhinolaryngol. 1996;36:61–7.

46.

Lim JS, Lebowitz RA, Jacob JB. Primary amyloidosis presenting as a nasopharyngeal mass. Am J Rhinol. 1999;13:209–12.

47.

Pitkaranta A, Malmberg H. Localized amyloid tumor of nasopharynx. Otolaryngol Head Neck Surg. 2000;122:309–10.

48.

Munichor M, Cohen H, Kerner H, Szvalb S, Iancu TC. Localized amyloidosis in nasopharyngeal carcinoma diagnosed by fine needle aspiration and electron microscopy. Acta Cytol. 2000;448:673–8.

49.

Zhuang YL, Tsai TL, Lin CZ. Localized amyloid deposition in the nasopharynx and neck, mimicking nasopharyngeal carcinoma with neck metastasis. J Chin Med Assoc. 2005;68(3):142–5.

50.

Motosugi U, Ichikawa T, Araki T, Endo S, Masuyama K, Nakazawa T. Localized nasopharyngeal amyloidosis with remarkable early enhancement on dynamic contrast-enhanced MR imaging. Eur Radiol. 2007;17(3):852–3.

51.

Panda NK, Saravanan K, Purushotaman G, Gurunathan R, Mahesha V. Localized amyloidosis masquerading as nasopharyngeal tumor: a review. Am J Otolaryngol Head Neck Surg. 2007;28:208–11.

52.

Yoshida A, Borkar S, Singh B, Ghossein RA, Schöder H. Incidental detection of concurrent extramedullary plasmacytoma and amyloidoma of the nasopharynx on [18F]fluorodeoxyglucose positron emission tomography/computed tomography. J Clin Oncol. 2008;26(35):5817–9.

53.

Chen YS, Li WY, Ho CY. Localized nasopharyngeal amyloidosis. J Chin Med Assoc. 2010;73(10):549–52.

54.

Karimi K, Chheda NN. Nasopharyngeal amyloidosis: a case report. Laryngoscope. 2010;120(Suppl 4):S197.

55.

Wu AY, Chapman WB, Witterick IJ, Deangelis DD. Bifocal orbital and nasopharyngeal amyloidomas presenting as Graves disease. Ophthalmic Plast Reconstr Surg. 2011;27(5):e132–4.

56.

Geller E, Freitag SK, Laver NV. Localized nasopharyngeal amyloidosis causing bilateral nasolacrimal duct obstruction. Ophthalmic Plast Reconstr Surg. 2011;27(3):e64–7.

57.

Durbec M, Ambrun A, Barnoud R, Poupart M, Pignat JC, Merrot O. Localized nasopharyngeal amyloidosis. Eur Ann Otorhinolaryngol Head Neck Dis. 2012;129(3):160–2.

58.

Sanchez Legaza E, Cervera Oliver C, Guerrero Cauqui R. Amyloidosis of the nasopharynx. Acta Otorrinolaringol Esp. 2013;64(5):377–8.

59.

Mirza AH, El-Shunnar S, Sama A. Nasopharyngeal amyloidosis: an unusual cause of unilateral hearing loss. J Surg Case Rep. 2013;2:rjs048.

60.

Kumar B, Pant B, Kumar V, Negi M. Sinonasal globular amyloidosis simulating malignancy: a rare presentation. Head Neck Pathol. 2016;10(3):379–83.

61.

Luo M, Peng G, Shi L, Ming X, Li Z, Fei S, Ding Q, Cheng J. Intensity-modulated radiotherapy for localized nasopharyngeal amyloidosis: case report and literature review. Strahlenther Onkol. 2016;192(12):944–50.

62.

Kim JS, Kwon S. Localized nasopharyngeal amyloidosis mimicking malignancy: a case report. Medicine. 2017;96(30):e7615.

63.

Lopez Amado M, Lorenzo Patino M, Lopez Blanco G, Anral Monreal F. Giant primary amyloidoma of the tonsil. J Laryngol Otol. 1996;110:613–5.

64.

Finsterer J, Wogritsch C, Pokieser P, Vesely M, Ulrich W, Grisold W, Mamoli B. Light chain myeloma with oropharyngeal amyloidosis presenting as bulbar paralysis. J Neurol Sci. 1997;147(2):205–8.

65.

Metternich FU, Brusis T. Surgical ENT therapy of oropharyngeal amyloidosis. Laryngorhinootologie. 1998;77(4):231–4.

66.

Green KM, Morris DP, Pitt M, Small M. Amyloidosis of Waldeyer's ring and larynx. J Laryngol Otol. 2000;114(4):296–8.

67.

Grindle CR, Curry JM, Cantor JP, Malloy KM, Pribitkin EA, Keane WM. Localized oropharyngeal amyloidosis. Ear Nose Throat J. 2001;90(5):220–2.

68.

Chiesa Estomba CM, Araujo Da Costa AS, Rivera Schmitz T. A rare cause of tonsillar asymmetry. Eur Ann Otorhinolaryngol Head Neck Dis. 2015;132(6):361–2.

69.

Ghekiere O, Desuter G, Weynand B, Coche E. Hypopharyngeal amyloidoma. AJR. 2003;181(6):1720–1.

70.

Hammami B, Mnejja M, Kallel S, Bouguecha L, Chakroun A, Charfeddine I, Ghorbel A. Hypopharyngeal amyloidosis: a case report. Otorhinolaryngol Head Neck Dis Eur Ann. 2010;127(2):83–5.

71.

Myssiorek D, Alvi A, Bhuiya T. Primary salivary gland amyloidosis causing sicca syndrome. Ann Otol Rhinol Laryngol. 1992;101(6):487–90.

72.

Vavrina J, Müller W, Gebbers JO. Recurrent amyloid tumor of the parotid gland. Eur Arch Otorhinolaryngol. 1995;252(1):53–6.

73.

Gareb B, Perry M, Tadrous PJ. Isolated light chain amyloidosis involving the parotid gland: a case report. J Oral Maxillofac Surg. 2003. https://doi.org/10.1016/j.joms.2018.03.003.

74.

Thomson A. Report of the Committee of Collective Investigation of the Anatomical Society of Great Britain and Ireland for the Year 1889–90. J Anat Physiol. 1890;25(Pt 2):89–101.

75.

Deviprasad D, Pujary K, Balakrishnan R, Nayak DR. KTP laser in laryngeal amyloidosis: five cases with review of literature. Indian J Otolaryngol Head Neck Surg. 2013;65:36–41.

76.

Hazenberg AJ, Hazenberg BP, Dikkers FG. Long-term follow-up after surgery in localized laryngeal amyloidosis. Eur Arch Oto-Rhino-Laryngol. 2016;273:2613–20.

77.

Klemens JJ, Recant W, Baron JM, Saadia-Redleaf MI. Amyloidosis of the external auditory canal. Ear Nose Throat J. 2010;89(1):219–20.

78.

Hazenberg BP, van Rijswijk MH, Lub-de Hooge MN, Vellenga E, Haagsma EB, Posthumus MD, Jager PL. Diagnostic performance and prognostic value of extravascular retention of 123I-labeled serum amyloid P component in systemic amyloidosis. J Nucl Med. 2007;48(6):865–72.

79.

Dedo HH, Izdebski K. Laryngeal amyloidosis in 10 patients. Laryngoscope. 2004;114:1742–6.

80.

Rosengren S, Mellqvist UH, Nahi H, Forsberg K, Lenhoff S, Strömberg O, Ahlberg L, Linder O, Carlson K. Outcome of AL amyloidosis after high-dose melphalan and autologous stem cell transplantation in Sweden, long-term results from all patients treated in 1994–2009. Bone Marrow Transpl. 2016;51:1569–72.

81.

Graamans K, Lubsen H. Clinical implications of laryngeal amyloidosis. J Laryngol Otol. 1985;99(6):617–23.

82.

Ma L, Bandarchi B, Sasaki C, Levine S, Choi Y. Primary localized laryngeal amyloidosis: report of 3 cases with long-term follow-up and review of the literature. Arch Pathol Lab Med. 2005;129(2):215–8.
Acknowledgements
The authors would like to thank Thore Thiesler, MD (Department of Pathology, UKB Bonn, Germany) and Julia Kitz, MD (Department of Pathology, UMG Goettingen, Germany) for performing the histological examination.
Ethics declarations
Conflict of interest
The authors declare no conflict of interest.
About this article
Cite this article
Send, T., Spiegel, J.L., Schade, G. et al. Amyloidosis of the Upper Aerodigestive Tract: Management of a Rare Disease and Review of the Literature. Dysphagia 34, 179–191 (2019). https://doi.org/10.1007/s00455-018-9956-x
Received:

Accepted:

Published:

Issue Date:
Keywords
Amyloidosis

Upper aerodigestive tract

Dysphagia

Deglutition

Deglutition disorder

Demographics