Abstract
Tongue strength is routinely evaluated in clinical swallowing evaluations since lingual weakness is an established contributor to dysphagia. Tongue strength may be clinically quantified by the maximum isometric tongue pressure (MIP) generated by the tongue against the palate; however, wide ranges in normal performance remain to be fully explained. Although orthodontic theory has long suggested a relation between lingual function and oral cavity dimensions, little attention has been given to the potential influence of oral and palatal structure(s) on healthy variance in MIP generation. Therefore, anterior and posterior tongue strength measures and oropalatal dimensions were obtained across 147 healthy adults (aged 18–88 years). Age was confirmed as a significant, independent predictor explaining approximately 10.2% of the variance in anterior tongue strength, but not a significant predictor of posterior tongue strength. However, oropalatal dimensions predicted anterior tongue strength with over three times the predictive power of age alone (p < .001). Significant models for anterior tongue strength (R 2 = .457) and posterior tongue strength (R 2 = .283) included a combination of demographic predictors (i.e., age and/or gender) and oropalatal dimensions. Palatal width, estimated tongue volume, and gender were significant predictors of posterior tongue strength (p < .001). Therefore, oropalatal dimensions may warrant consideration when accurately differentiating between pathological lingual weakness and healthy individual difference.
This is a preview of subscription content, log in to check access.
Access options
Buy single article
Instant access to the full article PDF.
US$ 39.95
Price includes VAT for USA
Subscribe to journal
Immediate online access to all issues from 2019. Subscription will auto renew annually.
US$ 99
This is the net price. Taxes to be calculated in checkout.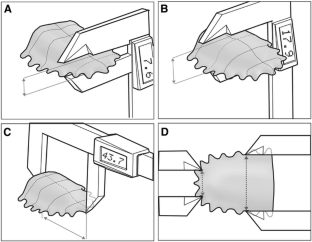 References
1.

Clark HM, Henson PA, Barber WD, Stierwalt JAG, Sherrill M. Relationships among subjective and objective measures of tongue strength and oral phase swallowing impairments. Am J Speech Lang Pathol. 2003;12(1):40–50.

2.

Lazarus CL, Logemann JA, Pauloski BR, Rademaker AW, Larson CR, Mittal BB, et al. Swallowing and tongue function following treatment for oral and oropharyngeal cancer. J Speech Lang Hear Res. 2000;43(4):1011–23.

3.

Stierwalt JAG, Youmans SR. Tongue measures in individuals with normal and impaired swallowing. Am J Speech Lang Pathol. 2007;16(2):148–56.

4.

Rogus-Pulia N, Rusche N, Hind JA, Zielinski J, Gangnon R, Safdar N, et al. Effects of device-facilitated isometric progressive resistance oropharyngeal therapy on swallowing and health-related outcomes in older adults with dysphagia. J Am Geriatr Soc. 2016;64(2):417–24.

5.

Robbins J, Kays SA, Gangnon RE, Hind JA, Hewitt AL, Gentry LR, et al. The effects of lingual exercise in stroke patients with dysphagia. Arch Phys Med Rehab. 2007;88(2):150–8.

6.

Yeates EM, Molfenter SM, Steele CM. Improvements in tongue strength and pressure-generation precision following a tongue-pressure training protocol in older individuals with dysphagia: three case reports. Clin Interv Aging. 2008;3(4):735–47.

7.

Adams V, Mathisen B, Baines S, Lazarus C, Callister R. A systematic review and meta-analysis of measurements of tongue and hand strength and endurance using the Iowa Oral Performance Instrument (IOPI). Dysphagia. 2013;28(3):350–69.

8.

Clark HM, Solomon NP. Age and sex difference in orofacial strength. Dysphagia. 2012;27(1):2–9.

9.

Crow HC, Ship JA. Tongue strength and endurance in different aged individuals. J Gerontol A Biol Sci Med Sci. 1996;51(5):247–50.

10.

Fei T, Polacco RC, Hori SE, Molfenter SM, Peladeau-Pigeon M, Tsang C, et al. Age-related differences in tongue-palate pressures for strength and swallowing tasks. Dysphagia. 2013;28(4):575–81.

11.

Gingrich LL, Stierwalt JAG, Hageman CF, LaPointe LL. Lingual propulsive pressures across consistencies generated by the anteromedian and posteromedian tongue by healthy young adults. J Speech Lang Hear Res. 2012;55(3):960–72.

12.

Nicosia MA, Hind JA, Roecker EB, Garnes M, Doyle J, Dengel GA, et al. Age effects on the temporal evolution of isometric and swallowing pressure. J Gerontol A Biol Sci Med Sci. 2000;55(11):M634–40.

13.

Robbins J, Levine R, Wood J, Roecker EB, Luschei E. Age effects on lingual pressure generation as a risk factor for dysphagia. J Gerontol A Biol Sci Med Sci. 1995;50(5):257–62.

14.

Utanohara Y, Hayashi R, Yoshikawa M, Yoshida M, Tsuga K, Akagawa Y. Standard values of maximum tongue pressure taken using newly developed disposable tongue pressure measurement device. Dysphagia. 2008;23(3):286–90.

15.

Youmans SR, Stierwalt JAG. Measures of tongue function related to normal swallowing. Dysphagia. 2006;21(1):61–5.

16.

Youmans SR, Youmans GL, Stierwalt JAG. Differences in tongue strength across age and gender: is there a diminished strength reserve? Dysphagia. 2009;24(1):57–65.

17.

Vanderwegen J, Guns C, Van Nuffelen G, Elen R, De Bodt M. The influence of age, sex, bulb position, visual feedback and the order of testing on maximum anterior and posterior tongue strength and endurance in healthy Belgian adults. Dysphagia. 2013;28(2):159–66.

18.

Ono T, Hori K, Nokubi T. Pattern of tongue pressure on hard palate during swallowing. Dysphagia. 2004;19:259–64.

19.

Kydd WL, Toda JM. Tongue pressures exerted on the hard palate during swallowing. J Am Dent Assoc. 1962;65:319–30.

20.

McGlone RE, Prroffit WR. Correlation between functional lingual pressure and oral cavity size. Cleft palate J. 1972;9(3):229–35.

21.

Nagao K, Kitaoki N, Kawano F, Komoda J, Ichikawa T. Influence of changes in occlusal vertical dimension on tongue pressure to palate during swallowing. Prosthodont Res Pract. 2002;1(1):16–23.

22.

Solomon NP, Munson B. The effect of jaw position on measures of tongue strength and endurance. J Speech Lang Hear Res. 2004;47(3):584–94.

23.

Okayama H, Tamura F, Kikutani T, Kayanaka H, Katagiri H, Nishiwaki K. Effects of a palatal augmentation prosthesis on lingual swallowing function in postoperative patients with oral cancer: coronal section analysis by ultrasonography. Odontology. 2008;96(1):26–31.

24.

Toyoshita Y, Koshino H, Hirai T, Matsumi T. Effect of wearing a palatal plate on swallowing function. J Prosthet Orthot Res. 2009;53(4):172–5.

25.

Light J, Edelman SB, Alba A. The dental prosthesis used for intraoral muscle therapy in the rehabilitation of the stroke patient: a preliminary research study. NY State Dent J. 2001;67:22–7.

26.

Marunick M, Tselios N. The efficacy of palatal augmentation prostheses for speech and swallowing in patients undergoing glossectomy: a review of the literature. J Prosthet Dent. 2002;91:67–74.

27.

Robbins J, Gangnon RE, Theis SM, Kays SA, Hewitt AL, Hind JA. The effects of lingual exercise on swallowing in older adults. J Am Geriatr Soc. 2005;53:1483–9.

28.

Liégeois F, Albert A, Limme M. Comparison between tongue volume from magnetic resonance images and tongue area from profile cephalograms. J Orthod. 2009;32:381–6.

29.

Crary MA, Mann GD, Groher ME. Initial psychometric assessment of a functional oral intake scale for dysphagia in stroke patients. Arch Phys Med Rehabil. 2005;86(8):1516–20.

30.

Miller JL, Watkin KL, Chen MF. Muscle, adipose, and connective tissue variations in intrinsic musculature of the adult human tongue. J Speech Lang Hear Res. 2002;45:51–65.

31.

Stäl P, Marklund S, Thornell L, De Paul R, Eriksson P. Fibre composition of human intrinsic tongue muscles. Cell Tissues Organs. 2003;173:147–61.

32.

Saboisky JP, Stashuk DW, Hamilton-Wright A, Trinder J, Nandedkar S, Malhotra A. Effects of aging on genioglossus motor units in humans. PLoS ONE. 2014;9:e104572.

33.

Lexell J. Human aging, muscle mass, and fiber type composition. J Gerontol A Biol Sci Med Sci. 1995;50:11–6.

34.

VanRaenhorst-Bell H, Coufal K, Pinkston J, Patterson J. Tongue muscle performance in relation to measure of body composition and bone mineral density. Paper presented at American Speech-Language and Hearing Association Convention; 2016, Philadelphia, Pennsylvania.

35.

Liu Z, Shcherbatyy V, Gu G, Perkins J. Effects of tongue volume reduction on craniofacial growth: a longitudinal study on orofacial skeletons and dental arches. Arch Oral Biol. 2008;53:991–1001.
Acknowledgements
We gratefully acknowledge Justine Rinehart, Margaret Way, Anne Delaney, Erica Murrell, Caiti Boyack, Carolyn Pellegrino, Amy Happ, Apryl Bailey, Nicole Tryon, and Grant Leacox who contributed to the success of this project.
Ethics declarations
Conflicts of interest
No conflicts of interest or financial support to be declared.
Additional information
Research completed at the Florida State University and the University of Northern Iowa.
About this article
Cite this article
Pitts, L.L., Stierwalt, J.A.G., Hageman, C.F. et al. The Influence of Oropalatal Dimensions on the Measurement of Tongue Strength. Dysphagia 32, 759–766 (2017). https://doi.org/10.1007/s00455-017-9820-4
Received:

Accepted:

Published:

Issue Date:
Keywords
Deglutition

Deglutition disorders

Lingual–palatal pressure

Tongue strength

Oropalatal dimensions