Abstract
Spinocerebellar ataxia type 6 (SCA6), an autosomal dominant triplet repeat disease, predominantly affects the cerebellum with a late onset and generally good prognosis. Dysphagia is commonly associated with the outcomes of neurodegenerative diseases such as SCA6. Although the characteristics of dysphagia have been rarely reported in SCA6, our previous study indicated that dysphagia is generally milder in SCA6 than in SCA3, another inherited ataxia with multisystem involvement. However, abnormalities in the pharyngeal phase in SCA6 were indistinguishable from those in SCA3, with no explainable reason. To determine the reason, we repeatedly performed videofluoroscopic examinations (VF) in 14 patients with SCA6. The results showed that the gross progression of dysphagia was apparently slow, but four patients had progressive dysphagia at an early disease stage; dysphagia began within 10 years from the onset of ataxia and rapidly progressed. A common clinical feature of the four patients was a significantly older age at the onset of ataxia (74.0 vs. 60.3 years), associated with significantly shorter triplet repeats. This finding surprisingly indicated that patients who had shorter repeats and thereby later onset and potentially better prognoses were at risk for dysphagia-associated problems. Ischemic changes, homozygous mutation, and diabetes mellitus as well as aging might have contributed to the observed progressive dysphagia. We found that conventionally monitored somatosensory evoked potentials at least partly reflected progressive dysphagia. Despite the small study group, our findings suggest that clinicians should carefully monitor dysphagia in patients with SCA6 who are older at disease onset (>60 years).
This is a preview of subscription content, log in to check access.
Access options
Buy single article
Instant access to the full article PDF.
US$ 39.95
Price includes VAT for USA
Subscribe to journal
Immediate online access to all issues from 2019. Subscription will auto renew annually.
US$ 99
This is the net price. Taxes to be calculated in checkout.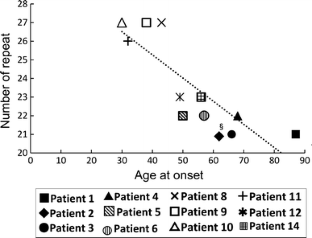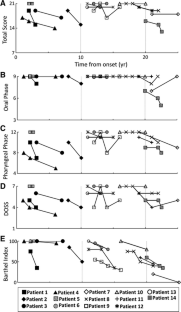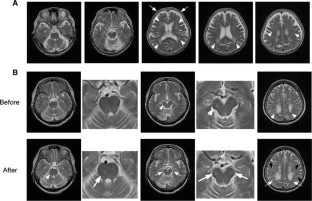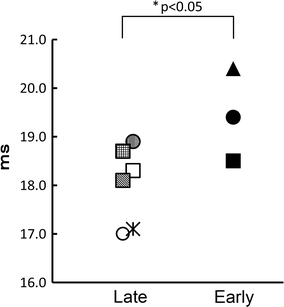 References
1.

Schols L, Kruger R, Amoiridis G, Przuntek H, Epplen JT, Riess O. Spinocerebellar ataxia type 6: genotype and phenotype in German kindreds. J Neurol Neurosurg Psychiatry. 1998;64:67–73.

2.

Ashizawa T, Figueroa KP, Perlman SL, Gomez CM, Wilmot GR, Schmahmann JD, Ying SH, Zesiewicz TA, Paulson HL, Shakkottai VG, Bushara KO, Kuo SH, Geschwind MD, Xia G, Mazzoni P, Krischer JP, Cuthbertson D, Holbert AR, Ferguson JH, Pulst SM, Subramony SH. Clinical characteristics of patients with spinocerebellar ataxias 1, 2, 3 and 6 in the US; a prospective observational study. Orphanet J Rare Dis. 2013;8:177.

3.

Matsumura R, Futamura N, Fujimoto Y, Yanagimoto S, Horikawa H, Suzumura A, Takayanagi T. Spinocerebellar ataxia type 6. Molecular and clinical features of 35 Japanese patients including one homozygous for the CAG repeat expansion. Neurology. 1997;49:1238–43.

4.

Seidel K, Siswanto S, Brunt ER, den Dunnen W, Korf HW, Rub U. Brain pathology of spinocerebellar ataxias. Acta Neuropathol. 2012;124:1–21.

5.

Takahashi H, Ishikawa K, Tsutsumi T, Fujigasaki H, Kawata A, Okiyama R, Fujita T, Yoshizawa K, Yamaguchi S, Tomiyasu H, Yoshii F, Mitani K, Shimizu N, Yamazaki M, Miyamoto T, Orimo T, Shoji S, Kitamura K, Mizusawa H. A clinical and genetic study in a large cohort of patients with spinocerebellar ataxia type 6. J Hum Genet. 2004;49:256–64.

6.

Isono C, Hirano M, Sakamoto H, Ueno S, Kusunoki S, Nakamura Y. Differences in dysphagia between spinocerebellar ataxia type 3 and type 6. Dysphagia. 2013;28:413–8.

7.

Rub U, Brunt ER, Petrasch-Parwez E, Schols L, Theegarten D, Auburger G, Seidel K, Schultz C, Gierga K, Paulson H, van Broeckhoven C, Deller T, de Vos RA. Degeneration of ingestion-related brainstem nuclei in spinocerebellar ataxia type 2, 3, 6 and 7. Neuropathol Appl Neurobiol. 2006;32:635–49.

8.

Seidel K, Mahlke J, Siswanto S, Kruger R, Heinsen H, Auburger G, Bouzrou M, Grinberg LT, Wicht H, Korf HW, den Dunnen W, Rub U. The brainstem pathologies of Parkinson's disease and dementia with Lewy bodies. Brain Pathol. 2015;25:121–35.

9.

Higo R, Nito T, Tayama N. Swallowing function in patients with multiple-system atrophy with a clinical predominance of cerebellar symptoms (MSA-C). Eur Arch Otorhinolaryngol. 2005;262:646–50.

10.

Isono C, Hirano M, Sakamoto H, Ueno S, Kusunoki S, Nakamura Y. differential progression of dysphagia in heredity and sporadic ataxias involving multiple systems. Eur Neurol. 2015;74:237–42.

11.

Hirano M, Isono C, Sakamoto H, Ueno S, Kusunoki S, Nakamura Y. Rotigotine transdermal patch improves swallowing in dysphagic patients with Parkinson's disease. Dysphagia. 2015;30:452–6.

12.

O'Neil KH, Purdy M, Falk J, Gallo L. The dysphagia outcome and severity scale. Dysphagia. 1999;14:139–45.

13.

Haines DE. Neuroanatomy in clinical context. 9th ed. Baltimore: Wolters Kluwer; 2015.

14.

Loeb C, Gandolfo C, Caponnetto C, Del Sette M. Pseudobulbar palsy: a clinical computed tomography study. Eur Neurol. 1990;30:42–6.

15.

Cola MG, Daniels SK, Corey DM, Lemen LC, Romero M, Foundas AL. Relevance of subcortical stroke in dysphagia. Stroke. 2010;41:482–6.

16.

Wan P, Chen X, Zhu L, Xu S, Huang L, Li X, Ye Q, Ding R. Dysphagia post subcortical and supratentorial stroke. J Stroke Cerebrovasc Dis. 2016;25:74–82.

17.

Schmahmann JD, Ko R, MacMore J. The human basis pontis: motor syndromes and topographic organization. Brain. 2004;127:1269–91.

18.

Kim JS, Kim J. Pure midbrain infarction: clinical, radiologic, and pathophysiologic findings. Neurology. 2005;64:1227–32.

19.

Ikeuchi T, Takano H, Koide R, Horikawa Y, Honma Y, Onishi Y, Igarashi S, Tanaka H, Nakao N, Sahashi K, Tsukagoshi H, Inoue K, Takahashi H, Tsuji S. Spinocerebellar ataxia type 6: CAG repeat expansion in alpha1A voltage-dependent calcium channel gene and clinical variations in Japanese population. Ann Neurol. 1997;42:879–84.

20.

Unno T, Wakamori M, Koike M, Uchiyama Y, Ishikawa K, Kubota H, Yoshida T, Sasakawa H, Peters C, Mizusawa H, Watase K. Development of Purkinje cell degeneration in a knockin mouse model reveals lysosomal involvement in the pathogenesis of SCA6. Proc Natl Acad Sci USA. 2012;109:17693–8.

21.

Matsuyama Z, Kawakami H, Maruyama H, Izumi Y, Komure O, Udaka F, Kameyama M, Nishio T, Kuroda Y, Nishimura M, Nakamura S. Molecular features of the CAG repeats of spinocerebellar ataxia 6 (SCA6). Hum Mol Genet. 1997;6:1283–7.

22.

Restivo DA, Marchese-Ragona R, Lauria G, Squatrito S, Gullo D, Vigneri R. Botulinum toxin treatment for oropharyngeal dysphagia associated with diabetic neuropathy. Diabetes Care. 2006;29:2650–3.

23.

Valensi P, Giroux C, Seeboth-Ghalayini B, Attali JR. Diabetic peripheral neuropathy: effects of age, duration of diabetes, glycemic control, and vascular factors. J Diabetes Complicat. 1997;11:27–34.

24.

Frederick MG, Ott DJ, Grishaw EK, Gelfand DW, Chen MY. Functional abnormalities of the pharynx: a prospective analysis of radiographic abnormalities relative to age and symptoms. Am J Roentgenol. 1996;166:353–7.

25.

Pitts T, Hegland KW, Sapienza CM, Bolser DC, Davenport PW. Alterations in oropharyngeal sensory evoked potentials (PSEP) with Parkinson's disease. Respir Physiol Neurobiol. 2016;229:11–6.
Ethics declarations
Conflict of interest
The authors declare no conflict of interest that could potentially bias this study.
Electronic supplementary material
Below is the link to the electronic supplementary material.
About this article
Cite this article
Isono, C., Hirano, M., Sakamoto, H. et al. Progression of Dysphagia in Spinocerebellar Ataxia Type 6. Dysphagia 32, 420–426 (2017). https://doi.org/10.1007/s00455-016-9771-1
Received:

Accepted:

Published:

Issue Date:
Keywords
SCA6

DOSS

Deglutition

VF evaluation

SEP