Abstract
This study examined the relationships between subjective descriptors and objective airflow measures of cough. We hypothesized that coughs with specific airflow characteristics would share common subjective perceptual descriptions. Thirty clinicians (speech-language pathologists, otolaryngologists, and neurologists) perceptually evaluated ten cough audio samples with specific airflow characteristics determined by peak expiratory flow rate, cough expired volume, cough duration, and number of coughs in the cough epoch. Participants rated coughs by strength, duration, quality, quantity, and overall potential effectiveness for airway protection. Perception of cough strength and effectiveness was determined by the combination of presence of pre-expulsive compression phase, short peak expiratory airflow rate rise time, high peak expiratory flow rates, and high cough volume acceleration. Perception of cough abnormality was defined predominantly by descriptors of breathiness and strain. Breathiness was characteristic for coughs with either absent compression phases and relatively high expiratory airflow rates or coughs with significantly low expired volumes and reduced peak flow rates. In contrast, excessive strain was associated with prolonged compression phases and low expiratory airflow rates or the absence of compression phase with high peak expiratory rates. The study participants reached greatest agreement in distinguishing between single and multiple coughs. Their assessment of cough strength and effectiveness was less consistent. Finally, the least agreement was shown in determining the quality categories. Modifications of cough airflow can influence perceptual cough evaluation outcomes. However, the inconsistency of cough ratings among our participants suggests that a uniform cough rating system is required.
This is a preview of subscription content, log in to check access.
Access options
Buy single article
Instant access to the full article PDF.
US$ 39.95
Price includes VAT for USA
Subscribe to journal
Immediate online access to all issues from 2019. Subscription will auto renew annually.
US$ 99
This is the net price. Taxes to be calculated in checkout.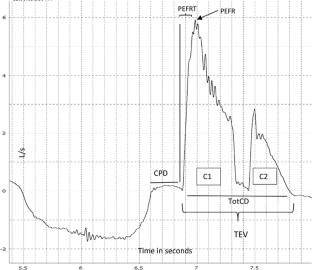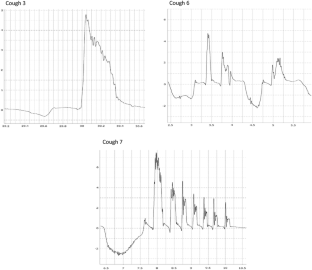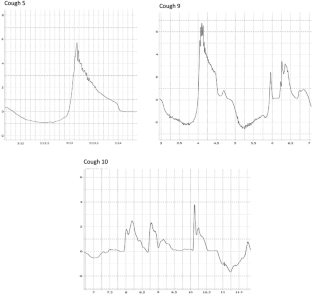 References
1.

Fontana GA, Widdicombe J. What is cough and what should be measured? Pulm Pharmacol Ther. 2007;20(4):307–12.

2.

Smith Hammond CA. Predicting aspiration in patients with ischemic stroke: comparison of clinical signs and aerodynamic measures of voluntary cough. Chest. 2009;135(3):769–77.

3.

Abaza A, et al. Classification of voluntary cough sound and airflow patterns for detecting abnormal pulmonary function. Cough. 2009;5(1):8.

4.

Piirilä P, Sovijärvi AR. Differences in acoustic and dynamic characteristics of spontaneous cough in pulmonary diseases. Chest. 1989;96(1):46–53.

5.

Thorpe W, et al. Acoustic analysis of cough. In: intelligent information systems conference, The Seventh Australian and New Zealand 2001. 2001.

6.

Knocikova J, et al. Wavelet analysis of voluntary cough sound in patients with respiratory diseases. J Physiol Pharmacol. 2008;59(Suppl 6):331–40.

7.

Korpáš J, Sadloňová J, Vrabec M. Analysis of the cough sound: an overview. Pulmonary Pharmacology. 1996;9(5–6):261–8.

8.

Smith J, et al. The description of cough sounds by healthcare professionals. Cough. 2006;2(1):1.

9.

Pitts T, et al. Voluntary cough production and swallow dysfunction in parkinson's disease. Dysphagia. 2008;23(3):297–301.

10.

Hegland KW, Okun MS, Troche MS. Sequential voluntary cough and aspiration or aspiration risk in Parkinson's disease. Lung. 2014;192(4):601–8.

11.

Hegland KW, et al. Comparison of voluntary and reflex cough effectiveness in Parkinson's disease. Parkinsonism Relat Disord. 2014;20(11):1226–30.

12.

Troche MS, et al. A framework for understanding shared substrates of airway protection. J Appl Oral Sci. 2014;22(4):251–60.

13.

Miles A, Huckabee ML. Intra- and inter-rater reliability for judgement of cough following citric acid inhalation. Int J Speech-Lang Pathol. 2013;15(2):209–15.

14.

Miles A, McFarlane M, Huckabee M-L. Inter-rater reliability for judgment of cough following citric acid inhalation after training. Speech, Lang Hear. 2014;17(4):204–9.

15.

Daniels SK, et al. Clinical assessment of swallowing and prediction of dysphagia severity. Am J Speech-Lang Pathol. 1997;6(4):17–24.

16.

Mathers-Schmidt BA, Kurlinski M. Dysphagia evaluation practices: inconsistencies in clinical assessment and instrumental examination decision-making. Dysphagia. 2003;18(2):114–25.

17.

Murty G, Lancaster P, Kelly P. Cough intensity in patients with a vocal cord palsy*. Clin Otolaryngol Allied Sci. 1991;16(3):248–51.

18.

Fontana GA, et al. Coughing in Laryngectomized Patients. Am J Respir Crit Care Med. 1999;160(5):1578–84.
Additional information
This work was performed at the University of Florida.
Appendix
Appendix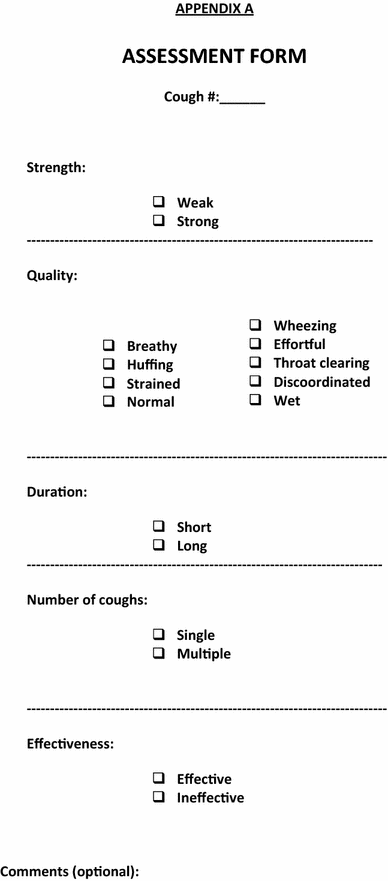 About this article
Cite this article
Laciuga, H., Brandimore, A.E., Troche, M.S. et al. Analysis of Clinicians' Perceptual Cough Evaluation. Dysphagia 31, 521–530 (2016). https://doi.org/10.1007/s00455-016-9708-8
Received:

Accepted:

Published:

Issue Date:
Keywords
Voluntary cough

Clinical/bedside assessment

Dysphagia

Cough perception

Cough airflow

Airway protection