Abstract
Dysphagia might affect 12 % of the general population, and its complications include pneumonia, malnutrition, social isolation, and death. No validated Spanish symptom survey exists to quantify dysphagia symptoms among Latin Americans. Therefore, we performed a prospective cohort study in a tertiary care university hospital to validate the Spanish version of the 10-Item Eating-Assessment-Tool (EAT-10spa) for use in Colombia. After an interdisciplinary committee of five bilingual specialists evaluated the EAT-10spa (translated and validated in Spain) and deemed it appropriate for the Colombian culture, its feasibility, reliability, validity, sensitivity to change, and diagnostic capacity were evaluated. As a reference standard, we used the flexible endoscopic evaluation of swallowing with sensory testing and a standardized clinical evaluation. All assessments were blinded. In total, 133 subjects were included (52 % women, mean age 55 years) and completed the EAT-10spa (median completion time: 2 min [IQR 1–3 min]), 39 % of whom had an elementary-level education. Cronbach's α coefficient: 0.91; test–retest intra-class correlation coefficient: 0.94. The Spearman's correlation coefficient of the EAT-10spa with the 8-point penetration-aspiration scale was 0.54 (P < 0.001). The area under the receiver-operating-characteristic-curve (AUC-ROC) for dysphagia and aspiration were 0.79 (P < 0.001) and 0.81 (P < 0.001), respectively. The best cut-off points for dysphagia and aspiration were EAT-10spa ≥2 (sensitivity 93.6 %, specificity 36.4 %) and EAT-10spa ≥4 (sensitivity 94.3 %, specificity 49.5 %), respectively. A reduction in the EAT-10 ≥3 was the best cut-off point for a clinically significant improvement (AUC-ROC 0.83; P < 0.0001). The EAT-10spa showed excellent psychometric properties and discriminatory capacity for use in Colombia.
This is a preview of subscription content, log in to check access.
Access options
Buy single article
Instant access to the full article PDF.
US$ 39.95
Price includes VAT for USA
Subscribe to journal
Immediate online access to all issues from 2019. Subscription will auto renew annually.
US$ 99
This is the net price. Taxes to be calculated in checkout.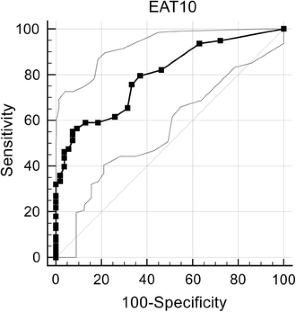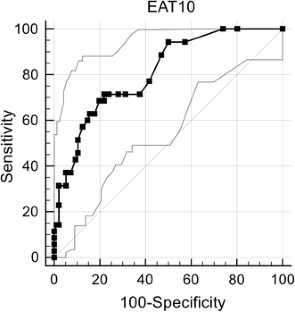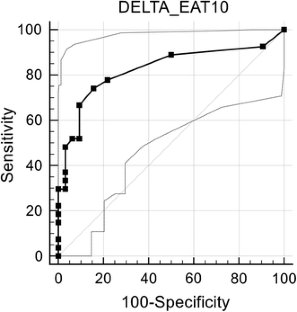 References
1.

Langmore SE, Grillone G, Elackattu A, Walsh M. Disorders of swallowing: palliative care. Otolaryngol Clin N Am. 2009;42(1):87–105.

2.

Clave P, Terre R, de Kraa M, Serra M. Approaching oropharyngeal dysphagia. Rev Esp de Enferm Dig. 2004;96(2):119–31.

3.

Germain I, Dufresne T, Gray-Donald K. A novel dysphagia diet improves the nutrient intake of institutionalized elders. J Am Diet Assoc. 2006;106(10):1614–23.

4.

Speyer R, Cordier R, Kertscher B, Heijnen BJ. Psychometric properties of questionnaires on functional health status in oropharyngeal dysphagia: a systematic literature review. Biomed Res Int. 2014;2014:458678.

5.

Kertscher B, Speyer R, Fong E, Georgiou AM, Smith M. Prevalence of oropharyngeal dysphagia in the Netherlands: a telephone survey. Dysphagia. 2015;30(2):114–20.

6.

Cook IJ. Oropharyngeal dysphagia. Gastroenterol Clin N Am. 2009;38(3):411–31.

7.

Hamidon BB, Nabil I, Raymond AA. Risk factors and outcome of dysphagia after an acute ischaemic stroke. Med J Malays. 2006;61(5):553–7.

8.

Croghan JE, Burke EM, Caplan S, Denman S. Pilot study of 12-month outcomes of nursing home patients with aspiration on videofluoroscopy. Dysphagia. 1994;9(3):141–6.

9.

Smithard DG, O'Neill PA, Park C, Morris J, Wyatt R, England R, Martin DF. Complications and outcome after acute stroke: does dysphagia matter? Stroke. 1996;27(7):1200–4.

10.

Eslick GD, Talley NJ. Dysphagia: epidemiology, risk factors and impact on quality of life–a population-based study. Aliment Pharmacol Ther. 2008;27(10):971–9.

11.

Lind CD. Dysphagia: evaluation and treatment. Gastroenterol Clin N Am. 2003;32(2):553–75.

12.

Nacci A, Ursino F, La Vela R, Matteucci F, Mallardi V, Fattori B. Fiberoptic endoscopic evaluation of swallowing (FEES): proposal for informed consent. Acta Otorhinolaryngol Ital. 2008;28(4):206–11.

13.

Rees CJ. Flexible endoscopic evaluation of swallowing with sensory testing. Curr Opin Otolaryngol Head Neck Surg. 2006;14(6):425–30.

14.

Aviv JE, Murry T, Zschommler A, Cohen M, Gartner C. Flexible endoscopic evaluation of swallowing with sensory testing: patient characteristics and analysis of safety in 1,340 consecutive examinations. Ann Otol Rhinol Laryngol. 2005;114(3):173–6.

15.

Gates J, Hartnell GG, Gramigna GD. Videofluoroscopy and swallowing studies for neurologic disease: a primer1. Radiographics. 2006;26(1):e22.

16.

Wu CH, Hsiao TY, Chen JC, Chang YC, Lee SY. Evaluation of swallowing safety with fiberoptic endoscope: comparison with videofluoroscopic technique. Laryngoscope. 1997;107(3):396–401.

17.

Langmore SE. Evaluation of oropharyngeal dysphagia: which diagnostic tool is superior? Curr Opin Otolaryngol Head Neck Surg. 2003;11(6):485–9.

18.

Belafsky PC, Mouadeb DA, Rees CJ, Pryor JC, Postma GN, Allen J, Leonard RJ. Validity and reliability of the Eating Assessment Tool (EAT-10). Ann Otol Rhinol Laryngol. 2008;117(12):919–24.

19.

Burgos R, Sarto B, Segurola H, Romagosa A, Puiggros C, Vazquez C, Cardenas G, Barcons N, Araujo K, Perez-Portabella C. Translation and validation of the Spanish version of the EAT-10 (Eating Assessment Tool-10) for the screening of dysphagia. Nutr Hosp. 2012;27(6):2048–54.

20.

Schindler A, Mozzanica F, Monzani A, Ceriani E, Atac M, Jukic-Peladic N, Venturini C, Orlandoni P. Reliability and validity of the Italian Eating Assessment Tool. Ann Otol Rhinol Laryngol. 2013;122(11):717–24.

21.

Goncalves MI, Remaili CB, Behlau M. Cross-cultural adaptation of the Brazilian version of the eating assessment tool—EAT-10. Codas. 2013;25(6):601–4.

22.

Nogueira DS, Ferreira PL, Reis EA, Lopes IS. Measuring outcomes for dysphagia: validity and reliability of the european portuguese eating assessment tool (P-EAT-10). Dysphagia. 2015;30:511–20.

23.

Beaton DE, Bombardier C, Guillemin F, Ferraz MB. Guidelines for the process of cross-cultural adaptation of self-report measures. Spine. 2000;25(24):3186–91.

24.

Aviv JE. Prospective, randomized outcome study of endoscopy versus modified barium swallow in patients with dysphagia. Laryngoscope. 2000;110(4):563–74.

25.

Hiss SG, Postma GN. Fiberoptic endoscopic evaluation of swallowing. Laryngoscope. 2003;113(8):1386–93.

26.

Rosenbek JC, Robbins JA, Roecker EB, Coyle JL, Wood JL. A penetration-aspiration scale. Dysphagia. 1996;11(2):93–8.

27.

Waxman MJ, Durfee D, Moore M, Morantz RA, Koller W. Nutritional aspects and swallowing function of patients with Parkinson's disease. Nutr Clin Pract. 1990;5(5):196–9.

28.

Acquadro C, Conway K, Hareendran A, Aaronson N. Literature review of methods to translate health-related quality of life questionnaires for use in multinational clinical trials. Value Health. 2008;11(3):509–21.

29.

Guillemin F, Bombardier C, Beaton D. Cross-cultural adaptation of health-related quality of life measures: literature review and proposed guidelines. J Clin Epidemiol. 1993;46(12):1417–32.

30.

Landis JR, Koch GG. The measurement of observer agreement for categorical data. Biometrics. 1977;33(1):159–74.

31.

Hosmer DW, Lemeshow S. Applied logistic regression. 2nd ed. New York: WileyInc; 2000.

32.

Husted JA, Cook RJ, Farewell VT, Gladman DD. Methods for assessing responsiveness: a critical review and recommendations. J Clin Epidemiol. 2000;53:459–68.

33.

Swets JA. Measuring the accuracy of diagnostic systems. Science. 1988;240(4857):1285–93.

34.

Rofes L, Arreola V, Mukherjee R, Clave P. Sensitivity and specificity of the eating assessment tool and the volume-viscosity swallow test for clinical evaluation of oropharyngeal dysphagia. Neurogastroenterol Motil. 2014;26(9):1256–65.

35.

Cheney DM, Siddiqui MT, Litts JK, Kuhn MA, Belafsky PC. The ability of the 10-item eating assessment tool (EAT-10) to predict aspiration risk in persons with dysphagia. Ann Otol Rhinol Laryngol. 2015;124(5):351–4.
Acknowledgments
We thank the collaboration of the Department of Languages and Cultures of the La Sabana University, director Ivonne González and professors Carl Anderson and Ana María Ternent.
Ethics declarations
Conflict of Interest
The authors declare that they have no conflict of interests.
Funding
Colciencias, Grant 768-2013 and University of La Sabana (Chia, Colombia), Grant MED-164-2013.
Electronic Supplementary Material
Below is the link to the electronic supplementary material.
About this article
Cite this article
Giraldo-Cadavid, L.F., Gutiérrez-Achury, A.M., Ruales-Suárez, K. et al. Validation of the Spanish Version of the Eating Assessment Tool-10 (EAT-10spa) in Colombia. A Blinded Prospective Cohort Study. Dysphagia 31, 398–406 (2016). https://doi.org/10.1007/s00455-016-9690-1
Received:

Accepted:

Published:

Issue Date:
Keywords
Deglutition

Deglutition disorders

Quality of life

Reliability

Accuracy

Sensitivity to change