Abstract
Functional dysphagia (FD) is characterized by the presence of dysphagia without evidence of mechanical esophageal obstruction, GERD, and histopathology-based esophageal motor disorders. Dysphagia is common in older patients; however, there is a paucity of information regarding the type and frequency of peristaltic abnormalities compared to younger patients. Based on recently validated criteria for classification of weak peristalsis using high-resolution manometry (HRM), we hypothesized that older patients with FD would have more peristaltic defects detected by HRM compared to younger FD patients. A retrospective review of our motility database yielded 65 patients that met inclusion criteria. Patients were divided into two groups based on age (younger: <70 years; older: ≥70 years). Patients were interviewed, completed a quality-of-life questionnaire, and underwent solid-state HRM. The two groups differed in age but in no other demographic characteristics, severity of dysphagia, or quality of life. Dyspeptic symptoms, including nausea (p < 0.001), early satiety (p = 0.01), bloating (p = 0.02), and belching (p = 0.01), were also more prevalent in younger FD patients. Older age was associated with weak peristalsis involving frequent failed peristalsis, small proximal peristaltic defects (2–5 cm), and large proximal peristaltic defects (>5 cm) (p < 0.001). The mean contraction amplitude was also lower in the older group (p < 0.05). These data support the hypothesis that older patients with FD have a higher frequency of peristaltic abnormalities on HRM compared to younger patients. Older age was associated with increased frequency of weak peristalsis with small and large peristaltic defects.
This is a preview of subscription content, log in to check access.
Access options
Buy single article
Instant access to the full article PDF.
US$ 39.95
Price includes VAT for USA
Subscribe to journal
Immediate online access to all issues from 2019. Subscription will auto renew annually.
US$ 99
This is the net price. Taxes to be calculated in checkout.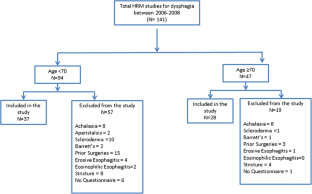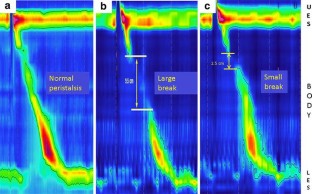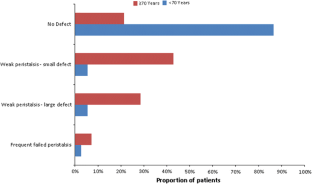 Abbreviations
FD:

Functional dysphagia

GERD:

Gastroesophageal reflux disease

HRM:

High-resolution manometry

LES:

Lower esophageal sphincter
References
1.

Achem AC, Achem SR, Stark ME, DeVault KR. Failure of esophageal peristalsis in older patients: association with esophageal acid exposure. Am J Gastroenterol. 2003;98:35–9.

2.

Stacher G, Lenglinger J, Eisler M, Hoffmann M, Goll A, Bergmann H, Stacher-Janotta G. Esophageal acid exposure in upright and recumbent postures: roles of lower esophageal sphincter, esophageal contractile and transport function, hiatal hernia, age, sex, and body mass. Dig Dis Sci. 2006;51:1896–903.

3.

Ergun GA, Miskovitz PF. Aging and the esophagus: common pathologic conditions and their effect upon swallowing in the geriatric population. Dysphagia. 1992;7:58–63.

4.

Tack J, Vantrappen G. The aging oesophagus. Gut. 1997;41:422–4.

5.

Jacob P, Kahrilas PJ, Vanagunas A. Peristaltic dysfunction associated with nonobstructive dysphagia in reflux disease. Dig Dis Sci. 1990;35:939–42.

6.

Galmiche JP, Clouse RE, Balint A, Cook IJ, Kahrilas PJ, Paterson WG, Smout AJ. Functional esophageal disorders. Gastroenterology. 2006;130:1459–65.

7.

Drossman DA, Li Z, Andruzzi E, Temple RD, Talley NJ, Thompson WG, Whitehead WE, Janssens J, Funch-Jensen P, Corazziari E, et al. US householder survey of functional gastrointestinal disorders. Prevalence, sociodemography, and health impact. Dig Dis Sci. 1993;38:1569–80.

8.

Bloem BR, Lagaay AM, van Beek W, Haan J, Roos RA, Wintzen AR. Prevalence of subjective dysphagia in community residents aged over 87. BMJ. 1990;300:721–2.

9.

Meshkinpour H, Haghighat P, Dutton C. Clinical spectrum of esophageal aperistalsis in the elderly. Am J Gastroenterol. 1994;89:1480–3.

10.

Eslick GD, Talley NJ. Dysphagia: epidemiology, risk factors and impact on quality of life—a population-based study. Aliment Pharmacol Ther. 2008;27:971–9.

11.

Paterson WG. Dysphagia in the elderly. Can Fam Physician. 1996;42:925–32.

12.

Howard PJ, Pryde A, Heading RC. Oesophageal manometry during eating in the investigation of patients with chest pain or dysphagia. Gut. 1989;30:1179–86.

13.

Parkman HP, Maurer AH, Caroline DF, Miller DL, Krevsky B, Fisher RS. Optimal evaluation of patients with nonobstructive esophageal dysphagia. Manometry, scintigraphy, or videoesophagography? Dig Dis Sci. 1996;41:1355–68.

14.

Ribeiro AC, Klingler PJ, Hinder RA, DeVault K. Esophageal manometry: a comparison of findings in younger and older patients. Am J Gastroenterol. 1998;93:706–10.

15.

Robson KM, Glick ME. Dysphagia and advancing age: are manometric abnormalities more common in older patients? Dig Dis Sci. 2003;48:1709–12.

16.

Andrews JM, Fraser RJ, Heddle R, Hebbard G, Checklin H. Is esophageal dysphagia in the extreme elderly (>or = 80 years) different to dysphagia younger adults? A clinical motility service audit. Dis Esophagus. 2008;21:656–9.

17.

Roman S, Lin Z, Kwiatek MA, Pandolfino JE, Kahrilas PJ. Weak peristalsis in esophageal pressure topography: classification and association with dysphagia. Am J Gastroenterol. 2011;106:349–56.

18.

Lee J, Anggiansah A, Anggiansah R, Young A, Wong T, Fox M. Effects of age on the gastroesophageal junction, esophageal motility, and reflux disease. Clin Gastroenterol Hepatol. 2007;5:1392–8.

19.

Ware J Jr, Kosinski M, Keller SD. A 12-Item Short-Form Health Survey: construction of scales and preliminary tests of reliability and validity. Med Care. 1996;34:220–33.

20.

Ware J Jr, Kosinski M, Turner-Bowker D, et al. How to Score Version 2 of the SF-12 Health Survey (with a Supplement Documenting Version 1). Lincoln: QualityMetric Inc.; 2002.

21.

Clouse RE, Parks TR, Staiano A, Haroian LR. Creation of an electronic sleeve emulation (eSleeve) for use with solid-state high-resolution manomentry. Gastroenterology. 2004;126:A111 [abstract].

22.

Ghosh SK, Pandolfino JE, Rice J, Clarke JO, Kwiatek M, Kahrilas PJ. Impaired deglutitive EGJ relaxation in clinical esophageal manometry: a quantitative analysis of 400 patients and 75 controls. Am J Physiol Gastrointest Liver Physiol. 2007;293:G878–85.

23.

Grande L, Lacima G, Ros E, Pera M, Ascaso C, Visa J, Pera C. Deterioration of esophageal motility with age: a manometric study of 79 healthy subjects. Am J Gastroenterol. 1999;94:1795–801.

24.

Eckardt VF, LeCompte PM. Esophageal ganglia and smooth muscle in the elderly. Am J Dig Dis. 1978;23:443–8.

25.

Lasch H, Castell DO, Castell JA. Evidence for diminished visceral pain with aging: studies using graded intraesophageal balloon distension. Am J Physiol. 1997;272:G1–3.
Conflict of interest
There are no conflicts of interest to disclose
Funding
None.
Electronic supplementary material
Below is the link to the electronic supplementary material.
About this article
Cite this article
Ratuapli, S.K., Hansel, S.L., Umar, S.B. et al. Esophageal Peristaltic Defects in Adults with Functional Dysphagia. Dysphagia 29, 519–526 (2014). https://doi.org/10.1007/s00455-014-9540-y
Received:

Accepted:

Published:

Issue Date:
Keywords
Functional dysphagia

Nonobstructive dysphagia

Esophageal pressure topography

Age

High-resolution manometry