Abstract
For patients with dysphagia resulting from upper esophageal sphincter dysfunction, strengthening the suprahyoid muscles through therapeutic exercise has proved effective in restoring oral feeding. The aim of this study was to compare the maximum and mean surface electromyography (sEMG) activity of the suprahyoid muscles during the Chin Tuck Against Resistance (CTAR) exercise and the Shaker exercise for both isokinetic and isometric tasks. During the CTAR exercises, the participant is seated while tucking the chin to compress an inflatable rubber ball, whereas during the Shaker exercise, the participant is lay supine while lifting the head to look at the feet. Forty healthy participants (20 males, 20 females) aged 21–39 years completed all four tasks in counterbalanced order, with measures of resting activation taken prior to each exercise. Although subjective feedback suggested that the sitting position for CTAR is less strenuous than the supine position for Shaker, the results of separate analyses showed significantly greater maximum sEMG values during the CTAR isokinetic and isometric exercises than during the equivalent Shaker exercises, and significantly greater mean sEMG values were observed for the CTAR isometric exercise than for the Shaker isometric exercise. Clinical trials are now needed, but the CTAR exercises appear effective in exercising the suprahyoid muscles, and they could achieve therapeutic effects comparable to those of Shaker exercises, with the potential for greater compliance by patients.
This is a preview of subscription content, log in to check access.
Access options
Buy single article
Instant access to the full article PDF.
US$ 39.95
Price includes VAT for USA
Subscribe to journal
Immediate online access to all issues from 2019. Subscription will auto renew annually.
US$ 99
This is the net price. Taxes to be calculated in checkout.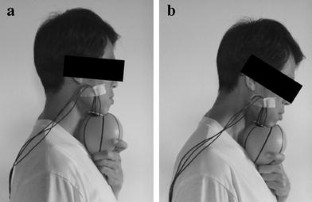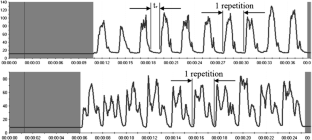 References
1.

Kahrilas PJ, Dodds WJ, Dent J, Logemann JA, Shaker R. Upper esophageal sphincter function during deglutition. Gastroenterology. 1988;95(1):52–62.

2.

Logemann JA, Rademaker A, Pauloski BR, Kelly A, Stangl-McBreen C, Antinoja J, Grande B, Farquharson J, Kern M, Easterling C, Shaker R. A randomized study comparing the Shaker exercise with traditional therapy: a preliminary study. Dysphagia. 2009;24(4):403–11. doi:10.1007/s00455-009-9217-0.

3.

Ferdjallah M, Wertsch JJ, Shaker R. Spectral analysis of surface EMG of upper esophageal sphincter opening muscles during head lift exercise. J Rehabil Res Dev. 2000;37(3):335–40.

4.

Shaker R, Easterling C, Kern M, Nitschke T, Massey B, Daniels S, Grande B, Kazandjian M, Dikeman K. Rehabilitation of swallowing by exercise in tube-fed patients with pharyngeal dysphagia secondary to abnormal UES opening. Gastroenterology. 2002;122:1314–21. doi:10.1053/gast.2002.32999.

5.

Goyal RK. Disorders of the cricopharyngeus muscle. Otolaryngol Clin North Am. 1984;17(1):115–30.

6.

Crary MA, Carnaby (Mann) GD, Groher ME. Biomechanical correlates of surface electromyography signals obtained during swallowing by healthy adults. J Speech Lang Hear Res. 2006;49:186–93. doi:10.1044/1092-4388(2006/015).

7.

Shaker R, Kern M, Bardan E, Taylor A, Stewart ET, Hoffmann RG, Arndorfer RC, Hofmann C, Bonnevier J. Augmentation of deglutitive upper esophageal sphincter opening in the elderly by exercise. Am J Physiol. 1997;272(6):G1518–22.

8.

Easterling C, Grande B, Kern M, Sears K, Shaker R. Attaining and maintaining isometric and isokinetic goals of the Shaker exercise. Dysphagia. 2005;20:133–8. doi:10.1007/s00455-005-0004-2.

9.

Mepani R, Antonik S, Massey B, Kern M, Logemann J, Pauloski B, Rademaker A, Easterling C, Shaker R. Augmentation of deglutitive thyrohyoid muscle shortening by the Shaker exercise. Dysphagia. 2009;24:26–31. doi:10.1007/s00455-008-9167-y.

10.

Yoshida M, Groher ME, Crary MA, Mann GC, Akagawa Y. Comparison of surface electromyographic (sEMG) activity of submental muscles between the head lift and tongue press exercises as a therapeutic exercise for pharyngeal dysphagia. Gerodontology. 2007;24:111–6.

11.

Okada S, Saitoh E, Palmer JB, Matsuo K, Yokoyama M, Shigeta R, Baba M. What is the chin-down posture? A questionnaire survey of speech language pathologists in Japan and the United States. Dysphagia. 2007;22:204–9. doi:10.1007/s00455-006-9073-0.

12.

Forsberg CM, Hellsing E, Linder-Aronson S, Sheikholeslam A. EMG activity in neck and masticatory muscles in relation to extension and flexion of the head. Eur J Orthod. 1985;7:177–84.

13.

Falla D, Jull G, O'Leary S, Dall'Abba P. Further evaluation of an EMG technique for assessment of the deep cervical flexor muscles. J Electromyogr Kinesiol. 2006;16:621–8.

14.

Adler SS, Beckers D, Buck M. PNF in practice: an illustrated guide. Berlin: Springer; 2007.

15.

White KT, Easterling C, Roberts N, Wertsch J, Shaker R. Fatigue analysis before and after Shaker exercise: physiologic tool for exercise design. Dysphagia. 2008;23:385–91. doi:10.1007/s00455-008-9155-2.
Acknowledgments
The authors declare that there were no conflicts of interest, commercial or otherwise, associated with the conduct of this research project or the findings therein.
About this article
Cite this article
Yoon, W.L., Khoo, J.K.P. & Rickard Liow, S.J. Chin Tuck Against Resistance (CTAR): New Method for Enhancing Suprahyoid Muscle Activity Using a Shaker-type Exercise. Dysphagia 29, 243–248 (2014). https://doi.org/10.1007/s00455-013-9502-9
Received:

Revised:

Accepted:

Published:

Issue Date:
Keywords
Deglutition disorders

Deglutition

Dysphagia exercises

Surface electromyography