Abstract
This study builds on previous work by Kendall, Leonard, and McKenzie, which investigated event sequence variability for 12 paired events during swallowing by healthy volunteers. They identified four event pairs that always occurred in a stereotyped order and a most common occurring overall order of events during swallowing. In the current study, we investigated overall event sequencing and the same four paired events in a sample of swallows by healthy young (under 45 years old) volunteers. Data were collected during a 16-swallow lateral videofluoroscopy protocol, which included manipulations of bolus volume, barium density, bolus viscosity, and swallow cueing. Our results agreed with previous findings that variable event sequencing is found in healthy swallowing, and, in regard to obligatory sequencing of two paired events, movement of the arytenoids toward the base of the epiglottis begins prior to upper esophageal sphincter (UES) opening and maximum hyolaryngeal approximation occurs after UES opening. However, our data failed to replicate the previous findings that there is obligatory sequencing of maximum pharyngeal constriction after maximal UES distension and the UES opens before bolus arrival at the UES. The most common observed overall event sequence reported by Kendall et al. was observed in only 4/293 swallows in our dataset. Manipulations of bolus volume, bolus viscosity, barium concentration, swallow cueing, and swallow repetitions could not completely account for the differences observed between the two studies.
This is a preview of subscription content, log in to check access.
Access options
Buy single article
Instant access to the full article PDF.
US$ 39.95
Price includes VAT for USA
Subscribe to journal
Immediate online access to all issues from 2019. Subscription will auto renew annually.
US$ 99
This is the net price. Taxes to be calculated in checkout.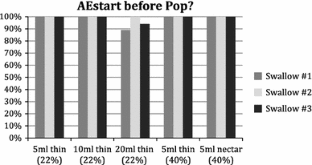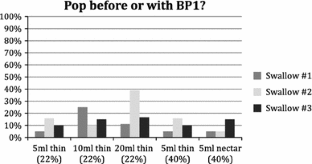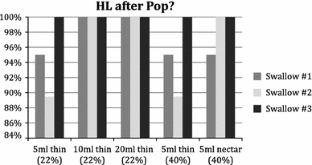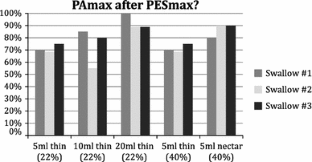 References
1.

Jean A. Brain stem control of swallowing: neuronal network and cellular mechanisms. Physiol Rev. 2001;81(2):929–69.

2.

Logemann JA. Evaluation and treatment of swallowing disorders. Austin: Pro-Ed; 1998.

3.

Molfenter SM, Steele CM. Temporal variability in the deglutition literature. Dysphagia. 2012;27(2):162–77.

4.

Ohmae Y, Logemann JA, Kaiser P, Hanson DG, Kahrilas PJ. Timing of glottic closure during normal swallow. Head Neck. 1995;17(5):394–402.

5.

Logemann JA, Pauloski BR, Rademaker AW, Kahrilas PJ. Oropharyngeal swallow in younger and older women: videofluoroscopic analysis. J Speech Lang Hear Res. 2002;45(3):434–45.

6.

Logemann JA, Pauloski BR, Rademaker AW, Colangelo LA, Kahrilas PJ, Smith CH. Temporal and biomechanical characteristics of oropharyngeal swallow in younger and older men. J Speech Lang Hear Res. 2000;43(5):1264–74.

7.

Mendell DA, Logemann JA. Temporal sequence of swallow events during the oropharyngeal swallow. J Speech Lang Hear Res. 2007;50(5):1256–71.

8.

Kendall KA. Oropharyngeal swallowing variability. Laryngoscope. 2002;112(3):547–51.

9.

Cook IJ, Dodds WJ, Dantas RO, Kern MK, Massey BT, Shaker R, et al. Timing of videofluoroscopic, manometric events, and bolus transit during the oral and pharyngeal phases of swallowing. Dysphagia. 1989;4(1):8–15.

10.

Kendall KA, McKenzie S, Leonard RJ, Gonçalves MI, Walker A. Timing of events in normal swallowing: a videofluoroscopic study. Dysphagia. 2000;15(2):74–83.

11.

Gay T, Rendell JK, Spiro J, Mosier K, Lurie AG. Coordination of oral cavity and laryngeal movements during swallowing. J Appl Physiol. 1994;77(1):357–65.

12.

McConnel FMS, Cerenko D, Jackson RT, Guffin TN Jr. Timing of major events of pharyngeal swallowing. Arch Otolaryngol Head Neck Surg. 1988;114(12):1413–8.

13.

Kendall KA, Leonard RJ, McKenzie SW. Sequence variability during hypopharyngeal bolus transit. Dysphagia. 2003;18(2):85–91.

14.

Molfenter SM, Steele CM. Variation in temporal measures of swallowing: sex and volume effects. Dysphagia. 2013;28(2):226–33. doi:10.1007/s00455-012-9437-6.

15.

Daniels SK, Schroeder MF, DeGeorge PC, Corey DM, Rosenbek JC. Effects of verbal cue on bolus flow during swallowing. Am J Speech Lang Pathol. 2007;16(2):140–7.

16.

Nagy A, Leigh C, Hori SF, Molfenter SM, Shariff T, Steele CM. Timing differences between cued and noncued swallows in healthy young adults. Dysphagia. 2013;28(3):428–34.

17.

Landis JR, Koch GG. The measurement of observer agreement for categorical data. Biometrics. 1977;33(1):159–74.

18.

Fleiss JL. The design and analysis of clinical experiments. New York: Wiley; 1986.

19.

Jacob P, Kahrilas PJ, Logemann JA, Shah V, Ha T. Upper esophageal sphincter opening and modulation during swallowing. Gastroenterology. 1989;97(6):1469–78.

20.

Kendall KA, Leonard RJ, McKenzie S. Airway protection: evaluation with videofluoroscopy. Dysphagia. 2004;19:65–70.
Acknowledgments
SMM received funding for her doctoral studies from the Natural Sciences and Engineering Research Council (Canada) Create CARE program, the Ontario Student Opportunity Trust Fund, and the Ontario Graduate Studies scholarship program. The authors thank Ms. Helen Wang for assistance with reliability analysis and acknowledge the support of Toronto Rehabilitation Institute—University Health Network, which receives funding under the Provincial Rehabilitation Research Program from the Ministry of Health and Long-term Care in Ontario. The views expressed do not necessarily reflect those of the Ministry. Finally, the authors thank Dr. Rebecca Leonard for correspondence regarding the methodology of her original study.
Conflict of interest
The authors have no conflicts of interest to disclose.
Additional information
These data were presented at the 2013 American Speech-Language-Hearing Association Convention, Chicago, IL, on November 14, 2013.
About this article
Cite this article
Molfenter, S.M., Leigh, C. & Steele, C.M. Event Sequence Variability in Healthy Swallowing: Building on Previous Findings. Dysphagia 29, 234–242 (2014). https://doi.org/10.1007/s00455-013-9501-x
Received:

Accepted:

Published:

Issue Date:
Keywords
Deglutition

Deglutition disorders

Swallowing

Sequence

Variability