This is a preview of subscription content, log in to check access.
Access options
Buy single article
Instant access to the full article PDF.
US$ 39.95
Price includes VAT for USA
Subscribe to journal
Immediate online access to all issues from 2019. Subscription will auto renew annually.
US$ 99
This is the net price. Taxes to be calculated in checkout.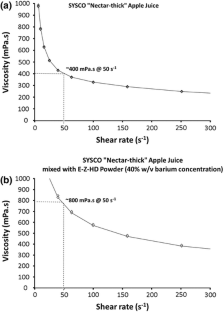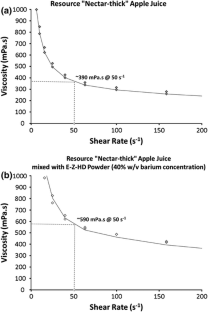 References
1.

Popa Nita S, Murith M, Chisholm H, Engmann J. Matching the rheological properties of videofluoroscopic contrast agents and thickened liquid prescriptions. Dysphagia. 2013;28(2):245–52.

2.

Fink TA, Ross JB. Are we testing a true thin liquid? Dysphagia. 2009;24:285–9.

3.

Cichero J, Nicholson T, Dodrill P. Liquid barium is not representative of infant formula: characterisation of rheological and material properties. Dysphagia. 2011;26(3):264–71.

4.

National Dysphagia Diet Task Force ADA. National Dysphagia Diet: Standardization for Optimal Care. Chicago, IL: Faulhaber; 2002.

5.

Dantas RO, Dodds WJ, Massey BT, Kern MK. The effect of high- vs low-density barium preparations on the quantitative features of swallowing. AJR Am J Roentgenol. 1989;153:1191–5.

6.

Hind J, Divyak E, Zielinski J, Taylor A, Hartman M, Gangnon R, Robbins J. Comparison of standardized bariums with varying rheological parameters on swallowing kinematics in males. J Rehabil Res Dev. 2012;49(9):1399–404.
Acknowledgments
Funding support for the work described in this Letter to the Editor was provided through an NSERC Create Care Award to SM. Additional funding support was received through a Canadian Institutes of Health Research New Investigator award and an NIDCD RO1 Grant to CMS and from the Toronto Rehabilitation Institute—University Health Network, which receives funding under the Provincial Rehabilitation Research Program from the Ministry of Health and Long-Term Care in Ontario. The views expressed do not necessarily reflect those of the Ministry. The authors gratefully acknowledge the assistance of Sarah Hori, Clemence Tsang, Rossini Yue, and Tasnim Shariff with data collection, and Dr. David James for use of rheological testing equipment.
Conflict of interest
The authors have no conflicts of interest to disclose.
About this article
Cite this article
Steele, C.M., Molfenter, S.M., Péladeau-Pigeon, M. et al. Challenges in Preparing Contrast Media for Videofluoroscopy. Dysphagia 28, 464–467 (2013). https://doi.org/10.1007/s00455-013-9476-7
Received:

Accepted:

Published:

Issue Date:
Keywords
Barium

Apple Juice

Thickened Liquid

Barium Concentration

Bracco Diagnostics