Abstract
The current study explored what information UK speech and language therapists (SLTs) use when recommending oral versus nonoral feeding in adults with oropharyngeal dysphagia. This study differed from previous research on this topic by including a greater number of participants; focusing on UK-based clinicians; exploring whether different information was considered dependent on whether the person with oropharyngeal dysphagia had had a stroke, had motor neurone disease, or had dementia; and investigating how often videofluoroscopy was used when making these decisions. The current study surveyed UK-based SLTs via an online questionnaire. When asked to rate the ten most important factors involved when making oral versus nonoral decisions, UK SLTs chose 9 of the 13 factors chosen by US-based SLTs in an earlier study. Furthermore, the information considered important in oral versus nonoral decision-making varied depending on the diagnosis of the person with oropharyngeal dysphagia. Finally, the SLTs in the current study reported that they did not frequently use videofluoroscopy to make oral versus nonoral recommendations.
This is a preview of subscription content, log in to check access.
Access options
Buy single article
Instant access to the full article PDF.
US$ 39.95
Price includes VAT for USA
Subscribe to journal
Immediate online access to all issues from 2019. Subscription will auto renew annually.
US$ 99
This is the net price. Taxes to be calculated in checkout.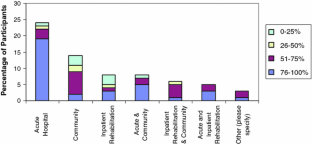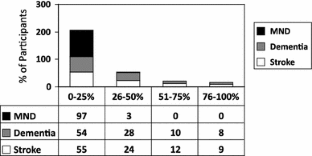 References
1.

Royal College of Speech and Language Therapists (RCSLT). Communicating quality 2. London: RCSLT, 1996.

2.

British Dietetic Association (BDA). National Descriptors for Texture Modification in Adults, 2009.

3.

Logemann J. Manual for the videofluorographic study of swallowing. 2nd ed. Austin: Pro-Ed; 1993.

4.

Logemann J. Evaluation and treatment of swallowing disorders. 2nd ed. Austin: Pro-Ed; 1998.

5.

Langmore S. Endoscopic evaluation and treatment of swallowing disorders. New York: Thieme; 2001.

6.

Mathers-Scmidt B, Kurlinski M. Dysphagia evaluation practices: inconsistencies in clinical assessment and instrumental examination decision-making. Dysphagia. 2003;18:114–25.

7.

Pettigrew C, O'Toole C. Dysphagia evaluation practices of speech and language therapists in Ireland: clinical assessment and instrumental examination decision-making. Dysphagia. 2007;22:235–44.

8.

Logemann J, Rademaker A, Pauloski B, et al. What information do clinicians use in recommending oral versus non-oral feeding in oropharyngeal dysphagic patients. Dysphagia. 2008;23:378–84.

9.

Langmore SE, Kasarskis EJ, Manca ML, Olney R. Enteral feeding for amyotrophic lateral sclerosis/ motor neurone disease: Cochrane Database Syst Rev. 2006;(4):CD004030.

10.

National Institute for Health and Clinical Excellence (NICE). Guideline 68: stroke: diagnosis and initial management of acute stroke and transient ischaemic attack (TIA). London: NICE; 2008.

11.

Scottish Intercollegiate Guidelines Network (SIGN). Guideline 119: management of patients with stroke: identification and management of dysphagia. Edinburgh: SIGN; 2009.

12.

Smith HA, Kindell J, Baldwin RC, Waterman D, Makin AJ. Swallowing problems and dementia in acute hospital settings: practical guidance for the management of dysphagia. Clin Med. 2009;9:544–8.

13.

Elia M, Russell C, Shaffer J, Micklewright A, Wood S, Wheatley C, Holden C, Meadows N, Thomas A, Stratton R, Scott D. Annual report of the British artificial nutrition survey (BANS). Redditch: BANS; 2007.

14.

Cichero JAY, Murdoch BE. Dysphagia: foundation, theory and practice. New York: Wiley; 2006.

15.

Landis RJ, Koch GG. The measurement of observer agreement for categorical data. Biometrics. 1977;3:159–74.

16.

Martino R, Pron G, Diamant N. Oropharyngeal dysphagia: surveying practice patterns of the speech and language pathologist. Dysphagia. 2004;19:165–76.

17.

Bateman C, Leslie P, Drinnan M. Adult dysphagia assessment in the UK and Ireland: are SLT's assessing the same factors? Dysphagia. 2007;22:174–86.

18.

Lipowski ZJ. Transient cognitive disorders (delirium, acute confusional states) in the elderly. Am J Psychiatry. 1983;140:1426–36.

19.

Royal College of Physicians (RCP). The prevention, diagnosis and management of delirium in older people. Conscise guide to good practise series, No. 6. London: RCP; 2006.

20.

Langmore SE, Skarupski K, Parks P, Fries B. Predictors of aspiration pneumonia in nursing home residents. Dysphagia. 2002;17(4):298–307.

21.

Garon B, Engle M, Orniston C. A randomised control study to determine the effects of unlimited oral intake of water in patients with identified aspiration. J Neurol Rehabil. 1997;11:139–48.

22.

Manthorpe J, Watson R. Poorly served?. Eating and dementia. J Adv Nursing. 2003;41:162–9.

23.

Mental Capacity Act (2005). UK Statute Law Database. Available at http://www.legislation.gov.uk/ukpga/2005/9/contents. Accessed 1 April 2012.

24.

National Institute for Health and Clinical Excellence (NICE)/Social Care Institute for Excellence (SCIE). Guideline 42: Dementia: Supporting People with Dementia and their Carers in Health and Social Care. London: NICE, 2006.

25.

Yorkston KM, Miller RM, Strand EA. Management of speech and swallowing disorders in degenerative disease. 2nd ed. Austin: Pro-Ed; 2004.

26.

Motor Neurone Disease Association (MNDA). Summary of guidelines in nutritional management. Northhampton: MNDA; 2005.

27.

Rio A, Ampong MA, Johnson J, Willey E, Leigh PN. Nutritional care of patients with motor neurone disease. Br J Neurosci Nursing. 2005;1(1).

28.

Martin-Harris B, Logemann JA, McMahon S, Schleicher M, Sandidge J. Clinical utility of the modified barium swallow. Dysphagia. 2000;15:136–41.

29.

Office for National Statistics (ONS). Labour Force Survey: employment status by occupation and sex April to June 2009. Available at http://www.ons.gov.uk/ons/publications/re-reference-tables.html?edition=tcm%3A77-239372. Accessed 1 April 2012.

30.

Miller N, Deane KHO, Jones D, Noble E, Gibbs C. National survey of speech and language therapy provision for people with Parkinson's disease in the United Kingdom: therapists' practice. Int J Lang Commun Disord. 2011;46(2):189–201.
Acknowledgments
The authors thank all the participants who took part in this study and Nicola Botting for her helpful feedback on an earlier draft of this manuscript.
Conflict of interest
The authors have no conflicts of interest or financial ties to disclose.
Appendix: Questionnaire
Appendix: Questionnaire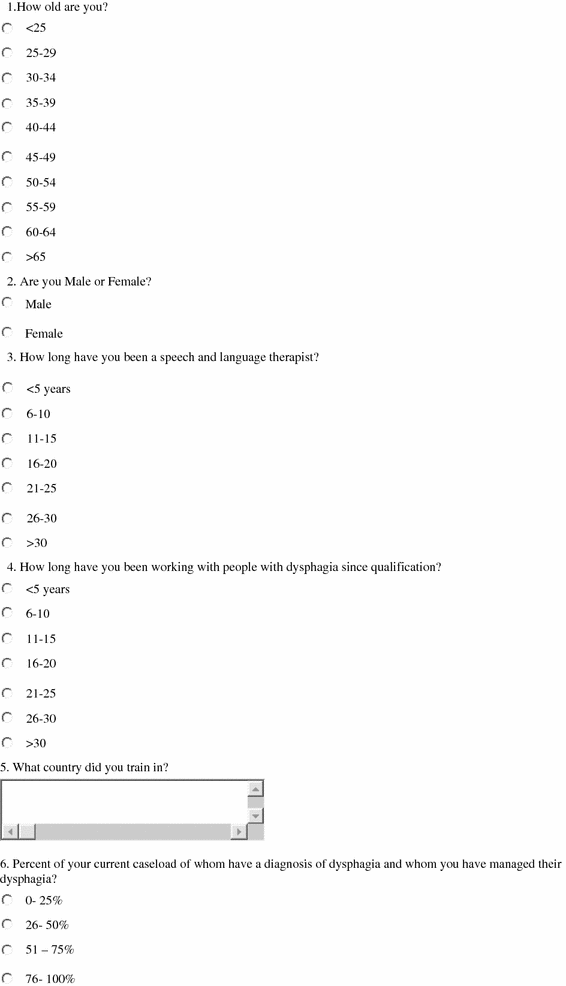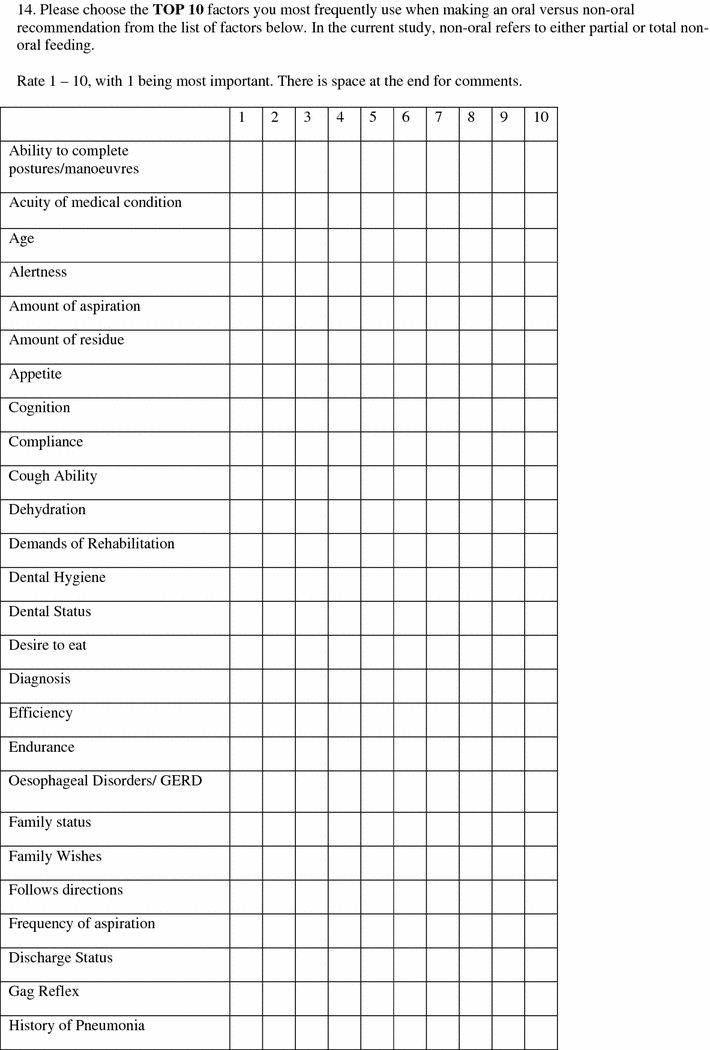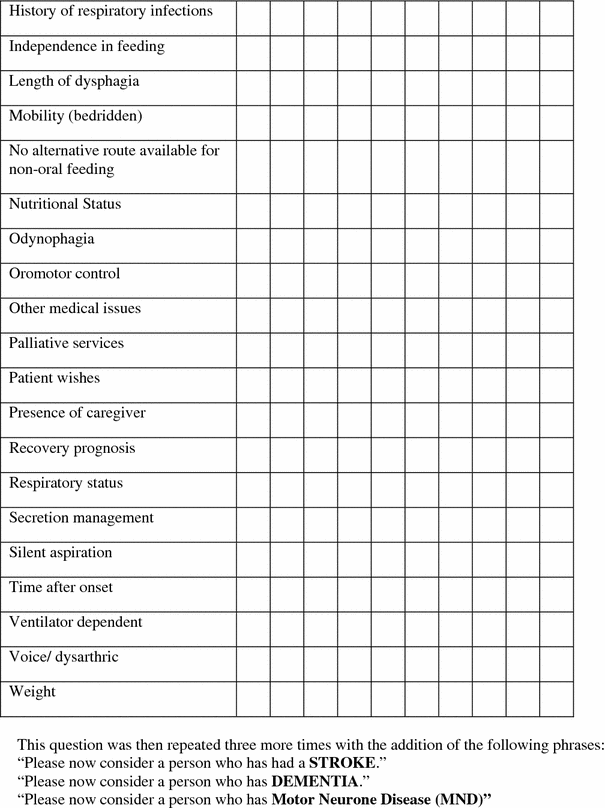 About this article
Cite this article
Cocks, N., Ferreira, H. What Information Do UK Speech and Language Therapists Use When Making Oral Versus Nonoral Feeding Recommendations for Adults with Oropharyngeal Dysphagia?. Dysphagia 28, 43–57 (2013). https://doi.org/10.1007/s00455-012-9411-3
Received:

Accepted:

Published:

Issue Date:
Keywords
Nonoral feeding

Oropharyngeal dysphagia

Videofluoroscopy

Stroke

Dementia

Motor neurone disease

Deglutition

Deglutition disorders