Abstract
A minor proportion of patients with achalasia eventually have a neoplasm and, as a consequence, pseudoachalasia is diagnosed. A neoplasm may either involve gastrointestinal junction or present a paraneoplastic effect. Over the global diagnoses of achalasia issued in 5 years of experience in our motility unit, we have found 13% (3/23 cases) of pseudoachalasia (2–4% in previous series, probably due to the fact that the population assisted was mainly composed of elderly patients). The origin of the neoplasm was bladder, prostate and metastases from epidermoid carcinoma of vocal chord. Treatment of primary neoplasm, besides classical approach (with dilatation of botulinum injection) may help in the resolution of this clinical disorder.
This is a preview of subscription content, log in to check access.
Access options
Buy single article
Instant access to the full article PDF.
US$ 39.95
Price includes VAT for USA
Subscribe to journal
Immediate online access to all issues from 2019. Subscription will auto renew annually.
US$ 99
This is the net price. Taxes to be calculated in checkout.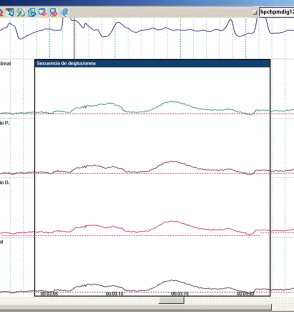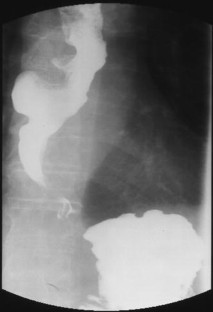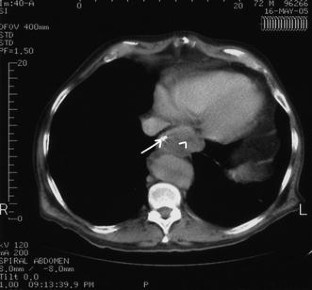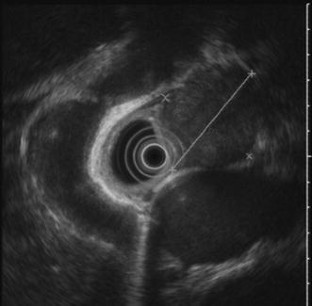 References
1.

Goldblum JR, Rice TW, Richter JE. Histopathologic features in esophagomyotomy specimens from patients with achalasia. Gastroenterology 1996;111(3):648–654.

2.

Raymond L, Lach B, Shamji FM. Inflammatory aetiology of primary esophageal achalasia: an immunohistochemical and ultrastructural study of Auerbach's plexus. Histopathology 1999;35:445–453.

3.

Kahrilas PJ, Kishk SM, Helm JF, Dodds WJ, Harig JM, Hogan WJ. Comparison of pseudoachalasia and achalasia. Am J Med 1987;82:439–446.

4.

Moonka R, Patti MG, Feo CV, Arcerito M, De Pinto M, Horgan S, Pellegrini CA. Clinical presentation and evaluation of malignant pseudoachalasia. J Gastrointest Surg 1999;3(5):456–461.

5.

Rozman RW, Achkar E. Features distinguishing secondary achalasia from primary achalasia. Am J Gastroenterol 1990;85(10):1327–1330.

6.

Liu W, Fackler W, Rice TW, Richter JE, Achkar E, Goldblum JR. The pathogenesis of pseudoachalasia: a clinicopathologic study of 13 cases of a rare entity. Am J Surg Pathol 2002;26(6):784–788.

7.

Gockel I, Eckardt VF, Schmitt T. Pseudoachalasia: a case series and analysis of the literature. Scand J Gastroenterol 2005;40:378–385.

8.

Kline MM. Successful treatment of vigorous achalasia associated with gastric lymphoma. Dig Dis Sci 1980;25:311–313.

9.

Colarian JH, Sekkarie M, Rao R. Pancreatic pseudocyst mimicking idiophathic achalasia. Am J Gastroenterol 1998;93:103–105.

10.

Clark SB, Rice TW, Tubbs RR, Richter JE, Goldblum JR. The nature of the myenteric infiltrate in achalasia: an immunohistochemical analysis. Am J Surg Pathol 2000;24:1153–1158.

11.

Parkman HP, Cohen S. Malignancy-induced secondary achalasia. Dysphagia 1994;9(2):292–296.

12.

Robertson CS, Griffith CD, Atkinson M, Hardcastle JD. Pseudoachalasia of the cardia: a review. J R Soc Med 1988;81:399–402.

13.

Ogilvie H. The early diagnosis of cancer of the esophagus and stomach. Br Med J 1947;2:405–407.

14.

Tracey JP, Traube M. Difficulties in the diagnosis of pseudoachalasia. Am J Gastroenterol 1994;89:2014–2018.

15.

Vallera RA, Brazer SR. Botulinum toxin for suspected pseudoachalasia. Am J Gastroenterol 1995;90:1319–1321.

16.

Poulin EC, Diamant NE, Kortan P, Seshadri PA, Schlachta CM, Mamazza J. Achalasia developing years after surgery for reflux disease: case reports, laparoscopic treatment, and review of achalasia syndromes following antireflux disease. J Gastrointest Surg 2000;4(6):626–631.

17.

Chinn JS, Schuffer MD. Paraneoplasic visceral neuropathy as a cause of severe gastrointestinal motor dysfunction. Gastroenterology 1988;95:1279–1286.

18.

Chu G, Wilson PC, Carter CD, Lennon VA, Roberts-Thomson IC. Intestinal pseudo-obstruction, type 1 anti-neuronal nuclear antibodies and small cell carcinoma of the lung. J Gastroenterol Hepatol 1993;8:604–606.

19.

Condom E, Vidal A, Rota R, Craus F, Dalmau J, Ferrer I. Paraneoplastic intestinal pseudo-obstruction associated with high titres of hu autoantibodies. Virchows Arch A Pathol Anat Histopathol 1993;423:507–511.

20.

Lee HR, Lennon VA, Camilleri M. Paraneoplastic gastrointestinal motor dysfunction: clinical and laboratory characteristics. Am J Gastroenterol 2001;96:373–379.

21.

Lennon VA, Sas DF, Busk MF. Enteric neuronal autoantibodies in pseudoobstruction with small cell lung carcinoma. Gastroenterology 1991;100:127–142.

22.

Lucchinetti CF, Kimmel DW, Lennon VA. Paraneoplastic and oncological profiles of patients seropositive for type 1 antineuronal nuclear autoantibodies. Neurology 1998;50:652–657.

23.

Lamouliatte H, Zerbib F, Bernard PH, Quinton A. Pseudo-achalasia and cancer of the bladder. Ann Med Interne (Paris). 1993;144(4):303–304.

24.

Eaves R, Lambert J, Rees J, King RW. Achalasia secondary to carcinoma of prostate. Dig Dis Sci 1983;28(3):278–284.

25.

Tucker HJ, Snape WJ, Cohen S. Achalasia secondary to carcinoma: manometric and clinical features. Ann Intern Med 1978;89:315–318.

26.

Martinez C, Targarona EM, Sainz S, Cerdan G, Novell J, Trias M. Pseudoachalasia: a diagnosis to consider in the assessment of dysphagia. Gastroenterol Hepatol 2000;23:14–15.

27.

Ziegler K, Sanft C, Friedrich M, Gregor M, Riecken EO. Endosonographic appearance of the esophagus in achalasia. Endoscopy 1990;22:1–4.

28.

Carter M, Deckmann RC, Smith RC, Burrell MI, Traube M. Differentiation of achalasia from pseudoachalasia by computed tomography. Am J Gastoenterol 1997;92:624–628.
About this article
Cite this article
Ulla, J.L., Fernandez-Salgado, E., Alvarez, V. et al. Pseudoachalasia of the Cardia Secondary to Nongastrointestinal Neoplasia. Dysphagia 23, 122–126 (2008). https://doi.org/10.1007/s00455-007-9104-5
Received:

Accepted:

Published:

Issue Date:
Keywords
Pseudoachalasia

Urologic neoplasm

Paraneoplasic syndrome

Deglutition

Deglutition disorders