Abstract
The purpose of this study was to evaluate the reproducibility of aspects of swallowing assessed over time by the Exeter Dysphagia Assessment Technique. Fourteen healthy elderly adults were assessed during the morning on four consecutive days. During day 1, the assessment was repeated ten times. During days 2, 3, and 4 the assessment was carried out once and at the same time of the day. This allowed the reproducibility of the data to be examined between sessions and between days. The results show that the reproducibility of data between sessions was moderate to very good for all of the items evaluated (median kappas = 0.56–0.82, ICCs = 0.7–0.8). Between-day reproducibility was also moderate to very good for nine of the variables measured (median kappas = 0.58–0.96, ICCs = 0.53–0.84) and poor for one (ICC = 0.15). We conclude that the majority of variables examined by the Exeter Dysphagia Assessment Technique are reliable when swallowing is assessed repeatedly and on different days.
This is a preview of subscription content, log in to check access.
Access options
Buy single article
Instant access to the full article PDF.
US$ 39.95
Price includes VAT for USA
Subscribe to journal
Immediate online access to all issues from 2019. Subscription will auto renew annually.
US$ 99
This is the net price. Taxes to be calculated in checkout.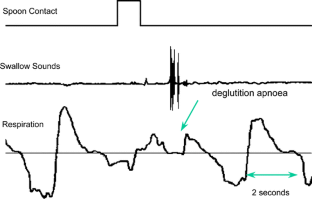 References
1.

Gordon C, Hewer RL, Wade DT: Dysphagia in acute stroke. Br Med J 295:411–414, 1987

2.

Gottlieb D, Kipnis M, Sister E, Vardi Y, Brill S: Validation of the 50 ml3 drinking test for evaluation of post-stroke dysphagia. Disabil Rehabil 18(10):529–532, 1996

3.

Kirshner HS: Causes of neurogenic dysphagia. Dysphagia 3:184–188, 1989

4.

Ali GA, Wallace KL, Schwartz R, DeCarle DJ, Zagami AS, Cook IJ: Mechanisms of oral-pharyngeal dysphagia in patients with Parkinson's disease. Gastroenterology 110:383–392, 1996

5.

Bushmann M, Dobmeyer SM, Leeker L, Perlmutter JS: Swallowing abnormalities and their response to treatment in PD. Neurology 39:1309–1314, 1989

6.

Hartelius L, Svennson P: Speech and swallowing symptoms associated with Parkinson's disease and multiple sclerosis: A survey. Folia Phoniatr Logop 46:9–17, 1994

7.

Abraham S, Samkoff L: Prevalence of dysphagia in multiple sclerosis. Neurology 42(Suppl 3):462, 1992

8.

Herrera W, Zeligman BE, Gruber J, Jones MC, Pautler R, Wriston R, et al.: Dysphagia in multiple sclerosis: clinical and videofluoroscopic correlations. J Neurol Rehab 4:1–8, 1990

9.

Leighton SE, Burton MJ, Lund WS, Cochrane GM: Swallowing in motor neurone disease. J R Soc Med 87(12):801–805, 1994

10.

Carter G, Jancar J: Mortality in the mentally handicapped: a fifty year survey at Stoke Park group of hospitals. J Ment Defic Res 27:143–156, 1983

11.

Waxman MJ, Durfee D, Moore M, Morantz RA, Koller W: Nutritional aspects and swallowing function of patients with Parkinson's disease. Nutr Clin Pract 5:196–199, 1990

12.

Silverman EH, Elfant IL: Dysphagia: an evaluation and treatment program for the adult. Am J Occup Ther 33(6):382–392, 1979

13.

Stratton M: Behavioral assessment scale of oral functions in feeding. Am J Occup Ther 35(11):719–721, 1981

14.

Cherney LR, Cantieri CA, Pannell JJ: Rehabilitation Institute of Chicago: Procedure Manual – Clinical Evaluation of Dysphagia. Rockville, MD: Aspen Publishers, 1986

15.

Jelm JM: Oral-Motor/Feeding Rating Scale. Tucson, AZ: Therapy Skill Builders; Bicester: Winslow Press, 1990

16.

Selley WG, Flack FC, Ellis RE, Brooks WA: The Exeter Dysphagia Assessment Technique. Dysphagia 4:227–235, 1990

17.

Nathadwarawala KM, Nicklin J, Wiles CM: A timed test of swallowing capacity for neurological patients. J Neurol Neurosurg Psychiatry 55:822–825, 1992

18.

Nathadwarawala KM, Hughes TAT, James CM, Nicklin J, Wiles CM: Timed swallowing in neurological patients. Can J Neurol Sci 20(Suppl 4):S110, 1993

19.

Hughes TAT, Wiles CM: Clinical measurement of swallowing in health and in neurogenic dysphagia. Q J Med 89:109–116, 1996

20.

Selley WG, Ellis RE, Flack FC, Bayliss CR, Pearce VR: The synchronization of respiratory and swallow sounds with videofluorscopy during swallowing. Dysphagia 9(3):162–167, 1994

21.

Pinnington LL, Muhiddin KA, Lobeck M, Pearce V: The inter and intra-rater reliability of the Exeter Dysphagia Assessment Technique. Dysphagia 15:6–9, 2000

22.

Parrott LC, Selley WG, Brooks WA, Lethbridge PC, Cole JJ, Flack FC, et al.: Dysphagia in cerebral palsy: A comparative study of the Exeter Dysphagia Assessment Technique and a multidisciplinary assessment. Dysphagia 7:209–219, 1992

23.

Tarrant SC, Ellis RE, Flack FC, Selley WG: Comparative review of techniques for recording respiratory events at rest and during deglutition. Dysphagia 12(1):24–38, 1997

24.

Rankin G, Stokes M: Reliability of assessment tools in rehabilitation: an illustration of appropriate statistical analyses. Clin Rehabil 12:187–199, 1998

25.

Shrout PE, Fleiss JL: Intra-class correlations: uses in assessing rater reliability. Psychol Bull 86:420–428, 1979

26.

Landis JR, Koch GG: The measurement of observer agreement for categorical data. Biometrics 33:159–174, 1977
Acknowledgments
The authors thank all the volunteers who took part in this study and appreciate the statistical advice provided by Dr. Carol Coupland (University of Nottingham) and Dr. Mary Jones (Keele University).
About this article
Cite this article
Pinnington, L.L., Muhiddin, K.A. & Ellis, R.E. Reproducibility of Swallowing over Time in Healthy Elderly Adults. Dysphagia 21, 1 (2006). https://doi.org/10.1007/s00455-005-9004-5
Keywords
Exeter Dysphagia Assessment Technique

Dysphagia

Feeding assessment

Swallowing

Reproducibility

Deglutition

Deglutition disorders