Abstract
We examined measures of oral and pharyngeal residues from scintigraphic studies and estimates/observations from videofluorographic (modified barium swallow) studies taken on the same day but not concurrently in 16 dysphagic patients of varying etiologies presenting with oral and/or pharyngeal dysphagia. Oral and pharyngeal residuals following the swallow were quantified scintigraphically and were then compared with measures of residuals obtained from the modified barium swallow. Estimates of oral and pharyngeal residues from the modified barium swallows were generated by a trained observer who was blinded to the scintigraphic data. Positive and significant Spearman correlations between oral and pharyngeal residue measures from scintigraphy and observations of oral and pharyngeal residues from modified barium swallows were found. This supports the validity of observations of oral and pharyngeal residues in clinical studies. Limitations of these observations are discussed.
This is a preview of subscription content, log in to check access.
Access options
Buy single article
Instant access to the full article PDF.
US$ 39.95
Price includes VAT for USA
Subscribe to journal
Immediate online access to all issues from 2019. Subscription will auto renew annually.
US$ 99
This is the net price. Taxes to be calculated in checkout.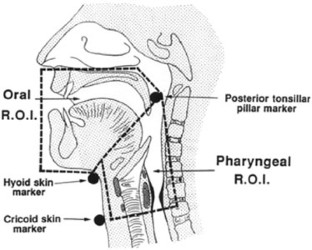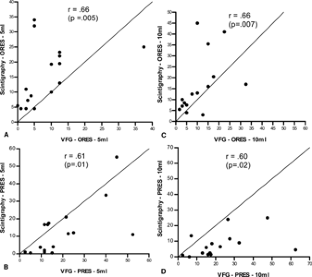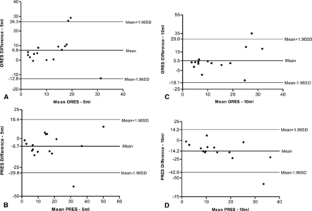 References
1.

Rademaker AW, Pauloski BR, Logemann JA, Shanahan TK: Oropharyngeal swallow efficiency as a representative measure of swallowing function. J Speech Hear Res 37:314–325, 1994

2.

Hamlet S, Choi J, Zormweier M, Shamsa F, Stachler R, Muz J, Jones L: Normal adult swallowing of liquid, viscous material: Scintigraphic data on bolus transit, oropharyngeal residues. Dysphagia 11:41–47, 1996

3.

Cook IJ, Weltman MD, Wallace K, Shaw DW, McKay E, Smart RC, Butler SP: Influence of aging on oral-pharyngeal bolus transit and clearance during swallowing: scintigraphie study. Am J Physiol 266:G972–G977, 1994

4.

Hamlet SL, Wilson S, Stachler RJ, Salwen WA, Muz J, Heilbrun LK: Scintigraphic assessment of swallow efficiency postlaryngectomy. Laryngoscope 104:1159–1162, 1994

5.

Shaw DW, Williams RBH, Cook IJ, Wallace KL, Weltman MD, Collins PJ, McKay E, Smart R, Simula ME: Oropharyngeal scintigraphy: a reliable technique for the quantitative evaluation of oral-pharyngeal swallowing. Dysphagia 19:36–42, 2004

6.

Ali GN, Cook IJ, Laundl TM, Wallace KL, de Carle DJ: Influence of altered tongue contour and position on deglutitive pharyngeal and UES function. Am J Physiol 273(5 Pt 1):G1071–G1076, 1997

7.

Rosner B. Fundamentals of Biostatistics, 5th ed. Pacific Grove CA: Duxbury Press, 2000

8.

Bland JM, Altman DG: Statistical methods for assessing agreement between two methods of clinical measurement Lancet 1:307–310, 1986
Acknowledgment
This work was supported by the Cancer Control Science Project in Head and Neck Cancer Rehabilitation (NIH P01 CA40007).
About this article
Cite this article
Logemann, J.A., Williams, R.B., Rademaker, A. et al. The Relationship Between Observations and Measures of Oral and Pharyngeal Residue from Videofluorography and Scintigraphy. Dysphagia 20, 226–231 (2005). https://doi.org/10.1007/s00455-005-0019-8
Keywords
Swallowing

Scintigraphy

Modified barium swallow

Residue

Oropharyngeal swallow efficiency

Deglutition

Deglutition disorders