Abstract
During videofluoroscopic swallowing studies performed in the lateral view, the arytenoid cartilages are seen to elevate and approximate the down-folding epiglottis, effectively closing the supraglottic larynx and protecting the airway. This mechanism may be incomplete or delayed in patients complaining of dysphagia and may lead to "penetration" of bolus material into the airway. This study evaluates the timing of supraglottic closure relative to the arrival of the bolus at the upper esophageal sphincter in 60 young control subjects and in 63 elderly control subjects without dysphagia. Event timing was measured in 0.01-s intervals from videofluoroscopic studies for two liquid bolus size categories. Results of the analysis revealed that, in most individuals, the arytenoid cartilages approximate the epiglottis prior to the arrival of the bolus at the upper esophageal sphincter. However, in both bolus size categories, there were individuals who achieved complete supraglottic closure after the bolus had arrived at the sphincter, but never greater than 0.1 s later. No delay in the timing of supraglottic closure relative to bolus arrival at the sphincter was found in the elderly subject group compared with the young subject group. The information from this study has allowed us to objectively determine if supraglottic closure timing is delayed in patients with dysphagia and to address any delay with strategies and exercises designed specifically to correct the delay. A case study is presented to illustrate the clinical significance of this study.
This is a preview of subscription content, log in to check access.
Access options
Buy single article
Instant access to the full article PDF.
US$ 39.95
Price includes VAT for USA
Subscribe to journal
Immediate online access to all issues from 2019. Subscription will auto renew annually.
US$ 99
This is the net price. Taxes to be calculated in checkout.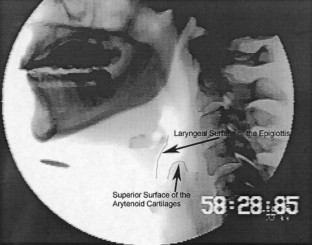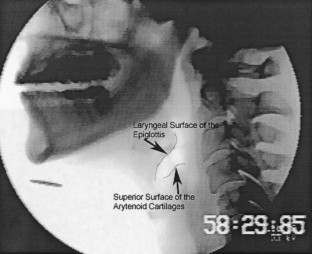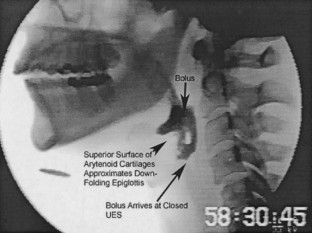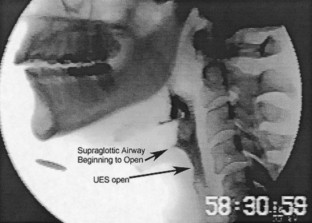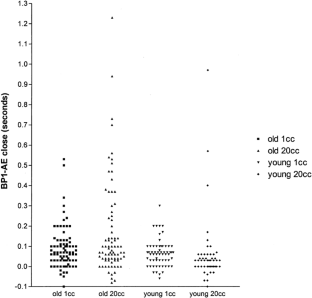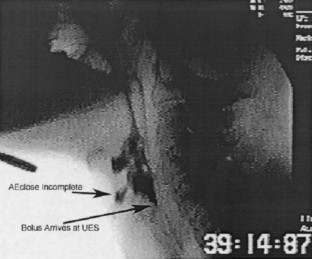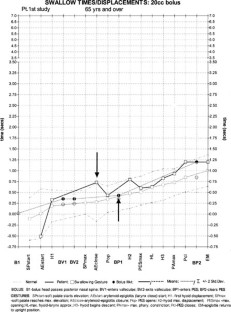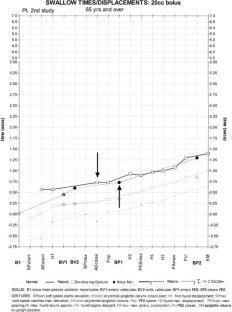 References
1.

PJ Kahrilas S Lin AW Rademaker JA Logemann (1997) ArticleTitleImpaired deglutitive airway protection: a videofluoroscopic analysis of severity and mechanism Gastroenterology 113 IssueID5 1457–1464 Occurrence Handle1:STN:280:DyaK1c%2Fht1yqtA%3D%3D Occurrence Handle9352847

2.

R Morton J Minford R Ellis L Pinnington (2002) ArticleTitleAspiration with dysphagia: the interaction between oropharyngeal and respiratory impairments Dysphagia 17 IssueID3 192–196 Occurrence Handle10.1007/s00455-002-0051-x Occurrence Handle12140644

3.

R Shaker WJ Dodds RO Dantas WJ Hogan RC Arndorfer (1990) ArticleTitleCoordination of deglutitive glottic closure with oropharyngeal swallowing Gastroenterology 98 1478–1484 Occurrence Handle1:STN:280:By%2BB2cbmtlI%3D Occurrence Handle2338189

4.

DJ Maddock RJ Gilbert (1993) ArticleTitleQuantitative relationship between liquid bolus flow and laryngeal closure during deglutition Am J Physiol 265 G704–G711 Occurrence Handle1:STN:280:ByuD2Mnnslc%3D Occurrence Handle8238353

5.

Y Ohmae JA Logemann P Kaiser DG Hanson PJ Kahrilas (1995) ArticleTitleTiming of glottic closure during normal swallow Head Neck 17 394–402 Occurrence Handle1:STN:280:BymD38%2FivFw%3D Occurrence Handle8522440

6.

J Robbins JW Hamilton GL Lof GB Kempster (1992) ArticleTitleOropharyngeal swallowing in normal adults of different ages Gastroenterology 103 823–829 Occurrence Handle1:STN:280:By2A28zhsFM%3D Occurrence Handle1499933

7.

JA Logemann PJ Kahrilas J Cheng BR Pauloski PJ Gibbons AW Rademaker S Lin (1992) ArticleTitleClosure mechanisms of the laryngeal vestibule during swallow Am J Physiol 262 IssueID2 Pt 1 G338–G344 Occurrence Handle1:STN:280:By2C2s%2Fpt1E%3D Occurrence Handle1539666

8.

JF Tracy JA Logemann PJ Kahrilas P Jacob M Kobara C Krugler (1989) ArticleTitlePreliminary observations on the effects of age on oropharyngeal deglutition Dysphagia 4 IssueID2 90–94 Occurrence Handle1:STN:280:By%2BA383ot1A%3D Occurrence Handle2640185

9.

AW Rademaker BR Pauloski LA Colangelo JA Logemann (1998) ArticleTitleAge and volume effects on liquid swallowing function in normal women J Speech Language Hear Res 41 IssueID2 275–284 Occurrence Handle1:STN:280:DyaK1c3jtVGjuw%3D%3D

10.

IJ Cook MD Weltman K Wallace DW Shaw E McKay RC Smart SP Butler (1994) ArticleTitleInfluence of aging on oral-pharyngeal bolus transit and clearance during swallowing: scintigraphic study Am J Physiol 266 IssueID6 Pt 1 G972–977 Occurrence Handle1:STN:280:ByuB1MrntFQ%3D Occurrence Handle8023945

11.

KA Kendall RJ Leonard (2001) ArticleTitleBolus transit and airway protection coordination in older dysphagic patients Laryngoscope 111 2017–2021 Occurrence Handle10.1097/00005537-200111000-00028 Occurrence Handle1:STN:280:DC%2BD38%2FnsVKrug%3D%3D Occurrence Handle11801989

12.

J Ren R Shaker Z Zamir WJ Dodds WJ Hogan RG Hoffman (1993) ArticleTitleEffect of age and bolus variables on the coordination of the glottis and upper esophageal sphincter during swallowing Am J Gastroenterol 88 IssueID5 665–669 Occurrence Handle1:STN:280:ByyB2czjsFA%3D Occurrence Handle8480728

13.

Z Zamir J Ren WJ Hogan R Shaker (1996) ArticleTitleCoordination of deglutitive vocal cord closure and oral-pharyngeal swallowing events in the elderly Eur J Gastroenterol Hepatol 8 IssueID5 425–429 Occurrence Handle1:STN:280:BymA1MjpvVE%3D Occurrence Handle8804869
About this article
Cite this article
Kendall, K.A., Leonard, R.J. & McKenzie, S. Airway Protection: Evaluation with Videofluoroscopy. Dysphagia 19, 65–70 (2004). https://doi.org/10.1007/s00455-003-0500-1
Keywords
Deglutition

Aspiration

Airway protection

Swallowing

Deglutition disorders.