Abstract
The purpose of this research was to ascertain whether the existence of swallowing apnea (SA) was the sole result of glottic closure or the result of its own neural mechanism. Forty individuals served as participants. Groups 1 and 2 consisted of 10 individuals with laryngectomy less than one year and 10 individuals greater than one year, respectively. Groups 3 and 4 comprised 20 individuals who were age- and gender-matched to Groups 1 and 2. SA duration (SAD) was acquired during saliva swallows and 10-, 15-, 20-, and 25-ml water boluses. A repeated measures ANOVA was performed to determine mean differences in SAD as a function of group and bolus volume. Significant main effects of group and bolus volume were found and a significant interaction of group × bolus volume was found. In post-hoc analyses, both groups with laryngectomy exhibited statistically longer SADs than control groups. In single-df comparisons, the laryngectomy group over one year exhibited significantly shorter SADs on smaller versus larger bolus volumes. Even though SA is theoretically no longer needed in individuals with laryngectomy, the presence of SA remained in both groups with laryngectomy. Thus, these results support the hypothesis that SA is the result of its own neural command.
This is a preview of subscription content, log in to check access.
Access options
Buy single article
Instant access to the full article PDF.
US$ 39.95
Price includes VAT for USA
Subscribe to journal
Immediate online access to all issues from 2019. Subscription will auto renew annually.
US$ 99
This is the net price. Taxes to be calculated in checkout.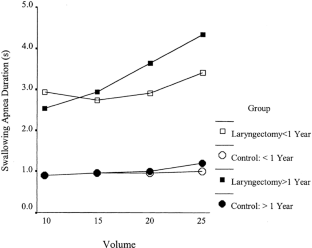 References
1

J Ren R Shaker Z Zamir WJ Dodds WJ Hogan RG Hoffmann (1993) ArticleTitleEffect of age and bolus variables on the coordination of the glottis and upper esophageal sphincter during swallowing. Am J Gastroenterol 55 665–669

2

Martin–Harris B, Sandidge J, Helig C, McConnel FM, Stoeckli S, Haynes R, Cornwell M: The relationship between respiratory and laryngeal dynamics during swallow. Paper presented at the 8th Annual Meeting of the Dysphagia Research Society, Burlington, VT, 1999

3

J Murray (1999) Manual of dysphagia assessment in adults. Singular Publishing San Diego, CA

4

SG Hiss K Treole A Stuart (2001) ArticleTitleEffects of age, gender, bolus volume, and trial on swallowing apnea duration and swallow/respiratory phase relationships of normal adults. Dysphagia 16 1–8 Occurrence Handle1:STN:280:DC%2BD3M7ktFyjtA%3D%3D Occurrence Handle11213241

5

BJ Martin JA Logemann R Shaker WJ Dodds (1994) ArticleTitleCoordination between respiration and swallowing: respiratory phase relationships and temporal integration. J Appl Physiol 76 714–723 Occurrence Handle1:STN:280:ByuB3s%2FitlY%3D Occurrence Handle8175582

6

WA Wagenaar (1969) ArticleTitleNote on the construction of digram-balanced latin squares. Psychol Bull 72 384–386

7

J Cohen (1988) Statistical power analysis for the behavioral sciences, 2nd ed. Academic Press New York

8

FMS McConnel MS Mendelsohn JA Logemann (1986) ArticleTitleExamination of swallowing after total laryngectomy using manofluorography. Head Neck Surg 9 3–12 Occurrence Handle1:STN:280:BiiA3cjjslM%3D Occurrence Handle3623931

9

R Shaker M Milbrath J Ren B Campbell R Toohill W Hogan (1995) ArticleTitleDeglutitive aspiration in patients with trachestomy: effect of tracheostomy on the duration of vocal fold closure. Gastroenterology 108 1357–1360 Occurrence Handle1:STN:280:ByqB2cnps1M%3D Occurrence Handle7729626

10

JB Hanks SR Risher WC Meyers KC Christian RW Postlethwait RS Jones (1981) ArticleTitleEffect of total laryngectomy on esophageal motility. Ann Otol Rhinol Laryngol 90 331–334 Occurrence Handle1:STN:280:Bi6B1c%2Fjt10%3D Occurrence Handle7271143

11

GW Summers (1974) ArticleTitlePhysiologic problems following ablative surgery of the head and neck. Otolaryngol Clin North Am 7 217–219 Occurrence Handle1:STN:280:CSuD1Mnms1c%3D Occurrence Handle4812642

12

Martin–Harris B, Price CC, Michael W, Walters B, Sandidge J: Respiratory and laryngeal dynamics during swallowing. Paper presented at the 10th Annual Meeting of the Dysphagia Research Society, Albuquerque, NM, 2001

13

A Duranceau G Jamieson AL Hurwitz RS Jones RW Postlethwait (1976) ArticleTitleAlteration in esophageal motility after laryngectomy. Am J Surg 131 30–35 Occurrence Handle1:STN:280:CSmC3cbmsVU%3D Occurrence Handle1247150

14

IH Liem RA Olmos AJ Balm RB Keus H van Tinteren RP Takes SH Muller AM Bruce CA Hoefhagel FJ Hilgers (1996) ArticleTitleEvidence for early and persistent impairment of salivary gland excretion after irradiation of head and neck tumours. Eur J Nucl Med 23 1485–1490 Occurrence Handle1:STN:280:ByiD3cfgtFI%3D Occurrence Handle8854847
About this article
Cite this article
Hiss, S.G., Strauss, M., Treole, K. et al. Swallowing Apnea as a Function of Airway Closure . Dysphagia 18, 293–300 (2003). https://doi.org/10.1007/s00455-003-0021-y
Keywords
Swallowing

Swallowing apnea

Dysphagia

Normal

Laryngectomy

Bolus volume

Deglutition

Deglutition disorders