Abstract
Fans are one of the components performing cooling whose power consumption can be reduced by precise, energy-aware control. Such energy-efficient fan controllers must carefully manage fan speeds in order to remain as close as possible to the optimal setting, simultaneously minimizing the power leakage due to heat and fan power consumption, while avoiding overheating.
The following paper presents a new Dynamic Fan Controller for Energy (DFaCE) for minimizing the energy consumption of several fans. DFaCE learns the optimal fan setting with no prior knowledge of the hardware setup nor the governing physics, all the while performing useful work on the computer. Once the optimal fan setting is found, the system immediately applies it to minimize the power consumption of the computer at no cost. The system is also evaluated over a set of benchmarks and achieves up to 46 % in the cooling subsystem compared to common temperature-driven control strategies.
This is a preview of subscription content, log in to check access.
Access options
Buy single article
Instant access to the full article PDF.
US$ 39.95
Price includes VAT for USA
Subscribe to journal
Immediate online access to all issues from 2019. Subscription will auto renew annually.
US$ 99
This is the net price. Taxes to be calculated in checkout.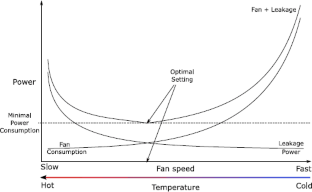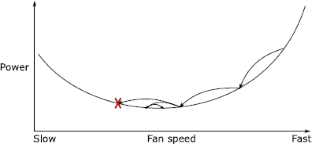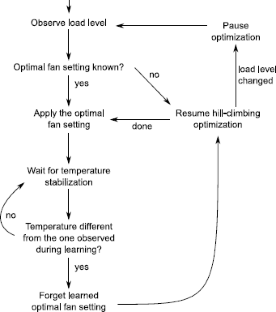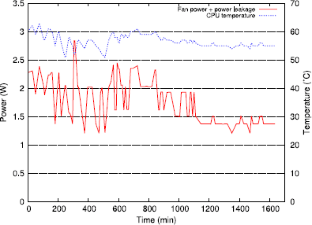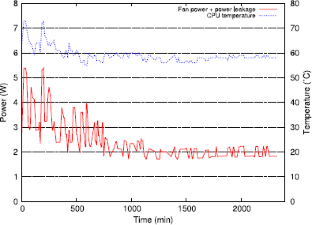 References
1.

Dinh JS, Korinsky GK (1993) Temperature dependent fan control circuit for personal computer. US 5526289A

2.

Giorgio PJ (1996) Method for optimizing the rotational speed of cooling fans. US 5777897A

3.

Greenberg S, Mills E, Tschudi B, Rumsey P, Myatt CJ (2006) Best practices for data centers: results from benchmarking 22 data centers. In: Proceedings of the 2006 ACEEE summer study on energy efficiency in buildings

4.

Gross KC, Ho S, Urmanov AM, Vaidyanathan K (2012) Controlling the power utilization of a computer system by adjusting a cooling fan speed. US 8108697B2

5.

Heo S, Barr K, Asanović K (2003) Reducing power density through activity migration. In: Proceedings of the 2003 international symposium on low power electronics and design, ISLPED'03. ACM, New York, pp 217–222

6.

Huang W, Allen-Ware M, Carter JB, Elnozahy E, Hamann H, Keller T, Lefurgy C, Li J, Rajamani K, Rubio J (2011) TAPO: Thermal-Aware Power Optimization techniques for servers and data centers. In: International green computing conference and workshops, pp 1–8

7.

Kaminski GA, Squibb GF (2002) Dual power supply fan controlthermistor input or software command from the processor. US 6349385B1

8.

Kundert WR (1988) Fan speed controller. US 4722669A

9.

Liu Y, Dick RP, Shang L, Yang H (2007) Accurate temperature-dependent integrated circuit leakage power estimation is easy. In: Proceedings of the conference on design, automation and test in Europe, EDA consortium, San Jose, CA, USA, pp 1526–1531

10.

Park HJ, Wallace J (2012) Fan speed control of silicon based devices in low power mode to reduce platform power. US 8145926B2

11.

Rao R, Vrudhula S (2007) Performance optimal processor throttling under thermal constraints. In: Proceedings of the international conference on compilers, architecture, and synthesis for embedded systems. ACM, New York, pp 257–266

12.

Roeck G (2012) Experimental Linux driver for NCT6775 chips. https://github.com/groeck/nct6775

13.

Shin D, Kim J, Chang N, Choi J, Chung SW, Chung EY (2009) Energy-optimal dynamic thermal management for green computing. In: Proceedings of the International Conference on Computer-Aided Design, ICCAD'09. ACM, New York, pp 652–657

14.

Srinivasan J, Adve SV, Bose P, Rivers JA (2004) The case for lifetime reliability-aware microprocessors. In: Proceedings of the 31st annual International Symposium on Computer Architecture, ISCA'04. IEEE Comput. Soc., Washington, p 276

15.

US Energy Information Administration (2013) Electric power monthly. http://www.eia.gov/electricity/monthly/pdf/epm.pdf

16.

Wang Z, Bash C, Tolia N, Marwah M, Zhu X, Ranganathan P (2009) Optimal fan speed control for thermal management of servers. In: Proceedings of the ASME conference, vol 2009, pp 709–719
Acknowledgements
The authors thank Guenter Roeck for his kind help and support with the NCT 6775 driver, Erin Beyler for her precious advices and editing, and Jamel Tayeb from Intel Oregon for his help with the energy probes.
This paper is a result of work performed in Exascale Computing Research Lab with support provided by the CEA, Genci, Intel, and UVSQ. Any opinions, findings, conclusions, or recommendations expressed in this material are those of the author(s) and do not necessarily reflect the views of the CEA, Genci, Intel, or UVSQ.
About this article
Cite this article
Pradelle, B., Triquenaux, N., Beyler, J.C. et al. Energy-centric dynamic fan control. Comput Sci Res Dev 29, 177–185 (2014). https://doi.org/10.1007/s00450-013-0241-9
Keywords
Energy

Temperature

Fan control

Hill climbing