Abstract
Energy efficiency is now a top priority. The first four years of the Green500 have seen the importance of energy efficiency in supercomputing grow from an afterthought to the forefront of innovation as we approach a point where systems become increasingly constrained by power consumption. Even so, the landscape of energy efficiency in supercomputing continues to shift—with new trends emerging and unexpected shifts in previous predictions.
This paper offers an in-depth analysis of the new and shifting trends in the Green500. In addition, the analysis offers early indications of the path that we are taking towards exascale and what an exascale machine in 2018 is likely to look like. Lastly, we discuss the emerging efforts and collaborations toward designing and establishing better metrics, methodologies, and workloads for the measurement and analysis of energy-efficient supercomputing.
This is a preview of subscription content, log in to check access.
Access options
Buy single article
Instant access to the full article PDF.
US$ 39.95
Price includes VAT for USA
Subscribe to journal
Immediate online access to all issues from 2019. Subscription will auto renew annually.
US$ 99
This is the net price. Taxes to be calculated in checkout.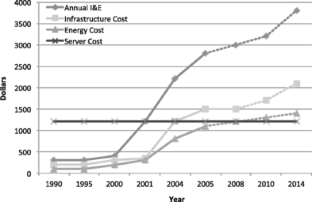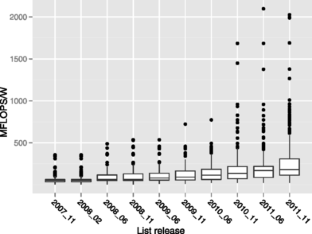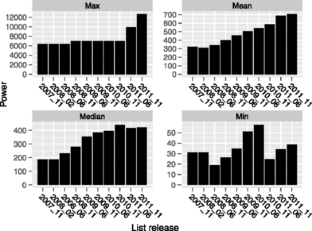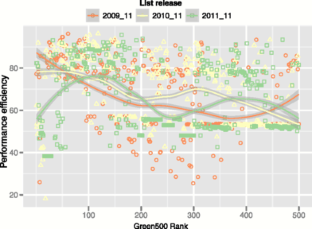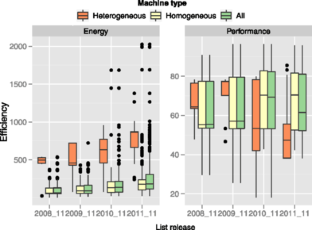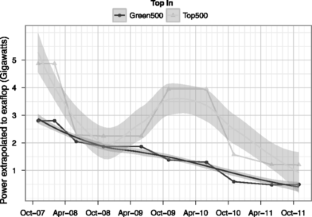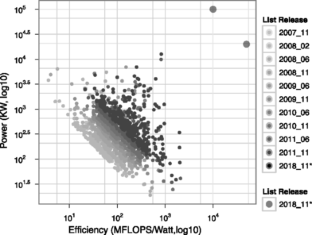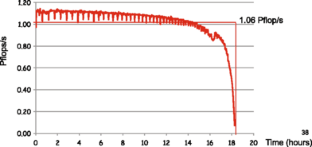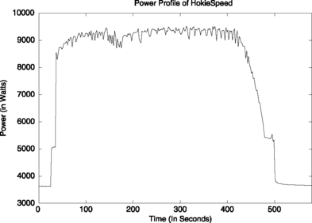 References
1.

Atwood D, Miner JG (2008) Reducing data center cost with an air economizer. White Paper: Intel Corporation

2.

Belady C (2007) In the data center, power and cooling cost more than the IT equipment it supports. Electron Cool Mag 13(1)

3.

Bergman K, Borkar S, Campbell D, Carlson W, Dally W, Denneau M, Franzon P, Harrod W, Hill K, Hiller J, Karp S, Keckler S, Klein D, Lucas R, Richards M, Scarpelli A, Scott S, Snavely A, Sterling T, Williams RS, Yelick K, Kogge P (2008) In: Exascale computing study: technology challenges in achieving exascale systems

4.

croptome.org (2008) NSA electrical power upgrade. http://cryptome.org/nsa010208.htm

5.

Dongarra J (2010) LINPACK benchmark with time limits on multicore and GPU based accelerators

6.

Feng W (2010) In: Personal communication with Sicortex

7.

Feng W, Cameron K (2007) The Green500 list: encouraging sustainable computing. IEEE Computer 40(12):50–55

8.

Feng W, Lin H (2010) The Green500 list: year two. In: Parallel & distributed processing, workshops and PhD forum (IPDPSW), 2010 IEEE international symposium on. IEEE, New York, pp 1–8

9.

Filo D (2009) Serving up greener data centers. http://ycorpblog.com/2009/06/30/serving-up-greener-data-centers/

10.

Gorman S (2006) NSA risking electrical overload. In: The Baltimore sun

11.

Hsu C, Feng W, Archuleta J (2005) Towards efficient supercomputing: a quest for the right metric. In: IPDPS'05: proceedings of the 19th IEEE international parallel and distributed processing symposium—workshop 11, Washington, DC, USA

12.

Markoff J, Hansell S (2006) Hiding in plain sight, Google seeks more power. In: The New York Times

13.

Meuer H (2008) The TOP500 project: looking back over 15 years of supercomputing experience. www.top500.org

14.

SPEC (2012) The standard performance evaluation corporation (SPEC). http://www.spec.org/

15.

Subramaniam B, Feng W (2010) Load-varying linpack: a benchmark for evaluating energy efficiency in high-end computing

16.

Subramaniam B, Feng W (2010) Understanding power measurement implications in the green500 list. In: Green computing and communications (GreenCom), 2010 IEEE/ACM int'l conference on & int'l conference on cyber, physical and social computing (CPSCom)
Acknowledgements
The authors wish to thank Mark Gardner and Heshan Lin for their support and the Green500 community for their continued support and feedback, in particular, participants at the Green500 Birds-of-a-Feather sessions over the last four years.
Additional information
This work was supported in part by NSF grant CCF-0848670, a DoD National Defense Science & Engineering Graduate Fellowship (NDSEG), and Supermicro.
About this article
Cite this article
Scogland, T., Subramaniam, B. & Feng, W. The Green500 list: escapades to exascale. Comput Sci Res Dev 28, 109–117 (2013). https://doi.org/10.1007/s00450-012-0212-6
Keywords
Green supercomputing

Energy efficiency

Performance

Power

Green500

Graphics processing unit (GPU)

The Green Index (TGI)

SPEC

Exascale computing