Abstract
Deep eutectic solvents (DESs) have gained increased attention as alternative reaction media for biocatalysis in recent years. There are many investigations on biotransformations in a variety of DESs, but the purification of bioproducts from DES reaction mixtures has not yet been sufficiently addressed. The present study demonstrates a product recovery strategy from a DES reaction medium composed of (−)-menthol and dodecanoic acid. Since the DES is not formed by equimolar amounts of the substrates, but the eutectic point occurs at a 3:1 molar ratio, product isolation is an important task for effective biocatalytic process development, even if the limiting substrate is converted completely. Both DES compounds acted as substrates and reaction solvent in the lipase-catalyzed esterification to synthesize (−)-menthyl dodecanoate. The product (−)-menthyl dodecanoate ester was separated from the DES reaction mixture by a vacuum distillation step and a second esterification reaction can be performed with the recovered (−)-menthol.
This is a preview of subscription content, log in to check access.
Access options
Buy single article
Instant access to the full article PDF.
US$ 39.95
Price includes VAT for USA
Subscribe to journal
Immediate online access to all issues from 2019. Subscription will auto renew annually.
US$ 199
This is the net price. Taxes to be calculated in checkout.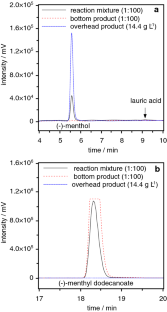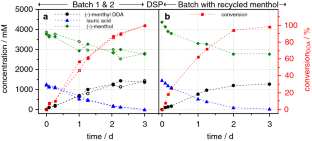 References
1.

Ni Y, Holtmann D, Hollmann F (2014) How green is biocatalysis? To calculate is to know. ChemCatChem 6(4):930–943

2.

Abbott AP, Capper G, Davies DL, Rasheed RK, Tambyrajah V (2003) Novel solvent properties of choline chloride/urea mixtures. Chem Commun 9(1):70–71

3.

Choi YH, Spronsen J, Dai YT, Verberne M, Hollmann F, Arends I, Witkamp GJ, Verpoorte R (2011) Are natural deep eutectic solvents the missing link in understanding cellular metabolism and physiology? Plant Physiol 156(4):1701–1705

4.

Gorke JT, Srienc F, Kazlauskas RJ (2008) Hydrolase-catalyzed biotransformations in deep eutectic solvents. Chem Commun (10):1235–1237

5.

Xu P, Zheng G-W, Zong M-H, Li N, Lou W-Y (2017) Recent progress on deep eutectic solvents in biocatalysis. Bioresour Bioprocess 4(1):34

6.

Guajardo N, Schrebler RA, Domínguez de María P (2019) From batch to fed-batch and to continuous packed-bed reactors: lipase-catalyzed esterifications in low viscous deep-eutectic-solvents with buffer as cosolvent. Bioresour Technol 273:320–325

7.

Lan D, Wang X, Zhou P, Hollmann F, Wang Y (2017) Deep eutectic solvents as performance additives in biphasic reactions. RSC Adv 7(64):40367–40370

8.

Abbott AP, Cullis PM, Gibson MJ, Harris RC, Raven E (2007) Extraction of glycerol from biodiesel into a eutectic based ionic liquid. Green Chem 9:868–872

9.

Ranganathan S, Zeitlhofer S, Sieber V (2017) Development of lipase mediated epoxidation process for monoterpenes in choline chloride based deep eutectic solvents. Green Chem 19:2576–2586

10.

Kleiner B, Fleischer P, Schörken U (2016) Biocatalytic synthesis of biodiesel utilizing deep eutectic solvents: a two-step-one-pot approach with free lipases suitable for acidic and used oil processing. Process Biochem 51(11):1808–1816

11.

Hümmer M, Kara S, Liese A, Huth I, Schrader J, Holtmann D (2018) Synthesis of (−)-menthol fatty acid esters in and from (−)-menthol and fatty acids—novel concept for lipase catalyzed esterification based on eutectic solvents. Mol Catal 458:67–72

12.

Shimada Y, Hirota Y, Baba T, Kato S, Sugihara A, Moriyama S, Tominaga Y, Terai T (1999) Enzymatic synthesis of l-menthyl esters in organic solvent-free system. J Am Oil Chem Soc 76(10):1139–1142

13.

Martins MAR, Crespo EA, Pontes PVA, Silva LP, Bülow M, Maximo GJ, Batista EAC, Held C, Pinho SP, Coutinho JAP (2018) Tunable hydrophobic eutectic solvents based on terpenes and monocarboxylic acids. ACS Sustain Chem Eng 6(7):8836–8846

14.

Scifinder (2018) (−)-Menthol, CAS 2216-51-5; dodecanoic acid, CAS 143-07-7; (−)-menthyl dodecanoate, CAS 57084-14-7. https://scifinder.cas.org/. Accessed 19 Nov 2018

15.

Hari Krishna S, Karanth NG (2002) Lipases and lipase-catalyzed esterification reactions in nonaqueous media. Catal Rev 44(4):499–591

16.

Karra-Chaabouni M, Pulvin S, Thomas D, Touraud D, Kunz W (2002) Role of water activity on the synthesis of geranyl butyrate by a Mucor miehei esterase in a solvent-free system. Biotechnol Lett 24(23):1951–1955

17.

Barahona D, Pfromm PH, Rezac ME (2006) Effect of water activity on the lipase catalyzed esterification of geraniol in ionic liquid [bmim]PF6. Biotechnol Bioeng 93(2):318–324
Acknowledgements
The financial support by the German Ministry of Education and Research (BMBF) for the project "NIESEL—Niedrig schmelzende eutektische Solventien als Lösungsmittel für die Biokatalyse" (Grant no. 031B0014C) is gratefully acknowledged. The authors thank Florian Rudroff and Marko D. Mihovilovic (Institute of Applied Synthetic Chemistry, Vienna University of Technology) for the synthesis of the (−)-menthol dodecanoic acid ester.
Ethics declarations
Conflict of interest
The authors declare that they have no conflict of interest.
Additional information
Publisher's Note
Springer Nature remains neutral with regard to jurisdictional claims in published maps and institutional affiliations.
About this article
Cite this article
Pätzold, M., Burek, B.O., Liese, A. et al. Product recovery of an enzymatically synthesized (−)-menthol ester in a deep eutectic solvent. Bioprocess Biosyst Eng 42, 1385–1389 (2019). https://doi.org/10.1007/s00449-019-02125-6
Received:

Accepted:

Published:

Issue Date:
Keywords
Deep eutectic solvent

Downstream processing

Lipase

Menthol

Vacuum distillation