Abstract
The importance of non-Saccharomyces yeast species in fermentation processes is widely acknowledged. Within this group, Pichia kudriavzevii ITV-S42 yeast strain shows particularly desirable characteristics for ethanol production. Despite this fact, a thorough study of the metabolic and kinetic characteristics of this strain is currently unavailable. The aim of this work is to study the nutritional requirements of Pichia kudriavzevii ITV-S42 strain and the effect of different carbon sources on the growth and ethanol production. Results showed that glucose and fructose were both assimilated and fermented, achieving biomass and ethanol yields of 0.37 and 0.32 gg−1, respectively. Glycerol was assimilated but not fermented; achieving a biomass yield of 0.88 gg−1. Xylose and sucrose were not metabolized by the yeast strain. Finally, the use of a culture medium enriched with salts and yeast extract favored glucose consumption both for growth and ethanol production, improving ethanol tolerance reported for this genre (35 g L−1) to 90 g L−1 maximum ethanol concentration (over 100%). Furthermore Pichia kudriavzevii ITV-S42 maintained its fermentative capacity up to 200 g L−1 initial glucose, demonstrating that this yeast is osmotolerant.
This is a preview of subscription content, log in to check access.
Access options
Buy single article
Instant access to the full article PDF.
US$ 39.95
Price includes VAT for USA
Subscribe to journal
Immediate online access to all issues from 2019. Subscription will auto renew annually.
US$ 199
This is the net price. Taxes to be calculated in checkout.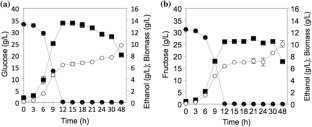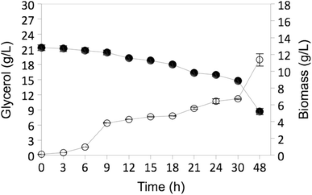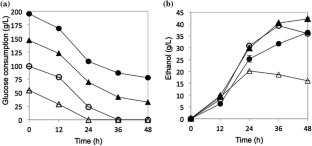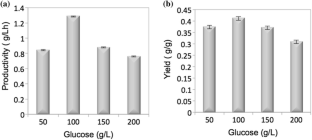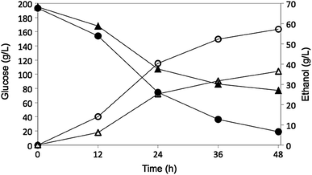 Abbreviations
Y x/s :

Biomass yield (g biomass g−1 substrate)

Y Et/s :

Ethanol yield (g ethanol g−1 substrate)

Y Et/x :

Specific ethanol yield (g ethanol g−1 biomass)

µ max :

Specific growth rate maximum (h−1)

V p :

Specific ethanol production rate (g ethanol g−1 biomass h−1)

V s :

Specific glucose consumption rate (g glucose consumption g−1 biomass h−1)

X :

Final biomass production (g L−1)

X 0 :

Initial biomass production (g L−1)

S 0 :

Initial glucose concentration (g L−1)

S :

Final glucose concentration (g L−1)

P :

Final ethanol concentration (g L−1)

t :

Time (h)

Q p :

Ethanol productivity (g L−1 h−1)
References
1.

Walker MG (1998) Yeast physiology and biotechnology. Wiley, England

2.

Panchal CJ (1990) Yeast strain selection. Biotechnology and bioprocessing series. Marcel Dekker Inc, New York

3.

Jolly NP, Augustyn OPH, Pretorius IS (2006) The role and use of non-Saccharomyces yeasts in wine production. S Afr J Enol Vitic 27(1):15–39

4.

Wolf K (1996) Nonconventional yeast in biotechnology. A handbook. Springer, Berlin

5.

Kurtzman CP, Fell JW, Boekhout T (2011) The yeasts, a taxonomic study. Elsevier, 5th edn, vol. 1

6.

Amore R, Kotter P, Kuster C, Ciriacy M, Hollenberg CP (1991) Cloning and expression in Saccharomyces cerevisiae of the NAD(P)H-dependent xylose reductase-encoding gene (XYL1) from the xylose-assimilating yeast Pichia stipitis. Gene 109:89–97

7.

Evy AA, Jaseetha AS, Nilanjana D (2013) Atrazine degradation in liquid culture and soil by a novel yeast Pichia kudriavzevii strain Atz-EN-01 and its potential application for bioremediation. JAPS 3(06):035–043

8.

Andreas MH, Annette A, Nils-Gunnar C, Ulf S, Thomas AA (2012) Degradation of phytate by Pichia kudriavzevii TY13 and Hanseniaspora guilliermondii TY14 in Tanzanian togwa. Int J Food Microbiol 153:73–77

9.

Xiao H, Shao Z, Jiang Y, Dole S, Zhao H (2014) Exploiting Issatchenkia orientalis SD108 for succinic acid production. Microb Cell Fact 3(1):121

10.

Santosh S, Meikandhan T, Saurabh S, Vidhya R (2013) Biodiesel production from a newly isolated Pichia kudriavzevii strain. Fuel 106:690–696

11.

Sandeep SD, Harinder SO, Simranjeet KS, Dhiraj N, Dinesh K, Satinder KU (2011) Enhanced ethanol production from sugarcane juice by galactose adaptation of a newly isolated thermotolerant strain of Pichia kudriavzevii. Bioresour Technol 102:5968–5975

12.

Harinder SO, Neha B, Simranjeet KS, Sandeep SD, Ujjal K, Chadha BS, Vinod KB (2012) Ethanol production from alkali-treated rice straw via simultaneous saccharification and fermentation using newly isolated thermotolerant Pichia kudriavzevii HOP-1. J Ind Microbiol Biotechnol 39:557–566

13.

Díaz-Nava LE (2014) Aislamiento y selección de levaduras para la producción de etanol durante la fermentación espontánea de jugo de sorgo dulce. Masters Thesis. ITV, Veracruz, Mexico

14.

Strehaiano P (1984) Phénomenes d'inhibition et fermentation alcoolique. Doctoral Thesis. IPN. Toulouse, France

15.

Guillaume C, Delobel P, Sablayrolles JM, Blondin B (2007) Molecular basis of fructose utilization by the wine yeast Saccharomyces cerevisiae: a mutated HXT3 allele enhances fructose fermentation. Appl Environ Microbiol 73(8):2432–2439

16.

Colville CA, Seatter MJ, Jess TJ, Gould GW, Thomas HM (1993) Kinetic analysis of the liver-type (GLUT2) and brain-type (GLUTS) glucose transporters in Xenopus oocyte substrate specificities and effects of transport inhibitors. Biochem J 290:701–706

17.

Larpent JP (1991) Biotechnologie des levures. Paris, France, pp 97–120

18.

Paalme T, Elken R, Vilu R, Korhola M (1997) Growth efficiency of Saccharomyces cerevisiae on glucose/etanol media with a smooth change in the dilution rate (A-stat). Enzyme Microb Tech 20:174–181

19.

Bruinenberg PM, de Bot PHM, van Dijken JP, Scheffers WA (1984) NADH-linked aldose reductase: the key to anaerobic alcoholic fermentation of xylose by yeasts. Appl Microbiol Biotechnol 19:256–260

20.

Carlson M, Osmond BC, Botstein D (1981) Mutants of yeast defective in sucrose utilization. Genetics 98:25–40

21.

Lages F, Lucas C (1997) Contribution to the physiological characterization of glycerol active uptake in Saccharomyces cerevisiae. Biochim Biophys Acta 1322:8–18

22.

Gallardo JCM, Souza CS, Cicarelli RMB, Oliveira KF, Morais MR, Laluce C (2011) Enrichment of continuous culture of Saccharomyces cerevisiae with the yeast Issatchenkia orientalis in the production of ethanol at increasing temperatures. J Ind Microbiol Biotechnol 38(3):405–414

23.

Yazdani SS, Gonzalez R (2007) Anaerobic fermentation of glycerol: a path to economic viability for the biofuel industry. Curr Opin Chem Biol 18:213–219

24.

Nishino H, Miyazaki S, Tohjo Am K (1985) Effect of osmotic pressure on the growth rate and fermentation activity of wine yeasts. J Enol Vitic 36:170–174

25.

Aguilar-Uscanga MG (1998) Caractérisation cinétique et metabolique d' une souche de Brettanomyces. Doctoral Thesis. I. P. N. Toulouse, France

26.

Ortiz-Muñiz B, Carvajal-Zarrabal O, Torrestiana-Sánchez B, Aguilar-Uscanga MG (2010) Kinetic study on ethanol production using Saccharomyces cerevisiae ITV-01 yeast isolated from sugar cane molasses. J Chem Tech Biotechnol 85:1361–1367

27.

Mendes-Ferreira A, Mendes-Faia A, Leão C (2004) Growth and fermentation patterns of Saccharomyces cerevisiae under different ammonium concentrations and its implications in winemaking industry. J Appl Microbiol 97(3):540–545

28.

Sablayrolles J, Dubois C, Manginot C, Barre P, Roustan JL (1996) Effectiveness of combined ammoniacal nitrogen and oxygen additions for completion of sluggish and stuck wine fermentations. J Ferment Bioeng 82(4):377–381

29.

Thaillandier P, Ramon Portugal F, Fuster A, Strehaiano P (2007) Effect of ammonium concentration on alcoholic fermentation kinetics by wine yeasts for high sugar content. Food Microbiol 24:95–100
Acknowledgements
The authors acknowledge the economic support from the National Council of Science and Technology, Mexico (CONACyT-SAGARPA, Project 173411) and the critical reading of Patricia Margaret Hayward-Jones, M.Sc. and Dulce María Barradas-Dermitz, M.Sc.
Ethics declarations
Conflict of interest
The authors declare that they have no competing interests.
About this article
Cite this article
Díaz-Nava, L.E., Montes-Garcia, N., Domínguez, J.M. et al. Effect of carbon sources on the growth and ethanol production of native yeast Pichia kudriavzevii ITV-S42 isolated from sweet sorghum juice. Bioprocess Biosyst Eng 40, 1069–1077 (2017). https://doi.org/10.1007/s00449-017-1769-z
Received:

Accepted:

Published:

Issue Date:
Keywords
Pichia kudriavzevii

Carbon sources

Ethanol

Growth

Osmotolerance