Abstract
Our previous work showed that the biosynthesis of ansamitocin P-3 (AP-3), an anti-tumor agent, by Actinosynnema pretiosum was depressed by ammonium but enhanced by isobutanol in the medium. Here we show proteomics analyses on A. pretiosum in different fermentation conditions with and without ammonium or isobutanol using two-dimensional electrophoresis (2-DE), matrix-assisted laser desorption/ionization, and linear ion trap quadrupole mass spectrometry. Pairwise comparison of repetitive 2-DE maps was performed to find differentially expressed spots, and eight proteins were identified as functionally annotated ones. Among these proteins, d-3-phosphoglycerate dehydrogenase (PGDH) and glyceraldehyde 3-phosphate dehydrogenase showed statistically significant up-regulation in ammonium vs. basic or isobutanol medium, while fatty acid synthetase, histidine–tRNA ligase, transposase, molecular chaperone GroEL, SAM-dependent methyltransferase, and Crp/Fnr family transcriptional regulator were overexpressed in ammonium vs. basic medium. Based on the 2-DE data, exogenous l-serine which could inhibit the PGDH activity was added to the cultures with isobutanol, and a lower AP-3 production was confirmed under 2.5 mM serine addition (24 or 48 h).
This is a preview of subscription content, log in to check access.
Access options
Buy single article
Instant access to the full article PDF.
US$ 39.95
Price includes VAT for USA
Subscribe to journal
Immediate online access to all issues from 2019. Subscription will auto renew annually.
US$ 199
This is the net price. Taxes to be calculated in checkout.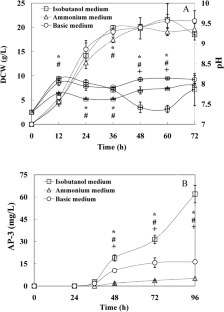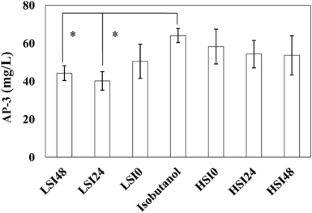 References
1.

Liu C, Tadayoni BM, Bourret LA, Mattocks KM, Derr SM, Widdison WC, Kedersha NL, Ariniello PD, Goldmacher VS, Lambert JM, Blattler WA, Chari RV (1996) Eradication of large colon tumor xenografts by targeted delivery of maytansinoids. Proc Natl Acad Sci USA 93:8618–8623

2.

Cassady JM, Chan KK, Floss HG, Leistner E (2004) Recent developments in the maytansinoid antitumor agents. Chem Pharm Bull 52:1–26

3.

Yu TW, Bai LQ, Clade D, Hoffmann D, Toelzer S, Trinh KQ, Xu J, Moss SJ, Leistner E, Floss HG (2002) The biosynthetic gene cluster of the maytansinoid antitumor agent ansamitocin from Actinosynnema pretiosum. Proc Natl Acad Sci USA 99:7968–7973

4.

Fan YX, Gao Y, Zhou J, Wei LJ, Chen J, Hua Q (2014) Process optimization with alternative carbon sources and modulation of secondary metabolism for enhanced ansamitocin P-3 production in Actinosynnema pretiosum. J Biotechnol 192:1–10

5.

Fan YX, Zhao MJ, Wei LJ, Hu FX, Imanaka T, Bai LQ, Hua Q (2016) Enhancement of UDPG synthetic pathway improves ansamitocin production in Actinosynnem pretiosum. Appl Microbiol Biotechnol 100:2651–2662

6.

Pan WQ, Kang QJ, Wang L, Bai LQ (2013) Asm8, a specific LAL-type activator of 3-amino-5-hydroxybenzoate biosynthesis in ansamitocin production. Sci China Life Sci 56:601–608

7.

Li S, Lu C, Chang X, Shen Y (2015) Constitutive overexpression of asm18 increases the production and diversity of maytansinoids in Actinosynnema pretiosum. Appl Microbiol Biotechnol 100:642–2649

8.

Zhang YG, Liu Q, Wang HF, Park DJ, Guo JW, Kim CJ, Zhang YM, Li WJ (2015) Nocardiopsis ansamitocini sp. nov., a new producer of ansamitocin P-3 of the genus Nocardiopsis. Int J Syst Evol Microbiol 66:230–235

9.

Harmrolfs K, Mancuso L, Drung B, Sasse F, Kirschning A (2014) Preparation of new alkyne-modified ansamitocins by mutasynthesis. Beilstein J Org Chem 10:535–543

10.

Martin K, Müller P, Schreiner J, Prince SS, Lardinois D, Heinzilmann-Schwarz VA, Thommen DS, Zippelius A (2014) The microtubule-depolymerizing agent ansamitocin P3 programs dendritic cells toward enhanced anti-tumor immunity. Cancer Immunol Immun 63:925–938

11.

Zhang Y, Xu P, Li W, Tao Y (2014) Advances in actinobacterial proteomics. Chin J Biotechnol 30:1044–1058

12.

Gnoni A, Lippolis R, Zanotti F, Papa S, Palese LL (2007) A two-dimensional electrophoresis and mass spectrometry protein analysis of the antibiotic producer Nonomuraea sp. ATCC 39727 in different growth conditions. FEMS Microbiol Lett 274:35–41

13.

Ye CM, Ng IS, Jing KJ, Lu YH (2013) Direct proteomic mapping of Streptomyces roseosporus NRRL 11379 with precursor and insights into daptomycin biosynthesis. J Biosci Bioeng 117:591–597

14.

Lee JW, Lee SY (2010) Proteome-based physiological analysis of the metabolically engineered succinic acid producer Mannheimia succiniciproducens LPK7. Bioprocess Biosyst Eng 33:97–107

15.

Yoon MC, Choi JI, Kim GH, Kim DH, Park DH (2013) Proteomic analysis of Spirogyra varians mutant with high starch content and growth rate induced by gamma irradiation. Bioprocess Biosyst Eng 36:765–774

16.

Lin JX, Bai LQ, Deng ZX, Zhong JJ (2010) Effect of ammonium in medium on ansamitocin P-3 production by Actinosynnema pretiosum. Biotechnol Bioproc Eng 15:119–125

17.

Lin JX, Bai LQ, Deng ZX, Zhong JJ (2011) Enhanced production of ansamitocin P-3 by addition of isobutanol in fermentation of Actinosynnema pretiosum. Bioresour Technol 102:1863–1868

18.

Jiang WJ, Du BF, Chi ZF, Ma L, Wang SJ, Zhang XH, Wu W, Wang XH, Xu GR, Guo CN (2007) Preliminary explorations of the role of mitochondrial proteins in refractory epilepsy: some findings from comparative proteomics. J Neurosci Res 85:3160–3170

19.

Land M (2009) Complete genome sequence of Actinosynnema mirum type strain (101 T). Stand Genom Sci 1:46–53

20.

Jayapal KP, Philp RJ, Kok Y, Yap MG, Sherman DH, Griffin T, Hu W (2008) Uncovering genes with divergent mRNA-protein dynamics in Streptomyces coelicolor. PLoS One 3:e2097

21.

Wenzel SC, Williamson RM, Grünanger C, Xu J, Gerth K, Martinez RA, Moss SJ, Carroll BJ, Grond S, Unkefer CJ, Müller R, Floss HG (2006) On the biosynthetic origin of methoxymalonyl-acyl carrier protein, the substrate for incorporation of "glycolate" units into ansamitocin and soraphen A. J Am Chem Soc 128:14325–14336

22.

Dey S, Hu ZQ, Xu XL, Sacchettini JC, Grant GA (2005) d-3-Phosphoglycerate dehydrogenase from Mycobacterium tuberculosis is a link between the Escherichia coli and mammalian enzymes. J Biol Chem 280:14884–14891

23.

Tosa T, Pizer LI (1971) Biochemical bases for the antimetabolite action of l-serine hydroxamate. J Bacterial 106:972–982

24.

Winicov I, Pizer LI (1974) The mechanism of end product inhibition of serine biosynthesis. J Biol Chem 249:1348–1355

25.

Xu XL, Chen SW, Salinas ND, Tolia NH, Grant GA (2015) Comparison of Type 1 d-3-phosphoglycerate dehydrogenases reveals unique regulation in pathogenic Mycobacteria. Arch Biochem Biophys 570:32–39

26.

Parada JL (1981) Growth inhibition of Streptomyces species by l-serine and its effect on tetracycline biosynthesis. Appl Environ Microbiol 41:366–370

27.

Zhou AF, Chen YYI, Zane GM, He ZL, Hemme CL, Joachimiak MP, Baumohl JK, He Q, Fields MW, Arkin AP, Wall JD, Hazen TC, Zhou JZ (2011) Functional characterization of Crp/Fnr-type global transcriptional regulators in Desulfovibrio vulgaris hildenborough. Appl Environ Microbiol 78:1168–1177

28.

Gao C, Hindra, Mulder D, Yin C, Elliot MA (2012) Crp is a global regulator of antibiotic production in Streptomyces. mBio 3:e00407–12
Acknowledgements
This work was supported by National Natural Science Foundation of China (project # 31370083) and Program of Shanghai Subject Chief Scientist (project # 14XD1402600). The financial support from the National High Technology R&D Program (863 project # 2006AA10A202) of the Ministry of Science and Technology of China (MoST) in the initial stage was also greatly appreciated.
About this article
Cite this article
Lin, J., Zhong, J. Proteomic studies on anti-tumor agent ansamitocin P-3 producer Actinosynnema pretiosum in response to ammonium and isobutanol. Bioprocess Biosyst Eng 40, 1133–1139 (2017). https://doi.org/10.1007/s00449-017-1763-5
Received:

Accepted:

Published:

Issue Date:
Keywords
Ansamitocin P-3 production

Proteomics

Actinosynnema pretiosum

Secondary metabolite biosynthesis

Cellular physiology and metabolism