Abstract
In this study, phyto-synthesis of silver nanoparticles (AgNPs) was achieved using an aqueous leaf extract of Alternanthera tenella. The phytochemical screening results revealed that flavonoids are responsible for the AgNPs formation. The AgNPs were characterised using UV–visible spectrophotometer, field emission scanning microscopy/energy dispersive X-ray, transmission electron microscopy, fourier transform infrared spectroscopy (FT-IR), and X-ray diffraction. The average size of the nanoparticles was found to be ≈48 nm. The EDX results show that strong signals were observed for the silver atoms. The strong band appearing at 1601–1595 cm−1 correspond to C–C stretching vibration from dienes in FT-IR spectrum indicating the formation of AgNPs. Human breast adenocarcinoma (MCF-7) cells treated with various concentrations of AgNPs showed a dose-dependent increase in cell inhibition. The IC50 value of the AgNPs was calculated to be 42.5 μg mL−1. The AgNPs showed a significant reduction in the migration of MCF-7 cells.
This is a preview of subscription content, log in to check access.
Access options
Buy single article
Instant access to the full article PDF.
US$ 39.95
Price includes VAT for USA
Subscribe to journal
Immediate online access to all issues from 2019. Subscription will auto renew annually.
US$ 199
This is the net price. Taxes to be calculated in checkout.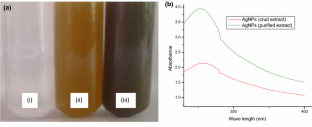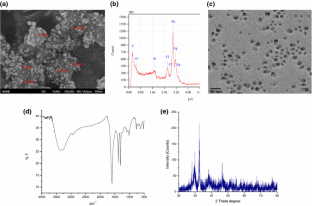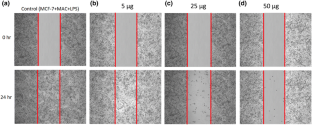 References
1.

Schröfel A, Kratošová G, Šafarík I, Šafaríková M, Raška I, Shor LM (2014) Applications of biosynthesized metallic nanoparticles—a review. Acta Biomater 10:4023–4042

2.

Li H, Xu D (2014) Silver nanoparticles as labels for applications in bioassays. Trends Anal Chem 61:67–73

3.

Kathiravan V, Ravi S, Ashokkumar S (2014) Synthesis of silver nanoparticles from Melia dubia leaf extract and their in vitro anticancer activity. Spectrochim Acta A 130:116–121

4.

Reddy NJ, Vali DN, Rani M, Rani SS (2014) Evaluation of antioxidant, antibacterial and cytotoxic effects of green synthesized silver nanoparticles by Piper longum fruit. Mater Sci Eng, C 34:115–122

5.

Cheng F, Betts JW, Kelly SM, Schaller J, Heinze T (2013) Synthesis and antibacterial effects of aqueous colloidal solutions of silver nanoparticles using aminocellulose as a combined reducing and capping reagent. Green Chem 15:989–998

6.

Kohler JM, Abahmane L, Wagner J, Albert J, Mayer G (2008) Preparation of metal nanoparticles with varied composition for catalytical applications in microreactors. Chem Eng Sci 63:5048–5055

7.

Yu DG (2007) Formation of colloidal silver nanoparticles stabilized by Na+-poly(γ-glutamic acid)–silver nitrate complex via chemical reduction process. Colloids Surf B 59:171–178

8.

Smetana AB, Klabunde KJ, Sorensea CM (2005) Synthesis of spherical silver nanoparticles by digestive ripening, stabilization with various agents, and their 3-D and 2-D superlattice formation. J Colloid Interf Sci 284:521–526

9.

Senapati S, Ahmad A, Khan MI, Sastry M, Kumar R (2005) Extracellular biosynthesis of bimetallic Au-Ag alloy nanoparticles. Small 1:517–520

10.

Shahverdi AR, Minaeian S, Shahverdi HR, Jamalifar H, Nohi AA (2007) Rapid synthesis of silver nanoparticles using culture supernatants of Enterobacteria: a novel biological approach. Process Biochem 42:919–923

11.

Inbathamizh L, Ponnu TM, Mary EJ (2013) In vitro evaluation of antioxidant and anticancer potential of Morinda pubescens synthesized silver nanoparticles. J Pharm Res 6:32–38

12.

Anand KKH, Mandal BK (2015) Activity study of biogenic spherical silver nanoparticles towards microbes and oxidants. Spectrochim Acta A 135:639–645

13.

Hosamani KM, Ganjihal SS, Chavadi DV (2004) Alternanthera triandra seed oil: a moderate source of ricinoleic acid and its possible industrial utilization. Ind Crop Prod 19:133–136

14.

Biella CA, Salvador MJ, Dias DA, Dias-Baruffi M, Pereira-Crott LS (2008) Evaluation of immunomodulatory and anti-inflammatory effects and phytochemical screening of Alternanthera tenella Colla (Amaranthaceae) aqueous extracts. Mem Inst Oswaldo Cruz 103:569–577

15.

Tripoli E, Guardia ML, Majo S, Giammanco DD, Giammanco M (2007) Citrus flavonoids: molecular structure, biological activity and nutritional properties: a review. Food Chem 104:466–479

16.

Stephen A, Seethalakshmi S (2013) Phytochemical synthesis and preliminary characterization of silver nanoparticles using Hesperidin. J Nanosci 126564:1–6

17.

de Rijke E, Out P, Niessen WMA, Ariese F, Gooijer C, Brinkman UAT (2006) Analytical separation and detection methods for flavonoids. J Chromatogr A 1112:31–63

18.

Chebil L, Humeau C, Falcimaigne A, Engasser JM, Ghoul M (2006) Enzymatic acylation of flavonoids. Process Biochem 41:2237–2251

19.

Pal RS, Girhepunje G, Ariharasivakumar K, Upadhyay A (2009) In vitro antioxidative activity of phenolic and flavonoid compounds extracted from seeds of Abrus precatorius. Int J Pharm Pharm Sci 1:136–140

20.

Bitis L, Kultur S, Melkoglu G, Ozsoy N, Can A (2010) Flavonoids and antioxidant activity of Rosa agrestis leaves. Nat Prod Res 24:580–589

21.

Salvador MJ, Ferreira EO, Mertens-Talcott SU, Castro WV, Butterweck V, Derendorf H, Dias DA (2006) HPLC quantitative analysis of antioxidant flavonoids from Alternanthera tenella Colla. Z Naturforsch 61:19–25

22.

World Cancer Report (2014) World Health Organization 92-832-0429-8

23.

Zohra SF, Merium B, Samira S, Muneer A (2012) Phytochemical screening and identification of some compounds from mallow. J Nat Prod Plant Resour 2:512–516

24.

Chang TT, More SV, Lu IH, Hsu JC, Chen TJ, Jen YC, Lu CK, Li WS (2011) Isomalyngamide A, A-1 and their analogs suppress cancer cell migration in vitro. Eur J Med Chem 46:3810–3819

25.

Vidhu VK, Aromal SS, Philip D (2011) Green synthesis of silver nanoparticles using Macrotyloma uniflorum. Spectrochim Acta A 83:392–397

26.

Li Y, Ding Y (2012) Minireview: therapeutic potential of myricetin in diabetes mellitus. Food Sci Human Wellness 1:19–25

27.

Dubey SP, Lahtinen M, Sillanpää M (2010) Green synthesis and characterizations of silver and gold nanoparticles using leaf extract of Rosa rugosa. Colloid Surf A 364:34–41

28.

Bankar A, Joshi B, Kumar AR, Zinjarde S (2010) Banana peel extract mediated novel route for the synthesis of silver nanoparticles. Colloids Surf A 368:8–63

29.

Mariselvam R, Ranjitsingh AJA, Nanthini AUR, Kalirajan K, Padmalatha C, Selvakumar PM (2014) Green synthesis of silver nanoparticles from the extract of the inflorescence of Cocos nucifera (Family: Arecaceae) for enhanced antibacterial activity. Spectrochim Acta A 129:537–541

30.

Shankar SS, Rai A, Ahamad A, Sastry M (2005) Controlling the optical properties of Lemongrass extract synthesized gold nanotriangles and potential application in infrared-absorbing optical coatings. Chem Mater 17:566

31.

Ramteke C, Chakrabarti T, Sarangi BK, Pandey RA (2013) Synthesis of silver nanoparticles from the aqueous extract of leaves of Ocimum sanctum for enhanced antibacterial activity. J Chem 278925:7

32.

Arokiyaraj S, Arasu MV, Vincent S, Prakash NU, Choi SH, Oh YK, Choi KC, Kim KH (2014) Rapid green synthesis of silver nanoparticles from Chrysanthemum indicum L and its antibacterial and cytotoxic effects: an in vitro study. Int J Nanomed 9:379–388

33.

Muniyappan N, Nagarajan NS (2014) Green synthesis of silver nanoparticles with Dalbergia spinosa leaves and their applications in biological and catalytic activities. Process Biochem 49:1054–1061

34.

Mittal AK, Kumar J, Mittal S, Banerjee UC (2014) Quercetin and gallic acid mediated synthesis of bimetallic (silver and selenium) nanoparticles and their antitumor and antimicrobial potential. J Colloid Interf Sci 431:194–199

35.

Kumar DA, Palanichamy V, Roopan SM (2014) Green synthesis of silver nanoparticles using Alternanthera dentata leaf extract at room temperature and their antimicrobial activity. Spectrochim Acta A 127:168–171

36.

Vasanth K, Ilango K, MohanKumar R, Agrawal A, Dubey GP (2014) Anticancer activity of Moringa oleifera mediated silver nanoparticles on human cervical carcinoma cells by apoptosis induction. Colloids Surf B 117:354–359

37.

Asharani PV, Hande MP, Valiyaveettil S (2009) Anti-proliferative activity of silver nanoparticles. BMC Cell Biol 10:65

38.

Nakkala JR, Mata R, Gupta AK, Sadras SR (2014) Biological activities of green silver nanoparticles synthesized with Acorous calamus rhizome extract. Eur J Med Chem 85:784–794

39.

Kanipandian N, Thirumurugan R (2014) A feasible approach to phyto-mediated synthesis of silver nanoparticles using industrial crop Gossypium hirsutum (cotton) extract as stabilizing agent and assessment of its in vitro biomedical potential. Ind Crop Prod 55:1–10

40.

Sankar R, Karthik A, Prabu A, Karthik S, Shivashangari KS, Ravikumar V (2013) Origanum vulgare mediated biosynthesis of silver nanoparticles for its antibacterial and anticancer activity. Colloids Surf B 108:80–84

41.

Rajkuberan C, Sudha K, Sathishkumar G, Sivaramakrishnan S (2015) Antibacterial and cytotoxic potential of silver nanoparticles synthesized using latex of Calotropis gigantea L. Spectrochim Acta A 136:924–930

42.

Ramar M, Manikandan B, Raman T, Arunagirinathan K, Prabhu NM, Basu MJ, Perumal M, Palanisamy S, Munusamy A (2015) Biosynthesis of silver nanoparticles using ethanolic petals extract of Rosa indica and characterization of its antibacterial, anticancer and anti-inflammatory activities. Spectrochim Acta A 138:120–129

43.

Weng CJ, Yen GC (2012) Chemopreventive effects of dietary phytochemicals against cancer invasion and metastasis: phenolic acids, monophenol, polyphenols, and their derivatives. Cancer Treat Rev 38:76–87

44.

Jayakumar R, Kanthimathi MS (2012) Dietary spices protect against hydrogen peroxide-induced DNA damage and inhibit nicotine-induced cancer cell migration. Food Chem 134:1580–1584

45.

Sun F, Zheng XY, Ye J, Wu TT, Wang J, Chen W (2012) Potential anticancer activity of myricetin in human T24 bladder cancer cells both in vitro and in vivo. Nutr Cancer 64:599–606
Acknowledgments
The first author P. Sathishkumar is grateful to the Universiti Teknologi Malaysia for providing a postdoctoral grant to carry out this research successfully. A part of this research was financially supported by Fundamental Research Grant Scheme from Ministry of Education, Malaysia (Vote R.J130000.7809.4F465) which is gratefully acknowledged.
About this article
Cite this article
Sathishkumar, P., Vennila, K., Jayakumar, R. et al. Phyto-synthesis of silver nanoparticles using Alternanthera tenella leaf extract: an effective inhibitor for the migration of human breast adenocarcinoma (MCF-7) cells. Bioprocess Biosyst Eng 39, 651–659 (2016). https://doi.org/10.1007/s00449-016-1546-4
Received:

Accepted:

Published:

Issue Date:
Keywords
Alternanthera tenella

Anticancer activity

Cell migration assay

Flavonoids

Human breast adenocarcinoma cells

Silver nanoparticles