Abstract
Kaolin showed as a very perspective carrier for the enzyme immobilization and it was used for the adsorption of horseradish peroxidase (HRP). The effects of the enzyme concentration and pH on the immobilization efficiency were studied in the reaction with pyrogallol and anthraquinone dye C.I. Acid Violet 109 (AV 109). In addition, Fourier transform infrared spectroscopy, scanning electron microscopy and analysis by Brunauer–Emmett–Teller were performed for kaolin, thermally activated kaolin and the immobilized enzyme. It has been shown that 0.1 IU of HRP-kaolin decolorized 87 % of dye solution, under the optimal conditions (pH 5.0, temperature 24 °C, dye concentration 40 mg/L and 0.2 mM of H2O2) within 40 min. The immobilized HRP decolorization follows the Ping Pong Bi–Bi mechanism with dead-end inhibition by the dye. The biocatalyst retained 35 ± 0.9 % of the initial activity after seven cycles of reuse in the decolorization reaction of AV 109 under optimal conditions in a batch reactor. The obtained kinetic parameters and reusability study confirmed improvement in performances of k-HRP compared to free, indicating that k-HRP has a great potential for environmental purposes.
This is a preview of subscription content, log in to check access.
Access options
Buy single article
Instant access to the full article PDF.
US$ 39.95
Price includes VAT for USA
Subscribe to journal
Immediate online access to all issues from 2019. Subscription will auto renew annually.
US$ 199
This is the net price. Taxes to be calculated in checkout.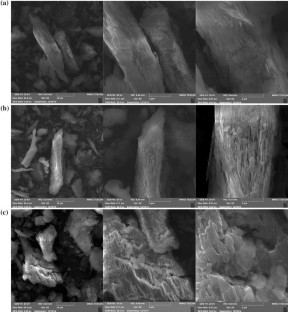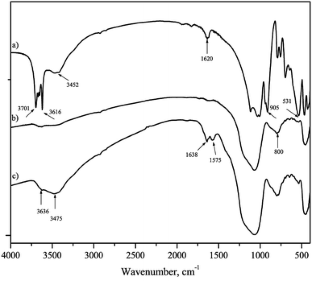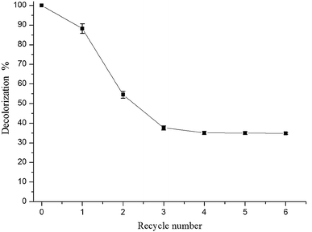 References
1.

Vojinović V, Carvalho RH, Lemos F, Cabral JMS, Fonseca LP, Ferreira BS (2007) Kinetics of soluble and immobilized horseradish peroxidase-mediated oxidation of phenolic compounds. Biochem Eng J 35:126–135

2.

Abdel-Aty AM, Hamed MB, Fahmy AF, Mohamed SA (2013) Comparison of the potential of Ficus sycomorus latex and horseradish peroxidase in the decolorization of synthetic and natural dyes. J Genet Eng Biotehnol 11:95–102

3.

O'Neil C, Hawkes FR, Lourenco ND, Pinheiro HM, Delee W (1999) Colour in textile effluents-sources, measurement, discharge consents and simulation: a review. J Chem Technol Biotechnol 74:1009–1018

4.

Robinson T, McMullan G, Marcant R, Nigam P (2001) Remediation of dyes in textile effluent: a critical review on current treatment technologies with a proposed alternative. Bioresour Technol 77:247–255

5.

Husain Q (2006) Potential applications of the oxidoreductive enzymes in the decolorization and detoxification of textile and other synthetic dyes from polluted water: a review. Crit Rev Biotechnol 26:201–221

6.

Mishra A, Malik A (2014) Novel fungal consortium for bioremediation of metals and dyes from mixed waste stream. Bioresour Technol 171:217–226

7.

Yu SM, Cheng J, Zuo P (2006) Horseradish peroxidase immobilized on aluminum pillared interlayered clay for the catalytic oxidation of phenolic wastewater. Water Res 40:283–290

8.

Guo SV, Zheng F, Zhang B, Zhang JL, Huang XL, Liu H, Zhang JY (2010) Horseradish peroxidase immobilized on graphene oxide: physical properties and applications in phenolic compound removal. J Phys Chem C 114:8469–8473

9.

Almezadeh I, Nejati S (2009) Phenols removal by immobilized horseradish peroxidase. J Hazard Mater 166:1082–1086

10.

Shakeri M, Shoda M (2008) Decolorization of an anthraquinone dye by the recombinant dye-decolorizing peroxidase (rDyP) immobilized on mesoporous materials. J Mol Catal B Enzym 54:42–49

11.

Jiang Y, Tang W, Gao J, Zhou L, He Y (2014) Immobilization of horseradish peroxidase in phospholipid-teplatedtitania and its application in phenolic compounds and dye removal. Enzyme Microb Technol 55:1–6

12.

Celebi M, Altikatoglu M, Akdeste ZM, Yildrim H (2012) Determination of decolorization properties of Reactive Blue 19 using horseradish peroxidase enzyme. Turk J Biochem 37:200–206

13.

Martins SCS, Martin CM, Fiuza LMCG, Santaella SD (2013) Immobilization of microbial cells: a promising tool for treatment of toxic pollutants in industrial wastewater. Afr J Biotechnol 12:4412–4418

14.

Karagulyan HK, Gasparayan GP, Deckre SR (2008) Immobilization of fungal β-galactosidase on silica gel and kaolin carriers. Appl Biochem Biotechnol 146:39–47

15.

Kim HJ, Suma Y, Lee SH, Kim JA, Kim HS (2012) Immobilization of horseradish peroxidase onto clay minerals using soil organic matter for phenol removal. J Mol Catal 83:8–15

16.

Prodanović O, Prokopijević M, Spasojević D, Stojanović Ž, Radotić K, Knežević-Jugović ZD, Prodanović R (2012) Improved covalent immobilization of horseradish peroxidase on macroporous glycidyl methacrylate-based copolymers. Appl Biochem Biotechnol 168:1288–1301

17.

Cvetić T, Sabovljević A, Pristov JB, Sabovljević M (2009) Effects of day length on photosynthetic pigments and antioxidative metabolism of in vitro cultured moss Atrichumundulatum (Hedw.) P. Beauv. (Bryophyta). Bot Serb 33:83–88

18.

Hartree EF (1972) Determination of protein: a modification of the Lowry method that gives a linear photometric response. Anal Biochem 48:422–427

19.

Šekuljica NŽ, Prlainović NŽ, StefanovićAB, Žuža MG, Čičkarić DZ, Mijin DŽ, Knežević-Jugović ZD (2015) Decolorization of anthraquinonic dyes from textile effluent using horseradish peroxidase: optimization and kinetic study. Sci World J Article ID 371625, 12 pages

20.

Plešingerova B, Sučik G, Fabian M (2011) Surface area change of kaolin causing annealing. Acta Metall Slov 17(16):9–176

21.

Tahir H, Sultan M, Qadir Z (2013) Physicochemical modification and characterization of bentonite clay and its application for the removal of reactive dyes. Int J Chem 5:19–32

22.

Kakali G, Perraki T, Tsilvis S, Badogiannis E (2001) Thermal treatment of kaolin: the effect on mineralogy on the pozzolanic activity. Appl Clay Sci 20:73–80

23.

Ilić BR, Mitrović AA, LjR Miličić (2010) Thermal treatment of kaolin clay to obtain metakaolin. Hem Ind 64:351–356

24.

Prlainović NŽ, Bezbradica DI, Knežević-Jugović ZD, Stevanović SI, Avramov-Ivić MI, Uskoković PS, Mijin DŽ (2013) Adsorption of lipase from Candida rugosa on multi walled carbon nanotubes. J Ind Eng Chem 19:279–285

25.

Chattopadhyay K, Mazumdar S (2000) Structural and conformational stability of horseradish peroxidase: effect of pH and temperature. Biochemistry 39:263–270

26.

Park Byung-Wook, Kyoung-A K, Do-Young Y, Dong-Shik K (2012) Enzyme activity assay for horseradish peroxidase encapsulated in peptide nanotubes. Enzym Microb Technol 51:81–85

27.

Zhang J, Zhang F, Yang H, Huang X, Zhang J (2010) Graphene oxide as a matrix for enzyme immobilization. Amer Chem Soc 26:6083–6085

28.

Theng BKG (1982) Clay–polimer interactions: summary and perspectives. Clays Clay Miner 30:1–10

29.

Yu HW, Li N, Tong DS, Zhou LinCX, Xu CY (2013) Adsorption of proteins and nucleic acids on clay minerals CH and their interactions: a review. Appl Clay Sci 80–81:443–452

30.

McLaren AD, Peterson GH, Barshad I (1958) The adsorption and reactions of enzymes and proteins on clay minerals. Soil Sci Soc Am J 22:239–244

31.

McLaren AD (1954) The adsorption and reactions of enzymes and proteins on kaolinite. J Phys Chem 58:129–137

32.

Matuszevska B, Norde W, Luklema J (1981) Comptetitive adsorption of human plasma albumin and dextran on silver iodide. J Colloid Interface Sci 84:403–408

33.

Luklema J (1984) Proteins at solid–liquid interfaces: a colloid-chemical review. Colloids Surf 10:33–42

34.

Fiorito TM, Icoz I, Stotzky G (2005) Adsorption and binding of the transgenic plant proteins, human serum albumin, β-glucuronidase, and Cry3Bb1, on montmorillonite and kaolinite: microbial utilization and enzymatic activity of free and clay-bound proteins. Appl Clay Sci 39:142–150

35.

Roach P, Farrar D, Perry CC (2005) Interpretation of protein adsorption: surface-induced conformational changes. Am Chem Soc 127:8168–8173

36.

Sethuraman A, Belfort G (2005) Protein structural perturbation and aggregation on homogenous surfaces. Biophys J 88:1322–1333

37.

Sethuraman A, Vendanthan G, Imoto T, Przybycien T, Belfort G (2004) Protein unfolding and interfaces: slow dynamics of alpha-helix to beta-sheet transition. Proteins Struct Funct Bioinform 56:669–678

38.

Cheng J, Yu SM, Zuo P (2006) Horseradish peroxidase immobilized on aluminium-pillared interlayered clay for the catalytic oxidation of phenolic wastewater. Water Res 40:283–290

39.

Jamal F, Pandey PK, Qidwai T (2010) Potential of peroxidase enzyme from Trichosantes diocia to mediate disperse dye decolorization in conjuction with redox mediators. J Mol Catal B Enzym 66:177–181

40.

Celebi M, Kaya MA, Altikatoglu M, Yildrim H (2013) Enzymatic decolorization of anthraquinone and diazo dyes using horseradish peroxidase enzyme immobilized onto various polysulfone supports. Appl Biochem Biotechnol 171:716–730

41.

Xu R, Chi C, Li F, Zhang B (2013) Immobilization of horseradish peroxidase on electrospunmicrofibrous membranes for biodegradation and adsorption of bisphenol A. Bioresour Technol 149:111–116

42.

Melgarejo FR, Lopez JNR, Canovas FG, Ruiz PAG (2004) Immobilization of horseradish peroxidase on cinnamic carbohydrate esters. Process Biochem 39:1455–1464

43.

Jamal F, Qidwal T, Pandey PK, Singh R, Singh S (2011) Azo and anthraquinone dye decolorization in relation to its molecular structure using soluble Trichosantes dioica peroxidase supplemented with redox mediator. Catal Commun 12:1218–1233
Acknowledgments
Researchers engaged in this paper development would like to acknowledge Ministry of Education, Science and Technological Development of the Republic of Serbia for the great financial support (Project Numbers III-46010 and 172013).
About this article
Cite this article
Šekuljica, N.Ž., Prlainović, N.Ž., Jovanović, J.R. et al. Immobilization of horseradish peroxidase onto kaolin. Bioprocess Biosyst Eng 39, 461–472 (2016). https://doi.org/10.1007/s00449-015-1529-x
Received:

Accepted:

Published:

Issue Date:
Keywords
Horseradish peroxidase

Kaolin

Adsorption

Kinetic parameters

Wastewater treatment