Abstract
This study aimed to enhance Aspergillus ficuum phytase production in fed-batch and continuous fermentations with addition of talcum microparticles. Phytase activity almost doubled in fed-batch and continuous fermentations by addition of 15 g/l of talcum compared to the control. Effect of talcum on fungal morphology was also shown that addition of talcum provided smaller fungal pellets and more homogenized fermentation broth compared to the control. Average fungal pellet radius decreased from 500 to 100 µm by addition of 15 g/l of talcum in the bioreactors. Also, 15 g/l talcum addition increased phytase productivity and optimum dilution rate in the continuous fermentations from 0.293 to 0.621 U/ml/h and from 0.09 to 0.1/h, respectively, compared to control.
This is a preview of subscription content, log in to check access.
Access options
Buy single article
Instant access to the full article PDF.
US$ 39.95
Price includes VAT for USA
Subscribe to journal
Immediate online access to all issues from 2019. Subscription will auto renew annually.
US$ 199
This is the net price. Taxes to be calculated in checkout.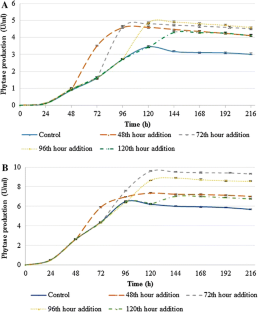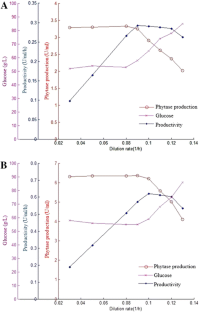 References
1.

Vohra A, Satyanarayana T (2003) Phytases: microbial sources, production, purification, and potential biotechnological applications. Cr Rev Biotechnol 23:29–60

2.

Haefner SR, Knietsch A, Scholten E, Braun J, Lohscheidt M, Zelde O (2005) Biotechnological production and applications of phytases. Appl Microbiol Biotechnol 68:588–597

3.

Sanson A, Etzion Z, Shanyp S, Berlyne GM, Yawl R (1981) Growth and bone mineralization as affected by dietary calcium, phytic acid and vitamin D. Comp Biochem Physiol 72:43–48

4.

Mullaney EJ, Daly CB, Ulah AHJ (2000) Advances in phytase research. Adv Appl Microbiol 47:157–199

5.

Sebastian S, Touchburn SP, Chavez ER, Lague PC (1996) The effects of supplemental microbial phytase on the performance and utilization of dietary calcium, phosphorus, copper, and zinc in broiler chickens fed corn-soybean diets. Poult Sci 75:729–736

6.

Nelson TS, Shieh TR, Wodzinski RJ, Ware JH (1968) The availability of phytate phosphorus in soybean meal before and after treatment with a mold phytase. Poult Sci 47:1842–1848

7.

Cowieson AJ, O'Neil HM, Bedford MR (2012) Enzymes beyond phytase in poultry nutrition. Faculty of Veterinary Science, University of Sydney, Poultry Research Foundation, Sydney, Australia

8.

Shah P, Bhavsar K, Soni SK, Khire JM (2009) Strain improvement and up scaling of phytase production by Aspergillus niger NCIM 563 under submerged fermentation conditions. J Ind Microbiol Biotechnol 36:373–380

9.

Bhavsar K, Gujar P, Shah P, Kumar VR, Khire JM (2013) Combinatorial approach of statistical optimization and mutagenesis for improved production of acidic phytase by Aspergillus niger NCIM 563 under submerged fermentation condition. Appl Microbiol Biotechnol 97:673–679

10.

Coban HB, Demirci A (2015) Improved submerged Aspergillus ficuum phytase production in bench-top bioreactors by optimization of fermentation medium. Acta Aliment (in press)

11.

Coban HB, Demirci A (2014) Screening of phytase producers and optimization of culture conditions for submerged fermentation. Bioprocess Biosyst Eng 37:609–616

12.

Jin H, Zheng Z, Gao M, Duan Z, Shi Z, Wang Z, Jin J (2007) Effective induction of phytase in Pichia pastoris fed-batch culture using an ANN pattern recognition model-based on-line adaptive control strategy. Biochem Eng J 37:26–33

13.

Kleist S, Miksch G, Hitzmann B, Arndt M, Friehs K, Flaschel E (2003) Optimization of the extracellular production of a bacterial phytase with Escherichia coli by using different fed-batch fermentation strategies. Appl Microbiol Biotechnol 61:456–462

14.

Hidayat BJ, Eriksen NT, Wiebe MG (2006) Acid phosphatase production by Aspergillus niger N402A in continuous flow culture. FEMS Microbiol Lett 254:324–331

15.

Kaup BA, Ehrich K, Pescheck M, Schrader J (2008) Microparticle-enhanced cultivation of filamentous microorganisms: increased chloroperoxidase formation by Caldariomyces fumago as an example. Biotechnol Bioeng 99:491–498

16.

Walisko R, Wittmann C, Krull R, Schrader J (2012) Microparticle based morphology engineering of filamentous microorganisms for industrial bio-production. Biotechnol Lett 34:1975–1982

17.

Driouch H, Wittmann C, Hansch R, Wucherpfennig T, Krull R (2012) Improved enzyme production by bio-pellets Aspergillus niger: targeted morphology engineering using titanate microparticles. Biotechnol Bioeng 109:462–471

18.

Driouch H, Roth A, Dersch P, Wittmann C (2011) Filamentous fungi in good shape microparticles for tailor-made fungal morphology and enhanced enzyme production. Bioeng Bugs 2:100–104

19.

Coban HB, Demirci A, Turhan I (2015) Microparticle enhanced Aspergillus ficuum phytase production in submerged fermentations. Bioprocess Biosyst Eng. doi:10.1007/s00449-014-1349-4

20.

Coban HB, Demirci A (2014) Enhanced submerged Aspergillus ficuum phytase production by implementation of fed-batch fermentation. Bioprocess Biosyst Eng 37:2579–2586

21.

Mittal A, Singh G, Goyal V, Yadav A, Aggarwal NK (2012) Production of phytase by acido-thermophilic strain of Klebsiella sp. DB-3FJ711774.1 using orange peel flour under submerged fermentation. Innov Rom Food Biotechnol 10:18–27
Acknowledgments
This work was supported in part by Turkish Ministry of Education by providing scholarship to Hasan Bugra Coban and the Pennsylvania Agricultural Experiment Station.
About this article
Cite this article
Coban, H.B., Demirci, A. & Turhan, I. Enhanced Aspergillus ficuum phytase production in fed-batch and continuous fermentations in the presence of talcum microparticles. Bioprocess Biosyst Eng 38, 1431–1436 (2015). https://doi.org/10.1007/s00449-015-1384-9
Received:

Accepted:

Published:

Issue Date:
Keywords
Phytase

Aspergillus ficuum

Talcum

Fed-batch fermentation

Continuous fermentation