Abstract
Candida rugosa lipase (CRL) was immobilized on an eco-friendly support poly(3-hydroxybutyrate-co-hydroxyvalerate) (PHBV), by physical adsorption, using different ionic liquids (ILs) as immobilization additives. This was to investigate the influence of cationic core ([C4mpy]Cl, [C4min]Cl), of anions ([C4min]Cl, [C4min]N(CN)2, [C4min]Tf2N), and of cation chain length ([C2min]Tf2N, [C4min]Tf2N) in the immobilization process. The immobilized biocatalysts (IB) were characterized with respect to the morphological, physico-chemical properties, total activity recovery yield (Ya), and biochemical properties of more efficient IB were evaluated. Initially, it was found that the change of cationic core did not influence in Ya compared to the control. With change of anions, it was seen that the best result was obtained for the more hydrophobic anion (Tf2N), and finally increasing the cation chain length increased Ya. IB most efficient with [C4min]Tf2N obtained 78 % of Ya, more than twice the control value (30 %) and a considerable enhancement of operational stability compared with the control.
This is a preview of subscription content, log in to check access.
Access options
Buy single article
Instant access to the full article PDF.
US$ 39.95
Price includes VAT for USA
Subscribe to journal
Immediate online access to all issues from 2019. Subscription will auto renew annually.
US$ 199
This is the net price. Taxes to be calculated in checkout.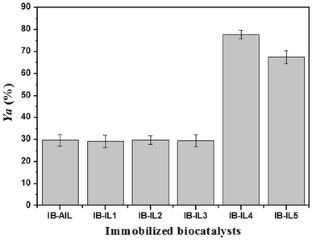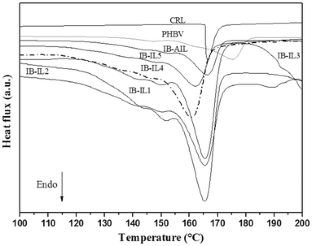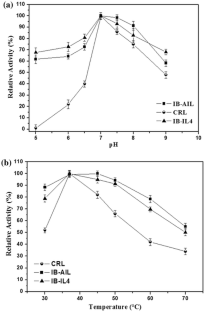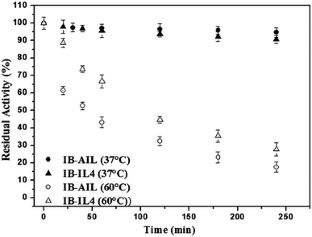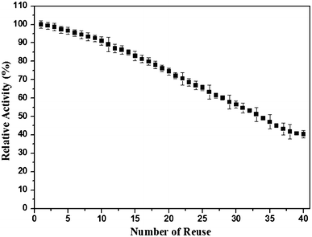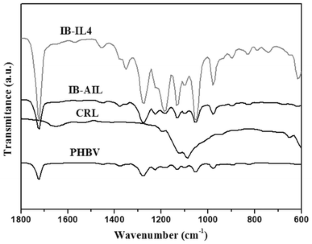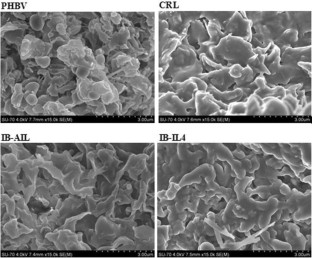 References
1.

Mendes AA, Oliveira PC, Vélez AM, Giordano RC, Giordano RLC, de Castro HF (2012) Int J Biol Macromol 50:503–511

2.

Secundo F, MiehéBrendlé J, Chelaru C, Ferrandi EE, Dumitriu E (2008) Microporous Mesoporous Mater 109:350–361

3.

Verger R (1997) Trends Biotechnol 15:32–38

4.

Reis P, Holmberg K, Watzke H, Leser ME, Miller R (2009) Adv Colloid Interface Sci 147–148:237–250

5.

Mendes AA, Rodrigues DS, Filice M, Fernández-Lafuente R, Guisán JM, Palomo JM (2008) Tetrahedron 64:10721–10727

6.

Fernández-Lorente G, Cabrera Z, Godoy CA, Fernández-Lafuente R, Palomo JM, Guisán JM (2008) Process Biochem 43:1061–1067

7.

Reetz MT, Tielmann P, Wisenhofer W, Konen W, Zonta A (2003) Adv Synth Catal 345:717–728

8.

Souza RL, Resende WCS, Barão CE, Zanin GM, Castro HF, Santos OAA, Fricks AT, Lima AS, Soares CMF (2012) J Mol Catal B Enzym 84:152–159

9.

Zarcula C, Corîci L, Croitoru R, Ursoiu A, Peter F (2010) J Mol Catal B Enzym 65:79–86

10.

Lee SH, Doan TTN, Ha SH, Koo YM (2007) J Mol Catal B Enzym 45:57–61

11.

Peter F, Zarcula C, Kakasi-Zsurka S, Croitoru R, Davidescu C, Csunderlik C (2008) J Biotechnol 136S:S374–S401

12.

Wu C, Zhou G, Jiang X, Ma J, Zhang H, Song H (2012) Process Biochem 47:953–959

13.

Vila-Real H, Alfaia AJ, Rosa JN, Gois PMP, Rosa ME, Calado ART, Ribeiro MH (2011) J Biotechnol 152:147–158

14.

Hara P, Mikkola JP, Murzin DY, Kanerva LT (2010) J Mol Catal B Enzym 67:129–134

15.

Zhou Y, Schattka JH, Antonietti M (2004) Nano Lett 4:477–481

16.

Shi F, Zhang Q, Li D, Deng Y (2005) Chem Eur J 11:5279–5288

17.

Zhang J, Ma Y, Shi F, Liu L, Deng Y (2009) Microporous Mesoporous Mater 119:97–103

18.

Krishna SH, Persson M, Bornscheuer UT (2002) Tetradron Asymmetry 13(24):2693–2696

19.

Shah S, Solanki K, Gupta MN (2007) Chem Central J 1:30. doi:10.1186/1752-153X-1-30

20.

Jiang Y, Guo C, Xia H, Mahmood I, Liu C, Liu H (2009) J Mol Catal B Enzym 58:103–109

21.

Zou B, Hu Y, Yu D, Xia J, Tang S, Liu W, Huang H (2010) Biochem Eng J 53:150

22.

Zou B, Hu Y, Yub D, Jiang L, Liu W, Song P (2011) Colloids Surf B88:93–99

23.

Cabrera-Padilla RY, Lisboa MC, Fricks AT, Franceschi E, Lima AS, Silva DP, Soares CMF (2012) J Ind Microbiol Biotechnol 39:289–298

24.

Cabrera-Padilla RY, Albuquerque M, Figueiredo RT, Fricks AT, Franceschi E, dos Santos OAA, Lima AS, Silva DP, Soares CMF (2013) Bioprocess Biosys Eng 36(10):1385–1394

25.

Machado FRS Jr, Reis DF, Boschetto DL, Burkert JFM, Ferreira SRS, Oliveira JV, Burkert CAV (2014) Ind Crops Prod 54:17–21

26.

Boschetto DL, Aranha EM, Ulson de Souza AA, Guelli U, Souza SMA, Ferreira SRS, Priamo WL, Oliveira JV (2014) Ind Crops Prod 60:22–29

27.

Souza RL, Faria EP, Conceição TGC, Carvalho NB, Fricks AT, Figueiredo RT, Castro HF, Zanin GM, Santos AO, Freitas LS, Silva SM, Duro MAI, Coutinho JAP, Lima AS, Soares CMF (2013) Enzyme Microbial Technol 52:141–150

28.

Soares CMF, Castro HF, Moraes FF, Zanin GM (1999) Appl Biochem Biotechnol 77–79:745–758

29.

Huddleston JG, Visser AE, Reichert WM, Willauer HD, Broker GA, Rogers RD (2001) Green Chem 3:156–164

30.

Singh NR, Narinesingh D, Singh G (2010) J Mol Liq 152:19–27

31.

Mateo C, Palomo JM, Fernandez-Lorente G, Guisan JM, Fernandez-Lafuente R (2007) Enzyme Microbial Technol 40:1451–1463

32.

Soares CMF, Santos OA, Castro HF, Moraes FF, Zanin GM Appl Biochem Biotechnol 113:307–319

33.

Karout A, Pierre AC (2007) J Non Crystallyne Sol 353:2900–2909

34.

Sowmiah S, Srinivasadesikan V, Tseng M-C, Chu Y-H (2009) Molecules 14:3780–3813. doi:10.3390/molecules14093780

35.

Mahrova M, Conte M, Roman E, Nevshupa R (2014) Phys Chem C 118:22544–22552

36.

Ventura SPM, Santos LDF, Saraiva JA, Coutinho JAP (2012) Green Chem 14:1620–1625

37.

Gonçalves SPC, Martins-Franchetti SM, Chinaglia DL (2009) J Polym Environ 17:280–285

38.

Mendes JBE, Riekes MK, Oliveira VM, Michel MD. Stulzer HK, Khalil NM, Zawadzki SF, Mainardes RM, Farago PV (2012) Sci World J 2012:13. doi:10.1100/2012/542937 (Article ID 542937)

39.

Kharrat N, Ali YB, Marzouk S, Gargouri YT, Karra-Châabouni M (2011) Immobilization of Rhizopus oryzae lipase on silica aerogels by adsorption: comparison with the free enzyme. Process Biochem 46(2011):1083–1089

40.

van Rantwijk YT, Secundo F, Sheldon RA (2006) Green Chem 8:282–286

41.

Hara P, Hanefeld P, Kanerva LT (2009) Green Chem 11:250–256

42.

Lou LL, Yu K, Ding F, Zhou W, Peng XJ, Liu SX (2006) Tetrahedron Lett 47:6513–6516
Acknowledgments
The authors are grateful for the financial support from the Brazilian research funding agencies CAPES, CNPq, and FAPITEC/SE.
About this article
Cite this article
Cabrera-Padilla, R.Y., Lisboa, M.C., Pereira, M.M. et al. Immobilization of Candida rugosa lipase onto an eco-friendly support in the presence of ionic liquid. Bioprocess Biosyst Eng 38, 805–814 (2015). https://doi.org/10.1007/s00449-014-1322-2
Received:

Accepted:

Published:

Issue Date:
Keywords
Lipase

Immobilization

PHBV

Ionic liquids

Physical adsorption