Abstract
A novel strategy for the production of lipase by Bacillus sp. ITP-001 in a stirred tank fermenter using perfluorodecalin (PFD) was studied. Firstly, a response surface methodology 22 with three central points was employed to optimise the effect of agitation speed and aeration rate in lipase production. According to the response from the experimental designs, 300 rpm (revolutions per minute) and 0.5 vvm (air volume/liquid volume per minute) were found to provide the best condition (lipolytic activity: LA = 3,140.76 U mL−1). Then, the influence of PFD concentration on the fermentation process was evaluated. Incorporation of PFD at all concentrations above 1 % had no statistically significant influence on lipase production, that is, the previous optimisation allowed the reduction of the amount of PFD added besides increasing lipase production. Furthermore, PFD could be used in three sequential fermentations without altering the statistical production of lipase, reducing by 67 % the cost of PFD addition.
This is a preview of subscription content, log in to check access.
Access options
Buy single article
Instant access to the full article PDF.
US$ 39.95
Price includes VAT for USA
Subscribe to journal
Immediate online access to all issues from 2019. Subscription will auto renew annually.
US$ 199
This is the net price. Taxes to be calculated in checkout.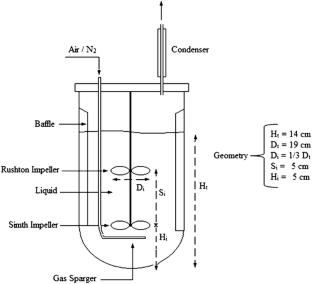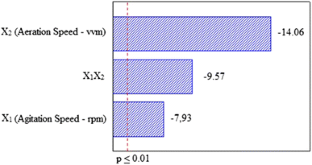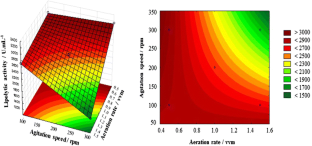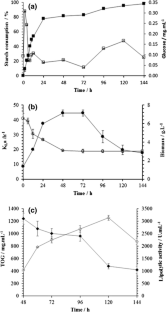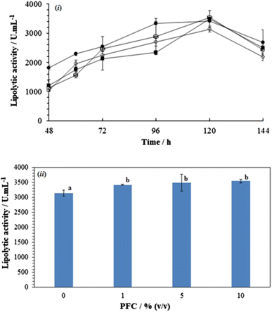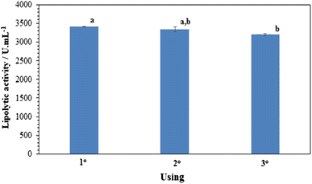 References
1.

Treichel H, Oliveira D, Mazutti MA, Di Luccio M, Oliveira JV (2010) Food Bioprocess Tech 3:182–196

2.

Gupta R, Gupta N, Rathi P (2004) Appl Microbiol Biotechnol 64:763–781

3.

Kamini NR, Fujii T, Kurosu T, Iefuji H (2000) Process Biochem 36:317–324

4.

Ramani K, John KL, Ramakrishnan M, Sekaran G (2010) Process Biochem 45:1683–1691

5.

Aravindan R, Anbumathi P, Viruthagiri T (2007) Indian J Biotechnol 6:141–158

6.

Liu R, Jiang X, Mou H, Guan H, Hwang HM, Li X (2009) Biochem Eng J 46:265–270

7.

Gotor-Fernández V, Brieva R, Gotor V (2006) J Mol Catal B Enzym 40:111–120

8.

Tongboriboon K, Cheirsilp B, H-Kittikun A (2010) J Mol Catal B Enzym 67:52–59

9.

Romdhane I, Fendri A, Gargouri Y, Gargouri A, Belghith H (2010) Biochem Eng J 53:112–120

10.

Feitosa IC, Barbosa JMP, Orellana SC, Lima AS, Soares CMF (2010) Acta Sci-Technol 32:27–31

11.

Fang HHP, Liang DW, Zhang T, Liu Y (2006) Water Res 40:427–434

12.

Lima VMG, Krieger N, Mitchell DA, Fontana LD (2004) Biochem Eng J 18:65–71

13.

Guncheva M, Zhiryakova D (2011) J Mol Catal B Enzym 68:1–21

14.

Sifour M, Zaghloul TI, Saeed HM, Bereka MM, Abdel-Fattah YR (2010) New Biotechnol 27:330–336

15.

Gutarra MLE, Godoy MG, Maugeri F, Rodrigues MI, Freire DMG, Castilho LR (2009) Bioresource Technol 100:5249–5254

16.

Teng Y, Xua Y, Wang D (2009) J Mol Catal B Enzym 57:292–298

17.

Coradi GV, Visitação VL, Lima EA, Saito LYT, Palmieri DA, Takita MA, Oliva-Neto P, Lima VMG (2013) Ann Microbiol 63:533–540

18.

Gupta N, Sahai V, Gupta R (2007) Process Biochem 42:518–526

19.

Burkert JFM, Maugeri F, Rodrigues MI (2004) Bioresource Technol 91:77–84

20.

Liu CH, Chen CY, Wang YW, Chang JS (2011) Biochem Eng J 58–59:96–102

21.

Potumarthi R, Subhakar C, Vanajakshi J, Jetty A (2008) Appl Biochem Biotechnol 151:700–710

22.

Puthli MS, Rathod VK, Pandit AB (2006) Biochem Eng J 27:287–294

23.

Essamri M, Deyris V, Comeau L (1998) J Biotechnol 60:97–103

24.

Xu H, Dou W, Xu H, Zhang X, Rao Z, Shi Z, Xu Z (2009) Biochem Eng J 43:41–51

25.

Martínez I, Bennett GN, San KY (2010) Metab Eng 12:499–509

26.

Helm I, Jalukse L, Vilbaste M, Leito I (2009) Anal Chim Acta 648:167–173

27.

Song P, Chen C, Tian Q, Lin M, Huang H, Li S (2013) Biochem Eng J 71:1–10

28.

van Sonsbeek HM, Beeftink HH, Tramper J (1993) Enzyme Microb Tech 15:722–729

29.

van der Meer AB, Beenackers AACM, Burghard R, Mulder NH, Fok JJ (1992) Chem Eng Sci 47:2369–2374

30.

Dézil E, Comeau Y, Villemur R (1999) Biodegradation 10:219–233

31.

Pilarek M, Szewczyk KW (2008) Biochem Eng J 41:38–42

32.

Fraker CA, Mendez AJ, Inverardi L, Ricordi C, Stabler CL (2012) Colloid Surf B 98:26–35

33.

Amaral PFF, Freire MG, Rocha-Leão MHM, Marrucho IM, Coutinho JAP, Coelho MAZ (2008) Biotechnol Bioeng 99:588–598

34.

Lowe KC (2002) J Fluorine Chem 118:19–26

35.

Amaral PFF, Almeida APR, Peixoto T, Rocha-Leão MHM, Coutinho JAP, Coelho MAZ (2007) World J Microb Biot 23:339–344

36.

Amaral PFF, Rocha-Leão MH, Marrucho IM, Coutinho JAP, Coelho MA (2006) J Chem Technol Biotechnol 81:1368–1374

37.

Elibol M, Ozer D (2000) Process Biochem 36:325–329

38.

Dias AMA, Caço AI, Coutinho JAP, Santos LMNBF, Piñeiro MM, Vega LF, Gomes MFC, Marrucho IM (2004) Fluid Phase Equilib 225:39–47

39.

Freire DM, Teles EMF, Bon EPS, Sant'Anna GL Jr (1997) Appl Biochem Biotechnol 63–65:409–421

40.

Liu CH, Huang CC, Wanga YW, Chang JS (2012) J Taiwan Inst Chem E 43:511–516

41.

Burkert JFM, Maldonado RR, Maugieri F, Rodrigues MI (2005) J Chem Technol Biot 80:61–67

42.

Ni X, Gao S, Cumming RH, Pritchard DW (1995) Chem Eng Sci 50:2127–2136

43.

Soccol CR, Iloku I, Marin B, Roussos S, Raimbault M (1994) Food Sci Technol 3:320–323

44.

Soares CMF, Castro HF, Moraes FF, Zanin GM (1999) Appl Biochem Biotech 79:745–758

45.

Salihu A, Alam MZ, Abdulkarim MI, Salleh HM (2011) J Mol Catal B Enzym 73:187–192

46.

Carvalho NB, Souza RL, Castro HF, Zanin GM, Lima AS, Soares CMF (2008) Appl Biochem Biotech 150:25–32

47.

Gulati R, Saxena RK, Gupta R (2000) Process Biochem 36:149–155

48.

Mahanta N, Gupta A, Khare SH (2008) Bioresour Technol 99:1729–1735

49.

Mahadik ND, Puntambekar US, Bastawde KB, Khire JM, Gokhale DV (2002) Process Biochem 38:715–721

50.

Freire MG, Dias AMA, Coelho MAZ, Coutinho JAP, Marrucho IM (2005) J Colloid Interf Sci 286:224–232

51.

Silva MTS (2013) MSc thesis, Tiradentes University, Aracaju-Sergipe, Brazil

52.

Wang SL, Yeh PY (2006) Process Biochem 41:1545–1552
Electronic supplementary material
Below is the link to the electronic supplementary material.
About this article
Cite this article
Vieira, E.S., de Oliveira Fontes, T.K., Pereira, M.M. et al. New strategy to apply perfluorodecalin as an oxygen carrier in lipase production: minimisation and reuse. Bioprocess Biosyst Eng 38, 721–728 (2015). https://doi.org/10.1007/s00449-014-1312-4
Received:

Accepted:

Published:

Issue Date:
Keywords
Lipase

Oxygen carrier

Perfluorodecalin

Experimental design

Fermentation