Abstract
Soluble anthraquinone compounds including anthraquinone-2-sulfonate (AQS) and anthraquinone-2,6-disulfonate can accelerate anaerobic decolorization of azo dyes. To realize the application of these compounds, the catalytic performance and stability of AQS-modified polyurethane foam (AQS-PUF) for Reactive Red K-2G decolorization were investigated in an up-flow anaerobic bioreactor under saline conditions. The results showed that the optimal influent pH value and hydraulic retention time were 7 and 10 h, respectively, in a continuous-flow bioreactor amended with AQS-PUF (R1). Under the above conditions, R1 (93.8 % color removal) displayed better decolorization performance than the bioreactor amended with PUF (R2, 64 % color removal) in 10 days, when influent K-2G concentration was 50 mg/L. Moreover, compared with R2, R1 could more effectively cope with 50–400 mg/L K-2G and exhibited better stability with over 85 % color removal efficiency within 75 days. Further bacterial community analysis using polymerase chain reaction–denaturing gradient gel electrophoresis showed that AQS-reducing bacteria played an important role in accelerating K-2G decolorization in R1. Extracellular polymeric substances analysis found that biofilm formed on AQS-PUF had very limited negative effects on K-2G decolorization. The catalytic performance of used AQS-PUF only decreased less than 9 % in batch experiments. These findings indicate that AQS-PUF has potential application for the treatment of azo dye-containing wastewater.
This is a preview of subscription content, log in to check access.
Access options
Buy single article
Instant access to the full article PDF.
US$ 39.95
Price includes VAT for USA
Subscribe to journal
Immediate online access to all issues from 2019. Subscription will auto renew annually.
US$ 199
This is the net price. Taxes to be calculated in checkout.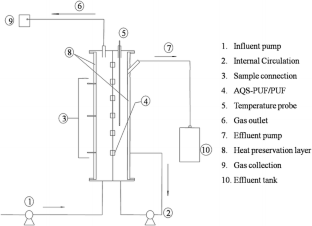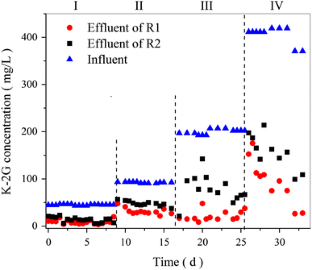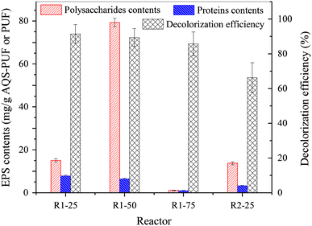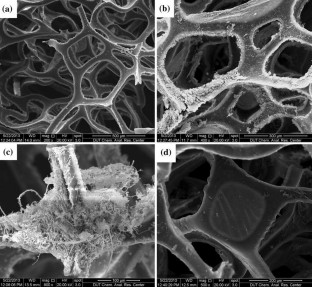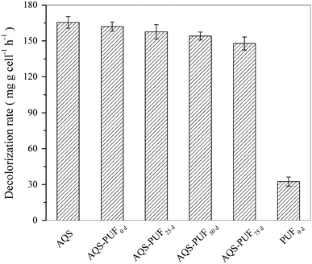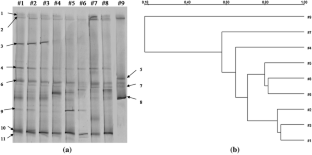 References
1.

Field JA, Stams AJ, Kato M, Schraa G (1995) Enhanced biodegradation of aromatic pollutants in cocultures of anaerobic and aerobic bacterial consortia. Antonie Van Leeuwenhoek 67(1):47–77

2.

van der Zee FP, Bouwman RH, Strik DP, Lettinga G, Field JA (2001) Application of redox mediators to accelerate the transformation of reactive azo dyes in anaerobic bioreactors. Biotechnol Bioeng 75(6):691–701

3.

Cervantes FJ, Martinez CM, Gonzalez-Estrella J, Marquez A, Arriaga S (2013) Kinetics during the redox biotransformation of pollutants mediated by immobilized and soluble humic acids. Appl Microbiol Biotechnol 97(6):2671–2679. doi:10.1007/s00253-012-4081-5

4.

Alvarez LH, Perez-Cruz MA, Rangel-Mendez JR, Cervantes FJ (2010) Immobilized redox mediator on metal-oxides nanoparticles and its catalytic effect in a reductive decolorization process. J Hazard Mater 184(1–3):268–272. doi:10.1016/j.jhazmat.2010.08.032

5.

Cervantes FJ, Gonzalez-Estrella J, Marquez A, Alvarez LH, Arriaga S (2011) Immobilized humic substances on an anion exchange resin and their role on the redox biotransformation of contaminants. Bioresour Technol 102(2):2097–2100. doi:10.1016/j.biortech.2010.08.021

6.

Lu H, Zhou J, Wang J, Si W, Teng H, Liu G (2010) Enhanced biodecolorization of azo dyes by anthraquinone-2-sulfonate immobilized covalently in polyurethane foam. Bioresour Technol 101(18):7196–7199. doi:10.1016/j.biortech.2010.04.007

7.

Li L, Wang J, Zhou J, Yang F, Jin C, Qu Y, Li A, Zhang L (2008) Enhancement of nitroaromatic compounds anaerobic biotransformation using a novel immobilized redox mediator prepared by electropolymerization. Bioresour Technol 99(15):6908–6916. doi:10.1016/j.biortech.2008.01.037

8.

Guo W, Ngo H-H, Dharmawan F, Palmer CG (2010) Roles of polyurethane foam in aerobic moving and fixed bed bioreactors. Bioresour Technol 101(5):1435–1439

9.

Zheng C, Zhou J, Wang J, Qu B, Lu H, Zhao H (2009) Aerobic degradation of nitrobenzene by immobilization of < i > Rhodotorula mucilaginosa </i > in polyurethane foam. J Hazard Mater 168(1):298–303

10.

Lim JW, Lim PE, Seng CE, Adnan R (2013) Simultaneous 4-chlorophenol and nitrogen removal in moving bed sequencing batch reactors packed with polyurethane foam cubes of various sizes. Bioresour Technol 129:485–494. doi:10.1016/j.biortech.2012.11.111

11.

Eboigbodin KE, Biggs CA (2008) Characterization of the extracellular polymeric substances produced by Escherichia coli using infrared spectroscopic, proteomic, and aggregation studies. Biomacromolecules 9(2):686–695

12.

Gaudy A (1962) Colorimetric determination of protein and carbohydrate. Ind Water Wastes 7(1):17–27

13.

Muyzer G, De Waal EC, Uitterlinden AG (1993) Profiling of complex microbial populations by denaturing gradient gel electrophoresis analysis of polymerase chain reaction-amplified genes coding for 16S rRNA. Appl Environ Microbiol 59(3):695–700

14.

Pearce C, Lloyd J, Guthrie J (2003) The removal of colour from textile wastewater using whole bacterial cells: a review. Dyes Pigm 58(3):179–196

15.

Costa MC, Mota S, Nascimento RF, Dos Santos AB (2010) Anthraquinone-2,6-disulfonate (AQDS) as a catalyst to enhance the reductive decolourisation of the azo dyes Reactive Red 2 and Congo Red under anaerobic conditions. Bioresour Technol 101(1):105–110. doi:10.1016/j.biortech.2009.08.015

16.

Cervantes F, van de Zee F, Lettinga G, Field J (2001) Enhanced decolourisation of Acid Orange 7 in a continuous UASB reactor with quinones as redox mediators. Water Sci Technol 44(4):123–128

17.

Kapdan IK, Tekol M, Sengul F (2003) Decolorization of simulated textile wastewater in an anaerobic–aerobic sequential treatment system. Process Biochem 38(7):1031–1037

18.

Lian J, Guo J, Feng G, Liu G, Yang J, Liu C, Li Z, Yue L, Zhao L (2011) Development of bioreactor systems with functional bio-carrier modified by disperse turquoise blue S-GL for disperse scarlet S-BWFL decolorization. Bioresour Technol 102(24):11239–11243

19.

da Silva ME, Firmino PI, dos Santos AB (2012) Impact of the redox mediator sodium anthraquinone-2,6-disulphonate (AQDS) on the reductive decolourisation of the azo dye Reactive Red 2 (RR2) in one- and two-stage anaerobic systems. Bioresour Technol 121:1–7. doi:10.1016/j.biortech.2012.06.099

20.

Dos Santos A, Traverse J, Cervantes F, Van Lier J (2005) Enhancing the electron transfer capacity and subsequent color removal in bioreactors by applying thermophilic anaerobic treatment and redox mediators. Biotechnol Bioeng 89(1):42–52

21.

Lee YH, Bottomley LA (2011) Anthraquinone compounds as redox mediators for enhanced continuous-flow anaerobic biotransformation of reactive dyes under hypersaline conditions. Desalin Water Treat 33(1–3):68–76

22.

Martínez CM, Celis LB, Cervantes FJ (2013) Immobilized humic substances as redox mediator for the simultaneous removal of phenol and Reactive Red 2 in a UASB reactor. Appl Microbiol Biotechnol 97(22):9897–9905

23.

Abbasi A, Amiri S (2008) Emulsifying behavior of an exopolysaccharide produced by Enterobacter cloacae. Afr J Biotechnol 7(10):1574–1576

24.

Emilia Rios-Del Toro E, Celis LB, Cervantes FJ, Rangel-Mendez JR (2013) Enhanced microbial decolorization of methyl red with oxidized carbon fiber as redox mediator. J Hazard Mater 260:967–974

25.

Martineau C, Villeneuve C, Mauffrey F, Villemur R (2013) Hyphomicrobium nitrativorans sp. nov., isolated from the biofilm of a methanol-fed denitrification system treating seawater at the Montreal Biodome (Canada). Int J Syst Evol Microbiol 63:3777–3781

26.

Shen L, Xu H, Liu Y (2011) Microbial characterization of the biofilms developed for treating ampicillin-bearing wastewater. Journal of Environmental Science and Health, Part A 46(3):314–322

27.

Meng X, Liu G, Zhou J, Fu QS (2014) Effects of redox mediators on azo dye decolorization by <i> Shewanella algae </i> under saline conditions. Bioresour Technol 151:63–68

28.

Chengalroyen MD, Dabbs ER (2013) The microbial degradation of azo dyes: minireview. World J Microbiol Biotechnol 29(3):389–399. doi:10.1007/s11274-012-1198-8

29.

Cui D, Li G, Zhao D, Gu X, Wang C, Zhao M (2012) Microbial community structures in mixed bacterial consortia for azo dye treatment under aerobic and anaerobic conditions. J Hazard Mater 221:185–192

30.

Tan L, Qu Y-Y, Zhou J-T, Li A, Gou M (2009) Identification and characteristics of a novel salt-tolerant Exiguobacterium sp. for azo dyes decolorization. Appl Biochem Biotechnol 159(3):728–738

31.

Chung K-T, Stevens SE, Cerniglia CE (1992) The reduction of azo dyes by the intestinal microflora. Crit Rev Microbiol 18(3):175–190

32.

Prasad SS, Aikat K (2014) Study of bio-degradation and bio-decolourization of azo dye by Enterobacter sp. SXCR. Environmental Technology 35(8):956–965

33.

Kostka JE, Dalton DD, Skelton H, Dollhopf S, Stucki JW (2002) Growth of iron(III)-reducing bacteria on clay minerals as the sole electron acceptor and comparison of growth yields on a variety of oxidized iron forms. Appl Environ Microbiol 68(12):6256–6262. doi:10.1128/aem.68.12.6256-6262.2002

34.

Rismani-Yazdi H, Christy AD, Dehority BA, Morrison M, Yu Z, Tuovinen OH (2007) Electricity generation from cellulose by rumen microorganisms in microbial fuel cells. Biotechnol Bioeng 97(6):1398–1407
Acknowledgments
The authors gratefully acknowledge financial support from China National Natural Science foundation (No. 21077019) and China National Key Project of Science and Technology "Water Pollution Control and Governance" (2012ZX07202-002).
Electronic supplementary material
Below is the link to the electronic supplementary material.
About this article
Cite this article
Zhou, Y., Lu, H., Wang, J. et al. Catalytic performance of functionalized polyurethane foam on the reductive decolorization of Reactive Red K-2G in up-flow anaerobic reactor under saline conditions. Bioprocess Biosyst Eng 38, 137–147 (2015). https://doi.org/10.1007/s00449-014-1252-z
Received:

Accepted:

Published:

Issue Date:
Keywords
Anthraquinone-2-sulfonate

Polyurethane foam

Decolorization

Catalytic performance

Reactive Red K-2G