Abstract
A thermostable chitinase was purified by chitin affinity from the culture supernatant of Bacillus cereus TKU028 with shrimp head powder (SHP) as the sole carbon/nitrogen source. TKU028 chitinase was purified using a one-step affinity adsorbent system, and the molecular mass of TKU028 chitinase (approximately 40 kDa) was then determined using SDS-PAGE. The enzyme was stable for 60 min at temperatures below 60 °C and stable over a broad pH range of 4–9 for 60 min. In addition, the temporal changes of a bacterial community in mangrove river sediment of the Tamsui River with added SHP were also analysed by PCR–denaturing gradient gel electrophoresis to investigate the effects of B. cereus TKU028 on the degradation of SHP. The 6-week incubation sample of SHP and B. cereus TKU028-amended mangrove river sediment displayed the highest amount of biomass, reducing sugar and total sugar, and some variance of bacterial community composition existed in the soils.
This is a preview of subscription content, log in to check access.
Access options
Buy single article
Instant access to the full article PDF.
US$ 39.95
Price includes VAT for USA
Subscribe to journal
Immediate online access to all issues from 2019. Subscription will auto renew annually.
US$ 199
This is the net price. Taxes to be calculated in checkout.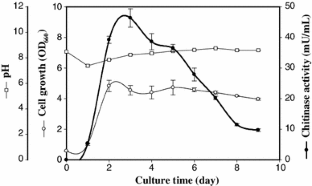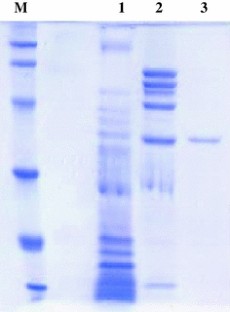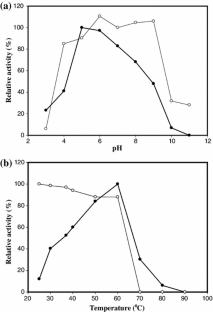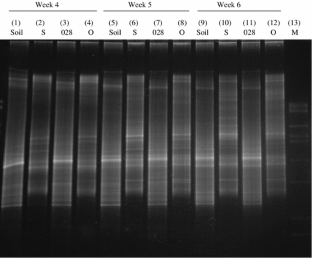 References
1.

Wang SL, Shin IL, Liang TW, Wang CH (2002) Purification and characterization of two antifungal chitinases extracellularly produced by Bacillus amyloliquefaciens V656 in a shrimp and crab shell powder medium. J Agric Food Chem 50:2241–2248

2.

Wang SL, Liu CP, Liang TW (2012) Fermented and enzymatic production of chitin/chitosan oligosaccharides by extracellular chitinases from Bacillus cereus TKU027. Carbohydr Polym 90:1305–1313

3.

Liang TW, Chen YJ, Yen YH, Wang SL (2007) The antitumor activity of the hydrolysates of chitinous materials hydrolyzed by crude enzyme from Bacillus amyloliquefaciens V656. Process Biochem 42:527–534

4.

Wang SL, Lin HT, Liang TW, Chen YJ, Yen YH, Guo SP (2008) Reclamation of chitinous materials by bromelain for the preparation of antitumor and antifungal materials. Bioresour Technol 99:4386–4393

5.

Toharisman A, Suhartono MT, Spindler-Barth M, Hwang JK, Pyun YR (2005) Purification and characterization of a thermostable chitinase from Bacillus licheniformis Mb-2. World J Microbiol Biotechnol 21:733–738

6.

Wen CM, Tseng CS, Cheng CY, Li YK (2002) Purification, characterization and cloning of a chitinase from Bacillus sp. NCTU2. Biotechnol Appl Biochem 35:213–219

7.

Wiwat C, Siwayaprahm P, Bhumiratana A (1999) Purification and characterization of chitinase from Bacillus circulans No. 4.1. Curr Microbiol 39:134–140

8.

Yuli PE, Suhartono MT, Rukayadi Y, Hwang JK, Pyun YR (2004) Characteristic of thermostable chitinase enzyme from the Indonesian Bacillus sp. 13.26. Enzyme Microb Technol 35:147–153

9.

Wang SY, Moyne AL, Thottappilly G, Wu SJ, Locy RD, Singh NK (2001) Purification and characterization of a Bacillus cereus exochitinase. Enzyme Microb Technol 28:492–498

10.

Wang SL, Lin TY, Yen YH, Liao HF, Chen YJ (2006) Bioconversion of shellfish chitin wastes for the production of Bacillus subtilis W-118 chitinase. Carbohydr Res 341:2507–2515

11.

Liu D, Cai J, Xie CC, Liu C, Chen YH (2010) Purification and partial characterization of a 36-kDa chitinase from Bacillus thuringiensis subsp. colmeri, and its biocontrol potential. Enzyme Microb Technol 46:252–256

12.

Waghmare SR, Ghosh JS (2010) Chitobiose production by using a novel thermostable chitinase from Bacillus licheniformis strain JS isolated from a mushroom bed. Carbohydr Res 345:2630–2635

13.

Kao PM, Chen CI, Huang SC, Lin KM, Chang YC, Liu YC (2009) Preparation of fermentation-processed chitin and its application in chitinase affinity adsorption. Process Biochem 44:343–348

14.

Lee YG, Chung KC, Wi SG, Lee JC, Bae HJ (2009) Purification and properties of a chitinase from Penicillium sp. LYG 0704. Protein Expr Purif 65:244–250

15.

Wang SL, Chen SJ, Wang CL (2008) Purification and characterization of chitinases and chitosanases from a new species strain Pseudomonas sp. TKU015 using shrimp shells as a substrate. Carbohydr Res 343:1171–1179

16.

Yin B, Gu JD, Wan N (2005) Degradation of indole by enrichment culture and Pseudomonas aeruginosa Gs isolated from mangrove sediment. Int Biodeterior Biodegrad 56:243–248

17.

Ewel KC (2008) Mangrove crab (Scylla serrata) populations may sometimes be best managed locally. J Sea Res 59:114–120

18.

Hjort K, Lembke A, Speksnijder A, Smalla K, Jansson JK (2007) Community structure of actively growing bacterial populations in plant pathogen suppressive soil. Microb Ecol 53:399–413

19.

Sato K, Azama Y, Nogawa M, Taguchi G, Shimosaka M (2010) Analysis of a change in bacterial community in different environments with addition of chitin or chitosan. J Biosci Bioeng 109:472–478

20.

Suresh PV, Chandrasekaran M (1999) Impact of process parameters on chitinase production by an alkalophilic marine Beauveria bassiana in solid state fermentation. Process Biochem 34:257–267

21.

Imoto T, Yagishita K (1971) A simple activity measurement of lysozyme. Agric Biol Chem 35:1154–1156

22.

Laemmli UK (1970) Cleavage of structural proteins during the assembly of the head of bacteriophage T4. Nature 227:680–685

23.

Dubois M, Gilles KA, Hamilton JK, Rebers PA, Smith F (1956) Colorimetric method for determination of sugars and related substances. Anal Chem 28:350–356

24.

Thompson SE, Smith M, Wilkinson MC, Peek K (2001) Identification and characterization of a chitinase antigen from Pseudomonas aeruginosa strain 385. Appl Environ Microbiol 67:4001–4008
Acknowledgments
This work was supported in part by a Grant of the National Science Council, Taiwan (NSC99-2313-B-032-001-MY3).
About this article
Cite this article
Liang, T., Hsieh, T. & Wang, S. Purification of a thermostable chitinase from Bacillus cereus by chitin affinity and its application in microbial community changes in soil. Bioprocess Biosyst Eng 37, 1201–1209 (2014). https://doi.org/10.1007/s00449-013-1092-2
Received:

Accepted:

Published:

Issue Date:
Keywords
Chitinase

Shrimp heads

Bacillus cereus

Affinity adsorption

PCR–DGGE