Abstract
This work investigates the continuous production of alkyl esters from soybean fatty acid (FA) charges using immobilized Novozym 435 as catalyst. The experiments were performed in a packed-bed bioreactor evaluating the effects of FA charge to alcohol (methanol and ethanol) molar ratio, from 1:1 to 1:6, substrate flow rate in the range of 0.5–2.5 mL/min and output irradiation power up to 154 W, at fixed temperature of 65 °C, on the reaction conversion. Results showed that almost complete conversions to fatty acids ethyl esters were achieved at mild ultrasonic power (61.6 W), FA to ethanol molar ratio of 1:6, operating temperature (65 °C) and remained nearly constant for long-term reactions without negligible enzyme activity losses.
This is a preview of subscription content, log in to check access.
Access options
Buy single article
Instant access to the full article PDF.
US$ 39.95
Price includes VAT for USA
Subscribe to journal
Immediate online access to all issues from 2019. Subscription will auto renew annually.
US$ 199
This is the net price. Taxes to be calculated in checkout.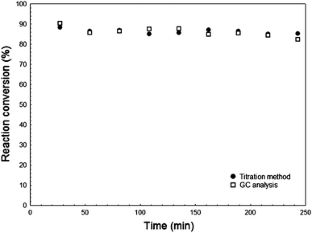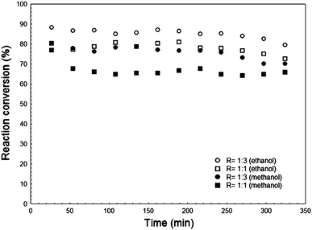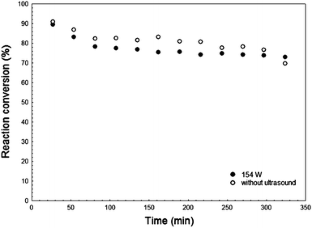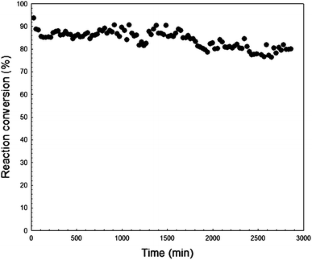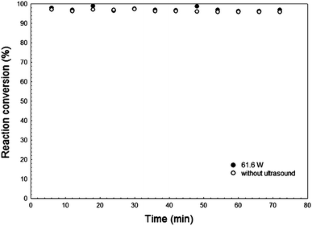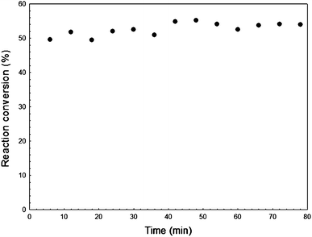 References
1.

Ma F, Hanna MA (1999) Bioresour Technol 70:1–15

2.

Fukuda H, Kondo K, Noda H (2001) J Biosci Bioeng 92:405–416

3.

Altin R, Çetinkaya S, Yücesu HS (2001) Energy Convers Manag 42:529–538

4.

Kusdiana D, Saka S (2001) Fuel 80:225–231

5.

Gan S, Ng HK, Ooi CW, Motala NO, Ismail MAF (2010) Bioresour Technol 101:7338–7343

6.

Rocha LLL, Ramos ALD, Filho NRA, Furtado NC, Taft CA, Aranda D (2010) Lett Organ Chem 7:571–578

7.

Sousa JS, Oliveira EAC, Aranda DAG, Freire DMG (2010) J Mol Catal B Enz 65:133–137

8.

Ramachandran KB, Al-Zuhair S, Fong CS, Gak CW (2006) Biochem Eng J 32:19–24

9.

Liu Y, Jin Q, Shan L, Liu Y, Shen W, Wang X (2008) Ultrason Sonochem 15:402–407

10.

Huang J, Liu Y, Song Z, Jin Q, Liu Y, Wang X (2010) Ultrason Sonochem 17:521–525

11.

Teixeira LSG, Assis JCR, Mendonça DR, Santos ITV, Guimarães PRB, Pontes LAM, Teixeira JSR (2009) Fuel Process Technol 90:1164–1166

12.

Yu D, Tian L, Wu H, Wang S, Wang Y, Ma D, Fang X (2010) Process Biochem 45:519–525

13.

Fiametti KG, Sychoski MM, Cesaro A, Furigo A Jr, Bretanha LC, Pereira CMP, Treichel H, Oliveira D, Oliveira JV (2011) Ultrason Sonochem 18:981–987

14.

He H, Tao W, Zhu S (2007) Fuel 86:442–447

15.

Kusdiana D, Saka S (2004) Appl Biochem Biotechnol 113:781–791

16.

Minami E, Saka S (2006) Fuel 85:2479–2483

17.

Silva C, Weschenfelder TA, Rovani S, Corazza FC, Corazza ML, Dariva C, Oliveira JV (2007) Ind Eng Chem Res 46:5304–5309

18.

Vieitez I, Silva C, Borges GR, Corazza FC, Oliveira JV, Grompone MA, Jachmanián I (2008) Energy Fuels 22:2805–2809

19.

Kasteren JMN, van Nisworo AP (2007) Res Cons Rec 50:442–458

20.

Laudani CG, Habulin M, Knez H, Porta GD, Reverchon E (2007) J Supercrit Fluids 41:74–81

21.

Dalla Rosa C, Morandim MB, Ninow JL, Oliveira D, Treichel H, Oliveira JV (2009) Bioresour Technol 100:5818–5826

22.

Imahara H, Minami E, Hari S, Saka S (2007) Fuel 87:1–6

23.

Novo Nordisk (1992) Characteristics of immobilized lipase in ester synthesis and effects of water and temperature in various reactions. Technical Report A-05948

24.

Standard UNE-EN 14103 (2003) Determination of ester and linolenic acid methyl ester contents. Asociación Española de Normalización y Certificación, Madrid

25.

Hanh HD, Dong NT, Okitsu K, Nishimura R, Maeda Y (2009) Renew Energy 34:780–783

26.

Marciniuk LL, Garcia CM, Muterle RB, Schuchardt U (2007) In: Proceedings of the 14th Brazilian Catalysis Congress, Porto de Galinhas-PE, September, 1–10

27.

Lee SB, Lee JD, Hong IK (2011) J Ind Eng Chem 17:138–143

28.

Deshmane VG, Gogate PR, Pandit AB (2008) Chem Eng J 145:351–354

29.

Kelkar MA, Gogate PR, Pandit AB (2008) Ultrason Sonochem 15:188–194

30.

Deshmane VG, Gogate PR, Pandit AB (2009) Ind Eng Chem Res 48:7923–7927

31.

Park JY, Wang ZM, Kim DK, Lee JS (2010) Renew Energy 35:614–618

32.

Wang X, Liu X, Zhao C, Ding Y, Xu P (2011) Bioresour Technol 102:6352–6355

33.

Avellaneda F, Salvadó F (2011) Fuel Process Technol 92:83–91

34.

Aranda DAG, Santos RTP, Tapañes NCO, Ramos ALD, Antunes OAC (2008) Catal Lett 122:20–25

35.

Atadashi IM, Aroua MK, Abdul Aziz AR, Sulaiman NMN (2013) Ind Eng Chem 19:14–26
Acknowledgments
The authors thank CNPq and Intecnial S.A. for the financial support and scholarships.
About this article
Cite this article
Trentin, C.M., Scherer, R.P., Dalla Rosa, C. et al. Continuous lipase-catalyzed esterification of soybean fatty acids under ultrasound irradiation. Bioprocess Biosyst Eng 37, 841–847 (2014). https://doi.org/10.1007/s00449-013-1052-x
Received:

Accepted:

Published:

Issue Date:
Keywords
Esterification

Packed-bed reactor

Fatty acids

Lipase

Ultrasound