Abstract
In this study, we proposed a new method for estimating biokinetic parameters in phenol degradation kinetics. The new method relies on the new formulation of q–S relation where degradation rate q is calculated from the changes of substrate concentration S for each time segment during the course of entire degradation, while in the conventional method q is obtained from the slope of the straight line that is given as substrate concentration changes with time in a semi-logarithmic scale. Thus, this new method provided more data points than the conventional method. The q–S relations obtained from the new method and the conventional method were fitted with three inhibitory kinetic models of Haldane, Yano and Edwards. Simulation of degradation profile with each kinetic model and comparison with the observed profile revealed that the new method offered a better prediction with Edwards model as the best inhibitory model.
This is a preview of subscription content, log in to check access.
Access options
Buy single article
Instant access to the full article PDF.
US$ 39.95
Price includes VAT for USA
Subscribe to journal
Immediate online access to all issues from 2019. Subscription will auto renew annually.
US$ 199
This is the net price. Taxes to be calculated in checkout.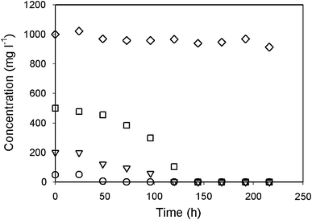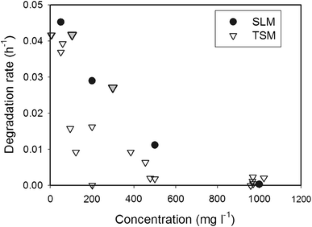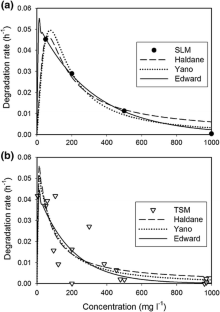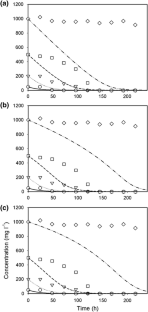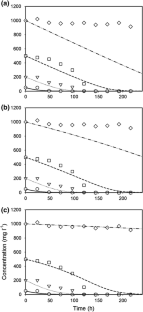 References
1.

Banerjee A, Ghoshal AK (2010) Phenol degradation by Bacillus cereus: pathway and kinetic modeling. Bioresource Technol 101:5501–5507

2.

Banerjee A, Ghoshal AK (2011) Phenol degradation performance by isolated Bacillus cereus immobilized in alginate. Int Biodeter Biodegr 65:1052–1060

3.

Banerjee I, Modak JM, Bandopadhyay K, Das D, Maiti BR (2001) Mathematical model for evaluation of mass transfer limitations in phenol biodegradation by immobilized Pseudomonas putida. J Biotechnol 87:211–223

4.

Wolski EA, Durruty I, Haure PM, González JF (2012) Penicillium chrysogenum: phenol degradation abilities and kinetic model. Water Air Soil Pollut 223:2323–2332

5.

Kim DJ, Choi JW, Choi NC, Mahendran B, Lee CE (2005) Modeling of growth kinetics for Pseudomonas spp. during benzene degradation. Appl Microbiol Biotechnol 69:456–462

6.

Haldane JBS (1965) Enzymes. M.I.T. Press, Cambridge

7.

Yano T, Nakahara T, Kamiyama S, Yamada K (1966) Kinetic studies on microbial activities in concentrated solutions. Part I Effect of excess sugars on oxygen uptake rate of a cell free respiratory system. Agric Biol Chem 30:42–48

8.

Edwards VH (1970) The influence of high substrate concentrations on microbial kinetics. Biotechnol Bioeng 12:679–712

9.

Chung TP, Tseng HY, Juang RS (2003) Mass transfer effect and intermediate detection for phenol degradation in immobilized Pseudomonas putida systems. Process Biochem 38:1497–1507

10.

Arutchelvan V, Kanakasabai V, Nagarajan S, Muralikrishnan V (2005) Isolation and identification of novel high strength phenol degrading bacterial strains from phenol-formaldehyde resin manufacturing industrial wastewater. J Hazard Mater 127:238–243

11.

Juang RS, Tsai SY (2006) Enhanced biodegradation of mixed phenol and sodium salicylate by Pseudomonas putida in membrane contactors. Water Res 40:3517–3526

12.

Bajaj M, Gallert C, Winter J (2009) Phenol degradation kinetics of an aerobic mixed culture. Biochem Eng J 46:205–209
About this article
Cite this article
Lee, S., Kim, D. & Choi, J. Novel method for determination of phenol degradation kinetics. Bioprocess Biosyst Eng 36, 1939–1945 (2013). https://doi.org/10.1007/s00449-013-0970-y
Received:

Accepted:

Published:

Issue Date:
Keywords
Biokinetic

Inhibitory model

Phenol

Simulation