Abstract
There is an enormous interest in developing safe, cost-effective and environmentally friendly technologies for nano-materials synthesis. In the present study, extracellular biosynthesis of silver nanoparticles was achieved by Epicoccum nigrum, an endophytic fungus isolated from the cambium of Phellodendron amurense. The reduction of the silver ions was monitored by UV–visible spectrophotometry, and the characterization of the Ag NPs was carried out by X-ray diffraction and transmission electron microscopy. The synthesized Ag NPs were exceptionally stable. It was found that an alkaline pH favored the formation of Ag NPs and elevated temperature accelerated the reduction process. Furthermore, the antifungal activity of the Ag NPs was assessed using a microdilution method. The biosynthesized Ag NPs showed considerable activity against the pathogenic fungi. The current research opens a new path for the green synthesis of Ag NPs and the process is easy to scale up for biomedical applications.
This is a preview of subscription content, log in to check access.
Access options
Buy single article
Instant access to the full article PDF.
US$ 39.95
Price includes VAT for USA
Subscribe to journal
Immediate online access to all issues from 2019. Subscription will auto renew annually.
US$ 199
This is the net price. Taxes to be calculated in checkout.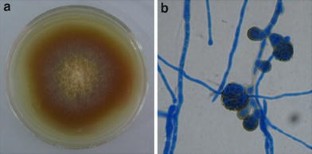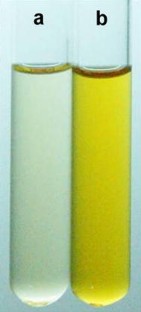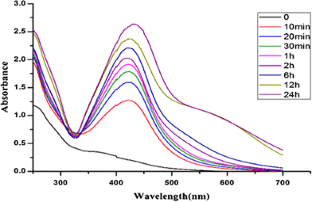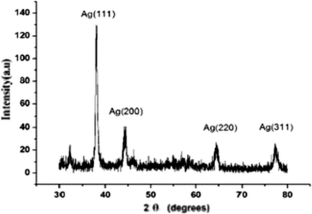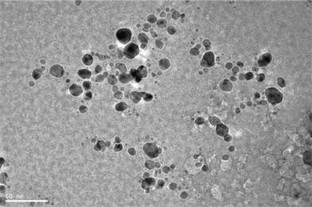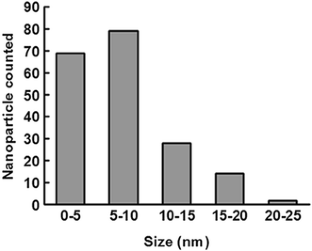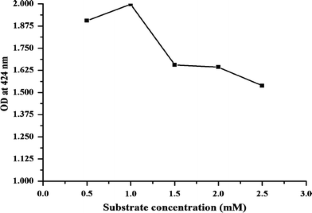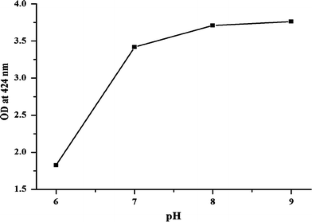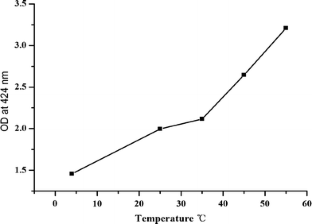 References
1.

Sharma VK, Yngard RA, Lin Y (2009) Silver nanoparticles: green synthesis and their antimicrobial activities. Adv Colloid Interface 145:83–96

2.

Morones JR, Elechiguerra JL, Camacho A, Holt K, Kouri JB et al (2005) The bactericidal effect of silver nanoparticles. Nanotechnology 16:2346–2353

3.

Panacek A, Kvitek L, Prucek R, Kolar M, Vecerova R et al (2006) Silver colloid nanoparticles: synthesis, characterization, and their antibacterial activity. J Phys Chem B 110:16248–16253

4.

Panacek A, Kolar M, Vecerova R, Prucek R, Soukupova J et al (2009) Antifungal activity of silver nanoparticles against Candida spp. Biomaterials 30:6333–6340

5.

Kim KJ, Sung WS, Moon SK, Choi JS, Kim JG et al (2008) Antifungal effect of silver nanoparticles on dermatophytes. J Microbiol Biotechnol 18:1482–1484

6.

Ahmad A, Mukherjee P, Senapati S, Mandal D, Khan MI et al (2003) Extracellular biosynthesis of silver nanoparticles using the fungus Fusarium oxysporum. Colloid Surface B 28:313–318

7.

Sarkar J, Ray S, Chattopadhyay D, Laskar A, Acharya K (2012) Mycogenesis of gold nanoparticles using a phytopathogen Alternaria alternate. Bioprocess Biosyst Eng 35:637–643

8.

Klaus T, Joerger R, Olsson E, Granqvist CG (1999) Silver-based crystalline nanoparticles, microbially fabricated. P Natl Acad Sci USA 96:13611–13614

9.

Samadi N, Golkaran D, Eslamifar A, Jamalifar H, Fazeli MR et al (2009) Intra/extracellular biosynthesis of silver nanoparticles by an autochthonous strain of Proteus mirafbilis isolated from photographic waste. J Biomed Nanotechnol 5:247–253

10.

Reddy AS, Chen CY, Chen CC, Jean JS, Chen HR et al (2010) Biological synthesis of gold and silver nanoparticles mediated by the bacteria Bacillus subtilis. J Nanosci Nanotechnol 10:6567–6574

11.

Kathiresan K, Alikunhi NM, Pathmanaban S, Nabikhan A, Kandasamy S (2010) Analysis of antimicrobial silver nanoparticles synthesized by coastal strains of Escherichia coli and Aspergillus niger. Can J Microbiol 56:1050–1059

12.

Ramanathan R, O'Mullane AP, Parikh RY, Smooker PM, Bhargava SK et al (2011) Bacterial kinetics-controlled shape-directed biosynthesis of silver nanoplates using Morganella psychrotolerans. Langmuir 27:714–719

13.

Gade AK, Bonde P, Ingle AP, Marcato PD, Duran N et al (2008) Exploitation of Aspergillus niger for synthesis of silver nanoparticles. J Biobased Mater Bioenergy 2:243–247

14.

Tan RX, Zou WX (2001) Endophytes: a rich source of functional metabolites. Nat Prod Rep 18:448–459

15.

Verma VC, Kharwar RN, Gange AC (2010) Biosynthesis of antimicrobial silver nanoparticles by the endophytic fungus Aspergillus clavatus. Nanomedicine-UK 5:33–40

16.

Strobel G, Yang X, Sears J, Kramer R, Sidhu RS et al (1996) Taxol from Pestalotiopsis microspora, an endophytic fungus of Taxus wallachiana. Microbiology 142:435–440

17.

Yokoyama K, Biswas SK, Miyaji M, Nishimura K (2000) Identification and phylogenetic relationship of the most common pathogenic Candida species inferred from mitochondrial cytochrome b gene sequences. J Clin Microbiol 38:4503–4510

18.

Verma VC, Kharwar RN, Gange AC (2010) Biosynthesis of antimicrobial silver nanoparticles by the endophytic fungus Aspergillus clavatus. Nanomedicine (Lond) 5:33–40

19.

Tripathy A, Raichur M, Chandrasekaran N, Prathna C, Mukherjee A (2010) Process variables in biomimetic synthesis of silver nanoparticles by aqueous extract of Azadirachta indica (Neem) leaves. J Nanopart Res 12:237–246

20.

Vigneshwaran N, Ashtaputre NM, Varadarajan PV, Nachane RP, Paralikar KM et al (2007) Biological synthesis of silver nanoparticles using the fungus Aspergillus flavus. Mater Lett 61:1413–1418

21.

Sadowski Z, Maliszewska IH, Grochowalska B, Polowczyk I, Kozlecki T (2008) Synthesis of silver nanoparticles using microorganisms. Mater Sci Poland 26:419–424

22.

Mukherjee P, Ahmad A, Mandal D, Senapati S, Sainkar SR et al (2001) Fungus-mediated synthesis of silver nanoparticles and their immobilization in the mycelial matrix: a novel biological approach to nanoparticle synthesis. Nano Lett 1:515–519

23.

Jaidev LR, Narasimha G (2010) Fungal mediated biosynthesis of silver nanoparticles, characterization and antimicrobial activity. Colloids Surfaces B 81:430–433

24.

Kathiresan K, Manivannan S, Nabeel MA, Dhivya B (2009) Studies on silver nanoparticles synthesized by a marine fungus, Penicillium fellutanum isolated from coastal mangrove sediment. Colloids Surfaces B 71:133–137

25.

Petica A, Gavriliu S, Lungu M, Buruntea N, Panzaru C (2008) Colloidal silver solutions with antimicrobial properties. Mat Sci Eng B Adv 152:22–27

26.

Gajbhiye M, Kesharwani J, Ingle A, Gade A, Rai M (2009) Fungus-mediated synthesis of silver nanoparticles and their activity against pathogenic fungi in combination with fluconazole. Nanomedicine NBM 5:382–386
Acknowledgments
This work was funded by National Natural Science Foundation of major international cooperation projects of China (No. 30910103903) and the Science and Technology Department of Jilin Province, China (No. 20080444-2). We thank Prof. Qisheng Huo for providing facilities from state key laboratory of inorganic synthesis and preparative chemistry, college of chemistry, Jilin University, and Prof. Koji Yokoyama from the Medical Mycology Research Center of Chiba University, Japan for his help and guidance.
Additional information
Yongqing Qian and Huimei Yu contributed equally to this study.
About this article
Cite this article
Qian, Y., Yu, H., He, D. et al. Biosynthesis of silver nanoparticles by the endophytic fungus Epicoccum nigrum and their activity against pathogenic fungi. Bioprocess Biosyst Eng 36, 1613–1619 (2013). https://doi.org/10.1007/s00449-013-0937-z
Received:

Accepted:

Published:

Issue Date:
Keywords
Silver nanoparticles

Extracellular biosynthesis

Endophytic fungi

Epicoccum nigrum

Antifungal activity