Abstract
The α-amylase of Bacillus amyloliquifaciens TSWK1-1 (GenBank Number, GQ121033) was immobilized by various methods, including ionic binding with DEAE cellulose, covalent coupling with gelatin and entrapment in polyacrylamide and agar. The immobilization of the purified enzyme was most effective with the DEAE cellulose followed by gelatin, agar and polyacrylamide. The K m increased, while V max decreased upon immobilization on various supports. The temperature and pH profiles broadened, while thermostability and pH stability enhanced after immobilization. The immobilized enzyme exhibited greater activity in various non-ionic surfactants, such as Tween-20, Tween-80 and Triton X-100 and ionic surfactant, SDS. Similarly, the enhanced stability of the immobilized α-amylase in various organic solvents was among the attractive features of the study. The reusability of the immobilized enzyme in terms of operational stability was assessed. The DEAE cellulose immobilized α-amylase retained its initial activity even after 20 consequent cycles. The DEAE cellulose immobilized enzyme hydrolyzed starch with 27 % of efficiency. In summary, the immobilization of B. amyloliquifaciens TSWK1-1 α-amylase with DEAE cellulose appeared most suitable for the improved biocatalytic properties and stability.
This is a preview of subscription content, log in to check access.
Access options
Buy single article
Instant access to the full article PDF.
US$ 39.95
Price includes VAT for USA
Subscribe to journal
Immediate online access to all issues from 2019. Subscription will auto renew annually.
US$ 199
This is the net price. Taxes to be calculated in checkout.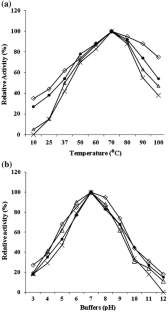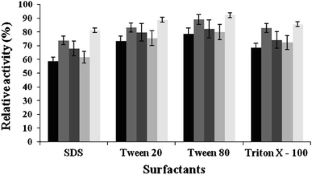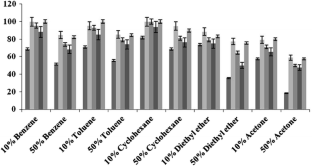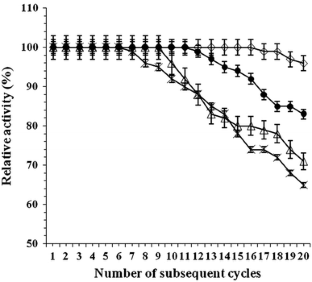 References
1.

Brock T (1986) In: Thermophiles: general, molecular and applied microbiology. Wiley, New York, pp. 2–15

2.

Haki GD, Rakshit SK (2003) Bioresour Technol 89:17–34

3.

Singh SP (2006) In: Environmental microbiology, National Science Digital Library (CSIR): E-Book. Council of Scientific and Industrial Research, India, pp 1–35

4.

Reddy NS, Nimmagadda A, Rao KRSS (2003) African J Biotechnol 2:645–648

5.

Van der Maarel MJEC, Van der Veen B, Uitdehaag H, Leemhuis H, Dijkhuizen L (2002) J of Biotechnol 94:137–155

6.

Shivramakrishnan S, Gangadharan D, Nampoothiri KM, Soccol CR, Pandey A (2006) Food Technol Biotechnol 44:173–184

7.

Aiyer PV (2005) Afr J Biotechnol 4:1525–1529

8.

Kikani BA, Singh SP (2012) Process Biochem (in press)

9.

Bozic N, Ruiz J, Lopez-Santin J, Vujcic Z (2011) Biochem Eng J 53:203–209

10.

Mollania N, Khajeh K, Hosseinkhani S, Dabirmanesh B (2010) Int J Biol Macromol 46:27–36

11.

Kikani BA, Shukla RJ, Singh SP (2010) In: Current research, technology and education topics in applied microbiology and microbial biotechnology, vol 2. Formatex Research Center, Badajoz, pp 1000–1007

12.

Asgher M, Asad MJ, Rahman SU, Legge RL (2007) J Food Eng 79:950–955

13.

Mamo G, Gessesse A (1997) Biotechnol Tech 11:447–450

14.

Yandri SD, Suhartati T, Hadi S (2012) Mod Appl Sci 6:81–86

15.

Jaiswal N, Prakash O, Talat M, Hasan SH, Pandey RK (2012) J Genet Eng Biotechnol (in press)

16.

Jaiswal N, Prakash O (2011) Asian J Biochem 6:337–346

17.

Iyer PV, Ananthnarayan L (2008) Process Biochem 43:1019–1032

18.

Ertan F, Yagar H, Balkan B (2007) Prep Biochem Biotechnol 37:195–204

19.

Raviyan P, Tang J, Rasco BA (2003) J Agric Food Chem 51:5462–5466

20.

Sumen S, Ramesh K (2009) Int J Pharm Sci 1:315–319

21.

D'Souza SF (1999) Curr Sci 77:69–79

22.

Kikani BA, Singh SP (2011) Int J Biol Macromol 48:676–681

23.

Kulshreshtha Y, Husain Q (2006) Enzyme Microb Technol 38:470–477

24.

Guerfalia M, Maaleja I, Gargouria A, Belghith H (2009) J Mol Catal B Enzym 57:242–249

25.

Fabrisco MG, Ernanades BP, Heizo F (2004) Biomacromolecules 5:17–23

26.

Jana M, Maity C, Samanta S, Pati BR, Islam SS, Das PK, Mohapatra MKC (2012) Ind Crops Prod 41:386–391

27.

Abdel-Naby MA, Hashem AM, Esawy MA, Abdel-Fattah AF (1998) Microbiol Res 153:1–7

28.

Siso MIG, Graber M, Condoret IS, Combes D (1990) J Chem Technol Biotechnol 48:185–200

29.

Park D, Haam S, Jang K, Ahn IS, Kim WS (2005) Process Biochem 40:53–61

30.

Egwim EC, Oloyede OB (2011) J Biochem Tech 3:222–224

31.

Abdel-Naby MA (1999) Process Biochem 34:399–405

32.

Gouda KM, Abdel-Naby MA (2002) Microbiol Res 157:275–281

33.

Castro GR (1999) Enzyme Microb Technol 25:689–694

34.

Takeda Y, Aono R, Doukyu N (2006) Extremophiles 10:269–277

35.

Gupta A, Khare SK (2009) Crit Rev Biotechnol 29:44–54

36.

Pandey S, Singh SP (2010) Appl Biochem Biotechnol 166:1747–1757

37.

Pandey S, Rakholiya KD, Raval VH, Singh SP (2012) J Biosci Bioeng 114:251–256

38.

Torres S, Pandey A, Castro G (2011) Biotechnol Adv 29:442–452

39.

Torres S, Castro GR (2004) Food Technol Biotechnol 42:271–277

40.

Affleck R, Zu-feng X (1992) Biochemistry 89:1100–1104

41.

Gupta MN, Roy I (2004) Eur J Biochem 271:2575–2583

42.

Laane C, Boeren S, Vos K, Veeger C (2005) Biotechnol Bioeng 30:81–87

43.

Batra R, Gupta MN (1994) Biotechnol Appl Biochem 19:209–215

44.

Batra R, Tyagi R, Gupta MN (1997) Biocatal Biotransf 15:101–119

45.

Tadamasa F, Toru M, Akinobu E, Akira I, Ron U (2005) Extremophiles 9:85–89

46.

Akkaya B, Yenidunya AF, Akkaya R (2012) Int J Biol Macromol 50:991–995

47.

Sakharov IY, Castillo JL, Areza JC, Galaev IY (2000) Bioseperation 9:125–132

48.

Musthapa MS, Akhtar S, Khan AA, Husain Q (2004) J Sci Ind Res 63:540–547

49.

Reddy RCK, Srivastava PK, Dey PM, Kayastha AM (2004) Biotechnol Appl Biochem 39:323–327

50.

Demirkan E, Dincbas S, Sevinc N, Ertan F (2011) Romanian Biotechnol Lett 16:6690–6701

51.

Konsoula Z, Liakopoulu-Kyriakides M (2006) Process Biochem 41:343–349

52.

Dey G, Singh B, Banerjee R (2003) Braz Arch Biol Technol 46:167–176
Acknowledgments
The authors are highly thankful to University Grant Commission, New Delhi, India and Saurashtra University, Rajkot, India for the financial and infrastructural support. Mr. Bhavtosh Kikani acknowledges the award of Senior Research Fellowship from the Council of Scientific and Industrial Research, New Delhi, India. Mr. S. Pandey is thankful to UGC, New Delhi for the award of Meritorious Fellowship.
About this article
Cite this article
Kikani, B.A., Pandey, S. & Singh, S.P. Immobilization of the α-amylase of Bacillus amyloliquifaciens TSWK1-1 for the improved biocatalytic properties and solvent tolerance. Bioprocess Biosyst Eng 36, 567–577 (2013). https://doi.org/10.1007/s00449-012-0812-3
Received:

Accepted:

Published:

Issue Date:
Keywords
α-Amylase immobilization

DEAE cellulose

Thermostability

Solvent tolerance

Operational stability