Abstract
The production of laccase by immobilized mycelia of Peniophora cinerea and Trametes versicolor was studied. In an initial stage, experimental assays were performed in Erlenmeyer flasks using free and immobilized mycelium, and the performance of the fungal strains to produce the enzyme was compared. Both fungi adhered into the support material (a synthetic fiber), growing not only on the surface but also in the interspaces of the fibers. Immobilization of P. cinerea provided a 35-fold increase in laccase production when compared to the production obtained by using free mycelium. On the other hand, immobilization of T. versicolor caused a decrease in laccase activity. A comparison between the strains revealed that immobilized P. cinerea (3,500 U/L) surpassed the enzyme production by free T. versicolor (800 U/L). When the conditions that gave the best laccase production to each fungus were employed in a stirred tank bioreactor, very low laccase production was observed for both the cases, suggesting that shear stress and mycelia damage caused by the agitation impellers negatively affected the enzyme production.
This is a preview of subscription content, log in to check access.
Access options
Buy single article
Instant access to the full article PDF.
US$ 39.95
Price includes VAT for USA
Subscribe to journal
Immediate online access to all issues from 2019. Subscription will auto renew annually.
US$ 199
This is the net price. Taxes to be calculated in checkout.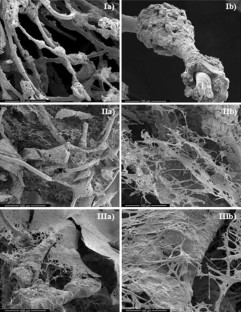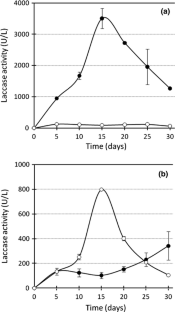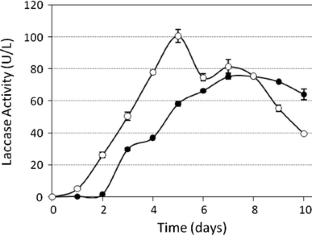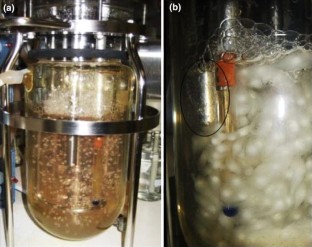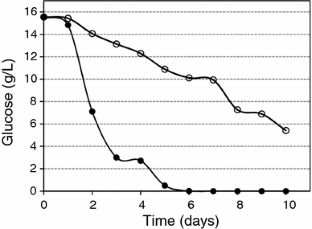 References
1.

Dwivedi UN, Singh P, Pandey VP, Kumar A (2011) Structure–function relationship among bacterial, fungal and plant laccases. J Mol Catal B Enzym 68:117–128

2.

Gianfreda L, Xu F, Bollag J (1999) Laccases: a useful group of oxidoredutive enzymes. Biorem J 3:1–26

3.

Hofer C, Schlosser D (1999) Novel enzymatic oxidation of Mn2+ to Mn3+ catalyzed by a fungal laccase. FEBS Lett 451:186–190

4.

Mougin C, Jolivalt C, Briozzo P, Madzak C (2003) Fungal laccases: from structure-activity studies to environmental applications. Environ Chem Lett 1:145–148

5.

Moldes D, Lorenzo M, Sanromán MA (2004) Different proportions of laccase isoenzymes produced by submerged cultures of Trametes versicolor grown on lignocellulosic wastes. Biotechnol Lett 26:327–330

6.

Salas C, Lobo S, Larraín J, Salas L, Cullen D, Vicuña R (1995) Properties of laccase isoenzymes produced by the basidiomycete Ceriporiopsis subvermispora. Biotechol Appl Biochem 21:323–333

7.

Palmieri G, Giardina P, Bianco C, Fontanella B, Sannia G (2000) Copper induction of laccase isoenzymes in the ligninolytic fungus Pleurotus ostreatus. Appl Environ Microbiol 66:920–924

8.

Shraddha, Shekher R, Sehgal S, Kamthania M, Kumar A (2011) Laccase: microbial sources, production, and potential biotechnological applications. Enzyme Res. doi:10.4061/2011/217861

9.

Couto SR, Toca-Herrera JL (2007) Laccase production at reactor scale by filamentous fungi. Biotechnol Adv 25:558–569

10.

Moreira MT, Feijoo G, Lema JM (2003) Fungal bioreactors: applications to white-rot fungi. Rev Environ Sci Bio/Technol 2:247–259

11.

Mussatto SI, Rodrigues LR, Teixeira JA (2009) β-Fructofuranosidase production by repeated batch fermentation with immobilized Aspergillus japonicas. J Ind Microbiol Biotechnol 36:923–928

12.

Blánquez P, Casas N, Font X, Gabarrell X, Sarrà M, Caminal G, Vicent T (2004) Mechanism of textile metal dye biotransformation by Trametes versicolor. Water Res 38:2166–2172

13.

Bourbonnais R, Paice MG (1992) Demethylation and delignification of kraft pulp by Trametes versicolor laccase in the presence of 2,2′-azinobis-(3-ethylbenzthiazoline-6-sulphonate). Appl Microbiol Biotechnol 36:823–827

14.

Ferry Y, Leech D (2005) Amperometric detection of catecholamine neurotransmitters using electrocatalytic substrate recycling at a laccase electrode. Electroanalysis 17:113–119

15.

Machado KMG, Matheus DR, Bononi VLR (2005) Ligninolytic enzymes production and Remazol Brilliant Blue R decolorization by tropical brazilian basidiomycetes fungi. Braz J Microbiol 36:246–252

16.

Neto SLM, Esteves PJ, Santos VTO, Paranhos AP, Cescato F, Vitali VM, Machado KMG (2011) Novel salt and alkali tolerant neotropical basidiomycetes for dye decolorisation in simulated textile effluent. World J Microbiol Biotechnol 27:2665–2673

17.

Murugesan K, Arulmani M, Nam I, Kim Y, Chang Y, Kalaichelvan PT (2006) Purification and characterization of laccase produced by a white rot fungus Pleurotus sajor-caju under submerged culture condition and its potential in decolorization of azo dyes. Appl Microbiol Biotechnol 72:939–946

18.

Pazarlıoğlu NK, Sariişik M, Telefoncu A (2005) Laccase: production by Trametes versicolor and application to denim washing. Process Biochem 40:1673–1678

19.

Mussatto SI, Aguilar CN, Rodrigues LR, Teixeira JA (2009) Colonization of Aspergillus japonicus on synthetic materials and application to the production of fructooligosaccharides. Carbohydr Res 344:795–800

20.

Mussatto SI, Prata MB, Rodrigues LR, Teixeira JA (2012) Production of fructooligosaccharides and b-fructofuranosidase by batch and repeated batch fermentation with immobilized cells of Penicillium expansum. Eur Food Res Technol 235:13–22

21.

Roy BP, Archibald F (1993) Effects of kraft pulp and lignin on Trametes versicolor carbon metabolism. Appl Environ Microbiol 59:1855–1863

22.

Bourbonnais R, Paice MG, Freiermuth B, Bodie E, Borneman S (1997) Reactivities of various mediators and laccases with kraft pulp and lignin model compounds. Appl Environ Microbiol 63:4627–4632

23.

Guimarães C, Matos C, Azeredo A, Mota M, Oliverira R (2002) The importance of the morphology and hydrophobicity of different carriers on the immobilization and sugar refinary effluent degradation activity of Phanerochaete chrysosporium. Biotechnol Lett 24:795–800

24.

Xavier AMRB, Tavares APM, Ferreira R, Amado F (2007) Trametes versicolor growth and laccase induction with by-products of pulp and paper industry. Electron J Biotechnol 10:445–451

25.

Gripenberg J, Martikkala J (1970) Fungus pigments. XX, on the structure of the pigments produced by Penhiophora sanguine Bres. Acta Chem Scand 24:3444–3448

26.

Gripenberg J (1970) Fungus pigments. XXI, Peniophorinin, a further pigment produced by Peniophora sanguine Bres. Acta Chem Scand 24:3449–3454

27.

Tavares APM, Coelho MAZ, Coutinho JAP, Xavier AMRB (2005) Laccase improvement in submerged cultivation: induced production and kinetic modeling. J Chem Technol Biotechnol 80:669–676

28.

Rodríguez Couto S, Rivela I, Muñoz MR, Sanromán A (2000) Ligninolytic enzyme production and ability of decolourisation of Poly R-478 in packed bed bioreactors by Phanerochaete chrysosporium. Bioprocess Eng 23:287–293

29.

Rodríguez Couto S, Sanromán MA, Hofer D, Gübitz GM (2004) Stainless steel sponge: a novel carrier for the immobilisation of the White-rot fungus Trametes hirsuta for the decolourization of textile dyes. Bioresource Technol 95:67–72

30.

Maceiras R, Rodríguez Couto S, Sanromán A (2001) Influence of several activators on the extracellular laccase activity and in vivo decolourization of poly R-478 by semi-solid-state cultures of Trametes versicolor. Acta Biotechnol 21:255–264

31.

Osma JF, Toca-Herrera JL, Rodríguez Couto S (2007) Banana skin: a novel waste for laccase production by Trametes pubescens under solid-state conditions. Application to synthetic dye decolouration. Dyes Pigm 75:32–37

32.

Revankar MS, Lele SS (2006) Enhanced production of laccase using a new isolate of white rot fungus WR-1. Process Biochem 41:581–588

33.

Kaluskar VM, Kapadnis BP, Jaspers CH, Penninckx M (1999) Production of laccase by immobilized cells of Agaricus sp. Appl Biochem Biotechnol 76:161–170

34.

Chernykh AM, Leont'evskii AA, Golovleva LA (2005) New approaches to increasing the yield of laccase from Panus tigrinus. Appl Biochem Microbiol 41:508–511

35.

Park C, Lee B, Han E, Lee J, Kim S (2006) Decolorization of acid black 52 by fungal immobilization. Enzyme Microb Technol 39:371–374

36.

Domínguez A, Goméz J, Lorenzo M, Sanromán A (2007) Enhanced production of laccase activity by Trametes versicolor immobilized into alginate beads by addition of different inducers. World J Microbiol Biotechnol 23:367–373

37.

Couto SR, Moldes D, Liébanas A, Sanromán A (2003) Investigation of several bioreactor configurations for laccase production by Trametes versicolor operating in solid-state conditions. Biochem Eng J 15:21–26

38.

Hess J, Leitner C, Galhaup C, Kulbe LD, Hinterstoisser B, Steinwender M, Haltrich D (2002) Enhanced formation of extracellular laccase activity by the white-rot fungus Trametes multicolor. Appl Biochem Biotechnol 98–100:229–241

39.

Fazenda ML, Seviour R, McNeil B, Harvey LM (2008) Submerged culture fermentation of "higher fungi": the macrofungi. Adv Appl Microbiol 63:33–103

40.

Galhaup C, Wagner H, Hinterstoisser B, Haltrich D (2002) Increase production of laccase by the wood-degrading basidiomycete Trametes pubescens. Enzyme Microb Technol 30:529–536
Acknowledgments
S.C. Silvério acknowledges the financial support from FCT (Fundação para a Ciência e para a Tecnologia, Ph.D. grant SFRH/BD/43439/2008), Portugal; and S. Moreira acknowledges CNPq (Conselho Nacional de Desenvolvimento Científico e Tecnológico), Brazil.
About this article
Cite this article
Silvério, S.C., Moreira, S., Milagres, A.M.F. et al. Laccase production by free and immobilized mycelia of Peniophora cinerea and Trametes versicolor: a comparative study. Bioprocess Biosyst Eng 36, 365–373 (2013). https://doi.org/10.1007/s00449-012-0793-2
Received:

Accepted:

Published:

Issue Date:
Keywords
Laccase

Fermentation

Immobilisation

Peniophora cinerea
Trametes versicolor

Bioreactor