Abstract
A simple, efficient and cost-effective method for municipal wastewater treatment is examined in this paper. The municipal wastewater is treated using an upflow anaerobic sludge bed (UASB) reactor followed by flash aeration (FA) as the post-treatment, without implementing aerobic biological processes. The UASB reactor was operated without recycle, at hydraulic retention time (HRT) of 8 h and achieved consistent removal of BOD, COD and TSS of 60–70% for more than 12 months. The effect of FA on UASB effluent post-treatment was studied at different HRT (15, 30 and 60 min) and dissolved oxygen (DO) concentrations (low DO = 1–2 mg/L and high DO = 5–6 mg/L). The optimum conditions for BOD, COD and sulfide removal were 30–60 min HRT and high DO concentration inside the FA tank. The final effluent after clarification was characterized by BOD and COD values of 28–35 and 50–58 mg/L, respectively. Sulfides were removed by more than 80%, but the fecal coliform only by ~2 log. The UASB followed by FA is a simple and efficient process for municipal wastewater treatment, except for fecal coliform, enabling water and nutrients recycling to agriculture.
This is a preview of subscription content, log in to check access.
Access options
Buy single article
Instant access to the full article PDF.
US$ 39.95
Price includes VAT for USA
Subscribe to journal
Immediate online access to all issues from 2019. Subscription will auto renew annually.
US$ 199
This is the net price. Taxes to be calculated in checkout.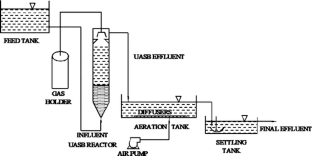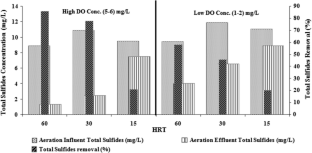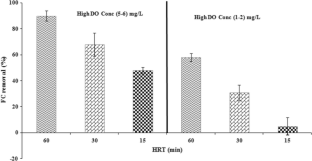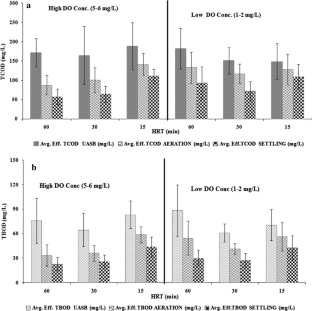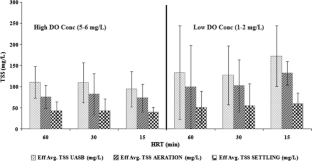 References
1.

Sato N, Okubo T, Onodera T, Ohashi A, Harada H (2006) Prospects for a self-sustainable sewage treatment system: a case study on full-scale UASB system in India's Yamuna river basin. J Environ Manag 80(3):198–207

2.

Schellingkout A, Collazos CJ (1992) Full-scale application of the UASB technology for sewage treatment. Water Sci Technol 25(7):159–166

3.

Sato N, Okubo T, Onodera T, Agrawal LK, Ohashi A, Harada H (2006) Economic evaluation of sewage treatment processes in India. J Environ Manag 84:447–460

4.

De Graaf MS, Vieno NM, Roeleveld KK, Zeeman G, Temmink H, Buisman CJN (2011) Fate of hormones and pharmaceuticals during combined anaerobic treatment and nitrogen removal by partial nitritation-anammox in vacuum collected black water. Water Res 45:375–383

5.

Chernicharo CAL (2006) Post-treatment options for the anaerobic treatment of domestic sewage. Rev Environ Sci Biotechnol 5:73–92

6.

Foresti E, Zaiat M, Vallero M (2006) Anaerobic processes as the core technology for sustainable domestic wastewater treatment: Consolidated applications, new trends, perspectives and challenges. Rev Environ Sci Biotechnol 5:3–19

7.

APHA (2005) In: Eaton AD, Clesceri LW, Rice EW, Greenberg AE (eds) Standard methods for the examination of water and wastewater, 21st edn. Washington

8.

Draaijer H, Maas JAW, Schaapman JE, Khan A (1992) Performance of the 5MLD UASB reactor for sewage treatment an Kanpur, India. Water Sci Technol 25(7):123–133

9.

Chen KY, Morris JC (1972) Kinetics of oxidation of aqueous sulfide by O2. Environ Sci Technol 6(6):529–537

10.

Khan Abid, Ali Gaur, Zahid Rubia, Lew Beni, Mehrotra Indu, Kazmi AA (2011) Effect of aeration on the quality of effluent of UASB reactor treating sewage. J Environ Eng ASCE 137(6):464–472

11.

Zhou W, Imai T, Ukita M, Li F, Yuasa A (2007) Effect of limited aeration on the anaerobic treatment of evaporator condensate from a sulfite pulp mill. Chemosphere 66(5):924–929

12.

WHO (2006) Guidelines for safe use of wastewater, excreta and greywater. Volume 2: Wastewater reuse in agriculture. World Health Organization, Geneva

13.

GvR Marais (1974) Fecal bacterial kinetics in stabilization ponds. ASCE J Environ Eng Div 100(1):119–139

14.

Curtis TP, Mara DD, Silva SA (1992) Influence of pH, oxygen, and humic substances on ability of sunlight to damage fecal coliforms in waste stabilization pond water. Appl Environ Microbiol 58(4):1335–1343

15.

Polprasert C, Dissanayake MG, Thanh NC (1983) Bacterial die-off kinetics in waste stabilization ponds. J Water pollut Control Fed 55(3):285–296

16.

CPCB (1986) Sewage pollution, schedule VI: general standards for discharge of environmental pollutants. Central Pollution Control Board (CPCB), Ministry of Environment and Forests, Govt. of India
Acknowledgments
The authors would like to thank the Petroleum Conservation Research Association, an autonomus body of the Ministry of Petroleum & Gas, Govt. of India, New Delhi, India, for financial supports.
Electronic supplementary material
Below is the link to the electronic supplementary material.
About this article
Cite this article
Khan, A.A., Gaur, R.Z., Lew, B. et al. UASB/Flash aeration enable complete treatment of municipal wastewater for reuse. Bioprocess Biosyst Eng 35, 907–913 (2012). https://doi.org/10.1007/s00449-011-0675-z
Received:

Accepted:

Published:

Issue Date:
Keywords
Municipal wastewater

UASB post treatment

Diffused aeration

Sustainable treatment

Nutrients recovery

Fecal coliform