Abstract
Red seaweed, Kappaphycus alvarezii, holds great promise for use in biofuel production due to its high carbohydrate content. In this study, we investigated the effect of fermentation inhibitors to the K. alvarezii hydrolysate on cell growth and ethanol fermentation. In addition, detoxification of fermentation inhibitors was performed to decrease the fermentation inhibitory effect. 5-Hydroxymethylfurfural and levulinic acid, which are liberated from acidic hydrolysis, was also observed in the hydrolysate of K. alvarezii. These compounds inhibited ethanol fermentation. In order to remove these inhibitors, activated charcoal and calcium hydroxide were introduced. The efficiency of activated charcoals was examined and over-liming was used to remove the inhibitors. Activated charcoal was found to be more effective than calcium hydroxide to remove the inhibitors. Detoxification by activated charcoal strongly improved the fermentability of dilute acid hydrolysate in the production of bioethanol from K. alvarezii with Saccharomyces cerevisiae. The optimal detoxifying conditions were found to be below an activated charcoal concentration of 5%.
This is a preview of subscription content, log in to check access.
Access options
Buy single article
Instant access to the full article PDF.
US$ 39.95
Price includes VAT for USA
Subscribe to journal
Immediate online access to all issues from 2019. Subscription will auto renew annually.
US$ 199
This is the net price. Taxes to be calculated in checkout.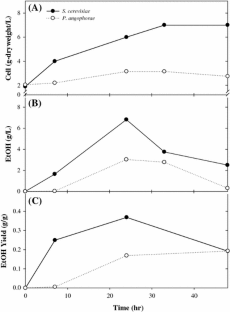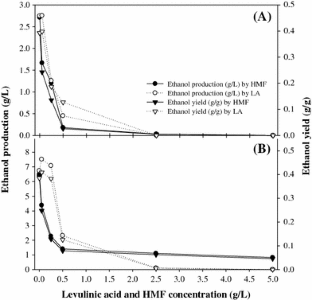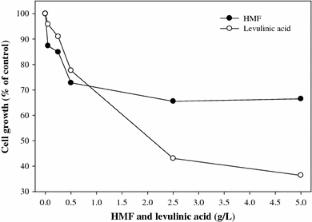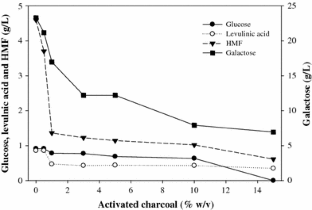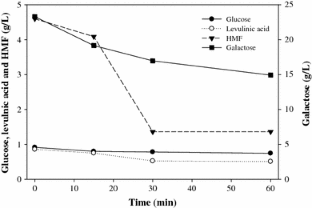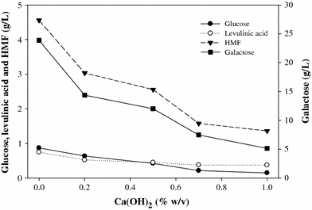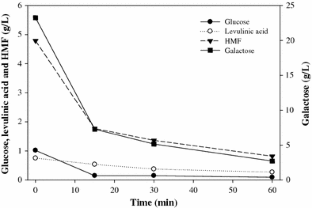 References
1.

Adnan H, Porse H (1987) Culture of Eucheuma cottonii and Eucheuma spinosum in Indonesia. Hydrobiologia 151–152:355–358

2.

Guerrero RD (2001) Farming of carrageenophyte in the Philippine. A success story of red seaweed cultivation. Asia-Pacific Association of Agricultural Research Institutions FAO, Bangkok

3.

Alves LA, Felipe MGA, Silva JB, Silva SS, Prata AMR (1998) Pretreatment of sugar cane bagasse hemicelluloses hydrolyzate for xylitol production by Candida guilliermondii. Appl Biochem Biotechnol 70–72:89–98

4.

Herrera A, Tellez-Luis SJ, Gonzalez-Cabriales JJ, Ramirez JA, Vazquez M (2004) Effect of the hydrochloric acid concentration on the hydrolysis of sorghum straw at atmospheric pressure. J Food Eng 63:103–109

5.

Jeong GT, Park DH (2010) Production of sugars and levulinic acid from marine biomass Gelidium amansii. Appl Biochem Biotechnol 161:41–52

6.

Asli AE, Qatibi AI (2009) Ethanol production from olive cake biomass substrate. Biotechnol Bioprocess Eng 14:118–122

7.

Mussatto SI, Roberto IC (2004) Alternatives for detoxification of dilute-acid liqnocellulosic hydrolyzates for use in fermentative processes: a review. Bioresour Technol 93:1–10

8.

Larsson S, Reimann A, Nilvebrant NO, Jonsson LJ (1999) Comparison of different methods for the detoxification of lignocellulose hydrolyzates of spruce. Appl Biochem Biotechnol 77–79:91–103

9.

Han M, Moon SK, Kim Y, Kim Y, Chung B, Choi GW (2009) Bioethanol production from ammonia percolated wheat straw. Biotechnol Bioprocess Eng 14:606–611

10.

Alriksson B, Horvarth IS, Sjode A, Nilverant NO (2005) Ammonium hydroxide detoxification of spruce acid hydrolysates. Appl Biochem Biotechnol 121–124:912–922

11.

Alriksson B, Sjöde A, Nilvebrant NO, Jönsson LJ (2006) Optimal conditions for alkaline detoxification of dilute-acid lignocellulose hydrolysates. Appl Biochem Biotechnol 129–132:599–616

12.

Olsson L, Hahn-Hagerdal B (1996) Fermentation of lignocellulosic hydrolysates for ethanol production. Enzyme Microb Technol 18:312–331

13.

Martín C, Galbe M, Wahlbom F, Hahn-Hägerdal B, Jönsson LJ (2002) Ethanol production from enzymatic hydrolysates of sugarcane bagasse using recombinant xylose-utilising Saccharomyces cerevisiae. Enzyme Microb Technol 31:274–282

14.

Delgenes J, Moletta R, Navarro JM (1996) Effect of lignocelluloses degradation products on ethanol fermentation of glucose and xylose by Saccharomyces cerevisiae, Zymomonas mobilis, Pichia stipitis and Candida shehatae. Enzyme Microb Technol 19:220–225

15.

Martinez A, Rodriguez ME, York SW, Preston JF, Ingram LO (2000) Effect of Ca(OH)2 treatment ("overliming") on the composition and toxicity of bagasse hemicelluloses hydrolysates. Biotechnol Bioeng 69:526–536

16.

Taherzadeh MJ, Gustafsson L, Niklasson C, Liden G (2000) Physiological effect of 5-hydroxymethylfurfural on Saccharomyces cerevisiae. Appl Microbiol Biotechnol 53:701–708

17.

Miyafuji H, Danner H, Neureiter M, Thomasser C, Bvochora J, Szolar O, Braun R (2003) Detoxification of wood hydrolysates with wood charcoal for increasing the fermentability of hydrolysates. Enzyme Microb Technol 32:396–400
Acknowledgments
We thank the Brain Busan 21 program for graduate support (MDNM). This research was supported by a grant from Development of Marine-Bioenergy Program Funded by Ministry of Land, Transport and Maritime Affairs of Korean Government.
About this article
Cite this article
Meinita, M.D.N., Hong, Y. & Jeong, G. Detoxification of acidic catalyzed hydrolysate of Kappaphycus alvarezii (cottonii). Bioprocess Biosyst Eng 35, 93–98 (2012). https://doi.org/10.1007/s00449-011-0608-x
Received:

Accepted:

Published:

Issue Date:
Keywords
Kappaphycus alvarezii

Fermentation inhibitor

Hydroxymethylfurfural

Levulinic acid

Detoxification

Bioethanol