Abstract
This work aimed to develop the submerged cultivation conditions for improved exopolysaccharides (EPS) production by Armillaria luteo-virens Sacc. The effects of culture temperature, aeration rate, inoculum level, initial pH, and additives on EPS formation and mycelial growth are investigated. The aeration rate, initial pH, and inoculum level significantly affected EPS production under the submerged cultivation. The developed conditions were as follows: cultivation temperature 23 °C, initial pH 5.0, aeration rate 0.5 vvm, 0.5% Tween 80, inoculum level 5% (v/v), and shaking speed 120 r/min. Under the developed conditions, the highest EPS production was 13.01 g/L at 5 days culture time. EPS production was examined in a 5 L bioreactor, and an unstructured kinetic model for EPS formation was well developed. The verified investigations in the large-scale cultivation system showed that the developed models are able to predict the submerged cultivation process of EPS formation. Current results revealed that the submerged cultivation conditions can be utilized to control EPS production, and the unstructured models developed are suitable for explaining EPS production by A. luteo-virens Sacc QH in a large-scale cultivation bioreactor.
This is a preview of subscription content, log in to check access.
Access options
Buy single article
Instant access to the full article PDF.
US$ 39.95
Price includes VAT for USA
Subscribe to journal
Immediate online access to all issues from 2019. Subscription will auto renew annually.
US$ 199
This is the net price. Taxes to be calculated in checkout.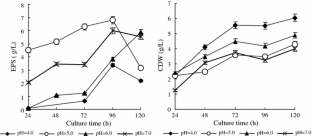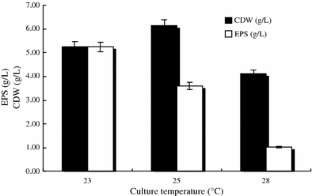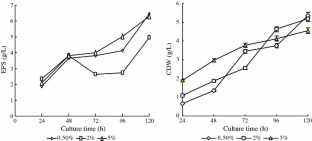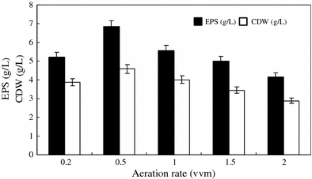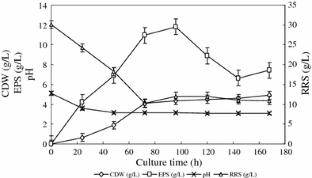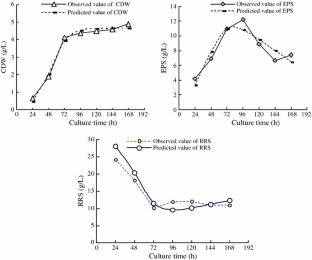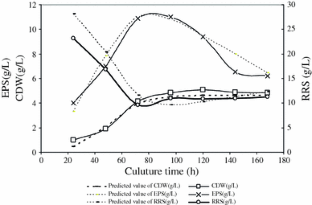 Abbreviations
α :

Growth-associated product formation coefficient (g/g)

β :

Non-growth-associated product formation coefficient (g/g h)

γ, δ:

Parameters in Luedeking-Piret-like equation for substrate uptake [g S (g cell)−1, g S (g cell)−1 h−1, respectively]

μ :

Specific growth rate (h−1)

μ max :

Maximum specific growth rate (h−1)
References
1.

Lee SY, Kang TS (1996) Production conditions and characterization of the exo-polymer produced by submerged cultivation of Ganoderma lucidum. Korean J Microbiol Biotechnol 24:111–118

2.

Kim DH, Shim SB, Kim NJ, Jang IS (1999) β-Glucuronidase inhibitory activity and hepatoprotective effect of Ganoderma lucidum. Biol Pharm Bull 22:162–164

3.

Yang BK, Ha JY, Jeong SC, Das S, Yun JW, Lee YS, Choi JW, Song CH (2000) Production of exo-polymers by submerged mycelial culture of Cordyceps militaris and its hypolipidemic effect. J Microbiol Biotechnol 10:784–788

4.

Yang FC, Ke YF, Kuo SS (2000) Effect of fatty acids on the mycelial growth and polysaccharides formation by Ganoderma lucidum in shake-flask cultures. Enzyme Microbiol Technol 27:295–301

5.

Song CH, Jeon YJ, Yang BK, Ra KS, Sung JM (1998) The anticomplementary activity of exo-polymers produced from submerged mycelial cultures of higher fungi with particular reference to Cordyceps militaris. J Microbiol Biotechnol 8:536–539

6.

Kim DH, Yang BK, Jeong SC, Park JB, Cho SP, Das S, Yun JW, Song CH (2001) Production of a hypoglycemic, extracellular polysaccharide from the submerged culture of the mushroom, Phellinus linteus. Biotechnol Lett 23:513–517

7.

Yu L, Shen YS, Li G, Wu JM, Xie QY (2006) Study on the effects of different culturing methods of intrapolysaccharides synthesis for Armiilaria mellea and its antivertigo function. Edible Fungi China 25:37–39

8.

Watanate N, Obuchi T, Tamai M, Araki H, Omura S, Yang JS, Yu DQ, Liang XT, Huan JH (1990) A novel N-substituted adenosine isolated from Mi Huan Jun (Armiillaria mellea) a cerebral-protecting compound. Planata Medica 56:48–52

9.

Chen SF, Bi YR, Chen GC (2004) Studies on antioxidative and antitumor activities for two wild edible fungi. Edible Fungi China 24:58–63

10.

Yang JS, Chen YW, Feng XZ, Yu DQ, He CH, Zheng QT, Yang J, Liang XT (1989) Isolation and structure elucidation of Armillaricin. Planta Med 55:564–565

11.

Feng K, Liu QH, Ng TB, Liu HZ, Li JQ, Chen G et al (2006) Isolation and characterization of a novel lectin from the mushroom Armillaria luteo-virens. Biochem Biophys Res Commun 345:1573–1578

12.

Yang FC, Lian CB (1998) The influence of environmental conditions on polysaccharide formation by Ganoderma lucidum in submerged cultures. Process Biochem 33:547–553

13.

Bae JT, Sinha J, Park JP, Song CH, Yun JW (2000) Optimization of submerged culture conditions for exo-biopolymer production by Paecilomyces japonica. J Microb Biotechnol 10:482–487

14.

Jonathan SG, Fasidi IO (2001) Studies on phytohormones, vitamins and mineral element requirements of Lentinus subnudus and Schizophyllum commune from Nigeria. Food Chem 75:303–307

15.

Jonathan SG, Fasidi IO (2001) Effect of carbon, nitrogen and mineral sources on growth of Psathyerella atroumbonata (Pegler), a Nigerian edible mushroom. Food Chem 72:479–483

16.

Kim SW, Hwang HJ, Xu CP, Na YS, Song SK, Yun JW (2002) Influence of nutritional conditions on the mycelial growth and exopolysaccharide production in Paecilomyces sinclairii. Lett Appl Microb 34:389–393

17.

Papagianni M (2004) Fungal morphology and metabolite production in submerged mycelial processes. Biotechnol Adv 22:189–259

18.

Jiao Y, Chen Q, Zhou J, Zhang H, Chen H (2008) Improvement of exo-polysaccharides production and modeling kinetics by Armilaria luteo-virens Sacc in submerged cultivation. LWT Food Sci Technol 41:1694–1700

19.

Dubois M, Gilles KA, Hamilton JK, Rebers PA, Smith F (1945) Calorimetric method for determination of sugar and related substance. Anal Chem 28:350–356

20.

Hsieh C, Liu CJ, Tseng MH, Lo CT, Yang YC (2006) Effect of olive oil on the production of mycelial biomass and polysaccharides of Grifola frondosa under high oxygen concentration aeration. Enzyme Microbiol Technol 39:434–439

21.

Sinclair CG, Kristiansen B (1987) Fermentation kinetics and modeling. Open University Press, Milton Keynes, p 156

22.

Malchandani A, Luong JHT, Leduy A (1998) Batch kinetics of microbial polysaccharide biosynthesis. Biotechnol Bioeng 32:639–646

23.

Montgomery DC (1997) Response surface methods and other approaches to process optimization. In: Montgomery DC (ed) Design and analysis of experiments. Wiley, New York, pp 427–510

24.

Shih IL, Pan K, Hsieh C (2006) Influence of nutritional components and oxygen supply on the mycelial growth and bioactive metabolites production in submerged culture of Antrodia cinnamomea. Process Biochem 41:1129–1135

25.

Yang FC, Huang HC, Yang MJ (2003) The influence of environmental conditions on the mycelial growth of Antrodia cinnamomea in submerged cultures. Enzyme Microbiol Technol 33:395–402

26.

Shu CH, Lung MY (2004) Effect of pH on the production and molecular weight distribution of exopolysaccharide by Antrodia camphorata in batch cultures. Process Biochem 39:931–937

27.

Wang Y, McNeil B (1995) pH effects on exopolysaccharide and oxalic acid production in cultures of Sclerotium glucanicum. Enzyme Microbiol Technol 17:124–130

28.

Gerlach SR, Siedenberg D, Gerlach D, Schtigerl K, Giuseppin MLF, Hunik J (1998) Influence of reactor systems on the morphology of Aspergillus awamori. Application of neural network and cluster analysis for characterization of fungal morphology. Process Biochem 33:601–615

29.

Xu CP, Yun JW (2004) Influence of aeration on the production and the quality of the exopolysaccharides from Paecilomyces tenuipes C240 in a stirred-tank fermenter. Enzyme Microbiol Technol 35:33–39

30.

Xiao JH, Chen DX, Xiao Y et al (2004) Optimization of submerged culture conditions for mycelial polysaccharide production in Cordyceps jiangxiensis. J Process Biochem 39:423–426

31.

Wu JZ, Cheung PCK, Wong K-H, Huang N-L (2003) Studies on submerged fermentation of Pleurotus tuber-regium (Fr.) Singer part D physical and chemical factors affecting the rate of mycelial growth and bioconoersion efficiency. Food Chem 81:389–393

32.

Roukas T, Mantzouridou F (2001) Effect of the aeration rate on pullulan production and fermentation broth rheological properties in an airlift reactor. J Chem Technol Biotechnol 76(4):371–376

33.

Gibbs PA, Seviour RJ (1996) Does the agitation rate and/or oxygen saturation influence exopolysaccharide production by Aureobasidium pullulans in batch culture? Appl Microbiol Biotechnol 46:503–510

34.

Stasinopoulos SJ, Seviour RJ (1990) Stimulation of exopolysaccharide production in the fungus Acremonium persicinum with fatty acids. Biotechnol Bioeng 36:778–782

35.

Fukushima Y, Itoh H, Fukase T, Motai H (1991) Stimulation of protease production by Aspergillus oryzae with oils in continuous culture. Appl Microbiol Biotechnol 34:586–590

36.

Chen HB, Huang HC, Chen CI IYP, Liu YC (2010) The use of additives as the stimulator on mycelial biomass and exopolysaccharide productions in submerged culture of Grifola umbellata. Bioprocess Biosyst Eng 33:401–406

37.

Choi KO, Song SH, Yoo YJ (2004) Permeabilization of Ochrobactrum anthropi SY509 cells with organic solvents for whole cell biocatalyst. Biotechnol Bioprocess Eng 9:147–150

38.

De Leon A, Garcia B, Barba de la rosa AP, Villasenor F, Estrada A, Lopezrevilla R (2003) Periplasmic penicillin G acylase activity in recombinant Escherichia coli cells permeabilized with organic solvents. Process Biochem 39:301–305

39.

Mazutti MA, Corazza ML, Filho FM, Rodrigues MI, Corazza FC, Treichel H (2009) Inulinase production in a batch bioreactor using agroindustrial residues as the substrate: experimental data and modeling. Bioprocess Biosyst Eng 32:85–95
Acknowledgments
This work was financially supported by Zhejiang Scientific Technology Project (2009C32098) and the National Nature Science Foundation of China (No. 20806069).
About this article
Cite this article
Xu, D.Q., Fu, M.L., Chen, Q.H. et al. Effect of submerged culture conditions on exopolysaccharides production by Armillaria luteo-virens Sacc QH and kinetic modeling. Bioprocess Biosyst Eng 34, 103–111 (2011). https://doi.org/10.1007/s00449-010-0451-5
Received:

Accepted:

Published:

Issue Date:
Keywords
Exopolysaccharide (EPS)

Armillaria luteo-virens Sacc QH

Cultivation condition

Kinetics model