Abstract
Batch fermentative production of welan gum by Alcaligenes sp. CGMCC2428 was investigated under various oxygen supply conditions using regulating agitation speed. Based on a three kinetic parameters analysis that includes specific cell growth rate (μ), specific glucose consumption rate (q s), and specific welan formation rate (q p), a two-stage agitation speed control strategy was proposed to achieve high concentration, high yield, and high viscosity of welan. During the first 22 h, the agitation speed in 7.5 L fermenter was controlled at 800 rpm to maintain high μ for cell growth. The agitation was then reduced step-wise to 600 rpm to maintain a changing profile with stable dissolved oxygen levels and obtain high qp for high welan accumulation. Finally, the maximum concentration of welan was reached at 26.3 ± 0.89 g L−1 with a yield of 0.53 ± 0.003 g g−1 and the welan gum viscosity of 3.05 ± 0.10 Pa s, which increased by an average of 15.4, 15.2, and 20.1% over the best results controlled by constant agitation speeds.
This is a preview of subscription content, log in to check access.
Access options
Buy single article
Instant access to the full article PDF.
US$ 39.95
Price includes VAT for USA
Subscribe to journal
Immediate online access to all issues from 2019. Subscription will auto renew annually.
US$ 199
This is the net price. Taxes to be calculated in checkout.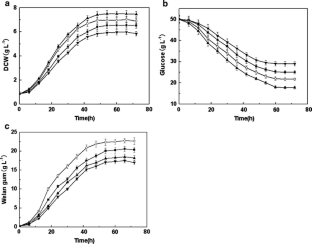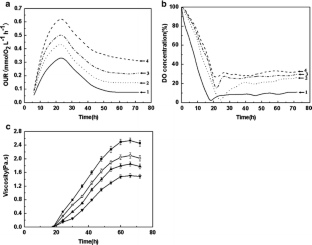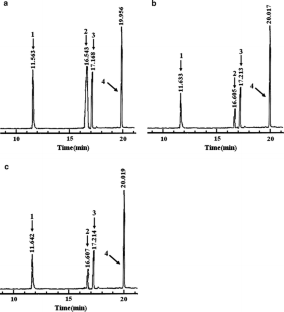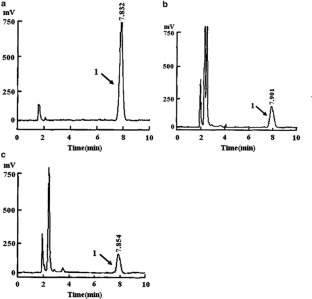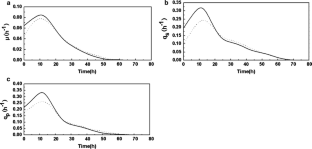 References
1.

O'Neill MA, Selvendran RR, Morris VJ, Eagles J (1986) Structure of the extracellular polysaccharide produced by the bacterium Alcaligenes (ATCC 31555) species. Carbohydr Res 145:295–313

2.

Chandrasekaran R, Radha A, Lee EJ (1994) Structural roles of calcium ions and side chains in welan: an X-ray study. Carbohydr Res 252:183–207

3.

Fialho AM, Moreira LM, Granja AT, Hoffmann K, Popescu A, Sá-Correia I (2007) In: Pereira MS (ed) A portrait of state-of-the-art research at the technical university of Lisbon, 6th edn. Springer, Netherlands

4.

Kang KS, Veeder GT, Cottrell IW (1983) In: Bushell ME (ed) Microbial polysaccharides, 6th edn. Elsevier, New York

5.

Banik RM, Santhiagu A (2006) Improvement in production and quality of gellan gum by Sphingomonas paucimobilis under high dissolved oxygen tension levels. Biotechnol Lett 28:1347–1350

6.

Garcia-Ochoa F, Gomez Castro E, Santos VE (2000) Oxygen transfer and uptake rates during xanthan gum production. Enzyme Microb Technol 27:680–690

7.

Giavasis I, Harvey LM, McNeil B (2006) The effect of agitation and aeration on the synthesis and molecular weight of gellan in batch cultures of Sphingomonas paucimobilis. Enzyme Microb Technol 38:101–108

8.

Gao HJ, Chen J, Du GC, Zhang YF, Chen JC, Chen GQ (2003) Effect of agitation and mixing hyaluronic acid production by Streptococcus zooepidemicus. J Chem Ind Eng 54:350–356

9.

Kim JH, Yoo SJ, Oh DK, Kweon YG, Park DW, Lee CH, Gil GH (1996) Selection of a Streptococcus equi mutant and optimization of culture conditions for the production of molecular weight hyaluronic acid. Enzyme Microb Technol 19:440–445

10.

Schilling BM, Rau U, Maier, Fankhauser P (1999) Modeling and scale-up of the unsterile scleroglucan production process with Sclerotium rolfsii ATCC 15205. Bioproc Eng 20:195–201

11.

Dreveton E, Monot F, Ballerini D, Lecourtier J, Choplin L (1994) Effect of mixing and mass transfer conditions on gellan production by Auromonas elodea. J Ferment Bioeng 77:642–649

12.

Li S, Xu H, Shi N (2004) Production of a microbial polysaccharides by fermentation. Food Ferment Ind 30:6–9

13.

Laurent TC, Ryan M, Pietruszkiewicz A (1960) Fraction of hyaluronic acid. The polydispersity of hyaluronic acid from the bovine virtreous body. Biochim Biophys Acta 42:476–485

14.

Xu G, Chen R, Chang L (2000) Component analysis of monosaccharides in polysaccharides by capillary gas chromatography. J Instrum Anal 19:71–73

15.

Mao XB, Zhong JJ (2004) Hyperproduction of cordycepin by two-stage dissolved oxygen control in submerged cultivation of medicinal mushroom Cordyceps militaris in bioreactors. Biotechnol Prog 20:1408–1413

16.

Li Y, Hugenholtz J, Chen J, Lun SY (2002) Enhancement of pyruvate production by Torulopsis glabrata using a two-stage oxygen supply control strategy. Appl Microbiol Biotechnol 60:101–106

17.

Li H, Li S, Feng X, Wang F, Xu H (2009) Production of welan gum by Alcaligenes sp. NX-3 with fed-batch fermentation. Food Ferment Ind 35:1–4

18.

Sakata N, Maruyama K, Minami K (1996) In: Bartos PJM, Marrs DL (eds) Proceedings of the international RILEM conference production methods and workability of concrete, E & FN Spon, London

19.

Calfors J, Edsman K, Peterson R, Journving K (1998) Rheological evaluation of gelrite in situ for ophthalmic use. Eur J Pharm Sci 6:113–119
Acknowledgments
This work was supported by the Natural Science Foundation of the Jiangsu Higher Education Institutions of China (No. 08KJA180001) and Jiangsu Key Technology Research and Development Program (No. BE2009363).
About this article
Cite this article
Li, H., Xu, H., Xu, H. et al. Enhanced welan gum production using a two-stage agitation speed control strategy in Alcaligenes sp. CGMCC2428. Bioprocess Biosyst Eng 34, 95–102 (2011). https://doi.org/10.1007/s00449-010-0450-6
Received:

Accepted:

Published:

Issue Date:
Keywords
Welan gum

Alcaligenes sp. CGMCC2428

Agitation speed

Two-stage control strategy

Batch fermentation