Abstract
There is a great demand for l-ornithine, which is used as a dietary supplement, and in the pharmaceutical industry. In the present study, when milk casein was hydrolyzed at 37 °C by using commercial digestive enzymes, namely, Pancreatin F and Protease A, a significant accumulation of l-ornithine in the hydrolysate and the simultaneous disappearance of l-arginine was noted. In a radiometric assay, transient but distinct arginase activity, which was sufficiently high for l-ornithine production, was detected in the hydrolysate for a certain period during casein hydrolysis. On the basis of the results of the enzymatic analyses, arginase was thought to be proteolytically generated from an inactive precursor, which may generally be contained in Pancreatin F, and ultimately degraded by further proteolysis. This conversion process using the above-mentioned digestive enzymes is useful for the production of l-ornithine directly from protein sources that are abundant in nature.
This is a preview of subscription content, log in to check access.
Access options
Buy single article
Instant access to the full article PDF.
US$ 39.95
Price includes VAT for USA
Subscribe to journal
Immediate online access to all issues from 2019. Subscription will auto renew annually.
US$ 199
This is the net price. Taxes to be calculated in checkout.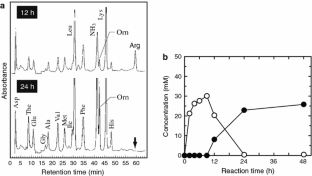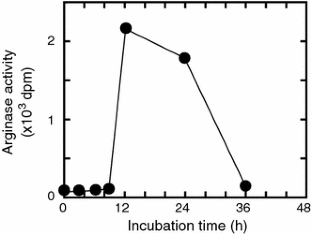 References
1.

Wu G, Morris SM (1998) Arginine metabolism: nitric oxide and beyond. Biochem J 336:1–17

2.

Morris SM (2002) Regulation of enzymes of the urea cycle and arginine metabolism. Annu Rev Nutr 22:87–105

3.

Shawcross DL, Damink SW, Butterworth RF, Jalan R (2005) Ammonia and hepatic encephalopathy: the more things change, the more they remain the same. Metab Brain Dis 20:169–179

4.

Jalan R, Wright G, Davies NA, Hodges SJ (2007) l-Ornithine phenylacetate (OP): a novel treatment for hyperammonemia and hepatic encephalopathy. Med Hypo 69:1064–1069

5.

Kinoshita S, Nakayama K, Udaka S (1957) The fermentative production of l-ornithine. J Gen Appl Microbiol 3:276–277

6.

Vogel HJ (1953) Path of ornithine synthesis in Escherichia coli. Proc Natl Acad Sci USA 39:578–583

7.

Udaka S, Kinoshita S (1958) Studies on l-ornithine fermentation I. The biosynthetic pathway of l-ornithine in Micrococcus glutamicus. J Gen Appl Microbiol 4:272–282

8.

Udaka S, Kinoshita S (1958) Studies on l-ornithine fermentation II. The change of fermentation product by a feedback type mechanism. J Gen Appl Microbiol 4:283–288

9.

Udaka S (1966) Pathway-specific pattern of control of arginate biosynthesis in bacteria. J Bacteriol 91:617–621

10.

Yoshida H, Araki K, Nakayama K (1979) Mechanism of l-arginine production by l-arginine-production mutants of C. glutamicum. Agric Biol Chem 43:105–111

11.

Yoshida H, Araki K, Nakayama K (1979) N-Acetyl-glutamate-acetylornithine acetyltransferase-deficient arginine auxotroph of C. glutamicum. Agric Biol Chem 44:361–365

12.

Yoshida H, Araki K, Nakayama K (1980) N-Acetyl-ornithine-α-aminotransferase-deficient and N-acetylglutamokinase deficient arginine auxotrophs of C. glutamicum. Agric Biol Chem 44:361–365

13.

Choi DK, Ryu WS, Choi CY, Park YH (1996) Production of l-ornithine by arginate auxotrophic mutants of Brevibacterium ketoglutamicum in dual substrate-limited continuous culture. J Ferment Bioeng 81:216–219

14.

Lee H-W, Yoon S-J, Jang H-W, Kim C-S, Kim T-H, Ryu W-S, Jung J-K, Park Y-H (2000) Effects of mixing on fed-batch fermentation of l-ornithine. J Biosci Bioeng 89:539–544

15.

Rüegg UT, Russell AS (1980) A rapid and sensitive assay for arginase. Anal Biochem 102:206–212

16.

Yu H, Yoo PK, Aguirre CC, Tsoa RW, Kern RM, Grody WW, Cederbaum SD (2003) Widespread expression of arginase I in mouse tissue. Biochemical and physiological implications. J Histochem Cytochem 51:1151–1160

17.

Morris SM Jr, Bhamidipati D, Kepka-Lenhart D (1997) Human type II arginase: sequence analysis and tissue-specific expression. Gene 193:157–161

18.

Mellerup B (1967) Colorimetric method for rapid determination of serum arginase. Clin Chem 13:900–908

19.

Ward RL, Srere PA (1967) A new spectrophotometric arginase assay. Anal Biochem 18:102–106

20.

Ozer N (1985) A new enzyme-coupled spectrophotometric method of the determination of arginase activity. Biochem Med 33:367–371

21.

Han S, Viola RE (2001) A spectrophotometric assay of arginase. Anal Biochem 295:117–119

22.

Iyamu EW, Asakura T, Woods GM (2008) A colorimetric microplate assay method for high-throughput analysis of arginase activity in vitro. Anal Biochem 383:332–334

23.

Levillain O, Balvay S, Peyrol S (2005) Mitochondrial expression of arginase II in male and female rat inner medullary collecting ducts. J Histochem Cytochem 53:533–541

24.

Levillain O, Balvay S, Peyrol S (2005) Localization and differential expression of arginase II in male and female mouse kidney. Pflugers Arch 449:491–503

25.

Gotoh T, Sonoki T, Nagasaki A, Terada K, Takiguchi M, Mori M (1996) Molecular cloning of cDNA for nonhepatic mitochondrial arginase (arginase II) and comparison of its induction with nitric oxide synthase in a murine macrophage-like cell line. FEBS Lett 395:119–122
Acknowledgments
The authors wish to thank M. Ohuchi, N. Abe, Y. Kamaya, S. Ohta, and T. Sato for their technical contributions.
About this article
Cite this article
Gotoh, T., Kikuchi, K., Kagaya, A. et al. Direct production of l-ornithine from casein by commercial digestive enzymes and in situ activated arginase. Bioprocess Biosyst Eng 33, 773–777 (2010). https://doi.org/10.1007/s00449-010-0437-3
Received:

Accepted:

Published:

Issue Date:
Keywords
Arginase

Amino acids

Protease

Nutrient

l

-Arginine