Abstract
To construct a novel simultaneous SPR and QCM sensing system, an AT-cut quartz crystal is fabricated by sputtering 250 nm of ITO on one side of the quartz plate over a 5-nm thick underlay of titanium, while a 50-nm thick layer of gold is sputter-deposited on the other side to induce a total light reflection of an incident laser beam on the thin gold layer. The signals of the sensing system are detected using a Handy-SPR and QCA922 when dropping 200 μL of Milli-Q water into the sensing cell. A decrease in the SPR reflected light intensity is clearly identified. In the same experiment, the changes in the resonant frequency and resistance are about 2 kHz and 200 Ω, respectively. Furthermore, the oscillation stabilities of the resonant frequency and resistance are about 50 Hz and 2 Ω, respectively, which are sufficient to detect a large mass change on the QCM/SPR chip.
This is a preview of subscription content, log in to check access.
Access options
Buy single article
Instant access to the full article PDF.
US$ 39.95
Price includes VAT for USA
Subscribe to journal
Immediate online access to all issues from 2019. Subscription will auto renew annually.
US$ 199
This is the net price. Taxes to be calculated in checkout.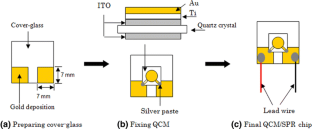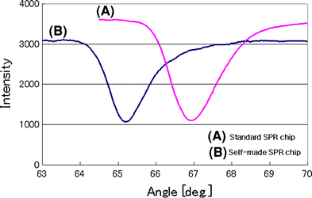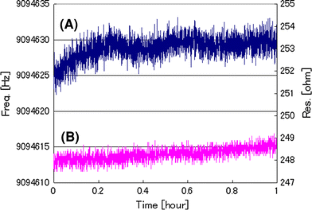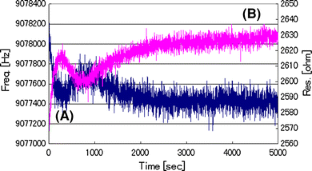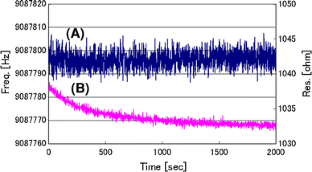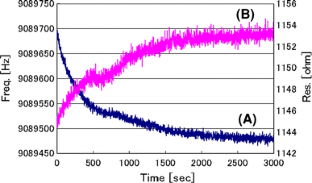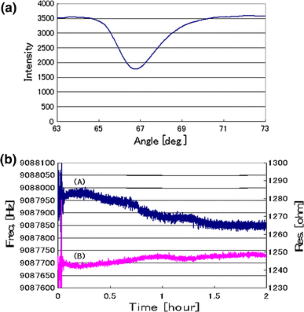 References
1.

Kim JM, Chang SM, Muramatsu H (1999) Monitoring changes in the viscoelastic properties of thin polymer films by the quartz crystal resonator. Polymer 40:3291–3299

2.

Kim JM, Chang SM, Muramatsu H (1999) Scanning localized viscoelastic image using a quartz crystal resonator combined with an atomic force microscopy. Appl Phys Lett 74:466–468

3.

Kim JM, Chang SM, Muramatsu H (1999) In situ optoelectrochemical approach for the dynamic property study of polypyrrole thin film by quartz crystal combined with UV–visible advanced design. J Electrochem Soc 146:4544–4550

4.

Song SH, Han DS, Lee HJ, Cho HS, Chang SM, Kim JM, Muramatsu H (2001) Application of quartz crystal for the supercapacity studies of Ppy/anion composites. Synthetic Met 117:137–139

5.

Kim JM, Park JY, Song SH, Lee BJ, Muramatsu H, Chang SM (2001) Analysis of Im-SH self-assembled monolayer formation and its interaction with Fe2+ and Zn2+ using quartz chemical analyzer. Sens Actuators B Chem 76:74–79

6.

Kang HW, Ida K, Yamamoto Y, Muramatsu H (2008) Monitoring of morphology and physical properties of cultured cells using a micro camera and a quartz crystal with transparent indium tin oxide electrodes after injections of glutaraldehyde and trypsin. Anal Chim Acta 624:154–161

7.

Kang HW, Muramatsu H (2009) Monitoring of cultured cell activity by the quartz crystal and the micro CCD camera under chemical stressors. Biosens Bioelectron 24:1318–1323

8.

Lee BS, Chi YS, Lee KB, Kim YG, Choi IS (2007) Functionalization of poly(oligo(ethylene glycol) methacrylate) films on gold and Si/SiO2 for immobilization of proteins and cells: SPR and QCM studies. Biomacromolecules 8:3922–3929

9.

Martin Y, Boutin D, Vermette P (2007) Study of the effect of process parameters for n-heptylamine plasma polymerization on final layer properties. Thin Solid Films 515:6844–6852

10.

Zhou C, Friedt JM, Angelova A, Choi KH, Laureyn W, Frederix F, Francis LA, Campitelli A, Engelborghs Y, Borghs G (2004) Human immunoglobulin adsorption investigated by means of quartz crystal microbalance dissipation, atomic force microscopy, surface acoustic wave, and surface plasmon resonance techniques. Langmuir 20:5870–5878

11.

Malmstrom J, Agheli H, Kingshott P, Sutherland DS (2007) Viscoelastic modeling of highly hydrated laminin layers at homogeneous and nanostructured surfaces: quantification of protein layer properties using QCM-D and SPR. Langmuir 23:9760–9768

12.

Hedin J, Lofroth JE, Nyden M (2007) Adsorption behavior and cross-linking of EHEC and HM-EHEC at hydrophilic and hydrophobic modified surfaces monitored by SPR and QCM-D. Langmuir 23:6148–6155

13.

Muramatsu H, Kim JM, Chang SM (2002) Quartz-crystal sensors for biosensing and chemical analysis. Anal Bioanal Chem 372:314–321

14.

Furusawa H, Kitamura Y, Hagiwara N, Tsurimoto T, Okahata Y (2002) Binding kinetics of the toroid-shaped PCNA to DNA strands on a 27 MHz quartz crystal microbalance. Chemphyschem 3:446–448

15.

Okahata Y, Niikura K, Furusawa H, Matsuno H (2000) A highly sensitive 27 MHz quartz-crystal microbalance as a device for kinetic measurements of molecular recognition on DNA strands. Anal Sci 16:1113–1119

16.

Liu S, Sun JL, Sun HS, Tan XJ, Shi S, Guo JH, Zhao J (2003) First overtone frequency stimulated quartz tuning fork used for shear-force scanning near-field optical microscopy. Chinese Phys Lett 20:1928–1931

17.

Hirama K, Shoji T, Tanaka Y (2000) Suppression of lower harmonic responses on overtone AT-cut quartz crystal resonators. Electron Comm Jpn 3(83):92–102

18.

Yoshimoto M, Tokimura S, Shigenobu K, Kurosawa S, Naito M (2004) Properties of the overtone mode of the quartz crystal microbalance in a low-viscosity liquid. Analytica Chimica Acta 510:15–19

19.

Green RJ, Frazier RA, Shakesheff KM, Davies MC, Roberts CJ, Tendler SJB (2000) Surface plasmon resonance analysis of dynamic biological interactions with biomaterials. Biomaterials 21:1823–1835

20.

Laricchia-Robbio L, Revoltella RP (2004) Comparison between the surface plasmon resonance (SPR) and the quartz crystal microbalance (QCM) method in a structural analysis of human endothelin-1. Biosens Bioelectron 19:1753–1758
Acknowledgment
This research was supported by Basic Science Research Program through the National Research Foundation of Korea (NRF) funded by the Ministry of Education, Science and Technology (KOSEF, 2009-0064245).
About this article
Cite this article
Kim, J., Kim, S., Ohashi, T. et al. Construction of simultaneous SPR and QCM sensing platform. Bioprocess Biosyst Eng 33, 39 (2010). https://doi.org/10.1007/s00449-009-0370-5
Received:

Accepted:

Published:
Keywords
SPR

QCM

Resonant frequency

Resonant resistance

SPR angle

ITO

Titanium

Index matching oil