Abstract
In life support systems, such as the MELiSSA (Micro-Ecological Life Support Alternative) project, developed by the European Space Agency, the aim is to understand and assemble artificial ecosystems for ensuring human subsistence in space. Fibrobacter succinogenes, an anaerobic bacterium, was used for the degradation of vegetable wastes produced in higher plants chambers, but the process does not allow the monitoring of biomass concentration and degradation rates. This study proposes a growth and a degradation monitoring technique using pressure measurements. First, volatile fatty acids (VFA) production was compared with biomass growth and with CO2 production. The experiments were carried out in batch and fed-batch processes on glucose and on vegetables. The results have shown that a link could be established between VFA production, degradation rate and gas pressure measurements. Thus, the pressure could be used both as a relevant variable for online evaluation of biomass growth and of degradation of complex vegetable wastes.
This is a preview of subscription content, log in to check access.
Access options
Buy single article
Instant access to the full article PDF.
US$ 39.95
Price includes VAT for USA
Subscribe to journal
Immediate online access to all issues from 2019. Subscription will auto renew annually.
US$ 199
This is the net price. Taxes to be calculated in checkout.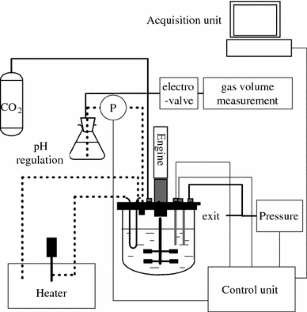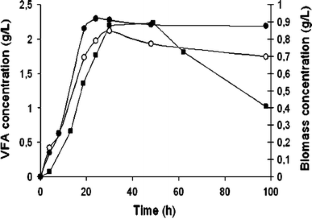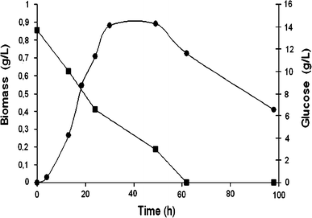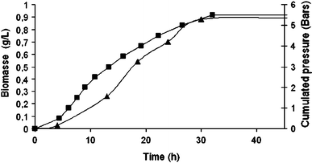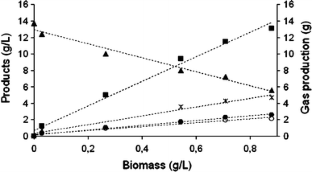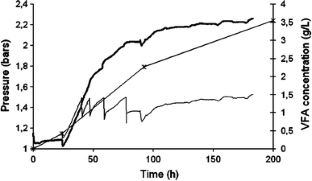 References
1.

1. Mergeay M, Verstraete W, Dubertret G, Lefort-Tran M, Chipaux C, Binot R (1988) MELISSA—a microorganisms based model for CELSS development. In: Abstracts of the 3rd symposium on space thermal control and life support system, Noordwijk, Netherlands, 3–6 October1988

2.

McDermid KP, Forsberg CW, McKenzie CR (1990) Purification and properties of an acetyxylan esterase from Fibrobacter succinogenes S85. Appl Environ Microbiol 56:3805–3810

3.

Wick M, Vanhoutte JJ, Adhemard A, Turin G, Lebeault JM (2001) Automatic method for evaluating the activity of sourdough strains based on gas pressure measurements. Appl Microbiol Biotechnol 55:362–368

4.

Cogne G, Lasseur C, Cornet JF, Dussap CG, Gros JB (2001) Growth monitoring of a photosynthetic micro-organism (Spirulina platensis) by pressure measurement. Biotechnol Lett 23:1309–1314

5.

Bryant MP, Burkey LA (1953) Cultural methods and some characteristics of some of the more numerous groups of bacteria in bovine rumen. J Dairy Sci 36:205–217

6.

Gaudet G, Forano E, Dauphin G, Delort AM (1992) Futile cycle of glycogen in Fibrobacter succinogenes as shown by in situ 1H NMR and 13C NMR investigation. Eur J Biochem 207:155–162

7.

7. Christophe G (2007) Etude de Fibrobacter succinogenes en bioréacteur anaérobie en vue de la dégradation de déchets végétaux. Thesis, University Blaise Pascal, Clermont-Ferrand

8.

Miller TL (1978) The pathway of formation of acetate and succinate from pyruvate by Bacteroides succinogenes. Arch Microbiol 117:145–152

9.

Wick M, Lebeault JM (2001) Pressure measurement to evaluate ethanol or lactic acid production during glucose fermentation by yeast or heterofermentative bacteria in pure and mixed culture. Appl Microbiol Biotechnol 56:687–692

10.

Collings GF, Yokoyama MT (1980) Gas-liquid chromatography for evaluating polysaccharide degradation by Ruminococcus flavefaciens C94 and Fibrobacter succinogenes S85. Appl Environ Microbiol 39:566–571

11.

Forsberg CW, Gong J, Malburg LM Jr, Zhu H, Iyo A, Cheng KJ, Krell PJ, Philipps JP (1994) Cellulases and hemicellulases of Fibrobacter succinogenes and their roles in fibre digestion. In: Shimada K, Hoshino S, Ohmiya K, Sakka K, Kobayashi Y, Karita S (eds) Genetics, biochemistry and ecology of lignocellulose degradation. Uni Publishers Co. Ltd, Tokyo, pp 125–136

12.

Pell AN, Schofied P (1993) Computerized monitoring of gas production to measure forage digestion in vitro. J Dairy Sci 76:1063–1073
Acknowledgments
This work was supported by European Space Agency (ESA/ESTEC) in the framework of the Micro-Ecological Life Support System Alternative (MELiSSA project) through the Microgravity Application Program ("Total Liquefaction and Biosafe Compartment for MELiSSA" project).
About this article
Cite this article
Christophe, G., Guiavarch, E., Creuly, C. et al. Growth monitoring of Fibrobacter succinogenes by pressure measurement. Bioprocess Biosyst Eng 32, 123–128 (2009). https://doi.org/10.1007/s00449-008-0230-8
Received:

Accepted:

Published:

Issue Date:
Keywords
Anaerobic fermentation

Fibrobacter succinogenes

Growth monitoring

CO2 production

Vegetable degradation