Abstract
An oxygen-limited fed-batch technique (OLFB) was compared to traditional methanol-limited fed-batch technique (MLFB) for the production of recombinant Thai Rosewood β-glucosidase with Pichia pastoris. The degree of energy limitation, expressed as the relative rate of respiration (q O/q O,max), was kept similar in both the types of processes. Due to the higher driving force for oxygen transfer in the OLFB, the oxygen and methanol consumption rates were about 40% higher in the OLFB. The obligate aerobe P. pastoris responded to the severe oxygen limitation mainly by increased maintenance demand, measured as increased carbon dioxide production per methanol, but still somewhat higher cell density (5%) and higher product concentrations (16%) were obtained. The viability was similar, about 90–95%, in both process types, but the amount of total proteins released in the medium was much less in the OLFB processes resulting in substantially higher (64%) specific enzyme purity for input to the downstream processing.
This is a preview of subscription content, log in to check access.
Access options
Buy single article
Instant access to the full article PDF.
US$ 39.95
Price includes VAT for USA
Subscribe to journal
Immediate online access to all issues from 2019. Subscription will auto renew annually.
US$ 199
This is the net price. Taxes to be calculated in checkout.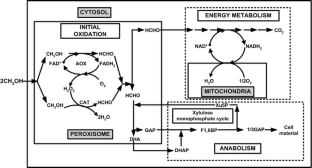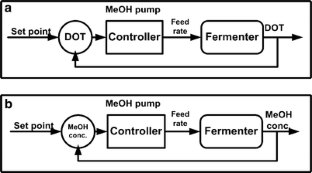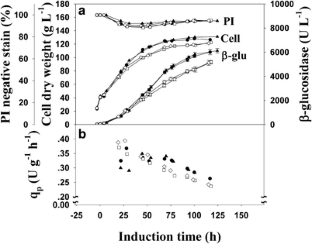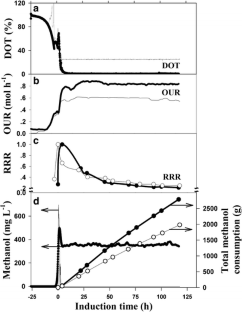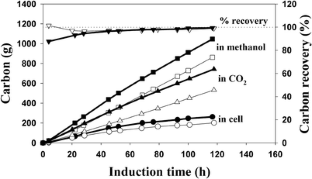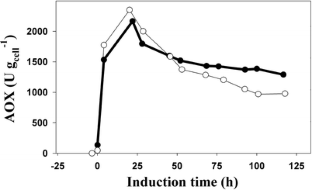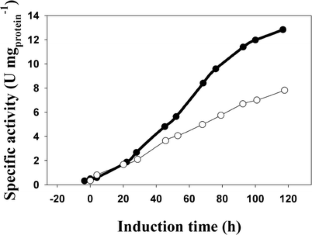 Abbreviations
AOX:

Enzyme alcohol oxidase

AOX1 :

Alcohol oxidase gene 1

CPR:

Carbon dioxide production rate (mol h−1)

DOT:

Dissolved oxygen tension (%)

MLFB:

Methanol limited fed-batch

OLFB:

Oxygen limited fed-batch

OUR:

Oxygen uptake rate (mol h−1)

PI:

Propidium iodide

q o :

Specific oxygen uptake rate (mol g cell −1 h−1)

q o,max :

Maximum specific oxygen uptake rate (mol g cell −1 h−1)

q p :

Specific β-glucosidase productivity (U g cell −1 h−1)

Q i :

Inlet air flow rate (L h−1)

Q o :

Outlet air flow rate (L h−1)

RRR:

Relative rate of respiration

V :

Medium volume (L)

V m :

Molar volume of gas (L mol−1)

X :

Biomass concentration from dry weight (g L−1)

Y C CO2/S :

Carbon yield coefficient of carbon dioxide from methanol (mol mol−1)

Y C X/S :

Carbon yield coefficient of biomass from methanol (mol mol−1)
References
1.

Higgins DR, Cregg JM (1998) Methods in molecular biology: Pichia protocols. In: Lin Cereghino GP, Lin Cereghino J, Ilgen C, Cregg JM (eds) Production of recombinant proteins in fermentor cultures of the yeast Pichia pastoris. Curr Opin Biotechnol 13:329–332

2.

Cregg JM, Lin Cereghino J, Shi J, Higgins DR (2000) Recombinant protein expression in Pichia pastoris. Mol Biotechnol 16:23–52

3.

Wegner G (1990) Emerging application of methelotrophic yeast. FEMS Microbiol Rev 87:279–284

4.

Jahic M, Rotticci-Mulder JC, Martinelle M, Hult K, Enfors S-O (2002) Modelling of growth and energy metabolism of Pichia pastoris producing a fusion protein. Bioprocess Biosyst Eng 24:385–393

5.

Couderc R, Baratti J (1998) Oxidation of methanol by the yeast Pichia pastoris: purification and properties of alcohol oxidase. Agric Biol Chem 44:2279–2289

6.

Hasslacher M, Schall M, Hayn M, Bona R, Rumbold K, Lückl J, Griengl H, Kohlwein SD, Schwab H (1997) High-level intracellular expression of hydroxynitril lyase from the tropical rubber tree Hevea brasiliensis in microbial hosts. Protein Expression Purif 11:61–71

7.

Werten MWT, van den Bosch TJ, Wind RD, Mooibroek H, de Wolf FA (1999) High-yield secretion of recombinant gelatines by Pichia pastoris. Yeast 15:1087–1096

8.

Chiruvolu V, Eskridge K, Cregg J, Meagher M (1998) Effect of glycerol concentration and pH on growth of recombinant Pichia pastoris yeast. Appl Biochem Biotechnol 75:63–173

9.

Jahic M, Wallberg F, Bollok M, Garcia P, Enfors S-O (2003) Temperature limited fed-batch technique for control of proteolysis in Pichia pastoris bioreactor cultures. Microbial cell Factories 2:1–6

10.

Kobayashi K, Kuwae S, Ohya T, Ohda T, Ohyama M, Ohi H, Tomomitsu K, Ohmura T (2000) High-level expression of recombinant human serum albumin from the methylotrophic yeast Pichia pastoris with minimal protease production and activation. J Biosci Bioeng 89:55–61

11.

Zhang W, Bevisn MA, Plantz BA, Smith LA, Meagher MM (2000) Modelling Pichia pastoris growth on methanol and optimizing the production of a recombinant protein, the heavy-chain fragment C of botulinum, serotype A. Biotechnol Bioeng 70:1–8

12.

Katakura Y, Zhang W, Zhuang G, Omasa T, Kishimoto M, Goto Y, Suga K-I (1998) Effect of methanol concentration on the production of human β2-glycoprotein I domain V by a recombinant Pichia pastoris: a simple system for the control of methanol concentration using a semiconductor gas sensor. J Ferm Bioeng 86(5):482–487

13.

Enfors S-O, Jahic M, Rozkov A, Xu B, Hecker M, Jürgen B, Krüger E, Schweder T, Hamer G, O'Beirne D, Noisommit-Rizzi N, Reuss M, Boone L, Hewitt C, McFarlane C, Nienow A, Kovacs T, Trägårdh C, Fuchs L, Revstedt J, Friberg PC, Hjertager B, Blomsten G, Skogman H, Hjort S, Hoeks F, Lin H-Y, Neubauer P, van der Lans R, Luyben K, Vrabel P, Manelius Å (2001) Physiological responses to mixing in large scale bioreactors. J Biotechnol 85:175–185

14.

Trentmann O, Khatri NK, Hoffmann F (2004) Reduced oxygen supply increases process stability and product yield with recombinant Pichia pastoris. Biotechnol Prog 20:1766–1775

15.

Trinh LB, Phue JN, Shiloach J (2003) Effect of methanol feeding strategies on production and yield of recombinant mouse endostatin from Pichia pastoris. Biotechnol Bioeng 82:438–444

16.

Lin Cereghino J, Cregg JM (2000) Heterologous protein expression in the methylotrophic yeast Pichia pastoris. FEMS Microb Rev 24:45–66

17.

Sibirny AA, Ubiyvovk VM, Gonchar MV, Titorenko VI, Voronovsky AY, Kapultsevich YG, Bliznik KM (1990) Reaction of direct formaldehyde oxidation to CO2 are not-essential for energy supply of yeast methylotrophic growth. Arch Microbiol 154:566–575

18.

Sibirny AA, Titorenko VI, Gonchar MV, Ubiyvovk VM, Ksheminskaya GP, Vitvitskaya OP (1988) Genetic control of methanol utilizing in yeast. J Basic Microbiol 28:293–319

19.

Douma AC, Veenhuis M, de Koning W, Evers M, Harder W (1985) Dihydroxyacetone syntase is localized in the peroxisomal matrix of methanol-grown Hensenula polymorpha. Arch Microbiol 143:237–243

20.

Ketudat-Cairns JR, Champattanachai V, Srisomsap C, Wittman-Liebold B, Thiede B, Svasti J (2000) Sequence and expression of Thai Rosewood β-glucosidase/β-fucosidase, a family 1 glycosyl hydrolase glycoprotein. J Biochem 128:999–1008

21.

Bradford MM (1976) A rapid and sensitive method for the quantitative of microgram quantities of protein utilizing the principal of protein-dye binding. Anal Biochem 72:248–254

22.

Evans CS (1985) Properties of the β-glucosidase (cellobiase) from the wood-rotting fungus Coriolus versicolor. Appl Microbiol Biotechnol 22:128–131

23.

Hellwig S, Emde F, Raven NPG, Henke M, van der Logt P, Fischer R (2001) Analysis of single-chain antibody production in Pichia pastoris using on-line methanol control in fed-batch and mixed-feed fermentations. Biotechnol Bioeng 74:344–352
Acknowledgements
TC is supported by the university lecturer development program from the Ministry of Education and Suranaree University, Thailand. This work is part of the BiMaC Enzyme Factory programme financed by the Södra Skogsägarnas Stiftelse för Forskning, Utveckling och Utbildning.
About this article
Cite this article
Charoenrat, T., Ketudat-Cairns, M., Stendahl-Andersen, H. et al. Oxygen-limited fed-batch process: an alternative control for Pichia pastoris recombinant protein processes. Bioprocess Biosyst Eng 27, 399–406 (2005). https://doi.org/10.1007/s00449-005-0005-4
Received:

Accepted:

Published:

Issue Date:
Keywords
Oxygen-limited fed batch (OLFB)

Methanol-limited fed batch (MLFB)

Pichia pastoris

β-glucosidase