Abstract
The 60 × 20-km Samosir resurgent dome within the 74-ka Toba Caldera features several clusters of rhyolitic lava domes. Because the previously known Tuk-Tuk and Samosir Fault lava domes occur near the base of a major resurgent dome fault, they appear associated with resurgent uplift, and dating them could provide constraints on the timing of resurgence. Towards that goal, we mapped and sampled the Tuk-Tuk and Samosir Fault lava domes, discovered two additional lava dome clusters in the uplifted interior of Samosir Island, then determined modal mineralogy, major and trace element geochemistry, and 40Ar/39Ar sanidine ages on several samples from each cluster. These quartz-bearing rhyolite lava domes have SiO2 contents ranging from ~ 70-76 wt%, crystallinities of 28-54%, and 40Ar/39Ar ages (~ 74-76 ka) that overlap with those of the Youngest Toba Tuff (YTT), ~ 74-75 ka. Our field observations and the remarkable similarity in mineralogy, geochemistry, and ages among the dome clusters and YTT support the interpretation that these domes represent remnant YTT magma that erupted shortly after the climactic YTT eruption. Later, during resurgence, these pre-resurgent lava domes were uplifted to their present locations, some near current lake level, others up to 440 m above lake level.
This is a preview of subscription content, log in to check access.
Access options
Buy single article
Instant access to the full article PDF.
US$ 39.95
Price includes VAT for USA
Subscribe to journal
Immediate online access to all issues from 2019. Subscription will auto renew annually.
US$ 199
This is the net price. Taxes to be calculated in checkout.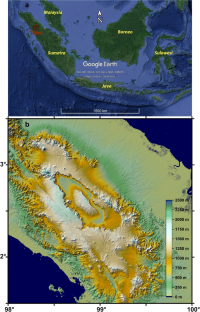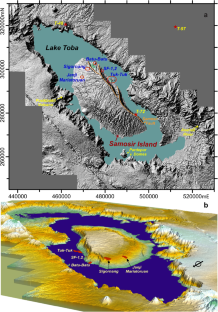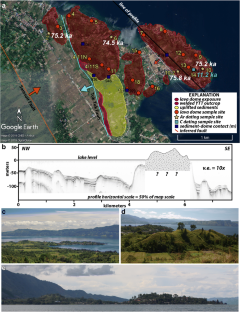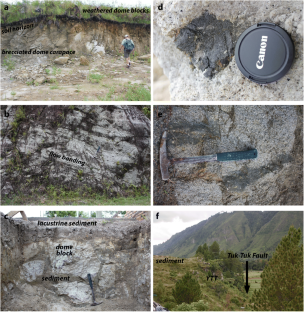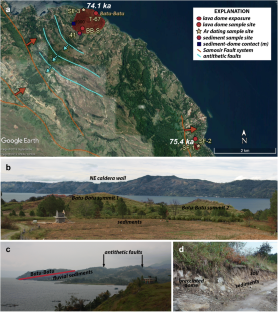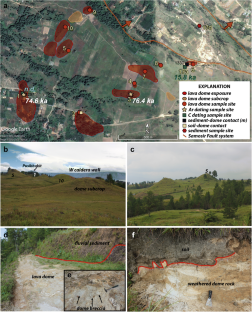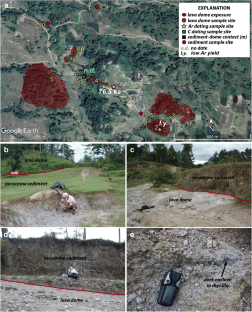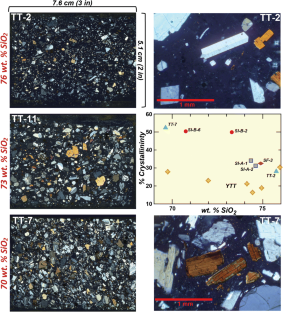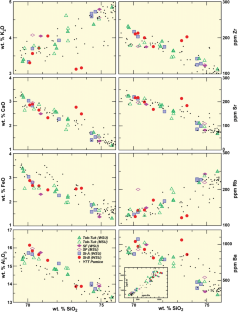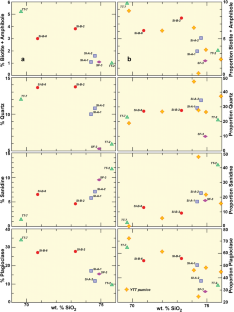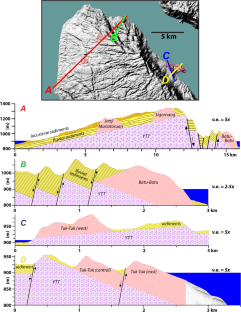 References
Aldiss DT, Ghazali SA (1984) The regional geology and evolution of the Toba volcano-tectonic depression, Indonesia. J Geol Soc Lond 141:487–500

Aldiss DT, Whandoyo R, Ghazali SA, Kusyono (1982) Geology of the Sidikalang Quadrangle, northern Sumatra (1:250,000 sheets NA 47-5, 47-6): Geological Research and Development Centre. Bandung, Indonesia

Bailey RA (1989) Geologic map of Long Valley Caldera, Mono-Inyo Craters volcanic chain, and vicinity, eastern California: U.S. Geological Survey Map I-1933, pamphlet 11 p., 2 sheets, scale 1:62,500

Bailey RA, Dalrymple GB, Lanphere MA (1976) Volcanism, structure, and geochronology of Long Valley Caldera, Mono County. California Journal of Geophysical Research 81(5):725–744

Barbee OA (2015) Origin of Toba's post-caldera rhyolite lava domes and their relation to the Youngest Toba Tuff magma. M.S. Thesis, Northern Arizona University, Flagstaff, 271 pp

Best MG, Christiansen EH (1997) Origin of broken phenocrysts in ash flow tuffs. Geological Society of America Bulletin 109(1):63–73. https://doi.org/10.1130/0016-7606(1997)109<0063

Blake S (1990) Viscoplastic models of lava domes. In: Fink J.H. (eds) Lava flows and domes. IAVCEI Proceedings in Volcanology, vol 2. Springer, Berlin, Heidelberg, pp 88–126

Chesner CA (1998) Petrogenesis of the Toba Tuffs, Sumatra, Indonesia. J Petrol 39:397–438

Chesner CA (2012) The Toba Caldera complex. Quat Int 258:5–18

Chesner CA, Luhr JF (2010) A melt inclusion study of the Toba Tuffs, Sumatra, Indonesia. J Volcanol Geotherm Res 197:259–278

Chesner CA, Rose WI (1991) Stratigraphy of the Toba Tuffs and evolution of the Toba Caldera complex, Sumatra, Indonesia. Bull Volcanol 53:343–356

Chesner CA, Rose WI, Deino A, Drake R (1991) Eruptive history of earth's largest Quaternary caldera (Toba, Indonesia) clarified. Geology 19:200–203

Chesner CA, Sporleder BA, Bohnenstiehl DR, Dolan MT (1996) Post-caldera lavas at the Toba Caldera, Sumatra, Indonesia. Geological Society of America Abstracts with Programs 28:32

Chesner CA, Boroughs SP, Storm LC, McIntosh WC (2000) Contraints on resurgence at the Toba Caldera, Sumatra, Indonesia. Geological Society of America Abstracts with Programs 3:502

Chesner CA, Dolan MT, Halsor SP, Bohnenstiehl DR, Liu J, Nasution A (2012) A seismic reflection profiling survey of Lake Toba, Sumatra, Indonesia: preliminary findings from the field, Abstract V31B-2781 presented at 2012 Fall Meeting, AGU

de Silva SL, Mucek AE, Gregg PM, Pratomo I (2015) Resurgent Toba—field, chronologic, and model constraints on time scales and mechanisms of resurgence at large calderas. Front Earth Sci 3:25. https://doi.org/10.3389/feart.2015.00025

Diehl JF, Onstott TC, Chesner CA, Knight MD (1987) No short reversals of Brunhes age recorded in the Toba Tuffs, North Sumatra, Indonesia. Geophys Res Lett 14:753–756

Johnson DM, Hooper PR, Conrey RM (1999) XRF analysis of rocks and minerals for major and trace elements on a single low dilution Li-tetraborate fused bead. Adv X-ray Anal 41:843–867

Kennedy B, Wilcock J, Stix J (2012) Caldera resurgence during magma replenishment and rejuvenation at Valles and Lake City calderas. Bull Volcanol 74:1833–1847

Knight MD, Walker GL, Ellwood BB, Diehl JF (1986) Stratigraphy, paleomagnetism, and magnetic fabric of the Toba Tuffs: constraints on the sources and eruptive styles. J Geophys Res 91:355–382

Manselle P, Chesner C (2017) Modal mineralogy of the youngest Toba Tuff and lava domes, Sumatra, Indonesia. Virtual Poster Showcase, January 01, 2017, Vol. 7

Mark DF, Petraglia M, Smith VC, Morgan LE, Barfod DN, Ellis BS, Pearce NJ, Pal JN, Ravi Korisettar R (2014) A high-precision 40Ar/39Ar age for the Young Toba Tuff and dating of ultra-distal tephra: forcing of Quaternary climate and implications for hominin occupation of India. Quat Geochronol 21:90–103

Mucek AE, de Silva SL, Danišík M, Miggins DP, Schmitt AK, Coble MA, Pratomo I (2016) Toba's resurgence: comparing 40Ar/39Ar and (U-Th)/He ages. American Geophysical Union Abstract V53D-3158

Mucek AE, Danišík M, de Silva SL, Schmitt AK, Pratomo I, Coble MA (2017a) Post-supereruption recovery at Toba Caldera. Nat Commun 8:1–9. https://doi.org/10.1038/ncomms15248

Mucek A, de Silva S, Miggins D, Danišík M, Schmitt A, Pratomo I (2017b) Post-74 ka supereruption magma dynamics at Toba Caldera, Indonesia: constraints from phase equilibria, 40Ar/39Ar and (U-Th)/He age determination. IAVCEI 2017 Scientific assembly, Submission 903

Ninkovich D, Sparks RSJ, Ledbetter MT (1978) The exceptional magnitude and intensity of the Toba eruption, Sumatra: An example of the use of deep-sea tephra layers as a geological tool. Bulletin Volcanologique 41(3):286–298

Phillips EH, Goff G, Kyle R, McIntosh WC, Dunbar NW, Gardner JN (2007) The 40Ar/39Ar age constraints on the duration of resurgence at the Valles Caldera, New Mexico. Journal of Geophysical Research 112:B08201

Rose WI, Chesner CA (1987) Dispersal of ash in the great Toba eruption, 75 ka. Geology 15:913–917

Ruttner F (1935) Kieselgur and andere lakustrische Sedimente im Tobagebiet; Ein Beitrag zur Geschichte de Tobasees in Nordsumatra, Archiv fur Hydrobiologie, Suppl Bd. XIII "tropische Binnengewasser" V, 399-461

Smith RL, Bailey RA (1968) Resurgent cauldrons. In: Coats, R.R., Hay, R.L. & Anderson, C.A. (eds) Studies in volcanology. Geological Society of America, Memoir 116, 613–662

Storey M, Roberts RG, Saidin M (2012) Astronomically calibrated 40Ar/39Ar age for the Toba supereruption and global synchronization of late Quaternary records. Proc Natl Acad Sci 109(46):18684–18688

Tjia HD, Kusnaeny K (1976) An early Quaternary age of an ignimbrite layer, Lake Toba, Sumatra. Sains Malaysia 5:67–70

van Bemmelen RW (1929) The origin of Lake Toba (North Sumatra). Proceedings of the 4th Pacific Science Congress 2A. Batavia, 115-124

van Bemmelen RW (1939) The volcano-tectonic origin of Lake Toba (North Sumatra). De Ingenieur in Nederlandsch Indie 6-9:126–140

van Bemmelen RW (1970) The geology of Indonesia, vol. IA, General geology of Indonesia and adjacent archipelagoes, 2nd edn. Martinus Nijhoff, The Hague

van der Marel HW (1947) Diatomaceous deposits at Lake Toba. J Sediment Petrol 17-3:129–134

van der Marel HW (1948) Het Tobameer. Geologie en Mijnbouw 10(4):80–89

Verstappen HT (1973) A geomorphological reconnaissance of Sumatra and adjacent islands (Indonesia). Wolters-Noordhoff, Groningen

Westerveld J (1947) On the origin of the acid volcanic rocks around Lake Toba, North Sumatra. Verhandelingen der Koninklijke Nederlandsche Akademie van Wetenschappen, AFD. Natuurkunde 43:1–52

Wilcock J, Goff F, Minarik WG, Stix J (2013) Magmatic recharge during the formation and resurgence of the Valles Caldera, New Mexico, USA: evidence from quartz compositional zoning and geothermometry. J Petrol 54-4:635–664

Wing Easton N (1894) Een geologische verkenning in de Toba-landen. Jaarb Van het Mijnwezen in Ned Oost-Indie 23:99–164

Wing Easton N (1896) Der Toba-See; Ein Beitrag zur Geologie von Nord-Sumatra. Zeitschr D Deutsche Geol Gesellsch 48:435–467

Yokoyama T, Hehanussa PE (1981) The age of "Old Toba Tuff" and some problems on the geohistory of Lake Toba, Sumatra, Indonesia. Paleolimnology of Lake Biwa and the Japanese Pleistocene 9:177–186

Zimmerer MJ, Lafferty J, Coble MA (2016) The eruptive and magmatic history of the youngest pulse of volcanism at the Valles Caldera: implications for successfully dating late Quaternary eruptions. Journal of Volcanology and Geothermal Research 310:50–57
Acknowledgments
We would like to thank the EIU students that assisted with field and laboratory work on the Samosir lava domes, including Mike Dolan, Brad Sporleder, Del Bohnenstiehl, and Patrick Manselle. Field logistics were arranged by Indyo Pratomo, Gagarin Sembiring, and Gustam Lubis. David Karatson and an anonymous reviewer provided constructive reviews of this manuscript.
Funding
Funding for this study was provided by several small grants from Eastern Illinois University.
Additional information
Editorial responsibility: R.J. Brown
Electronic supplementary material
About this article
Cite this article
Chesner, C.A., Barbee, O.A. & McIntosh, W.C. The enigmatic origin and emplacement of the Samosir Island lava domes, Toba Caldera, Sumatra, Indonesia. Bull Volcanol 82, 26 (2020). https://doi.org/10.1007/s00445-020-1359-9
Received:

Accepted:

Published:
Keywords
Super-eruption

Resurgent caldera

Rhyolite

40Ar/39Ar

Caldera lake sediments