Abstract
The Mont-Dore Massif (500 km2), the youngest stratovolcano of the French Massif Central, consists of two volcanic edifices: the Guéry and the Sancy. To improve our knowledge of the oldest explosive stages of the Mont-Dore Massif, we studied 40Ar/39Ar-dated (through single-grain laser and step-heating experiments) 11 pyroclastic units from the Guéry stratovolcano. We demonstrate that the explosive history of the Guéry can be divided into four cycles of explosive eruption activity between 3.09 and 1.46 Ma (G.I to G.IV). We have also ascertained that deposits associated with the 3.1–3.0-Ma rhyolitic activity, which includes the 5-km3 "Grande Nappe" ignimbrite, are not recorded in the central part of the Mont-Dore Massif. All the pyroclastites found in the left bank of the Dordogne River belong to a later explosive phase (2.86–2.58 Ma, G.II) and were channelled down into valleys or topographic lows where they are currently nested. This later activity also gave rise to most of the volcanic products in the Perrier Plateau (30 km east of the Mont-Dore Massif); three quarters of the volcano-sedimentary sequence (up to 100 m thick) was emplaced within less than 20 ky, associated with several flank collapses in the northeastern part of the Guéry. The age of the "Fournet flora" (2.69 ± 0.01 Ma) found within an ash bed belonging to G.II suggests that temperate forests already existed in the French Massif Central before the Pliocene/Pleistocene boundary. The Guéry's third explosive eruption activity cycle (G.III) lasted between 2.36 and 1.91 Ma. It encompassed the Guéry Lake and Morangie pumice and ash deposits, as well as seven other important events recorded as centimetric ash beds some 60 to 100 km southeast of the Massif in the Velay region. We propose a general tephrochronology for the Mont-Dore stratovolcano covering the last 3.1 My. This chronology is based on 44 40Ar/39Ar-dated events belonging to eight explosive eruption cycles each lasting between 100 and 200 ky. The occurrence of only one pumice deposit in the 800-ky period between 1.9 and 1.1 Ma suggests that volcanic explosive activity was strongly reduced or quiescent.
This is a preview of subscription content, log in to check access.
We're sorry, something doesn't seem to be working properly.
Please try refreshing the page. If that doesn't work, please contact support so we can address the problem.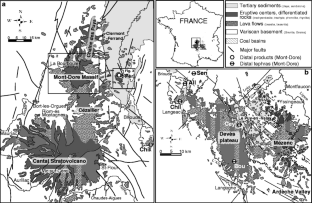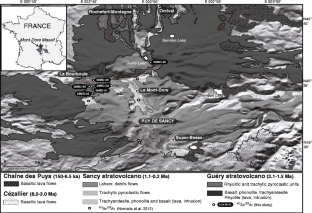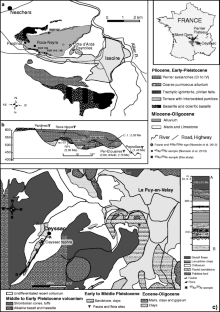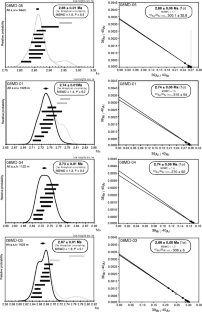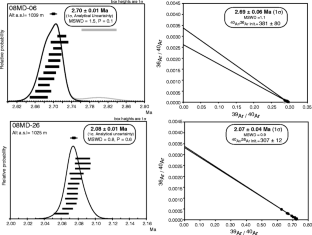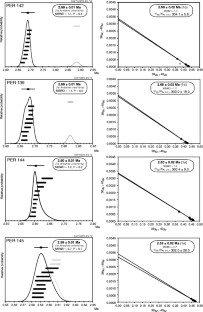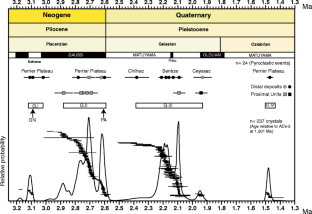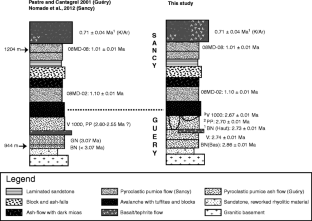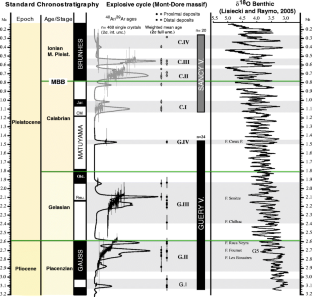 References
Ablin D (1991) Analyse pollinique des dépôts lacustres de Ceyssac, Plio-Pléistocène du Velay (Massif central, France). Cah Micropaléontologie 1:21–38

Baubron JC, Cantagrel JM (1980) Les deux volcans des Monts-Dore (Massif Central Français). C R Acad Sci Paris 290:1409–1412

Bellon H, Brousse R, Mervoyer B, Blais S (1972) Age absolu du massif du Mont-Dore. C R Acad Sci Paris 290:2740–2743

Bernard B, Van Wyk de Vries B, Leyrit H (2009) Distinguishing volcanic debris avalanche deposits from their reworked products: the Perrier sequence (French Massif Central). Bull Volcanol 71:1056–1071. doi:10.1007/s00445-009-0285-7

Besson JC (1978) Les formations volcaniques du versant oriental du massif du Mont-Dore (Massif Central Français), 1/25 000, Veyre-Monton 5-6, Ph.D Dissertation, University of Clermont Ferrand

Boule M (1892) Découverte d'un squelette d'Elephas meridionalis dans les cendres basaltiques du volcan de Senèze (Haute-Loire). C R Acad Sci Paris 115:624–626

Bout P (1933) Observations géologiques sur le plateau de perrier, la région de Malbattu et les Terrasses d'Issoire. Bull Soc. Hist. Nat. d'Auvergne, 38 p

Bout P, Marty P (1936) Flore Asterienne de Perrier. Ann Musee hist Nat de Marseille 28:5–6

Brauer A, Wulf S, Mangili C, Moscariello A (2007) Tephrochronological dating of varved interglacial lake deposits from Pianico-Sellere (Southern Alps, Italy) to around 400 ka. J Quat Sci 22:85–96. doi:10.1002/jqs.1014

Brousse R (1971) Magmatologie du volcanisme néogène et quaternaire du Massif Central in Symposium Géologie, géomorphologie et structure profonde du Massif Central Français. Plein Air Service, Clermont-Ferrand, pp 377–478

Cantagrel JM, Baubron JC (1983) Chronologie K-Ar des éruptions dans le massif volcanique des Monts-Dore: implications volcanologiques. Géol Fr 2:123–142

Cantagrel JM, Briot D (1990) Avalanches et coulées de débris: le Volcan du Guéry—Où est la caldera d'effondrement dans le massif des Monts Dore? C R Acad Sci Paris 311:219–225

Cocherie A, Fanning M, Jezequel P, Robert M (2009) LA-MC-ICPMS and SHRIMP U–Pb dating of complex zircons from Quaternary tephras from the French Massif Central: magma residence time and geochemical implications. Geochim Cosmochim Acta 73:1095–1108

Couthures J, Pastre JF (1983) Chronostratigraphie du Plio-Pléisotocène d'Auvergne et du Velay: Nouveaux apports des datations radiométriques et du paléomagnétisme. Bull Ass Française pour l'Etude du, Quatern 2(13):9–18

Defive E, Gauthier A, Pastre JF (2005) L'évolution plio-quaternaire du Bassin du Puy (Massif central, France): rythmes morphosédimentaires et volcanisme. Quaternaire 16:177–190

Duffell A (1999) Contribution géochronologique à la stratigraphie volcanique du Massif des Monts Dore par la méthode 40Ar/39Ar. Masters dissertation, University of Clermont-Ferrand

Féraud G, Lo Bello P, Hall CM, Cantagrel JM, York D, Bernat M (1990) Direct dating of Plio-Quaternary pumices by 40Ar/39Ar step-heating and single-grain laser fusion methods: the example of the Monts-Dore massif (Massif Central, France). J Volcanol Geotherm Res 40:39–53. doi:10.1016/0377-0273(90)90105-O

Girod M, Boullier R, Roche A, Weber F, Larqué P, Giot D, Guérin C, Bladier Y, Laurent P, Bambier A (1979) Carte géologique de la France à 1/50 000. Le Puy. Service géologique national, BRGM, Orléans

Haug GH, Ganopolski A, Sigman DM, Rosell-Mele A, Swann GEA, Tiedemann R, Jaccard SL, Bollmann J, Maslin MA, Leng MJ, Eglinton G (2005) North Pacific seasonality and glaciation of North America, 2.7 million years ago. Nature 433:821–825. doi:10.1038/nature03332

Koppers AAP (2002) ArAr CALC—software for 40Ar/39Ar age calculations. Compt Geosci 28:605–619. doi:10.1016/S0098-3004(01)00095-4

Kuiper KF, Deino A, Hilgen FJ, Krijgsman W, Renne PR, Wijbrans JR (2008) Synchronizing rock clocks of Earth history. Science 320:500–504. doi:10.1126/science.1154339

Leroy SAG, Arpe K, Mikolajewicz U (2011) Vegetation context and climatic limits of the Early Pleistocene hominin dispersal in Europe. Quat Sci Rev 30:1448–1463. doi:10.1016/j.quascirev.2010.01.017

Lisiecki LE, Raymo ME (2005) A Pliocene-Pleistocene stack of 57 globally distributed benthic delta O-18 records. Paleoceanography 20, PA1003. doi:10.1029/2004PA001071

Lisiecki LE, Raymo ME (2007) Plio–Pleistocene climate evolution: trends and transitions in glacial cycle dynamics. Quat Sci Rev 26:56–69. doi:10.1016/j.quascirev.2006.09.005

Lo Bello P (1988). Géochronologie par la méthode 39Ar/40Ar de ponces quaternaries comtaminées. Exemple des ponces du Mont-Dore (Massif Central Français). Utilisation d'un laser continu pour la datation de minéraux individuels. PhD dissertation, Université de Nice

Lo Bello P, Feraud G, Hall CM, York D, Lavina P, Bernat M (1987) 40Ar/39Ar step-heating and laser fusion dating of a Quaternary pumice from Neschers, Massif Central, France: the defeat of xenocrystic contamination. Chem Geol 66:61–71. doi:10.1016/0168-9622(87)90029-7

Ly MH (1982) Le Plateau de Perrier et la Limagne du Sud: Etudes volcanologiques et géochronologiques des produits montdoriens. Ph.D Dissertation, University of Clermont Ferrand

Ménard JJ (1979) Contribution à l'étude pétrogénétique des nappes de ponces du massif volcanique du Mont-Dore (Massif Central Français). PhD dissertation, Université de Paris 11, Orsay

Morel JM (1987) Volcanologie du massif de l'Aiguiller (Monts Dore, Massif Central Français) étude petrographique, dynamique, structurale et rhéologie des coulées de boue associées. PhD dissertation, University of Clermont-Ferrand

Mossand P (1983) Le volcanisme ante et syn-caldera des Monts Dore (Massif Central Français). Implications géothermiques. PhD dissertation, University of Clermont-Ferrand

Mossand P, Cantagrel JM, Vincent PM (1982) La caldera de Haute-Dordogne. Age et limites (Massif des Monts- Dore, France). Bull Soc Geol Fr 24:727–738

Nomade S, Renne PR, Vogel N, Deino AL, Sharp WD, Becker TA, Jaouni AR, Mundil R (2005) Alder Creek sanidine (ACs-2): a Quaternary 40Ar/39Ar dating standard tied to the Cobb Mountain geomagnetic event. Chem Geol 218:315–338. doi:10.1016/j.chemgeo.2005.01.005

Nomade S, Gauthier A, Guillou H, Pastre JF (2010) 40Ar/39Ar temporal framework for the Alleret maar lacustrine sequence (French Massif-Central): volcanological and paleoclimatic implications. Quat Geochronol 5:20–27. doi:10.1016/j.quageo.2009.07.001

Nomade S, Scaillet S, Pastre JF, Nehlig P (2012) Pyroclastic chronology of the Sancy stratovolcano (Mont-Dore, French Massif Central): new high-precision 40Ar/39Ar constraints. J Volcanol Geotherm Res 225–226:1–12. doi:10.1016/j.jvolgeores.2012.02.006

Nomade S, Pastre JF, Guillou H, Faure M, Guérin G, Delson E, Debard E, Voinchet P, Messager E (2013) 40Ar/39Ar constraints on some French landmark Late Pliocene to Early Pleistocene large mammalian paleofauna: paleoenvironmental and paleoecological implications. Quat Geochronol. doi:10.1016/j.quageo.2012.12.006

Paquereau Lebti P, Thouret J-C, Wörner G, Fornari M (2006) Neogene and Quaternary ignimbrites in the area of Arequipa Southern Peru: stratigraphical and petrological correlations. J Volcanol Geotherm Res 154:251–275. doi:10.1016/j.jvolgeores.2006.02.014

Pastre JF (1987) Les formations plio-quaternaires du bassin de l'Allier et le volcanisme régional (Massif Central, France). Rapports géodynamiques, corrélations téphrochronologiques, implications. PhD dissertation, University of Paris VI

Pastre JF (2004) The Perrier Plateau: a Plio-pleistocene long fluvial record in the river Allier Basin, Massif Central, France. Quaternaire 15:87–102

Pastre JF, Cantagrel JM (2001) Téphrostratigraphie du Mont Dore (Massif Central, France). Quaternaire 12:249–267

Pastre JF, Gauthier A, Nomade S, Orth P, Andrieu A, Goupille F, Guillou H, Kunesch S, Scaillet S, Renne PR (2007) The Alleret maar (Massif Central, France): a new lacustrine sequence of the early Middle Pleistocene in Western Europe. C R Geosci 339:987–997. doi:10.1016/j.crte.2007.09.019

Raymo ME, Lisiecki LE, Nisancioglu KH (2006) Plio-Pleistocene ice volume, Antarctic climate, and the global δ18O record. Science 313:492–495. doi:10.1126/science.1123296

Renne PR, Swisher CC III, Deino AL, Karner DB, Owens T, DePaolo DJ (1998) Intercalibration of standards, absolute ages and uncertainties in 40Ar/39Ar dating. Chemical Geol 145:117–152

Renne PR, Deino AL, Hames WE, Heizler MT, Hemming SR, Hodges KV, Koppers AAP, Mark DF, Morgan LE, Phillips D, Singer BS, Turrin BD, Villa IM, Villeneuve M, Wijbrans JR (2009) Data reporting norms for 40Ar/39Ar geochronology. Quat Geochronol 4:346–352

Renne PR, Mundil R, Balco G, Min K, Ludwig KR (2011) Response to the comment by W.H. Schwarz et al. on "Joint determination of 40K decay constants and 40Ar*/40K for the Fish Canyon sanidine standard, and improved accuracy for 40Ar/39Ar geochronology" by P.R. Renne et al. (2010), Geochim. Cosmochim. Acta 75:5097-5100. doi: 10.1016/j.gca.2011.06.021

Roger S, Féraud G, de Beaulieu JL, Thouveny N, Coulon C, Cocheme JJ, Andrieu V, Williams T (1999) 40Ar/39Ar dating on tephra of the Velay maars (France); implications for the late Pleistocene proxy-climatic record. Earth Planet Sci Lett 170:287–299. doi:10.1016/S0012-821X(99)00242-3

Roulleau E, Pinti DL, Rouchon V, Quidelleur X, Gillot PY (2009) Tephro-chronostratigraphy of the lacustrine interglacial record of Piànico, Italian Southern Alps: identifying the volcanic sources using radiogenic isotopes and trace elements. Quat Int 204:31–43. doi:10.1016/j.quaint.2009.01.006

Schmitz MD (2012) Radiogenic isotope geochronology. In: Gradstein FM, Ogg JG, Schmitz MD, Ogg GM (eds) The geological time scale. Elsevier, Oxford, pp 115–125

Steiger RH, Jäger E (1977) Subcommission on geochronology: convention on the use of decay constants in geo- and cosmochronology. Earth Planet Sci Lett 36:359–362. doi:10.1016/0012-821X(77)90060-7

Vincent PM (1979) Un repère chronologique dans la caldera des Monts-Dore (Massif Central Français): les pyroclastites du dôme de la Gacherie. C R Acad Sci Paris 289:1009–1012

Vincent PM (1980) Volcanisme et chambres magmatiques: l'exemple des Monts Dore. Mém hors-série de la Soc Géol Fr 10:71–85
Acknowledgments
This work was supported by the French Geological Survey (BRGM) and the DSM (CEA Saclay). The authors would like to thank Dr. B. Platevoet for helpful discussions and Dr. J.L. Joron for the sample irradiations carried out at the Pierre Süe Laboratory (CEA Saclay). LSCE contribution no. 5245.
Additional information
Editorial responsibility: G. Giordano
About this article
Cite this article
Nomade, S., Pastre, J., Nehlig, P. et al. Tephrochronology of the Mont-Dore volcanic Massif (Massif Central, France): new 40Ar/39Ar constraints on the Late Pliocene and Early Pleistocene activity. Bull Volcanol 76, 798 (2014). https://doi.org/10.1007/s00445-014-0798-6
Received:

Accepted:

Published:
Keywords
Mont-Dore

Plio-Pleistocene

40Ar/39Ar

Pyroclastic activity

Flank collapse